Observations From The Sixers' Preseason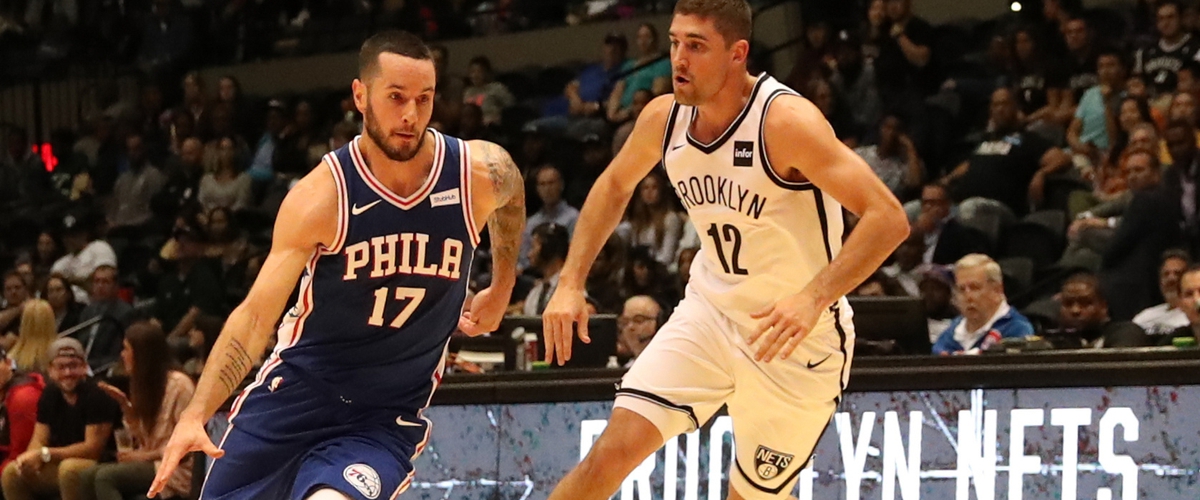 As the Sixers prepare to begin the 2017-18 regular season in Washington on Wednesday night, let's take a look at some things that this year's preseason has shown us about the team.
No Holmes, Serious Problem: The Sixers were already very thin at Center before Holmes went down thanks to the uncertainty of when Joel Embiid would finally suit up for the team.
Now Embiid is really the only player on the team who can play Center in anything more than spot minutes thanks to Okafor slimming down and basically becoming more of a finesse type of big man who relies on quick feet and jumps for blocks and rebounds rather than being the big body space defender he has been so far in his career.
No recent draft pick could have helped with this because all three of the bigs the Sixers drafted this year are combo bigs rather than guys who can play Center in the NBA at this point.
Until Holmes gets back, this will be a serious problem.
JJ Redick Is The Key Player On Both Sides Of The Ball: With all due respect to face of the franchise Joel Embiid and the other impressive youngsters, it is major free agent acquisition JJ Redick who is the key to success this season.
He is the most solid defender -after Covington, TLC, and Justin Anderson of course-, is by far the best shooter on the team, and is currently the only player on the team who can consistently hit every single cut, screen, and every other type of movement as hard as possible and score off of it almost every single time.
He's every bit as good a facilitator as Stauskas and it is his off-ball movement that makes this offense function.
JJ was a much better addition than I thought he would be.
Ben Simmons and Markelle Fultz Both Need Time To Develop Separately From Each Other: The thing that was most clear after the Sixers' preseason opener was the fact that two players who have never in their lives played in an offense where they weren't dominating the ball as a star have absolutely no clue how to share the ball in any kind of functional way.
Simmons still has a tendency to play like he's back in high school and it's his show, and Fultz will look to score when paired with a player like that. It happened time and time again when they were on the floor together.
Individually, both need to learn how to consistently facilitate within an offense. Fultz fortunately tends to be very quick with the ball while Simmons can sometimes overdribble and go one on one for too long on the perimeter rather than being deliberate and decisive. He absolutely must grow out of this if the Sixers are to ever come anywhere near reaching their potential.
Fultz meanwhile is decisive and quick with the ball in his hands but more often as a scorer than as a point guard. He must learn to be an actual point guard if he's going to have a place on this team longterm.
I won't even get into the defensive deficiencies of both players.
Furkan Korkmaz Has Shown Glimpses Of Major Offensive Potential But Still Has A Ways To Go As A Player: I have to admit I've been very impressed with Furkan at times in all facets of the game.
Like Nik Stauskas, he has shown toughness at times on the defensive end. Also like Stauskas, he has been highly inconsistent on both ends of the floor. This was to be expected from such a young player who we all knew was going to be a project.
Korkmaz isn't quite ready for anything more than spot minutes at this point, which is exactly what I expected from him this year -if that.
This Offense Is Tailor-Made For Combo And Hybrid Players: I really, really hated the signing of Jerryd Bayless, almost as much as I hated the signing of Kendall Marshall and of course the repeated mistake of keeping TJ McConnell on the team in any fashion.
However, his signing -and really almost every acquisition of a guard the Sixers have made makes perfect sense after seeing glimpses of the offense they are trying to establish. Obviously I don't think they ever planned on drafting Ben Simmons but once they did, the Sixers built an offense around him that is tailor-made for quick players who can play multiple positions, move well without the ball, and can shoot.
They run an offense that is completely unique, almost like if Steph and LeBron were on the same team and Steph played off the ball. This requires hybrid guards who can both facilitate like a point guard and play upright and off the ball like a two guard. Such players are very rare.
It also requires hybrid forwards, combo forwards, and hybrid bigs who can all drive like perimeter players, score or pass quickly once they get the ball, move off the ball like a forward, and stretch the defense. On top of this, the bigs have to be able to play tough down low -often without being able to have the time to establish position against their defender when on offense. This is an even more select group.
TJ Has To Go: It has never been more clear than it was in preseason that TJ McConnell needs to go.
If you've read this site or followed my then you've seen me expose this kid for exactly what he is as a player on a regular basis so I won't bother with any of that. What I will say though is that TJ has no place on this team or in this offense and is even more detrimental to both than he has been in past seasons.
This offense requires scorers, quick dribblers, and people who make quick decisions and pinpoint, timely passes. TJ has never been any of these things, and he never will be. He was a star combo guard for a no name high school and still plays that exact same way.
The problem is, he's just flat out not all that good. His handles are weak, he can't make simple shots or layups, he's a terrible and reluctant passer, and he pretty much never either makes accurate passes when they need to be thrown or plays any real defense.
He's the king of fake hustle and empty stats, and a team that already has one ball-dominant combo guard in Bayless and three non-defenders at the guard position in Bayless, Fultz, and Nik Stauskas can't afford any more of either.
And with that, we wrap up our admittedly very little preseason coverage. Be sure to check back for more content on your Seventy-Sixers prior to Wednesday night's opener against Washington. Go
Sixers!