Sixers Overcome Atrocious Point Guard Play, Officiating To Come Back And Beat Miami 104-102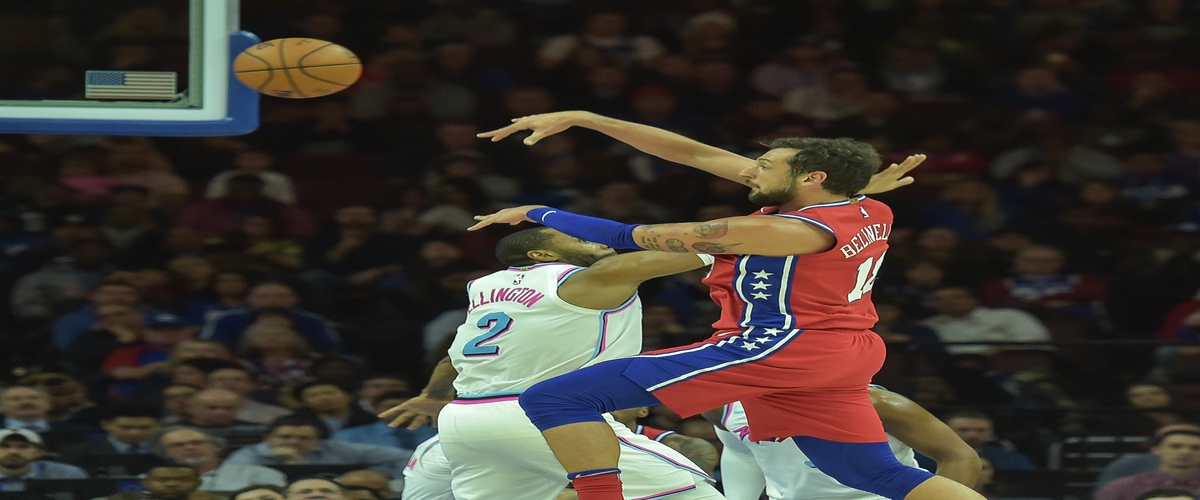 Wow, what a game.
With Super Bowl LII hero LeGarrette Blount in attendance, the Sixers pulled off their own impressive win.
Down by 24 with roughly nine minutes left in the third quarter, the Sixers were in desperate need of a big play. The ball eventually found Dario Saric out of the timeout. He probed the defense, then threw a perfect skip pass to a wide open JJ Redick from under the hoop. Redick hit a perfect three pointer from the corner. And this begun the team's biggest comeback since 2008. Not only were those three huge points, Saric's perfect pass got JJ back in rhythm after TJ's terrible passes had taken him out of it.
It was only fitting that these two were the ones who connected on the biggest play of the night. It was Saric and Redick who kept the Sixers in it throughout the whole game, and one or both was involved in almost every single Sixers score early on.
That was the case from the very first basket, as Redick threw a perfect pass from the corner of the top of the arc to find Saric for a nice close in attempt that went straight up and in without seeming to even touch the net. On the next score, it was Saric who threw a perfect outlet pass to hit Ben Simmons in stride after getting the steal. Simmons was stopped by Heat defenders but threw a great pass back to Amir Johnson, who was diving hard to the hoop. Amir got the easy dunk, and the Sixers led 4-0.
Unfortunately, it was the same old story after that. As is the case when the Sixers get rolling early, Ben Simmons reverted back to his high school self and tried to make this game the Ben Simmons Show -and failed. That failure led his team to be down early, though thanks largely to Saric, JJ, and Amir they clawed their way back. When TJ McConnell entered the game for the white hot Redick with 7:55 left in the first, the Sixers were down just one. When he finally left the game again with 9:58 left in the second, the Sixers were down by fourteen -with Miami clearly holding all of the momentum.
That wasn't a coincidence nor was the fact that the Sixers only scored ten points in the ten minutes TJ was out there during his first action. TJ was unredeemably awful in this game. As usual, he took dumb shots after dribbling around and past his far superior teammates. As usual, he turned the ball over. As usual, he made terrible, unnecessarily difficult passes. As usual, he made zero real effort defensively and brought down the entire team on the offensive end. As usual, he was the biggest and maybe only reason his team was down when he finally sat on the bench where he belongs.
Ben really wasn't much better. As usual, he looked for his offense way too much and completely screwed up the offense. As usual, he played zero defense and instead padded his stats on that end. As usual, he really showed that he has a ton of growing up to do and really hurt his team by not playing hard enough on either end.
It was Saric who made a just ridiculous pass to find a wide open Covington for a huge three-pointer from under the hoop as he was going out of bounds after corraling the offensive rebound. That huge shot kept the Sixers in the game at a time when it really looked like this one was slipping away, as it came after Miami had rattled off five straight points and the Sixers had wasted multiple​ possessions thanks to Ben and TJ.
Amir, Richaun, and Trevor Booker probably won't get the credit they deserve for keeping their team in this game but they absolutely deserve it. If not for their timely offense, key defensive stops, and general tough play down low, the Sixers have absolutely no shot in this one. In fact, Booker's tip shot at the end of the first quarter kept it a ten point game.
But of course, this win wouldn't be possible without the heroics of newest Sixer Marco Belinelli -who I am now going to affectionately refer to as Marco Polo. After having a very quiet first half, he caught fire and completely changed the outcome of this game. The Sixers had been clawing their way back since the second quarter thanks to the aforementioned heroes but Belinelli's scoring is what made this comeback win possible. His hitting big shot after big shot not only made him an instant fan favorite but lifted his entire team, and together they brought home this win.
Enjoy this one, Sixers fans. And don't forget how it happened.