Chipmunk Mode?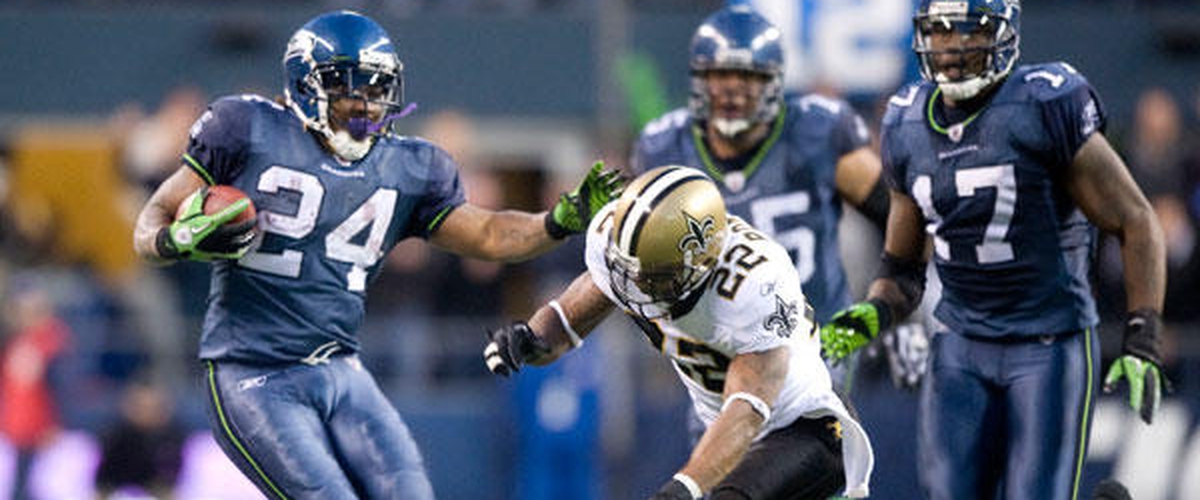 Even the casual football fan can recall the beastly 67-yard touchdown run Marshawn Lynch produced against the New Orleans Saints in a 2011 Wild Card Game. "The Beast Quake" was famously imposed on a weak New Orleans defense, earning Lynch the nickname "Beast Mode," as he knocked down defensive backs like bowling pins en route to a score and unprecedented upset of the favored Saints. Lynch was a staple in the Seattle running game for 5 1/2 seasons, undoubtedly characterized by this memorable run, after a mid-season arrival to the Puget Sound from the Buffalo Bills. He surpassed 1,200 yards in 4 different seasons with Seattle, and finished top-5 in rushing touchdowns 4 times, leading the league in 2014. Lynch remade himself in Seattle after a tumultuous tenure with the Buffalo Bills. Lynch's off and on-the-field antics and lack of respect for the media made him expendable to Bills ownership. Now, he's trying to recapture the talent he so viciously unleashed on the Saints with his third franchise, the Oakland Raiders. When the lights go down in the city, hopefully Lynch's talents will be illuminated throughout the bay area.
After an unforeseen and, in most circles, premature retirement, Lynch returned from his hiatus to join his hometown Oakland Raiders. With rising quarterback Derek Carr and touted best wide receiver tandem in the NFL, Amari Cooper and Michael Crabtree, Lynch was presented to the mix as the missing piece to a championship contender. Oakland is one of the youngest teams in the NFL and still looking for locker room leaders, so the addition of Lynch is about experience and leadership just as much as it is about talent. Lynch's postseason pedigree is much needed for an Oakland Raiders team looking to reach the playoffs for the first time since a Rich Gannon led unit lost Super Bowl XXXVII. Media antics and infamy aside, Lynch is a formidable presence, and provides a tough-nosed rushing style that many rushers shy away from these days. In the new era where players are aware of the repercussions from a physical rushing style, Lynch is a breath of fresh air to football-lifers that support a north-and-south running style. The Oakland Raiders are hoping Lynch can be the missing puzzle piece to their playoff aspirations. So far, there's little to celebrate. In a small sample size, Lynch looks less like a beast and more like a serviceable veteran. Fans won't accept Chipmunk Mode for very much longer. Before Latavius Murray surpassed 1,000 rushing yards in 2015, the Raiders didn't produce a 1,000 yard rusher since Darren McFadden in 2010. They hope Lynch will be the perennial 1,000 rusher he was with Seattle, but retirement may have diminished his physical tools. The Raiders will need Beast Mode to show his horns come playoff time.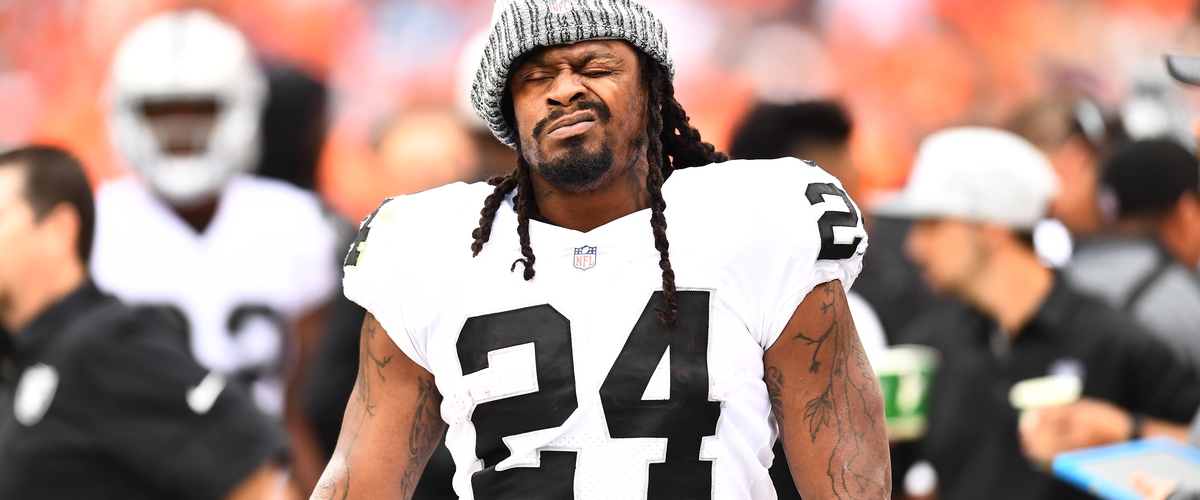 Lynch has been underwhelming thus far. After a serviceable 18 rushes for 76 yards performance in the season opener, he accumulated only 87 total yards over his next three contests. Hopefully Week 5's loss to the Ravens uncovers a truth Oakland seems hesitant to accept; Hello?! You need to run the ball (I read this in my mind the way Herm Edwards would say it)! Derek Carr was sidelined in Week 5 with a lower-back injury, leaving E.J. Manuel as the starter. Carr's injury could be a blessing to a team that focuses primarily on passing. Without Carr's uncanny ability to throw the ball and incredible pocket awareness, they will have to rely on Lynch to pound the rock for a couple of weeks. If Lynch can get into a 15-20 touch-per-game rhythm even when Carr returns, the Raiders' offense has a chance to live up to preseason expectations.
Lynch had a respectable game against a top defense in the Baltimore Ravens. His stat-line read 12 rushes for 43 yards and he did manage to find the end-zone. Oakland's inability to play Carr forced the playbook to be more run-oriented, and Lynch scored on a 3-yard touchdown run as a result. Lynch's score was not just the product of a limited offense, it is a sign of things to come. Continuing to run behind the second-highest paid quarterback in the NFL and an offensive line that has the most money allotted establishes tremendous long-term potential for Beast Mode to thrive in Oakland. They don't need him to stiff-arm defenders to the ground on every play, but they need Lynch to score on 3rd and Goal from the 2 yard line. Now that the cobwebs have been dusted off and the bolts have been well oiled, we very well could see the finely-tuned machine fully operational in weeks to come. Tracy Porter sure is happy he won't see Lynch bearing down on him anytime soon, but other NFL defensive backs don't have the same luxury.