5 Things To Watch In Game 5 NHL FINALS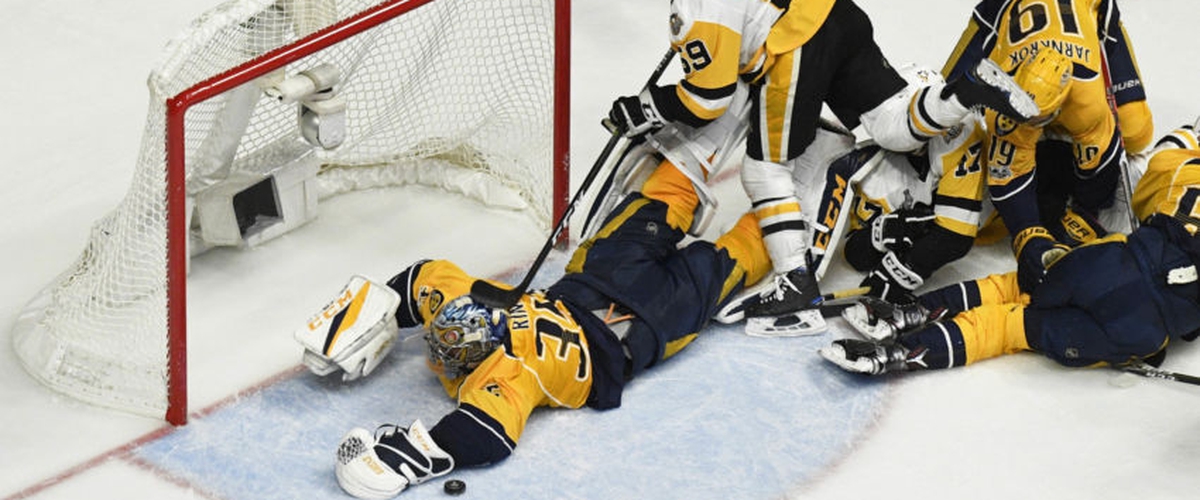 1) The Second Coming of Pekka Rinne?
Is this a truly the reemergence of The Finnish Force Field, or is it just a mirage covered up by the Nashville faithful?This NHL Finals has not been for the feint of heart. The Penguins were looking to be in route to a dominant series victory after putting every opportunity, albeit not many, in the back of the net. Even when the Predators were doing everything right defensively, the man that put them on his back was crumbling right before their eyes. Pekka Rinne gave up four goals in each of the first two games before finally being replaced by Juuse Saros. There was some question outside of Nashville of who might have started game 3 in net, but there was a never a doubt to the hometown crowd. In the first home Stanley Cup Final games in Nashville, Rinne was able to finally get his skates back under him. In the first two periods of Game 3, he still looked a little nervous when playing the puck around the boards which is uncharacteristic of him to say the least. However, in the next four periods in Nashville, he grew more and more confident in his abilities to get the pucks to his teammates without lofting it hastily up the boards to one of the Penguins attackers. As the final hours ticked away on a June Monday night, the Preds had just flipped the tables on any possible thought of an easy cup title some Penguins fans may have expected after Game 2, and Rinne may just have regained his form. After a horrific 78% percent save percentage in Pittsburgh, the Rinne Wall showed out at home with an astronomical 96.2% save percentage. How Pekka reacts to game 5 in Pittsburgh will be a huge deciding factor for the entire series. If he continues this roll he is on, the Predators can clinch their first cup at home in Game 6, but if the Penguins figure him out at home again, it can be a long night for the Predators.
2) The Penguins Top O-Line vs The Preds Top D-Line
Although the Preds lead in shots, The Penguins have had several grade A looks in every game. There have been lapses in positioning from the Preds defensive pairings across the board. Ryan Ellis and Mattias Eckholm have both been caught pinching on plays that have gone the other way for easy two on one goals in Pittsburgh. Patric Hornqvist had a goal in game 2 because Ellis and Josi were both helping trap the puck at the corner of the boards, and nobody picked up Hornqvist right in front. The goal was waved off on an earlier offsides. In game 4, there were a couple of great looks from defensive lapses, including one from a scorching hot Jake Guentzel right out in front that was stoned by Pekka Rinne. I know that Laviolette wants to pressure the puck with his talented young defense men, but they have to be more disciplined going back into Pittsburgh. Of the eleven shots that Rinne faced in Game 1, the defense was out of position on about six of them not including the one that deflected off Mattias Eckholm. The Penguins have been here before and have arguably the best snipers in the league that will make you pay if you give them any room.
3) Will Jake Guentzel Ever Cool Off?
This man is on a level that the predators defense, or anyone in the playoffs for that matter, has been able to solve. It may be because of the attention that his line mates Sidney Crosby and Evgeni Malkin draw. It could be that he is a 22 year old rookie that everyone failed to scout or take seriously. Regardless, he has been on another planet this postseason. He is one goal away from tying and two away from surpasssing Dino Ciccarelli's rookie playoff goal-scoring record of 14. He also leads all goal scorers so far in the final with four. He has had great looks in every game, but has been much more efficient at home scoring on three of his four shots on goal in Pittsburgh. In Nashville, he managed one goal on five shots. On two of the shots that he missed on, could have easily been goals had he placed them just a few inches in any direction. He picked Pekka Rinne apart for five goals in the first six periods and then three minutes into the seventh. For the next five and a half periods, he was unable to get to him. I would not count him out when it comes to him scoring in game 5 with the looks he has received. I peg Rinne to give up two goals next game, and one of them will come from that top line of Crosby, Malkin, and Guentzel.
4) "Next Man Up"
Peter Laviolette has stayed consistent with these words this postseason that have turned into a rally cry for the Predators locker room. When red hot Kevin Fiala went down in Game 1 of the second round against the Blues with a fractured femur, the next man up filled his shoes. The same occured when captain Mike Fisher was held out a few games with an injury, and it came to ahead once again when Ryan Johansen had immediate surgery on his leg. The predators team now has almost as many faces from their AHL affiliate this time last year as they do returning players. Players like Fiala, Pontus Aberg, Colton Sissons, Harry Zolnierczyk, Freddy Gaudreau, and Austin Watson have made huge impacts throughout the year. Watson is the only one of these players that played at least sixty of the eighty-two games during the regular season. Sissons scored ten points in fifty-eight games this year, but already has twelve in twenty postseason games including a hat trick in game six against Anaheim. Zolnierczyk, Aberg, and Gaudreau combined for a miniscule seven points in fourty-eight regular season games, but they already have eleven points in thirty combined playoff games including two game winning goals. Speaking of goals... Everyone that has played a playoff game for them this year has scored one except for the Captain, the third defensive pairing, and two players that are consistently healthy scratches. Of those players, only Miikka Salomaki and PA Parenteau have failed to record a point. Who will be the break out player for the next two to three games? it is nearly impossible to guess.
5) Home Ice Dominance
This postseason, home had not been a safe haven for teams not name the Nashville Predators. However, the Penguins have only lost three games at home which has come close to Nashville which has only lost one game on home ice. In this series, they have not changed their ways in the slightest. The home team is 4-0 with a 18-6 goal differential. That is insane how lopsided these scores have been. The only game that was remotely close was the bizarre first game where Pittsburgh only had eleven shots but managed five goals. The home team has just been ripping a whole in the back of the net. Will that trend continue tomorrow night, or will Rinne be able to pull of a performance for the ages to break the streak? It should be a good one.
Start Time: 7:00PM Central Time
Watch: NBC
Prediction: Nashville 3, Penguins 2 (OT)