5 Things To Watch in Game 6 NHL Finals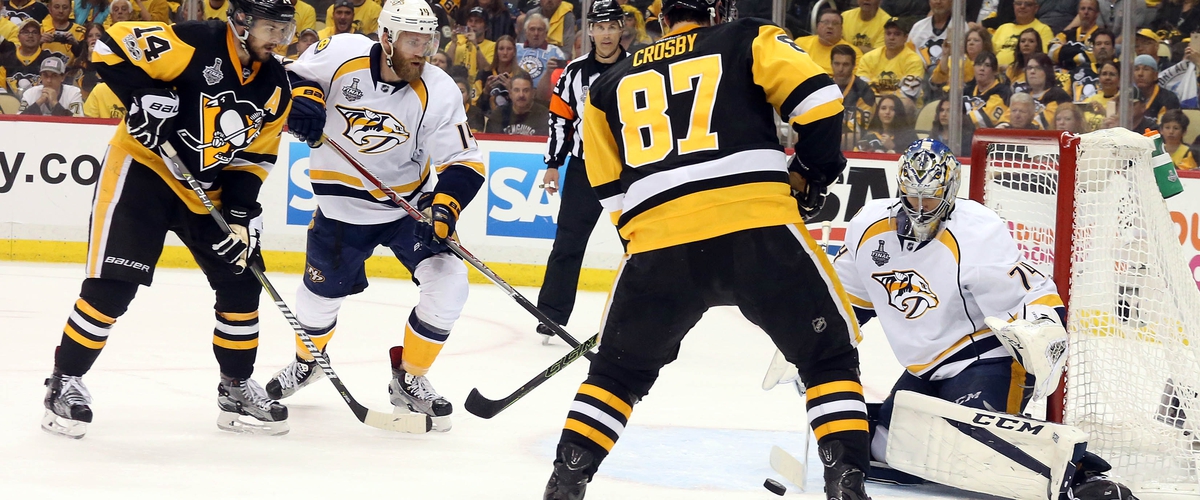 1: Back-To-Back?
In dominating fashion, Pittsburgh has put itself one game away from becoming the first team to win Lord Stanley's Cup back to back since the Red Wings in 97'-98'. If they are able to pull off the feat, they will
also be the first ever to do so with a "rookie" goaltender both years. Although Matt Murray is still considered to be a rookie by definition, he has the poise of a grizzly veteran. If the Penguins can play only half as good as they did on Thursday again on Sunday, they will be hoisting the cup in front of a very quiet Nashville crowd. Even if they are unable to do so, they can still say they have Rinne's number in Pittsburgh.
2: Can The Penguins win in Smashville?
Nobody has been able to figure out the predators in their hometown. Dating back to last year, they are an astounding 13-1 at home. They also outscored the penguins 9-2 in Games three and four after trailing 2-0 in the series. Nashville will be jumping this weekend as it is hosting Bonaroo, CMA fest, and the NHL Finals all on the same day. Tennessee Department of Transportation estimates an extra 500,000 people downtown compared to a typical Sunday night. Even though there may be no doubt about the noise down on Broadway, There has been speculation by Pittsburgh reporters as to whether the noise in Bridgestone Arena is authentic. Here is what Dan Kingerski wrote on :
I'm convinced the Bridgestone Arena is using the PA to amp crowd noise. Facts–the arena plays warm-up and in-game music at 110-112dbs, as measured by my own device. At the height of the crowd mania in Game 4, I believe my radio trained ears heard the pops and cracks of over-modulation. Lastly, the sound levels are never shown in the arena, unlike every other arena in which I've covered games.
Why would the "record holder" not show the sound level? The loudest the sound meter (on my iPhone) hit was about 114dbs. 114 is a great number and the crowd is engaged for a full 60 minutes. People don't leave 10 minutes early to hit the bars or beat traffic.

However, I believe I call "bunk" on the 130dbs claim, at least achieved organically. However, the Predators are welcome to prove it.
I can tell you first hand from going to multiple games in Bridgestone Arena, as well as Game 3 against the Blues, that the accusations are false. Does Bridgestone play loud music in between face-offs? Yes. Does Pittsburgh and every other hockey arena? Yes. However, the decibel reading was originally recorded after Filip Forsberg's empty netter in game 6 against Anaheim with no music playing. Unfortunately, it is highly doubtful that it will be that loud again this playoffs for the doubters to hear. The reason is because five sections of season ticket holders had to give up their seats so that every member of the media, including Pittsburgh, could have a seat for the game. I acknowledge that this happens for both teams, but the drop off in noise can be directly related to the lack of seats for fans as compared to the Western Conference Finals. Members of the media will not be jumping out of their seats after a goal to celebrate or harass the goalie. Regardless, the noise is still deafening because of the way the arena was constructed which allows the fans to be right on top of you. The way Pittsburgh has been playing at PPG Paints Arena, I see them winning in seven games at this moment. Beating Nashville at Bridgestone is too tall of a task with the way the Predators have been defending it.
3: Who Can Stay Out of The Box?
Somewhere, Carl Hagelin is thinking he is a part of this match up. Fighting a 5'9" Viktor Arvidsson does not make you a star. If he thinks otherwise, he can feel free to watch the tape over again if he so chooses. The hatred between the Preds top D line pairing and the Pens top O line has boiled over with at least one more game left. Unfortunately for everyone watching, Subban and Crosby have hung on to dear life waiting for the refs to separate them on many occasions. Eckholm has spent more time trying to fight after the whistle than he has being in good defensive position before the whistle.
Here is the list of players receiving 10 Minute Misconducts through five games:
Predators:
• Viktor Arvidsson
• Austin Watson (x2)
• Mattias Eckholm
• Colton Sissons
Penguins:
• Matt Cullen
• Chris Kunitz
• Patric Hornqvist
• Carl Hagelin
•Trevor Daiey
This list does not include Subban, Malkin, or Crosby. Those guys have created headlines that have intensified as the games have gone on. It began with exchanging words, then hug fights, then smashing faces on the ice. The average hockey fan may be in for a treat if the progress continues in the direction it has been going. Only time will tell.
4: Health of Bonino/Ellis
Two key contributors are questionable for game six in Nashville. Nick Bonino has not started since game two in Pittsburgh where he injured his foot blocking a shot. According to , he was the only penguin not on the ice for morning skate today. This makes his chances of missing a fourth consecutive game more likely. He is one of the penguins's best penalty killers, and in his absence the predators have scored on almost thirty percent of power play opportunities. After finding out that Colton Sissons would not be suspended by the league for his cross check late in the game Thursday, the only worry is that of Ryan Ellis. When asked about the injury, head coach Peter Laviolette said, "Honestly, I don't have any details to share with you." Ryan Ellis fell to the ice after making with Penguins's Patric Hornqvist. He was able to make it to the bench, where he proceeded to the locker room. Ellis trails only Filip Forsberg and Roman Josi on the team in points. Ellis' availability will go a long way in determining the outcome on Sunday.
5: Whose Turn Is It To Show Up In Net?
As a hockey fan, I would love to see a close game tomorrow night. I do not know if that will happen with the way it has played out so far. Outside of game one, there has not been much suspense heading into the final ten minutes of the game. Pekka Rinne has been an unstoppable force in Nashville, but has been pulled twice in three games on the road. Matt Murray has been lights out in games two and five, but gave up nine goals in Nashville. If only these two could get together and be either good or bad at the same time instead of these blowouts. Instead of going off of impulse, and giving Matt Murray his second cup in his rookie season based off of his 6-0 performance Thursday, I will trust Rinne's ability to play at Bridgestone. Unless Laviolette can find someone off the street who can show up in Pittsburgh Wednesday, I see the Penguins taking game seven. However, if the Penguins are able to solve the riddle in Nashville and get to Rinne, I will not be in shock. The penguins have clicked on all cylinders in the Finals so far. No matter who wins or loses, we all just want a little suspense this time.
How To Watch: 7:00 CT on NBC
Prediction: Nashville 2, Pittsburgh 1