What Will The Patriots Do With Jimmy Garoppolo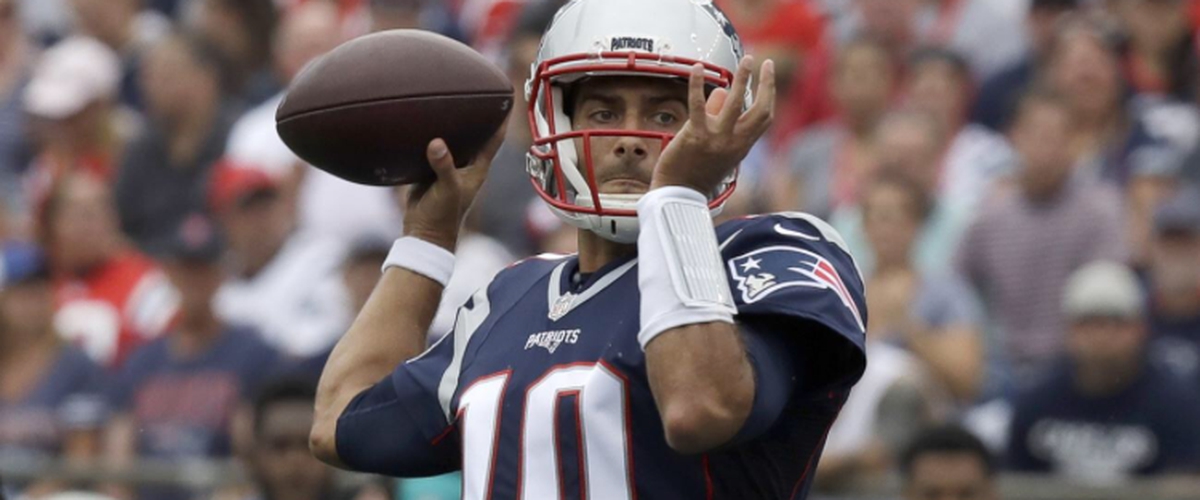 Jimmy Garoppolo was drafted in the 2014 NFL Draft with the 62nd pick and many Patriots fans were wondering if this was Brady's successor. By the looks of it he can be. Every game that Jimmy has gotten to touch the ball, he has done great. Throughout his whole career his stats look good. He's thrown for 690 yards and has thrown 5 TDs without an interception with a rating of 106.3 throughout his 3 season career. He's only thrown the ball 94 times and has great decision making. He's played in a handful of games in his career and has shown he can be the GUY for the Pats following a Brady retirement. Him playing good though does mean they can trade him for good assets. Jimmy is one of the most desirable QBs in the NFL which will make his trade value crazy good. Jimmy has a very likeable contract as of now and there are many teams that are looking for a QB of his talent. I honestly think they won't trade him, but they still can and I will map out a scenario for a trade that they could do. I will show you what they would do if they trade him and if they don't trade him.
If They Trade Him
The Trade
Patriots Recieve
2018 First Round Pick
2018 Second Round Pick
49ers Recieve
QB Jimmy Garoppolo
The 49ers have shown interest in Jimmy and I think he's the ideal spot because they didn't draft a QB unlike the Browns and Bears. They signed Brian Hoyer and Matt Barkley, but i think if they could they would trade this for Jimmy. The Patriots always trade up and coming players for picks like Chandler Jones and Jamie Collins, so I think that is what they would get for him. That would give them good assets and leave them with Jacoby Brissett as the backup QB which I think is still good. Jacoby was pretty good when he played and I think he has great potential.
If They Don't Trade Him
If the Patriots don't trade Jimmy Garoppolo they have themselves a franchise QB in the making. Once Tom Brady decides to retire, Jimmy will get his contract and take over the team. I really think that Jimmy can get to the level to take the Pats to a Super Bowl eventually and will definitly turn into an elite QB. He's got the smarts, the vision, the athleticism and the winning attitude. The Patriots can definilty build around Jimmy because every game that he has played, he has shown the qualities a team wants in a franchise QB.
I do not think the Patriots will trade Jimmy Garoppolo because I think Bill Belichick really likes him and I know the offensive coordinator Josh McDaniels loves him. He will be a great QB in the NFL and will keep the Patriots at the top.