Why is Eric Thames hitting so well?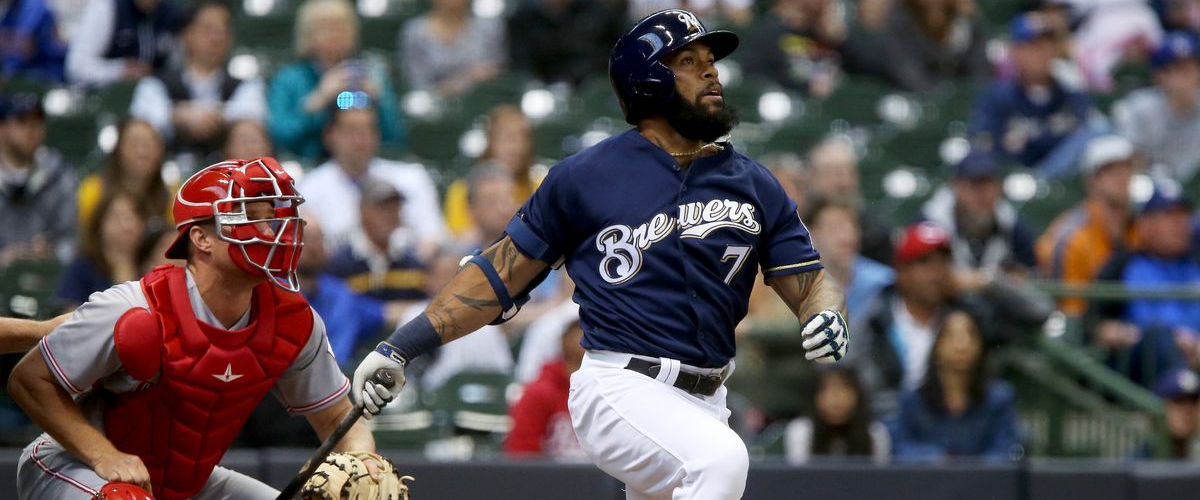 If I told you someone hit .349/.451/.721 with 124 home runs and 382 RBI over a three year stretch who you guess I'm talking about? Barry Bonds? Babe Ruth? Ted Williams?
Nope.
It was Eric Thames.
Granted, those three seasons were when he was in the Korean Baseball Organization and playing against pitchers who skillfully equivalent to Double-A pitchers in the United States. However, Thames is back in MLB. This past offseason, Thames signed a 3 yr/$16M
contract with the Milwaukee Brewers. Thames played his two seasons in MLB before going to Korea. In those two seasons, Thames hit .250/.296/.431 with 21 home runs and only 63 RBI. Conventional wisdom says given his struggles against major league pitching earlier in his career, Thames is gonna struggle in his return back to the majors.
Not only is he not struggling, his numbers so far in his return season are astronomical. Through 20 games so far this season, Thames is hitting .371/.482/.929 with 11 home runs and 19 RBI. If he kept at this pace, Thames would finish the year with 77 home runs and 134 RBI which would break the record for most home runs in a single season.
It's too early in the season to really talk about that possibility, however. Thames will surely regress. Pitchers will start pitching to him differently and learn better ways to get him out. However, this season isn't a fluke. Yes, the chances he finishes the season anywhere near the pace he is on is unlikely, but Thames has what it takes to play close to an All-Star level.
Thames is a big dude. Those claiming Thames is on steroids because of what his body looks like should take a look at pictures of him when he played on the Toronto Blue Jays or the Seattle Mariners. He is big now and he was big then. Sorry, John Lackey. The power has always been there for Thames so what has changed? Thames has done a complete 180 when it comes to his plate discipline.
Looking at Thames' stats from his 2011 and 2012 season and comparing them to his 2017 season and it becomes pretty obvious. In 2011-2012 Thames had 684 plate appearances. In those plate appearances he made with 85.3% of balls in the strike zone. So far through 85 plate appearances Thames is also making with 85.3% of balls in the strike zone. When he has a good pitch to hit, he's hitting it the same as he used to. The biggest difference is how often he swings at pitches outside the strike zone. In 2011-2012 Thames swung at 34.2 percent of balls outside the strike zone. That's not good. In 2017, however, that number has shrunk to 19.8%.
This results in a few things. First, since Thames isn't swinging at bad pitches, he is taking more balls and less strikes. This will increase the amount of pitches he sees in an at bat which will as a result increase the likelihood he gets a hit either due to a mistake or the pitcher trying to work the count in his favor. Since Thames has been crushing pitches thrown in the zone, pitchers are now going to be more afraid of giving Thames something to hit. As a result, Thames will be giving many more balls and will walk more if his plate discipline continues. This is already starting to happen. From April 12th to April 18th, Thames hit six home runs and walked only twice. Since April 20th, Thames has walked eight times in seven games and has only hit three home runs. Thames home run numbers dropping isn't necessarily a bad thing if he consistently gets on base due to walks. With Ryan Braun batting after him, the Brewers would be very content with opposing teams giving Thames the Bonds treatment in terms of walks.
Is Thames the next Bonds? Probably not. Is Thames going to be a very good player the rest of the season? It's very possible. As each game goes it seems as if Thames plate discipline is a real adjustment he made in Korea as opposed to a fluke. As we continue to see how long Thames can continue this, I leave you with this: