"The Stack" 1-5-18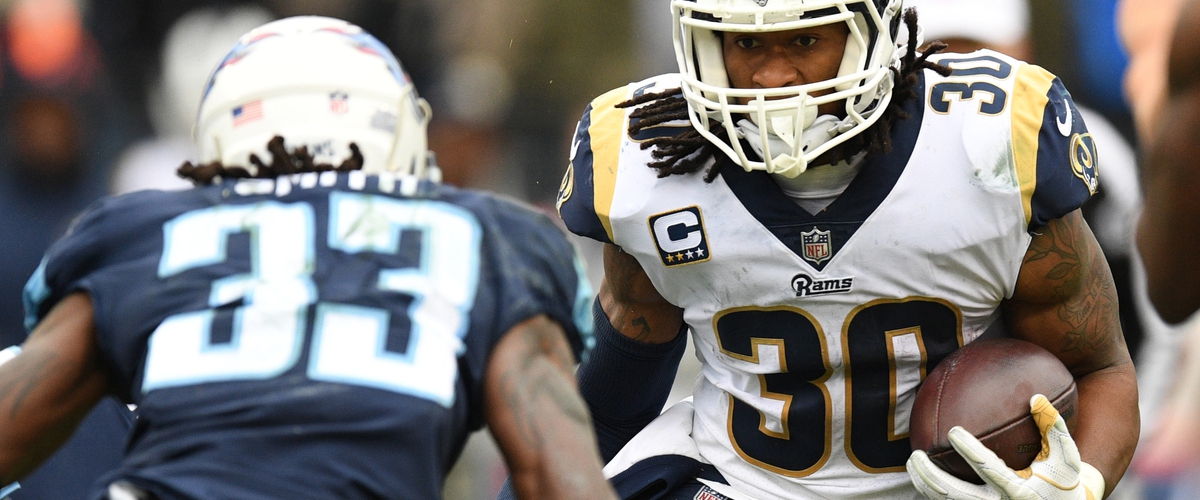 Can MVP front runner Todd Gurley lead the Rams to a victory over the reigning NFC champion Falcons Saturday night? Wild Card weekend is here!
The Stack is back on this first Football Friday of the NFL Playoffs and ready to pick the NFL Wild Card games. First though, with a tip of the hat to my friend Scott for pointing this out, we must give kudos to Shakyla Hill of Grambling State for in Grambling State's 93-71 victory over Alabama State. She finished with 15 points, ten rebounds, ten steals and ten assists. The last quadruple-double in women's college basketball happened January 27th, 1993. That's nearly 25 years. Much props to Hill. Way to go. Now let's get to some picks and maybe some head coaching news in "the stack" for today, Friday, January 5th:
Tennessee Titans @ Kansas City Chiefs 4:20 PM ET ESPN (Saturday)
ESPN always seems to get the s**** game to start the playoffs, but this one shouldn't be all that bad. The Chiefs have really found their offensive mojo lately. The Titans have a pretty good defense, but it is going to be really difficult to stop or contain Kareem Hunt, Tyreek Hill, Travis Kelce and Alex Smith. The Titans have not been nearly as good on offense this year as they were expected to be. Marcus Mariota has not taken that big leap forward, but to be fair to him, he has been injured for a chunk of the season. No DeMarco Murray for the Titans this week. He's out with an injured knee. That puts more pressure on Mariota. I don't think he can match the Chiefs score for score. The Chiefs win their first home playoff game in a long time. Two decades perhaps?
Prediction: Chiefs 27 Titans 17
Atlanta Falcons @ Los Angeles Rams 8:15 PM ET NBC (Saturday)
Out of all of the four road teams this week, I think the Falcons have the best chance to win. They've been in the playoffs before. They were in the Super Bowl last year. But this year's Falcons are not the same team from last year. When they are playing on all cylinders they are tough to beat, but that hasn't happened much this year. The Rams playoff experience or lack thereof will show, but I think Todd Gurley just does too much and the Rams get the victory. Worth watching though is how the loss of kicker Greg Zuerlein impacts the Rams, their decision making and play calling. I reserve the right to change my opinion on this game up until kickoff. I just may switch.
Prediction: Rams 24 Falcons 23
Buffalo Bills @ Jacksonville Jaguars 1:05 PM ET CBS (Sunday)
Both of these teams really don't know what being in the playoffs is all about. The Bills haven't been in the playoffs this century until now and the last time the Jaguars were in the playoffs was 2007. Something has to give. Both teams like to run the ball a lot, but the Bills may be without LeSean McCoy who is nursing an injury. That is bad news for the Bills if he can't go. The Jaguars defense was an elite defense this year. Calais Campbell is a beast. That secondary is outstanding. And I don't think quarterback Blake Bortles is going to make any catastrophic mistakes. Low scoring affair for a while, but I think the Jaguars pull away.
Prediction: Jaguars 23 Bills 13
Carolina Panthers @ New Orleans Saints 4:40 PM ET FOX (Sunday)
The Saints swept the Panthers in the regular season. The Saints rushing attack of Mark Ingram and Alvin Kamara has to proven to be a deadly combo this season. The Saints defense is doing better as well. Cam Newton and the Panthers struggled on offense last week. They will have Jonathan Stewart back so that will help. Newton and the Panthers weren't all that hot in New Orleans a few weeks back either. I just think it spells doom and gloom for the Panthers in the raucous Superdome.
Prediction: Saints 31 Panthers 17
NFL head coaching news
There really isn't a whole lot of news to report on any of the six NFL head coaching openings:
· Arizona
· Chicago
· Detroit
· Indianapolis
· New York Giants
· Oakland
Minnesota Vikings offensive coordinator Pat Shurmur is sure getting a look from quite a few teams. He's interviewing with the Bears, Lions, Giants and Cardinals. I think the best fit for him is in Arizona and I think Case Keenum would do well with him. I hope it doesn't come to that. I want both of them to stay in Minnesota. Marvin Lewis is staying in Cincinnati, signing a two-year extension. The Colts are going after some Kansas City Chiefs assistants most likely #AsExpected and Josh McDaniels and Matt Patricia of the New England Patriots certainly are going to have a good chance of getting hired. Jon Gruden for all intents and purposes is the new head coach in Oakland. Is everyone waiting for that first domino to fall? Sounds like the Bears want to go more on the offensive side of the ball, but they are exploring and interviewing defensive coordinators as well. No hires yet, but I'm sure they will come sooner than later. Just amazing that we only had six openings considering many out there thought it could be as high as ten.
Coming up Monday: NFL Wild Card reaction CFP preview/prediction