"The Stack" 1-9-18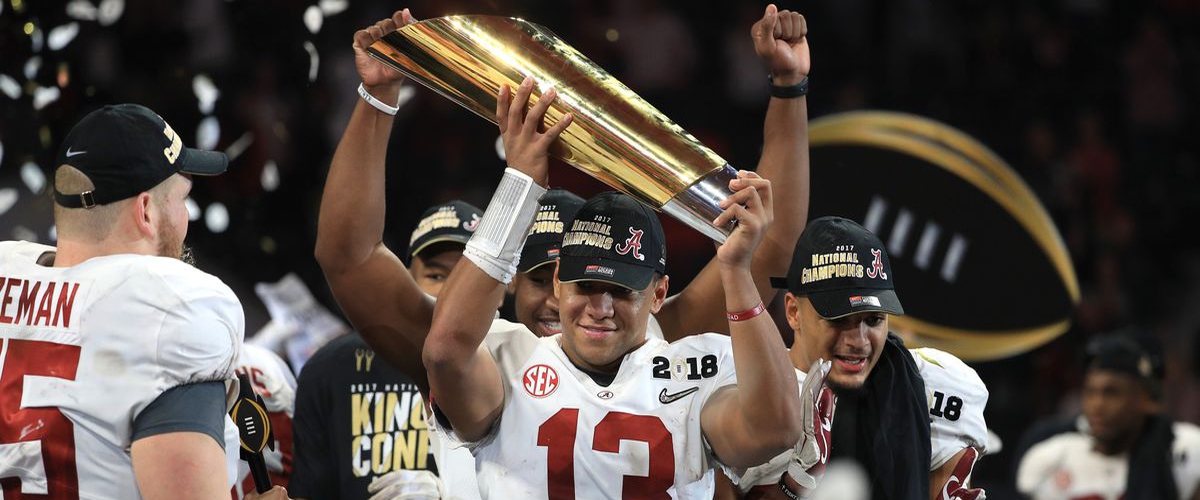 Tua Tagovailoa, a true freshman, came in off the bench in the second half and help jumpstart the Alabama offense leading to an improbable 26-23 overtime comeback victory for Alabama's fifth national championship under NIck Saban.
The Stack is back on this Tuesday and the college football season is over. A national champion has been crowned. Quite the game last night. Boring at times, interesting as the game wore on, phenomenal finish. Incredible ending! Rather unbelievable. We'll recap that game a look at NFL head coaching news in "the stack" for today, Tuesday, January 9th:
Alabama stuns Georgia, wins yet another national championship
What a remarkable game last night in the National Championship game. The game itself was not an all-time great. The end of the game though and all of the different elements involved made for a very unique and remarkable game. Things didn't start rosy for Georgia. Jake Fromm was intercepted on the first possession of the game and Alabama drove down the field, but Andy Pappanastos missed a 40-yard field goal wide left. Georgia seemed to settle down a little bit after that…at least their defense did. Their offense picked it up too. They picked up some third and longs and moved the ball down the field, but settled for two field goals until the final minute of the second half when thanks to Sony Michel for picking up a big first down and 3rd and 15, he ran along the right sideline and got by Alabama's defense and tight-roped the sideline to pick up a bi first down. Wide receiver Mecole Hardman would go in motion and take the pitch and score to give Georgia a 13-0 lead. Alabama's offense couldn't do anything at all in the first half and Nick Saban was not happy. So he made the difficult decision to bench Jalen Hurts and go with freshman Tua Tagovailoa. Why? Because he is more of a pure passer and Alabama needed to move the ball through the air. It wasn't necessarily Hurts' fault that Alabama wasn't moving the ball, but he just couldn't get anything going for Alabama's offense.
The move by Saban was a risky one, but it paid huge dividends. Tagovailoa would lead Alabama to a touchdown I believe on what the second drive of the second half and momentum seemed to swing towards Alabama. Fromm would squash that momentum with an 80-yard touchdown pass to Hardman to get the lead back to 13 at 20-7. Alabama though would keep chipping away. Tagovailoa would keep moving the ball down the field and getting Alabama in position to score. Meanwhile, the Bama defense picked things up and stymied Georgia's offense. It almost seemed like Georgia was playing not to lose rather than playing to win. It would cost them. Tagovailoa threw a 7-yard touchdown to Calvin Ridley on fourth down to tie the game. Alabama then had a chance to win in regulation only to have Pappanastos yet again kick his field goal left. Jubilation and hope once again for Georgia and their fans. To overtime we go and the importance of kicker Rodrigo Blankenship for Georgia cannot be overstated. After Fromm took a sack on third down, Blankenship made a 51-yard field goal to give Georgia the lead. When it was Alabama's turn, Tagovailoa made a true freshman move and instead of throwing the ball away on first down took a 16-yard loss sack. At that point Georgia fans had to be feeling really good about their chances. They just couldn't screw up and make a mistake. Oh wait. On the very next play, Tagovailoa kept the safety in the middle of the field, turned to his left and threw a beautiful pass to DeVonta Smith, another freshman, for a 41-yard score and Alabama would win 26-23. Unbelievable! Stunning. Freshman made the difference in this one for Alabama. I would love an explanation of why Georgia called that defense on second down. Smith burned the cornerback. That was not good at all and Georgia lost. Heartbreaking today if you are an UGA fan. Sensational performance from the freshman from Hawaii. He looks to be the real deal. Saban picks up his sixth national championship, tying him with Paul "Bear" Bryant for most all-time. He is a tremendous coach, the best of all-time. Georgia fans and the SEC in general know that all too well now. Congratulations to Alabama for a somewhat remarkable comeback.
Matt Nagy hired by the Bears
The Chicago Bears have found their new head coach. It's Kansas City Chiefs offensive coordinator Matt Nagy. Nagy clearly must have made a good impression, because he just interviewed with the Bears on Sunday, a day after the Chiefs lost a heartbreaker to the Titans. Nagy has been a member of Andy Reid's staff his entire NFL coaching career. He was in Philadelphia with Reid and traveled with him to Kansas City. Now Nagy is tasked with trying to develop Mitchell Trubisky (sorry Google Hangout crew). Can he take Trubisky to that next level and help make the Bears a competitive team? Easier said than done. Given that he's never not coached on an Andy Reid staff, we'll see if he can lead his own team. I have my doubts. I'm sure others do as well. Given that Chris Ballard, who was previously in the Chiefs front office is now the GM in Indianapolis, Nagy seemed like more of a fit in Indianapolis with the Colts. Either the Colts didn't act fast enough or they just weren't as interested. Either way, Nagy is now the new guy in charge in Chicago.
Jon Gruden to be introduced as Raiders head coach today
Chucky is back in the Black Hole…well for one year, maybe two anyway. Football's worst kept secret the last week, Jon Gruden will be introduced as the new head coach of the Oakland Raiders today. He's signed a ten-year $ 100 million deal to be new leader for the Raiders. Not sure if a stake in ownership is still a part of the deal, but either way this is a great signing for the Raiders bringing back an icon. When you look at Gruden's track record though, after winning a Super Bowl in his first year with the Tampa Bay Buccaneers with Tony Dungy's players, his record wasn't all that great. He didn't do much in the playoffs. Can he get Derek Carr back on track? Can he help get the Raiders defense turned around? He's apparently already been working on assembling a staff. It's great that a guy like Gruden with his passion and energy is back on the sidelines, but can he get back to the success he had in Oakland? We'll see.
Coming up Friday: NFL Divisional Playoff preview and predictions