"The Stack" 10-4-17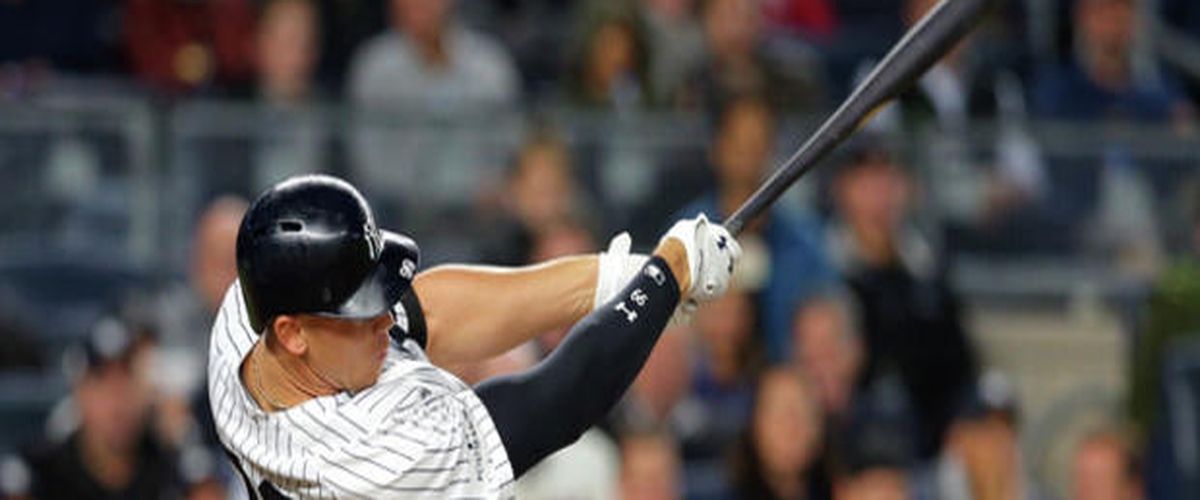 Aaron Judge smacked a two-run homerun to comfortably put the Yankees ahead of the Twins 7-4 last night. The Yankees would tack on one more run to win 8-4.
The Stack is back on this Wednesday and unfortunately the Minnesota Twins are out of the MLB Playoffs. We'll have reaction to that a college football weekend forecast, but first Jack Eichel, the star center for the Buffalo Sabres signed an Wednesday. It is the largest in franchise history for one of the bright young stars in hockey. On a completely unrelated subject, Chicago Bears linebacker Danny Trevathan had his suspension reduced from two games to one for his hit on Green Bay Packers wide receiver Davante Adams last Thursday night. He will miss Monday night's game against Minnesota. Now let's get right to it and see what's in "the stack" for today, Wednesday, October 4th:
Yankees take down Twins in AL Wild Card game
What an entertaining way to start the MLB Playoffs. The Minnesota Twins jumped out to an early lead, but the New York Yankees stormed back and their bats were just too good as they beat the Twins 8-4. They advance to face the Cleveland Indians on Thursday. The Twins started out as good as you could possibly hope for. Brian Dozier led off with a homerun. Three batters later, Eddie Rosario hit a two-run homerun to give the Twins a 3-0 lead. After a couple more batters got on, that was it for Yankees starting pitcher Luis Severino. He lasted just a 1/3 of an inning. In came Chad Green. He struck out the next two batters to get out of the jam. As I was watching this game I thought that it was critical that the Twins get at least one more run there if not two. You need as many runs as you can against the Yankees. Twins starting pitcher Ervin Santana was winless going into last night's start in Yankees Stadium. Santana was all over the place. He did not have his best stuff. His fourth batter in, Didi Gregorius hit a three run bomb to tie the game 3-3. Again at that point, I, along with most Twins fans I'm sure thought it was pretty much over at that point. Santana would last just two innings, giving up four runs. Jose Berrios came in and it wasn't great for him either. He gave up three runs in three innings including a two-run homerun by Aaron Judge which gave the Yankees a 7-4 lead. While the Twins did tie the game 4-4 in the bottom of the third, they once again left runners on second and third. That simply cannot happen when you're playing a team like the Yankees. For the Twins, it stinks that their season is done, but the way they battled through the season and rallied to make the wild card is encouraging. They have a young team and I think they will be a playoff threat over the next few years if not more. They just need more starting pitching and more bullpen help. Strengthen that and they're good. Not sure if the Yankees can take down the Indians, but if their offense shows up like they did Tuesday night, it is going to make for an entertaining series.
Colorado and Arizona square off tonight in the NL Wild Card (8 PM ET TBS). I like the Diamondbacks a lot as I mentioned in yesterday's post. I think they come away with the win.
College football weekend forecast
This weekend doesn't look like a particularly great weekend on the college gridiron. There are only two games pitting ranked teams against one another. That includes Thursday night when #17 Louisville visits #24 North Carolina State (8 PM ET ESPN). I think Louisville will win, but the Wolfpack will make this one very close.
Three of the top five teams are on the road this week. I don't think any of them will lose, but the most likely one is #5 Georgia at Vanderbilt (Noon ET ESPN). #4 Penn State visits Northwestern (Noon ET ABC) and while that will be a tough game, but Penn State should still win. And nobody should think that #1 Alabama will lose to Texas A&M (7:15 PM ET ESPN).
#23 West Virginia visits #8 TCU (3:30 PM ET FS1) and while TCU has been great this year, I'm still holding out a slightly decent (does that even make sense Stacken?!) that they are a tad overrated and West Virginia may be able to pull off the upset. #13 Miami (FL) visits Florida State (3:30 PM ET ESPN). Florida State just doesn't look the same without Deondre Francios. Miami looks pretty good. They don't want to lose to their rival. And Michigan State visits the Big House to take on #7 Michigan (7:30 PM ET ABC). Remember the last time these two teams met at the Big House? Michigan State won with a miraculous blocked punt that they ran back for a touchdown. I don't anticipate that happening here though.
There are some other good games this weekend as well and I'm sure we will see a few upsets along the way. When you don't think the weekend slate looks great, that's when some of the better games can happen. Enjoy the weekend everyone.
Coming up Thursday: 2017-18 NHL season preview