"The Stack" 11-27-17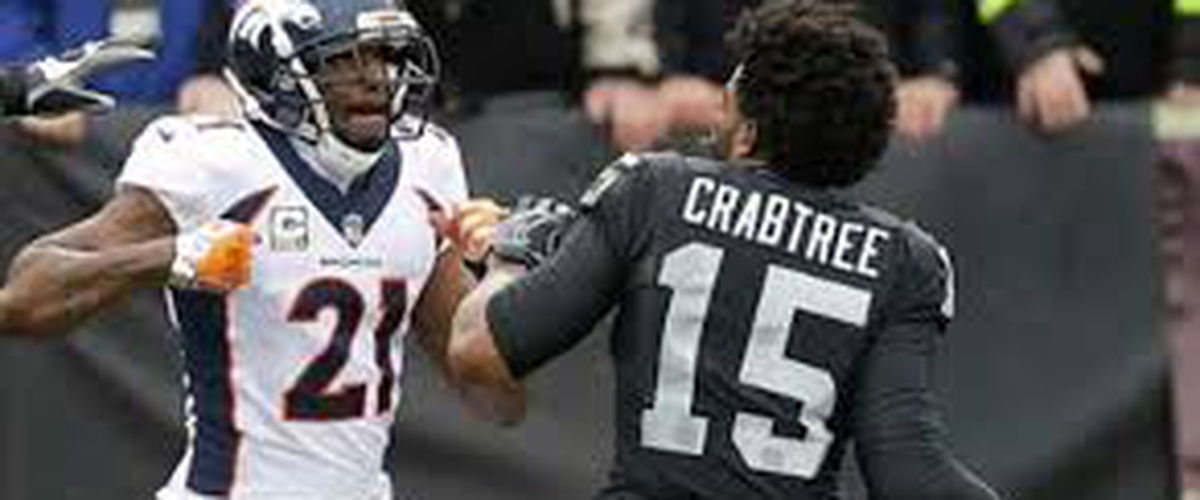 Broncos cornerback Aqib Talib and Raiders wide receiver Michael Crabtree were ejected after getting into a fight that stemmed from last year early in the first quarter of the Raiders 21-14 win over the Broncos.
The Stack is back on this Monday and hopefully everyone had a wonderful Thanksgiving holiday. Man where did those four days go? We have plenty of reaction to all of Sunday's NFL games so let's get right to "the stack" for today, Monday, November 27th:
Falcons 34 Buccaneers 20
Finally Julio Jones had a big day much to my chagrin as I went against him in two fantasy football matchups. 12 receptions for 235 yards and two touchdowns including a beautifully designed play with wide receiver Mohammed Sanu throwing a beautiful rainbow pass to him. The Bucs had no answer for Jones and with the win the Falcons have now won three games in a row and they are starting to re-gain their 2016-17 form.
Bengals 30 Browns 16
The Browns are playing hard, but they just don't have the talent to match opposing teams. Sunday was no different with Bengals rookie running back Joe Mixon having a big day and Andy Dalton making the throws he needed to keep the Bengals wild card hopes alive. Hopefully one of these days the Browns will get a victory.
Titans 20 Colts 16
For the first time in Titans history, they have won a game Lucas Oil Stadium. It wasn't pretty at times if not for most of the game. Marcus Mariota threw another two interceptions, but I believe this is the first game the Titans won when Mariota throws multiple interceptions. He made the throws he needed to later though and the Titans got a big win.
Bills 16 Chiefs 10
The Chiefs are in complete freefall. Their offense couldn't get anything going against a defense that had given up over 130 points in their previous three games combined. Tyrod Taylor was the right person for the job in this one and the Bills got the one. Sean McDermott looks even dumber for trying to start Nathan Peterman last week. What has happened to Kansas City?
Patriots 35 Dolphins 17
Well Jarvis Landry has some explaining to do…or backpedaling because the Dolphins were overmatched in this one. The Dolphins defense is absolutely terrible and the Dolphins offense just can't make enough big plays to put points on the board. This Dolphins team is bad. Tom Brady, Rob Gronkowski and company continue to roll.
Panthers 35 Jets 27
Cam Newton did not have a good day through the air, but he can thank his defense and special teams who had two touchdowns in the fourth quarter (a fumble recovery ran in for a touchdown by Luke Kuechly and then a punt return for a touchdown later in the quarter). They won too despite Jets wide receiver Robbie Anderson catching two touchdowns and going over 100 yards. Tough loss for the Jets.
Eagles 31 Bears 3
Carson Wentz and the Eagles offense continues to soar. They were great in the first half of this one and coasted in the second half. Their defense played great as well. The Bears just aren't very good and it showed. This Eagles team is awfully impressive.
Seahawks 24 49ers 13
The wind played a bit of a factor in this one with the kicking game and once again the Seahawks started slow before finally putting it all together. Good thing they were playing the one-win 49ers or they may not have won. That must improve or they will lose next week to Philadelphia. The silver lining in the loss for the 49ers is that Jimmy Garoppolo came in for an injured C.J. Beathard and threw a touchdown in the game's final seconds. That's potentially your future 49ers fans.
Rams 26 Saints 20
The Los Angeles Rams defense did a phenomenal job of holding the high-powered Saints offense in check. Apart from a late touchdown pass by Drew Brees, they held him in check all game. Saints rookie running back Alvin Kamara did his best to keep the Saints in the game with a tremendous rushing touchdown and picking up plenty of scrimmage yards overall, but the Saints just could not move the ball as much as Jared Goff was for the Rams. What a good game between two of the best in the NFC.
Cardinals 27 Jaguars 24
The Jaguars couldn't generate much offense against the Cardinals in the first half of this game, but managed to tie the game in the fourth quarter thanks to Blake Bortles and his two rushing touchdowns. Yes, Bortles was the leading rusher for the Jaguars and not Leonard Fournette. Too bad their defense couldn't stop Blaine Gabbert late. Gabbert made a couple of nice throws to set up Phil Dawson with the 57-yard field yard field goal that he made to win the game. With the loss, the Jaguars fall back to a wild card spot while the Titans take first place in the AFC South.
Raiders 21 Broncos 14
Ugly scene in the early moments of this game when Raiders wide receiver Michael Crabtree and Broncos cornerback Aqib Talib went at it after a play throwing multiple punches. If you were watching the game you saw what happened last year on the final week of the regular season when Talib ripped a gold chain off of Crabtree. Both players were ejected and suspensions seem likely. Dirty on both sides. Combine that with Amari Cooper going down after a scary hit and the win still kind of seems like a loss for the Raiders.
Steelers 31 Packers 28
Man did Packers quarterback Brett Hundley play phenomenal in this game. Perhaps the Steelers didn't take him and the Packers offense very seriously in preparation this week, but Hundley was great throwing three touchdowns and leading the Packers to leads of 14-6 and 21-14. Ben Roethilsberger and Antonio Brown would hook up for two touchdowns though to give the Steelers the lead back only to see Hundley lead the Packers down the field, convert on fourth down and score a touchdown to tie the game. Alas though, the Steelers would win this game thanks to Brown making a tremendous tip-toe catch along the sidelines to help set up Chris Boswell's 53-yard field goal. Great game. Stunning that it happened the way it did, but the Packers still have to feel like they have a shot in the NFC playoff race.
Houston Texans @ Baltimore Ravens 8:30 PM ET ESPN MNF
If Deshaun Watson were playing, I would be captivated by this game, but Tom Savage against the Ravens defense doesn't really seem like a fair fight to me. Lamar Miller and Deondre Hopkins will do their best to help get the Texans points, but the Ravens defense is just a little too strong and I think they help win a low-scoring affair.
Prediction: Ravens 23 Texans 9
Coming up Tuesday: MNF reaction, college football thoughts and more