"The Stack" 11-3-17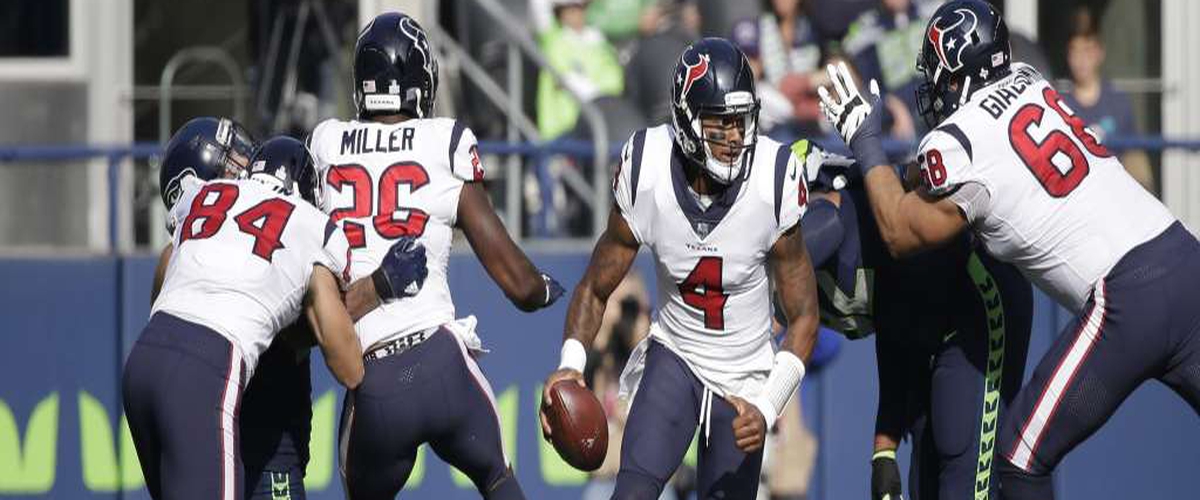 Houston Texans rookie quarterback Deshaun Watson suffered a torn ACL in practice on Thursday and will miss the rest of the season. It is yet another blow to the team and the NFL.
The Stack is back on this first Football Friday of November and we're starting the week out like we always do, 0-1. Man I just can't figure out these Thursday night games. The New York Jets beat the Buffalo Bills 34-21. The Bills need Kelvin Benjamin to play and fast. Now let's see how the rest of week 9's picks will go in "the stack" for today, Friday, November 3rd:
Atlanta Falcons @ Carolina Panthers 1 PM ET FOX
A win can do a lot for a team. The Falcons with their win against the Jets last week hopefully can get the offensive mojo to continue. It isn't going to be easy against that Panthers defense, but with the Panthers offense losing Kelvin Benjamin this week, they may be in shock a little bit. I think the Falcons can sneak out a win on the road.
Prediction: Falcons 23 Panthers 20
Indianapolis Colts @ Houston Texans 1 PM ET CBS
Devastating news out of Houston on Thursday with rookie phenom quarterback Deshaun Watson going down in practice with a torn ACL doing nothing out of routine. I feel for him. I hope he is able to come back stronger and better than ever. Couple that with the Duane Brown trade and I think the Texans are going to come out flat, but they should be able to still beat a bad Colts team that just had to put Andrew Luck on I.R. for the rest of the year.
Prediction: Texans 20 Colts 16
Cincinnati Bengals @ Jacksonville Jaguars 1 PM ET CBS
It's an odd week. The Jaguars only win on odd weeks. That Jaguars defense is going to make life miserable for Andy Dalton and the Bengals offense. Blake Bortles will do just enough to get the win. Yes, Blake Bortles will have a decent game.
Prediction: Jaguars 24 Bengals 16
Tampa Bay Buccaneers @ New Orleans Saints 1 PM ET FOX
Jameis Winston is a little banged up. The Buccaneers secondary is a little banged up right now. Or they are just bad. Either way, Drew Brees should have a big day and the Saints will win their sixth in a row thanks in part to their defense which will force at least two turnovers by Winston.
Prediction: Saints 31 Buccaneers 20
Los Angeles Rams @ New York Giants 1 PM ET FOX
Both teams had a bye week last week. Will that help the Giants offense at all? Probably not. Cornerback Janoris Jenkins is suspended this game for the Giants. Not sure how much of a difference that is going to make, but between Todd Gurley and Jared Goff playing with competence, I think the Rams will avoid the upset bid by the Giants.
Prediction: Rams 27 Giants 17
Denver Broncos @ Philadelphia Eagles 1 PM ET CBS
Brock Osweiler is starting at quarterback for the Broncos. Now he did have some good starts when he was the Broncos starting quarterback replacing Peyton Manning when Manning was injured. It's not the same now though. Against the Eagles defense and going head-to-head with Carson Wentz, Osweiler is going to be very overmatched.
Prediction: Eagles 27 Broncos 13
Baltimore Ravens @ Tennessee Titans 1 PM ET CBS
Titans quarterback Marcus Mariota says he has all of his mobility back. That's not good news for the Ravens defense. In a low scoring affair, the Titans will ground and pound their way to a win because their offense is better than the Ravens. That's what it's going to come down to.
Prediction: Titans 16 Ravens 9
Arizona Cardinals @ San Francisco 49ers 4:05 PM ET FOX
49ers wide receiver Pierre Garcon was just placed on I.R. with a neck injury. That isn't going to help a team that is struggling offensively to begin with. They had a few injuries last week in Philadelphia. Arizona has their own injury woes to deal with, but they still have a little more talent than the 49ers and will find a way to win.
Prediction: Cardinals 16 49ers 13
Washington @ Seattle Seahawks 4:05 PM ET FOX
Please don't be confused. Washington, the team from the NFC, is just outside of D.C. not in the state of Washington where Seattle is. I know it can be confusing. (sarcasm). Washington has offensive line woes. Seattle may have solved theirs by getting offensive tackle Duane Brown this week. Russell Wilson is playing really well right now. They win this one easily.
Prediction: Seahawks 30 Washington 17
Kansas City Chiefs @ Dallas Cowboys 4:25 PM ET CBS
Assuming Ezekiel Elliott does not get his suspension reversed on his appeal, the Cowboys are going to have go to with Alfred Morris. He will do a fine job, but he is no Elliott. The Cowboys are going to have a hard time stopping Kareem Hunt and Tyreek Hill. I think the Chiefs win a fairly high-scoring affair.
Prediction: Chiefs 30 Cowboys 24
Oakland Raiders @ Miami Dolphins 8:30 PM ET NBC
The Dolphins have been put on high alert with Jay Ajayi getting traded to the Eagles before the trade deadline on Tuesday. The Raiders are a desperate team. They absolutely need to win. They have more talent than the Dolphins. They should beat the Dolphins. They will beat the Dolphins.
Prediction: Raiders 34 Dolphins 17
Coming up Monday: Week 9 NFL reaction MNF preview