"The Stack" 3-17-18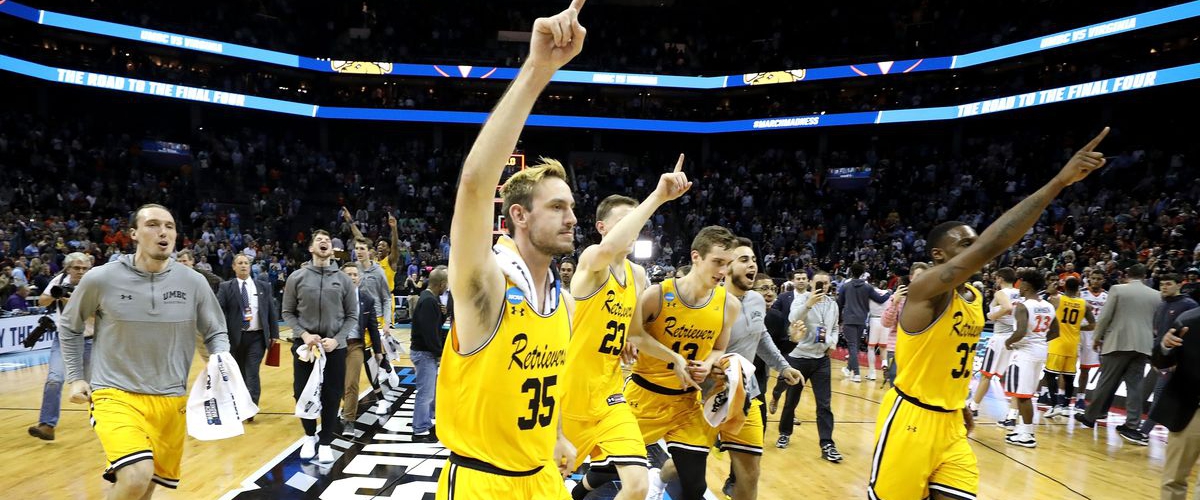 UMBC pulled off the upset of all upsets when they took down #1 seed Virginia 74-54 Friday night in Charlotte. They become the first #16 seed to beat a #1 seed in the NCAA Tournament.
Well, is your bracket busted? If it isn't I fear you may be lying. History was made Friday as UMBC became the first #16 seed ever to beat a #1 seed. And they just didn't beat Virginia. They absolutely embarrassed Virginia in the second half. Jairus Lyles scored 28 points and he could not miss. Virginia's defense was horrible. They took contested shots. I'm beginning to wonder if those were some imposters in Virginia's uniform. This is the biggest upset we've ever seen in college basketball. Chaminade over #1 Virginia was big, but this is bigger. #16 seeds were 0-135 before this game. Make it 1-135. Congrats to UMBC on their stunning, historic victory. In case you forgot, here is what I put in the blog yesterday regarding this game:
In case you haven't heard, no #16 seed has ever beaten a #1 seed. It isn't happening in this one. This is Virginia's best team they've had under head coach Tony Bennett. Losing Deondre Hunter hurts Virginia, but that is a loss that will be felt later on in this tournament. They won't feel it in this game against UMBC.
Boy was I wrong. The country was wrong. Congrats to UMBC. It was not a good day of picks overall. #13 seed Marshall upset #4 seed Wichita State 81-75 in a game I had a feeling could happen. It sets up an all-West Virginia matchup with West Virginia in the second round. That is going to be fun. I thought New Mexico State was the best #12 seed and they would handle #5 seed Clemson. Clemson was the better team from start to finish. Impressive for the Tigers who get Auburn in the second round. Michael Porter Jr. wasn't all that impressive for #8 seed Missouri. His conditioning definitely needs work. Missouri lost to #9 seed Florida State 67-54. That was quite the comeback in Texas-Nevada game. #7 seed Nevada was trailing by 14 points in the second half to the #10 seed Texas Longhorns, but came back to force overtime and thanks to some outstanding shooting won 87-83. And #2 seed Purdue won 74-48 over #15 seed Cal-State Fullerton, but lost big man Isaac Haas for the rest of the tournament to a fractured elbow. That is a devastating blow. Who will be going to the Sweet 16? Let's take a look at today's games in "the stack" for today, Saturday, March 17th:
#9 Alabama vs. #1 Villanova 12:10 PM ET CBS (Pittsburgh, PA) East Region
Villanova lost to Wisconsin in this round last year. Wisconsin was an #8 seed. Collin Sexton and Donta Hall are outstanding for Alabama. Villanova better watch out or they will suffer yet another early exit. I think they take care of business, but after last night, how can we say any #1 seed is safe?
Predicted winner: Villanova
#7 Rhode Island vs. #2 Duke 2:40 PM ET CBS (Pittsburgh, PA) Midwest Region
Oh man, are we ready for another upset? The Rams have some guards who can make shots from all over the floor and Duke's defense isn't all that great. Rhode Island struggled though to beat Oklahoma on Thursday. I think Marvin Bagley III, Grayson Allen and company will get by Rhode Island, but it is going to be a tough one. Do not be surprised when Rhode Island wins this one.
Predicted winner: Duke
#13 Buffalo vs. #5 Kentucky 5:15 PM ET CBS (Boise, ID) South Region
Boy Buffalo embarrassed Arizona on Thursday. They expected to win. Can head coach Nate Oats get his team ready for another stiff test in Kentucky? They beat Arizona. They can beat Kentucky. Kentucky didn't exactly look impressive against a difficult Davidson squad and they didn't make a three for what it's worth. If Buffalo's head is on straight, I think they win this game. Keep the Cinderella run going.
Predicted winner: Buffalo
#11 Loyola-Chicago vs. #3 Tennessee 6:40 PM ET TNT (Dallas, TX) South Region
That was a phenomenal buzzer-beating three pointer by Loyola-Chicago to take down Miami(FL) on Thursday. I feel as though it has largely been forgotten in light of Buffalo and UMBC winning. Well, I think Loyola-Chicago will remind people just how good they were when they beat Tennessee. This is a very balanced team.
Predicted winner: Loyola-Chicago
#8 Seton Hall vs. #1 Kansas 7:10 PM ET TBS (Wichita, KS) Midwest Region
Seton Hall looked really good Thursday against North Carolina State and they made their free throws which is something they didn't do a whole lot of this season. Kansas struggled against Penn. That was perhaps a wakeup call for them. We'll see in this one.
Predicted winner: Kansas
#5 Ohio State vs. #4 Gonzaga 7:45 PM ET CBS (Boise ID) West Region
Both of these teams survived upset scares on Thursday, Gonzaga especially. Ohio State had to shoot a lot of threes against South Dakota State to beat the Jackrabbits. They won't need to shoot quite as many threes to beat Gonzaga, but that is if they can beat Gonzaga. Against better judgement, I think they can.
Predicted winner: Ohio State
#6 Florida vs. #3 Texas Tech 8:40 PM ET TNT (Dallas, TX) East Region
Florida played really well against the Bonnies on Thursday while Texas Tech was in a Texas sized dog fight with Stephen F. Austin. How can one man make it so difficult for a team? Haha, dad joke. Anyway, Florida has great guards, but Texas Tech plays good defense. I think they can take down Florida, but it isn't going to be easy.
Predicted winner: Texas Tech
#6 Houston vs. #3 Michigan 9:40 PM ET TBS (Wichita, TX) West Region
Get to know Rob Guy. He scored 39 points in Houston's win over San Diego State. Michigan was not great against Montana. In fact they were quite underwhelming. If they get off to a slow start, they won't be able to come back against Guy and Houston. I'm guessing that won't be the case, but this is going to be a great game.
Predicted winner: Michigan
Happy St. Patrick's Day everyone!
Coming up Sunday: Saturday reaction previews and predictions for Sunday's games.