"The Stack" 3-18-18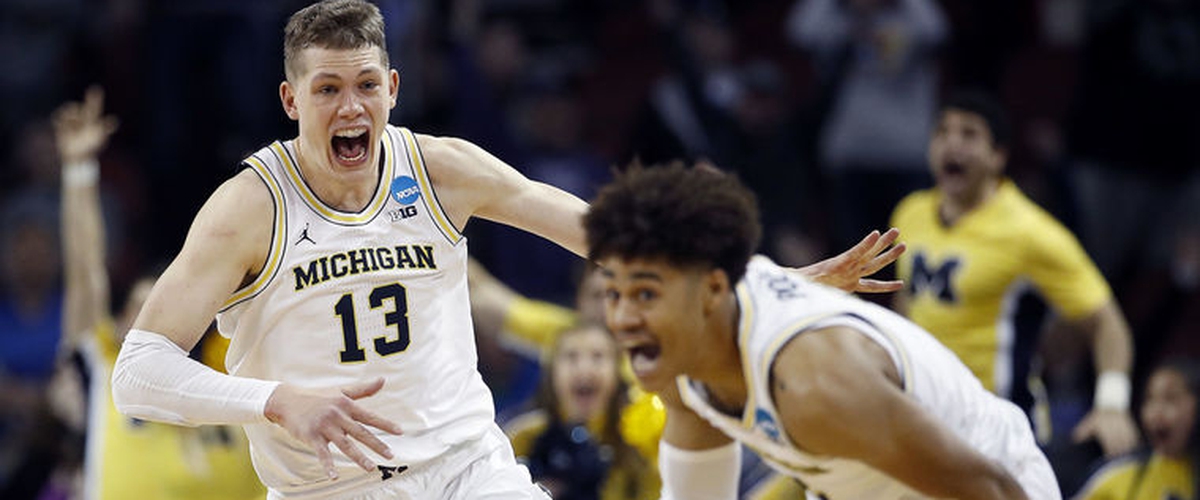 Jordan Poole saved Michigan's season, hitting a three as time expired to lift Michigan to a 64-63 win over Houston to advance to the Sweet 16. It is a devastating loss for Houston who the game in control but missed two free throws that could have iced the game.
Well the first few games on Saturday weren't exactly great. They were all blowouts. The rest of the games though were really exciting and close. We saw a buzzer beater to end the night in Wichita as #3 seed Michigan survived #6 seed Houston 64-63. #11 seed Loyola-Chicago produced another miracle for Sister Jean with their game-winning shot against #3 seed Tennessee to win 63-62. Sandwich in that with #6 seed Florida against #3 seed Texas Tech that went down to the wire and a 5-4 battle between Ohio State and Gonzaga which Gonzaga ultimately won after giving up a huge lead and it made for quite the enjoyable Saturday of NCAA Tournament action on St. Patrick's Day. What does Sunday have in store? Let's find out in "the stack" for today, Sunday, March 18th:
#10 Butler vs. #2 Purdue 12:10 PM ET CBS (Detroit, MI) East Region
I wonder just how Purdue is going to look without Isaac Haas on the court. Their big guy fracture his elbow in their opening game against Cal-State Fullerton. Butler is a gritty team who knows how to play ugly and win ugly. If Purdue's winds aren't away from their sails I think they hang on and win a close one, but if not, then Butler is going back to the Sweet 16.
Predicted winner: Purdue
#11 Syracuse vs. #2 Michigan State 2:40 PM ET CBS (Detroit, MI) Midwest Region
Syracuse's 2-3 zone has given Arizona State and TCU fits through the first two games in the tournament for the Orange. Michigan State though has way too many talented players and a very deep bench. I just don't see Syracuse being able to contain Sparty from start to finish. I like Michigan State to advance.
Predicted winner: Michigan State
#7 Texas A&M vs. #2 UNC 5:15 PM ET CBS (Charlotte, NC) West Region
A&M's length and size presented problems for Providence on Friday. UNC will need to be able to shoot well and they know they have to deal with A&Ms big guys and fight to control the rebounds. I think I'll take UNC to win, but I don't say that with a lot of confidence. I think this is going to be a close game.
Predicted winner: UNC
#7 Nevada vs. #2 Cincinnati 6:10 PM ET TNT (Nashville, TN) South Region
Nevada's offense can put up points in bunches, but Cincinnati's defense is among the best in the country. This is going to be a hard fought game and a real toss up, but that extra energy that Nevada had to exude to take down #10 seed Texas Friday night I feel like is going to come back and haunt them in this one.
Predicted winner: Cincinnati
#5 Clemson vs. #4 Auburn 7:10 PM ET TBS (San Diego, CA) Midwest Region
Boy Clemson looked good the other night in beating New Mexico State. They certainly surprised me. Auburn on the other struggled, but was able to survive an that's the name of the game. In some Tiger on Tiger crime, I think I am going to go with the Tigers who won pretty convincingly.
Predicted winner: Clemson
#16 UMBC vs. #9 Kansas State 7:45 PM ET TruTV (Charlotte, NC) South Region
I bet Kansas State can't realize their good fortune. They don't have to go against a Virginia team that is so good defensively here in the second round. Instead it is just the Cinderella kids led by Jairus Lyles. I would love to see UMBC win, but I can't see lightning striking twice in the same tournament with this team.
Predicted winner: Kansas State
#9 Florida State vs. #1 Xavier 8:40 PM ET TNT (Nashville, TN) West Region
Xavier struggled at times Friday against #16 seed Texas Southern. The top seed will have to play better than that if they want to make it to the Final Four. Florida State is great defensively, but Xavier is just a more solid team and they will find a way to win and advance to the Sweet 16.
Predicted winner: Xavier
#13 Marshall vs. #5 West Virginia 9:40 PM ET (San Diego, CA) East Region
The battle for West Virginia. Man this should be a fun matchup. Both of these teams do not like one another. West Virginia has more talent, but Marshall can put up a lot of shots and a lot of points. Leaning towards Juwan Carter and the Mountaineers, but this is the least confident I feel on any game entering today.
Predicted winner: West Virginia
Coming up Monday: Sunday's NCAA Tournament game reaction other top stories and headlines from the weekend.