"The Stack" 3-5-18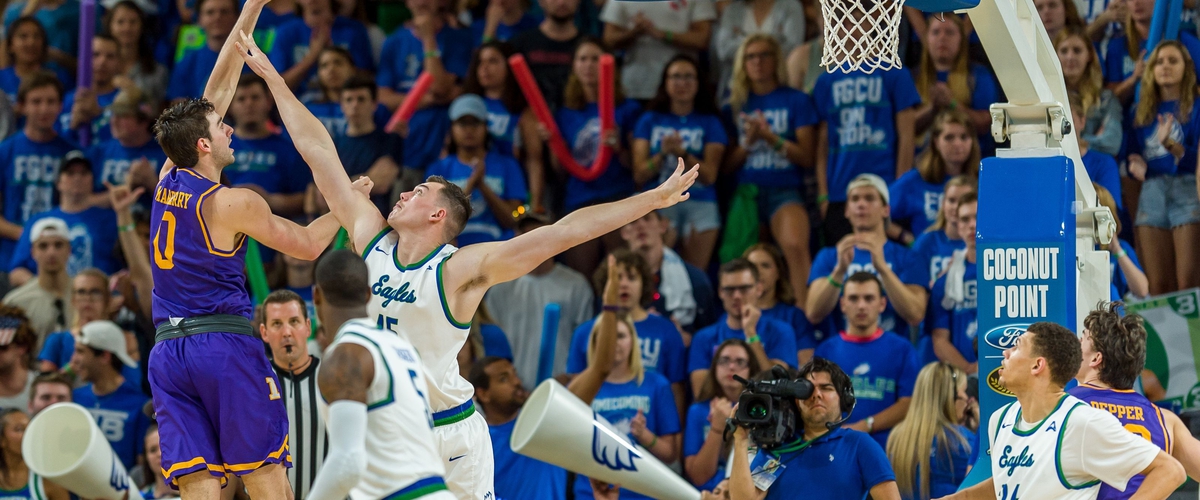 Lipscomb took down FGCU in a wild Atlantic Sun championship that saw Lipscomb score 60 points in the first half only to see FGCU rally back, but they couldn't complete the comeback. For the first time in school history, Lipscomb is dancing.
What a wild Sunday that was for conference championship games. The Stack loves March and for good reason. Radford wins the Big South on a buzzer beater over Liberty. Lipscomb put up 60 points in the first half against FGCU only to see FGCU come rallying back and getting within five points before Lipscomb ultimately prevailed for their first trip to the dance ever. Loyola-Chicago won the MVC championship relatively easily over Illinois State sending them back to the Big Dance for the first time since 1985. And Moritz Wagner was sensational for Michigan as they took down Purdue to win their second consecutive Big Ten championship. They are not a team you want to see in March. What else do we have in store for today? Let's find out in "the stack" for today, Monday, March 5th:
MEAC tournament preview
The MEAC tournament in Norfolk, Virginia, and this feels as though it could be somewhat of an unpredictable tournament, but I got tell you folks, I don't know much about this conference in terms of just who the best teams are, because I feel they are so clustered and I don't think there is a team that is capable of pulling off an upset this year, but then again who saw Hampton pull off the upset when they won against South Carolina or Norfolk State a few years ago when they beat Missouri? That's the beauty of March.
Predicted winner: Bethune-Cookman
MAC tournament preview
It's time we get our MACtion on. The MAC tournament with the majority of the tournament taking place at Quicken Loans Arena in Cleveland, Ohio. Buffalo has been the best team in this conference all year long. They have a high RPI and they are battle tested. Sure an upset or two can happen, but I just don't see it. Should Central Michigan beat Bowling Green in the 8-9 matchup, Buffalo should watch out for them because Central Michigan no doubt will be playing with a lot of emotion following the tragic scene that unfolded on their campus last week that left two people dead. Still like Buffalo though.
Predicted winner: Buffalo
MAAC Championship game
#6 Fairfield vs. #4 Iona 7 PM ET ESPN
Raise your hand if you had these two teams in the conference championship game. You're all liars. Iona squeaked by the nine seed St. Peter's while Fairfield had to beat the seven seed, Quinnipiac. I should be smart and roll with Iona. I don't want to jinx the Stags, but I'll take them to complete their magical run and win the MAAC.
Ticket punched for: Fairfield
SoCon championship game
#2 ETSU vs. #1 UNC-Greensboro 9 PM ET ESPN2
Not a surprise that these two teams are meeting in the conference championship game. East Tennessee State has been the best team going all year long, but they struggled a bit down the stretch. UNC-Greensboro did not and the last time these two teams played, UNC-Greensboro smoked 'em. I will go with the team though that has been in the driver's seat for much of the conference season.
Ticket punched for: ETSU
Before we go…
Hope everyone enjoyed the Oscars last night. No gaffs from what I heard. I didn't see them. Anything good/funny happen? I guess Kobe Bryant won an award for best animated short for "Dear Basketball". "Icarus" won best documentary. They helped expose Russian doping which to the ban in the Winter Olympics. The NFL Combine is still going on I think. Shaquem Griffin is one amazing player and person. Have you seen what he has done at the NFL Combine between bench press and all of the drills? Impressive, impressive, impressive!
Sounds like the Chicago Bears and Baltimore Ravens are both trying to get in on the Jarvis Landry sweepstakes. The Miami Dolphins of course tagged him and are dangling him out there as trade bait. There was a report this weekend that a trade between the Bears and Dolphins could send running back Jordan Howard from Chicago to Miami for Landry. They would also swap first round picks and there may be another pick or two involved.
And if Seattle Seahawks defensive end Michael Bennett is really on the trading block, the Atlanta Falcons are reportedly interested. It makes sense. Head coach Dan Quinn was the defensive coordinator in Seattle and knows Bennett. We'll see if that is something that actually happens.
Spring training is going on. A tank bowl I mean NBA game between the Phoenix Suns and Atlanta Hawks happened Sunday with the Hawks winning (or losing if we're talking about tanking) 113-112. Yeah I think that pretty much covers it.
Coming up Tuesday: More conference tournament previews championship game picks