"The Stack" 3-6-18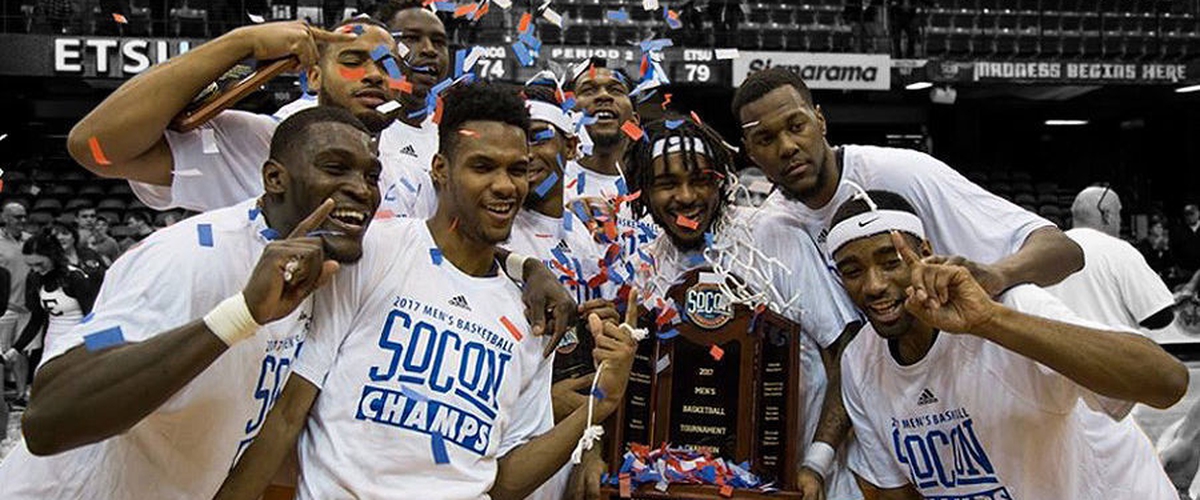 UNC-Greensboro is dancing again taking down ETSU in the SoCon championship.
The Stack is back on this Tuesday and congratulations are in order to Iona (though I wanted Fairfield to win) and UNC-Greensboro for punching their tickets to the Big Dance. I am not always the best with my picks and that was once again the case yesterday. There are five bids up for grabs today. Will I fare any better? Find out now in "the stack" for today, Tuesday, March 6th:
ACC Tournament preview
The ACC Tournament in Brooklyn. While the games today most likely won't produce the winner of this tournament (unless Bonzie Colson leads Notre Dame all the way), they feature teams squarely on the bubble like Syracuse and the aforementioned Notre Dame Fighting Irish. Virginia has really surprised me this year. Their defense we always knew was great. They've been suffocating all year long. I've been impressed by the way though they have battled in every game. It hasn't been easy. Just look last week against Louisville and Notre Dame. They have a one seed locked up. Duke does not. Duke wants that one seed and they are going to play like heck for it.
Predicted winner: Duke
Big Sky tournament preview
The Big Sky tournament in Reno, Nevada. It seems like this is going to be a battle between two teams to see who wins it, Idaho and Montana. Idaho beat Montana a few weeks back. Should they meet in the championship game, I like Montana to get the job done. I think they are just a little bit better than Idaho.
Predicted winner: Montana
SWAC tournament preview
The SWAC tournament in Houston, Texas. Don't they play at the same arena that the Houston Rockets play at? Why? It looks empty in there for the championship game. Anyway, Grambling was a great story this year, but they are postseason ineligible. Same with Alabama A&M. When in doubt, go with a Mike Davis led Texas Southern squad.
Predicted winner: Texas Southern
Horizon League championship
#8 Cleveland State vs. #2 Wright State 7 PM ET ESPN
The basketball in this tournament, to be frank (actually my name is Nathan not Frank), has been pretty bad. Give the Vikings of Cleveland State a lot of credit for getting to this point. They have played scrappy and have come out on top. Former SDSU Jackrabbit head coach Scott Nagy has led his Wright State squad to a very impressive season. I think he'll find a way to take down Cleveland State.
Ticket punched for: Wright State
CAA Championship
#2 Northeastern vs. # 1 Charleston 7 PM ET CBSSN
Both of these teams are the cream of the crop when it comes to this conference. Both are solid teams, but Charleston has been playing better as of late hence the top seed in the tournament. I'll give them the slight edge even though I'm pulling for Northeastern.
Ticket punched for: Charleston
NEC championship
#4 LIU Brooklyn vs. #1 Wagner 7 PM ET ESPN2
Wagner has been the best team in this conference all year. I see no reason to pick against them in this one. They will probably be a #16 seed when the bracket is unveiled on Sunday, but at least they will be able to enjoy this championship game and taste victory.
Ticket punched for: Wagner
Summit League championship
#2 South Dakota vs. #1 South Dakota State 9 PM ET ESPN2
This championship game should not surprise anyone. Both of these two teams were head and shoulders the best teams in the conference this year on both the men's and women's side (USD and SDSU also play in the Summit League women's championship game at 2 PM ET on ESPNU). The Jackrabbits have the best player in the league in Mike Daum, but USD counters with sharp shooter Matt Mooney. He and USD are on a mission. There is something to be said though for championship game experience which SDSU has. They will also have the crowd in this one, about a 70-30 split. I picked USD at the beginning of the year though and at the beginning of the tournament. I pray like heck I'm wrong, but I have to stick with my pick and based on what I have seen so far in this tournament, we are going to be in for one heck of a championship game.
Ticket punched for: USD
WCC championship
#3 BYU vs. #1 Gonzaga 9 PM ET ESPN
What BYU did in beating the #2 seed St. Mary's last night was impressive and is eye opening. Just about everyone had to be thinking we would see another St. Mary's-Gonzaga championship game. BYU can pull off this upset, but Gonzaga is just too good. They've been in this spot before. They have the better team. This is normal to them. There shouldn't be too many jitters. Gonzaga wins.
Ticket punched for: Gonzaga
Before we go…
Not too much else big is happening. Today's the last day of the self-imposed deadline for the Pittsburgh Steelers and running back Le'Veon Bell to agree to a new deal. They will franchise tag him most likely.
Kevin Love wrote about on the Player's Tribune about his issues with panic attacks. Sounds pretty serious. Hope he can get those under control.
Otherwise yeah, it's March and we're about college basketball.
Coming up Wednesday: More conference tournament previews