"The Stack" 4-26-18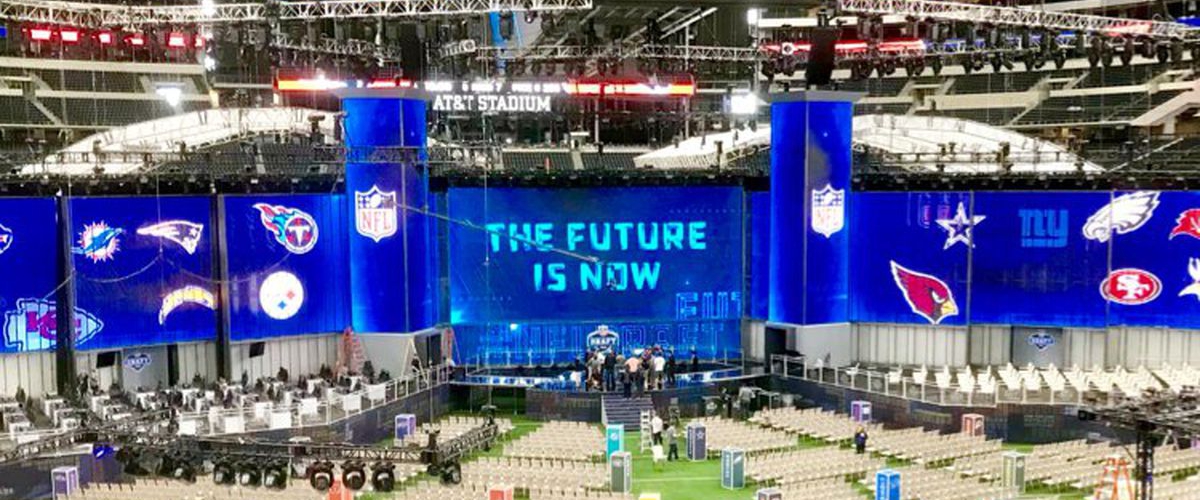 The NFL Draft from Jerry World and Big D begins tonight at 8 PM ET on ESPN and the NFL Network (also streaming on FOX, but watch ESPN or NFL Network please). Who will be the number one overall pick?
The day is finally here! It's Christmas Day for folks like Mel Kiper Jr. The NFL Draft is here. Years, months, days and hours of time, sweat and preparation will be realized this weekend with over 250 players getting drafted and a whole host of others getting invites and signing as free agents. It's going to be a fun three days in Dallas. No NBA or NHL Playoff talk today. Let's get to my terrible NFL mock draft in "the stack" for today, Thursday, April 26th:
The Stack's NFL mock draft
1. Cleveland Browns: Sam Darnold, QB (USC)
2. New York Giants: Bradley Chubb, DE (NC State)
3. New York Jets: Josh Rosen, QB (UCLA)
4. Cleveland Browns: Saquan Barkely, RB (Penn State)
5. Denver Broncos: Josh Allen, QB (Wyoming)
6. Indianapolis Colts: Quenton Nelson, G (Notre Dame)
7. Tampa Bay Buccaneers: Derwin James, S (Florida State)
8. Chicago Bears: Tremaine Edmunds, ILB (Virginia Tech)
9. San Francisco 49ers: Denzel Ward, CB (Ohio State)
10. Oakland Raiders: Roquan Smith, OLB (Georgia)
11. Miami Dolphins: Vita Vea, DT (Washington)
12. Buffalo Bills: Baker Mayfield, QB (Oklahoma)
13. Washington: Da'Ron Payne, DT (Alabama)
14. Green Bay Packers: Minkah Fitzpatrick, S (Alabama)
15. Arizona Cardinals: Mason Rudolph, QB (Oklahoma State)
16. Baltimore Ravens: Jaire Alexander, CB (Louisville)
17. Los Angeles Chargers: Josh Jackson, CB (Iowa)
18. Seattle Seahawks: Harold Landry, EDGE (Boston College)
19. Dallas Cowboys: Calvin Ridley, WR (Alabama)
20. Detroit Lions: Marcus Davenport, DE (UTSA)
21. Cincinnati Bengals: Frank Ragnow, C (Arkansas)
22. Buffalo Bills: Will Hernandez, G (UTEP)
23. New England Patriots: Kolton Miller, OT (UCLA)
24. Carolina Panthers: Mike Hughes, CB (Central Florida)
25. Tennessee Titans: Rashaan Evans, LB (Alabama)
26. Atlanta Falcons: Taven Bryan, DT (Florida)
27. New Orleans Saints: Dallas Goedert, TE (South Dakota State)
28. Pittsburgh Steelers: Leighton Vander Esch, OLB (Boise State)
29. Jacksonville Jaguars: D.J. Moore, WR (Maryland)
30. Minnesota Vikings: Mike McGlinchy, OT (Notre Dame)
31. New England Patriots: Lamar Jackson, QB (Louisville)
32. Philadelphia Eagles: Derrius Guice, RB (LSU)
*I have made some updates from my previous mock draft which I unveiled in this week's "The Sports Block" podcast which will be posted later today. Not a whole lot has changed though. I thought I should stick with what I said earlier this week though it appears that a lot of different things will be happening and I should explain my picks a little bit. I understand that there is a lot of momentum building for Baker Mayfield to either be the first overall pick for the Browns or not falling past the third spot occupied by the Browns. I will go with what I had previously and that is that Mayfield wouldn't fall past the 12th pick. Maybe that will be Josh Allen. Steam has also been building that Saquan Barkley has been decided on as the second overall pick over defensive end Bradley Chubb. I will keep Chubb in there for now. The rest of the picks, I don't think are all that bad. I don't factor trades into these spots. I do believe there will be six quarterbacks taken. Is this my best mock draft? Absolutely not. But hopefully if I can get five or six right, I will deem it a success. Plus, it only takes one team to completely throw things out of whack. That's why we love the NFL Draft. It is going to be a fascinating opening night.
Coming up Friday: Round 1 NFL Draft reaction and maybe some NBA and NHL Playoff talk