"The Stack" 7-2-18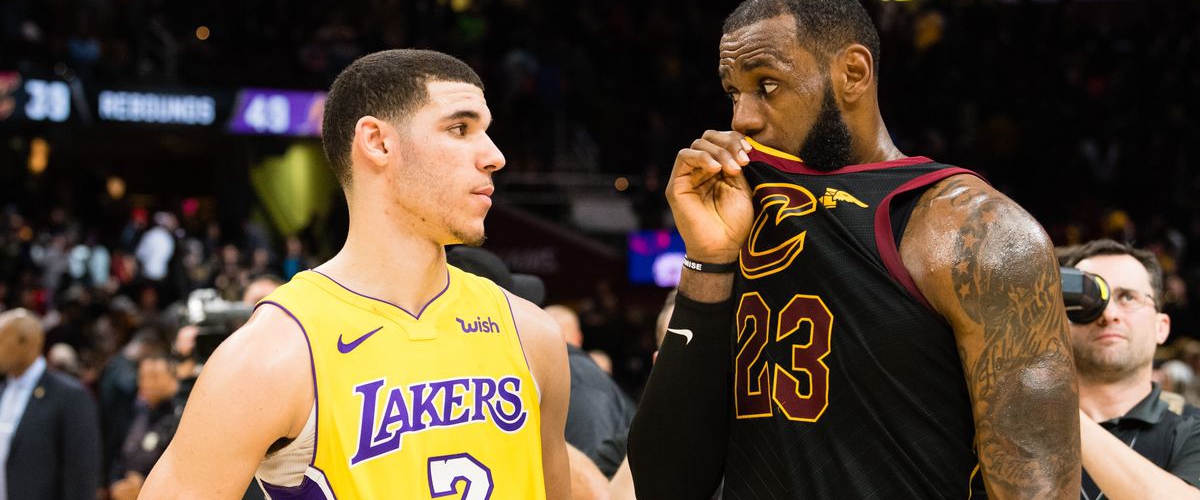 Great! LeBron and Lonzo Ball are teammates. Boo! I hate LaVar, but LeBron has now headed to L.A. to be a Laker.
The Stack is back on this Monday and did you hear the big free agency news yesterday? That is right, John Tavares has signed with the Toronto Maples Leafs. It's a 7-year, $77 million deal. He has said goodbye to the New York Islanders. Oh that's not the big free agent news from yesterday? Well we better get right to that news and see what else is going on in "the stack" for today, Monday, July 2nd:
NBA free agency happenings
LeBron James said he wouldn't take long to make his decision and he held true to that. Despite pitches by the Cleveland Cavaliers right as free agency opened as well as a group of representatives from the Philadelphia 76ers (and maybe a Hail Mary effort by the Denver Nuggets of all teams??), in the end, one of the worst kept secrets of NBA free agency came to fruition. The King has headed to L.A. to join the Lakers on a four-year deal worth $153.3 million. It's the longest contract LeBron has signed since he signed with the Miami Heat. The fourth year is a player. The move makes a lot of sense for his LeBron. Magic Johnson is an ideal entrepreneur mold that LeBron hopes to emulate. There are more business opportunities for him in L.A. and his son also has a lot of basketball options. Plus LeBron already has a house in L.A. as does his agent and close friend Maverick Carter.
Having said all this, the Los Angeles Lakers are not in position to win an NBA title this year. You may have heard that there is a team in the western conference called the Golden State Warriors who have won three of the last four NBA Final titles. Plus the Houston Rockets are there as well and the Lakers don't have the salary cap space to be able to swing a trade for Kawhi Leonard. Leonard certainly sounds like he wants to be with the Lakers when he is scheduled to be a free agent next year, but who knows if the San Antonio Spurs can repair their relationship with him or if they trade him to a team like Philadelphia or Boston, maybe he will like it so much he'll stay there. The Lakers should certainly make the playoffs this upcoming season, but don't expect them to make too much noise.
Notice I didn't say anything about Paul George. That is because George is staying in Oklahoma City on a four-year deal worth $137 million. Russell Westbrook threw a party that George attended Saturday night in an attempt to pursue him to stay with the Thunder and it worked. George had said that he wanted to go to the Lakers last year, but after getting traded to the Thunder and playing a year with Westbrook and Carmelo Anthony, he decided it would be well worth staying. Incredible risk that the Thunder took in trading for George and it paid dividends. Well done Thunder!
Elsewhere, Aaron Gordon re-signed with the Orlando Magic on a four-year, $84 million deal and DeAndre Jordan signed a one-year deal worth $24 million with the Dallas Mavericks. Oh yeah and Derrick Rose re-signed with the Minnesota Timberwolves. Lots of deals happened on Sunday. Get all of the latest either on nba.com or right here with the good crew at ESPN.
World Cup thoughts
Quite a day of action on Sunday. Okay, maybe not so much, but we did have a couple of awfully exciting (and controversial finishes) in the round of 16 at the FIFA World Cup in Russia. In what according to FIFA is the third biggest upset all time in the World Cup (this was said on the FOX telecast), Russia took down Spain 4-3 on penalty kicks. Russia scored their lone goal on a penalty kick in the first half and for some reason the referee did not go to VAR late in extra time that would have given Spain a penalty kick after it sure looked like a Russian pulled down a Spanish player. They didn't and Russia's goalie came through big time and well as everyone who scored on their penalty kick. The home crowd certainly helped, but make no mistake about it, this was a huge upset for Russia.
Croatia and Denmark also were 1-1 and had to decide their match via penalty kicks. Croatia had a chance to win it in extras, but they were denied on a penalty kick. Both goals were scored in the first four minutes of the match. Both goalies made some key saves in the penalty kicks, but Croatia's goalie was just that much better and Croatia advances. You feel for Denmark, but Croatia is moving on. Brazil and Mexico on Monday highlight the doubleheader. It should be good.
For those that say that penalty kicks are a dumb way to decide a winner in as big of an event like the World Cup, I completely understand. That would be like a Stanley Cup Final game or even a playoff game go to a shootout to determine a winner. But considering we just don't see a lot of scoring or a lot of scoring opportunities in soccer sometimes, I am okay with penalty kicks deciding who moves on when we get to the Knockout Stage and beyond. If someone else has a better idea, I am totally open to discussion. I can be easily swayed, especially when it comes to soccer.
Before we go…
The Seattle Seahawks have lost another member from their vaunted defense. This time it is safety Kam Chancellor and while he didn't use the word "retire", he did say in a social media post that he will walk away from the game of football. Chancellor had a bad injury last year and is just deciding that now is the right time. The Legion of Boom is essentially no more apart from Earl Thomas and he is most likely leaving after this season.
Coming up later this week maybe: NBA free agency news and other top headlines in the sports world (it is the 4th of July this week after all)