Top 25 Offensive Lineman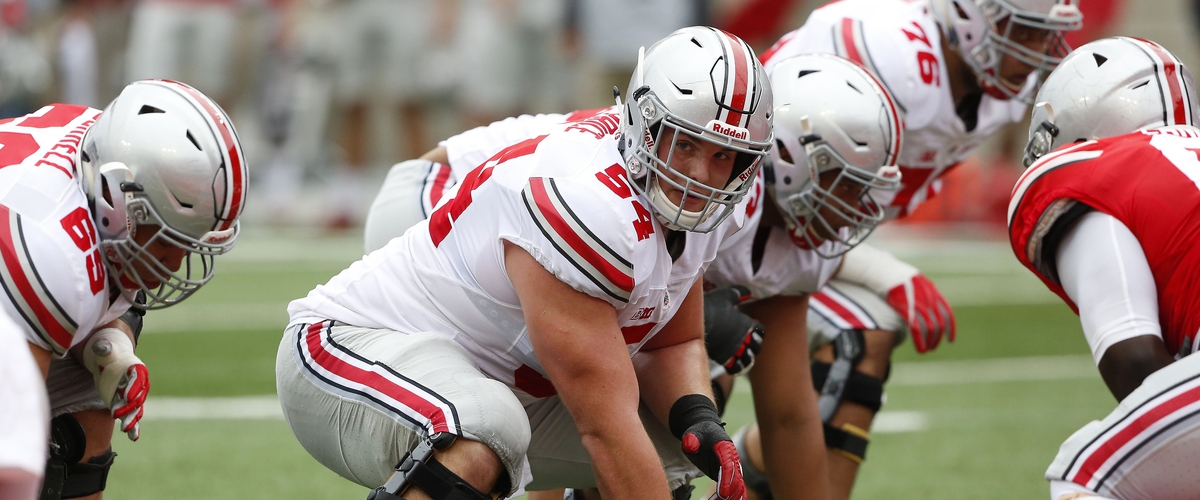 Everyone thought that Ohio State and Clemson would play a competitive game decided by one score, but they didn't think one team would fail to get on the scoreboard. Many experts pegged the Buckeyes to be the team that was dangerous because they were so young and talented. That shouldn't happen again this year. Price becomes the latest lineman for Urban Meyer to switch positions and excel at doing so by going from guard to center. Now that he appears to have found his niche, Price will lead what could be one of the best offenses in college football. With so much talent returning on offense, this group should make a run to the playoff once again, and Price will the a big reason why they get there.
PREVIOUSLY: QUARTERBACK, RUNNING BACK, WIDE RECEIVER/TIGHT END
1. Connor Williams, Texas, Jr
Tackle, 6'6", 288 pounds
Nasty blocker who should thrive under new coach Tom Herman.
2. Dalton Risner, Kansas State, Jr
Center, 6'5", 300 pounds
Yet another Wildcat who wasn't heavily recruited, but turned into a star.
3. Mitch Hyatt, Clemson, Jr
Tackle, 6'5", 295 pounds
He already has two national championship games under his belt. Both against Alabama.
4. Billy Price, Ohio State, Sr
Center, 6'4", 312 pounds
Like former Buckeye and current Minnesota Vikings Pat Elflein, Price has made a fairly seamless transition to a new position.
5. Cody O'Connell, Washington State, Sr
Guard, 6'8", 354 pounds
Mammoth guard is tough to beat, and he becomes more dangerous now that Mike Leach actually incorporates the running game.
6. Frank Ragnow, Arkansas, Sr
Center, 6'5", 319 pounds
Minnesota native has moved around the line, and now becomes the leader of a huge Razorbacks front.
7. Mike McGlinchey, Notre Dame, Sr
Tackle, 6'7", 291 pounds
Senior returned despite being given a first round grade in the NFL draft.
8. Brian Allen, Michigan State, Sr
Guard, 6'2", 305 pounds
Allen will be a key component in the Spartans turnaround after an abysmal 2016 campaign.
9. Braden Smith, Auburn, Sr
Guard, 6'6", 303 pounds
Currently in a streak of 27 consecutive starts, and a big reason why Auburn's running game is lethal.
10. Jonah Williams, Alabama, So
Tackle, 6'5" 295 pounds
Bama's latest offensive tackle that should be in the NFL soon. Needs a partner now that Cam Robinson is gone.
11. Orlando Brown, Oklahoma, Jr
Tackle, 6'8", 360 pounds
Sooners should feel good about replacing Joe Mixon and Samaje Perine with Brown leading the way.
12. Quenton Nelson, Notre Dame, Sr
Guard, 6'5", 325 yards
Redemption starts up front for the Irish, and Nelson's return was a big positive heading into 2017.
13. Trey Adams, Washington, Jr
Tackle, 6'8", 320 pounds
Jake Browning's protector and Myles Gaskin's lead blocker out to help prove Huskies' 2016 season wasn't a fluke.
14. Mason Cole, Michigan, Sr
Center, 6'5", 304 pounds
One of four returners on offense, Cole could move around the offensive line with plenty of new faces at other positions.
15. Tyrell Crosby, Oregon, Sr
Tackle, 6'5", 320 pounds
If running back Royce Freeman has a bounce back year, it's because Crosby is dominating like usual.
16. Bradley Bozeman, Alabama, Sr
Center, 6'5", 311 pounds
Should receive plenty of competition for starting spot, but that's normal under Nick Saban.
17. Tyrone Crowder, Clemson, Sr
Guard, 6'2", 324 pounds
Not as well known as Hyatt (#3), but is just as talented and difficult to beat.
18. William Clapp, LSU, Jr
Guard, 6'5", 309 pounds
Need a hint as to where Derrius Guice may be running this year?
19. Nick Linder, Miami, Sr
Center, 6'3", 298 pounds
Season ended early with shoulder injury, but will be ready to go once fall camp opens.
20. Casey Tucker, Stanford, Sr
Tackle, 6'6", 301 pounds
Does Stanford recruit anyone under 6'4" at any position? Tucker will be the latest great Cardinal to dominate the line of scrimmage.
21. Toa Lobendahn, USC, Sr
Center, 6'3", 295 pounds
With three NFL draft picks gone, Lobendahn needs help. Trojans are looking to prove that they are back for good.
22. Kyle Bosch West, Virginia, Sr
Guard, 6'5", 310 pounds
While Will Grier gets comfortable behind center, Bosch will lead the run game by opening holes for Justin Crawford.
23. Coleman Shelton, Washington, Sr
Center, 6'4", 293 pounds
Experience against Alabama could be a wakeup call for the entire offense. Shelton returns along with Adams (#12) to give Washington one of the best lines in the country.
24. Jamarco Jones, Ohio State, Sr
Tackle, 6'5", 311 pounds
Along with Price (#4), Jones will block for returning quarterback JT Barrett and running back Mike Weber. Could be a dangerous offense to stop.
25. James Daniels, Iowa, Jr
Center, 6'4", 285 pounds
Hawkeyes should feel comfortable in the running game with Daneils as the leader of the line.