Top 25 Pass Catchers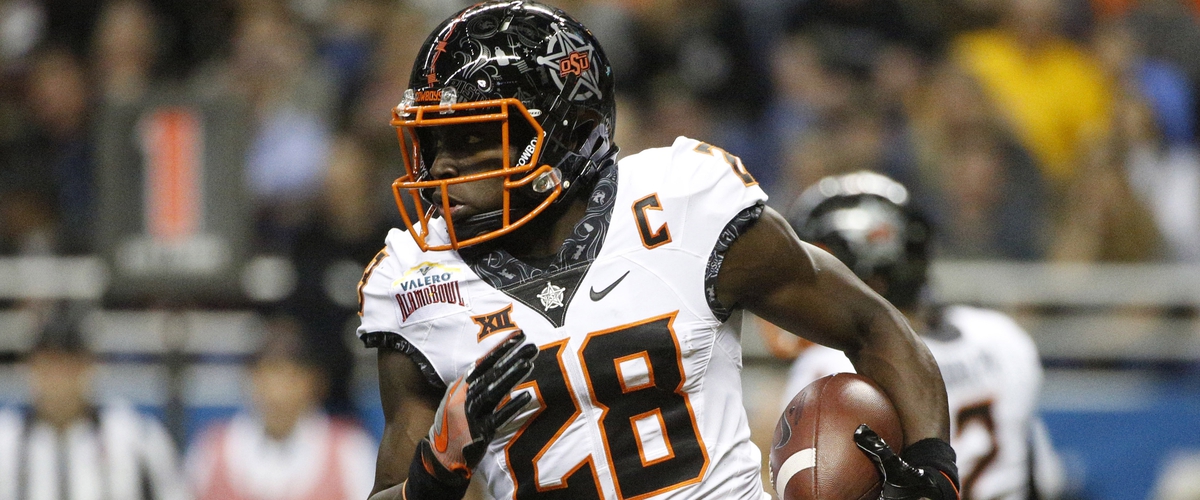 Oklahoma State probably doesn't get as much respect as it deserves despite the success they've seen under head coach Mike Gundy. Much of their success can be attributed to great quarterback-wide receiver connections in the past, and 2017 should feature a similar formula. Quarterback Mason Rudolph has an elite group of receivers returning to throw to, but one stands out in the group. James Washington is the latest receiver to keep the Cowboys in the national conversation, following in the footsteps of Justin Blackmon and Dez Bryant. Even with the defense's attention focused on him, Washington has proved that he can burn any defense. If his supporting cast can keep the pressure off of him, there is no reason why Washington can't break school records while helping the Cowboys reach the College Football Playoff.
PREVIOUSLY: QUARTERBACK, RUNNING BACK
Top 20 Wide Receivers
1. James Washington, Oklahoma State, Sr
2016 Stats: 71 rec. 1,380 yards, 10td
Leader of a loaded receiving corps should demand double coverage on nearly every play. Plays in the Big 12 which will help boost his numbers.
2. Allen Lazard, Iowa State, Sr
2016 Stats: 69 rec. 1,018 yards, 7td
The fact that he finished with over 1,000 yards with the Cyclones is impressive. Should his fellow receivers improve, his numbers could skyrocket.
3. Dante Pettis, Washington, Sr
2016 Stats: 53 rec. 822 yards, 15td
With John Ross in the NFL, he becomes the Huskies' primary target. Despite impressive year, he had seven games in which he had under 40 yards receiving.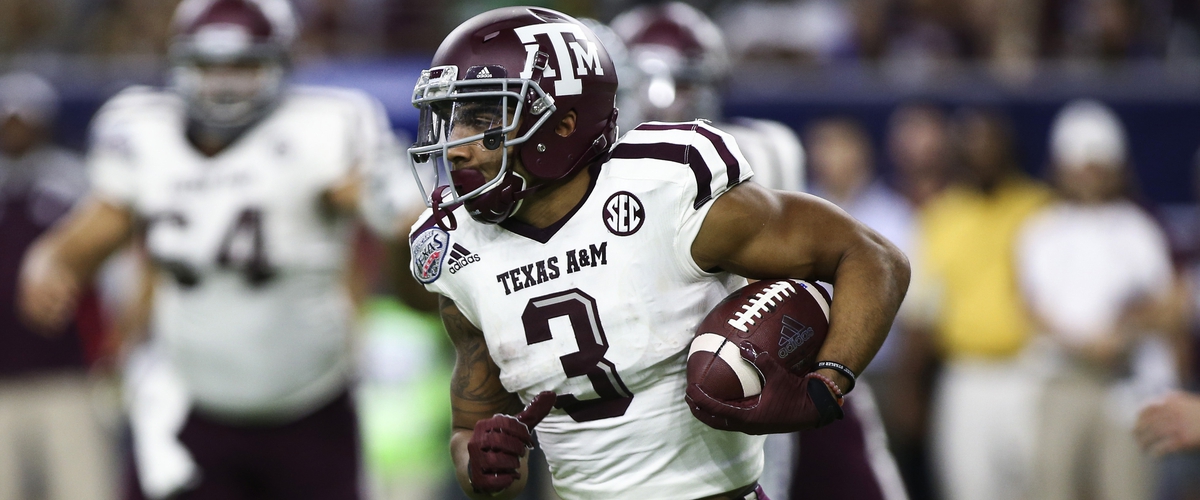 4. Christian Kirk, Texas A&M, Jr
2016 Stats: 83 rec. 928 yards, 9td; 20 ret. 455 yards
After fighting for catches in a crowded group, Kirk is now that main attraction on offense in addition to special teams.
5. Darren Carrington, Oregon, Sr
2016 Stats: 43 rec. 606 yards, 5td
Can be one of the best receivers in the country and has shown flashes of greatness. If he stays on the field and the Ducks recover from last year, he will be dominant.
6. Equanimeous St. Brown, Notre Dame, Jr
2016 Stats: 58 rec. 961 yards, 9td
Cooled off in the middle tier of the season, but is a lethal deep threat (just ask Syracuse). Biggest question will be who will throw him the ball.
7. Anthony Miller, Memphis, Sr
2016 Stats: 95 rec. 1,434 yards, 14td; 12 rush. 69 yards, 1td
Big reason why the Tigers are a dark horse team to make a NY6 bowl. Has talent surrounding him to repeat last year's numbers.
8. Courtland Sutton, SMU, Jr
2016 Stats: 76 rec. 1,246 yards, 10td
Big receiver who is tough to cover. NFL Draft stock could rise quickly with yet another impressive season.
9. Calvin Ridley, Alabama, Jr
2016 Stats: 72 rec. 769 yards, 7td
A down year in 2016, but will take on a bigger role with little experience around him. Still will command much of the defenses attention.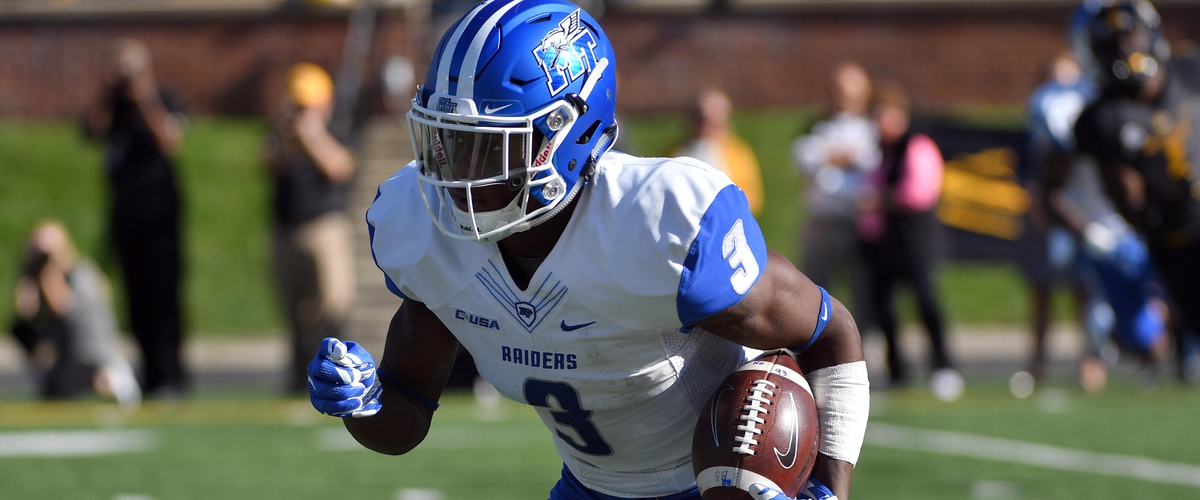 10. Richie James, MTSU, Jr
2016 Stats: 105 rec. 1,625 yards, 12td; 38 rush. 339 yards, 4td
Only returning receiver with 200+ yards rushing in a single game. Undersized receiver who can burn you in multiple ways. .
11. Ahmmon Richards, Miami, So
2016 Stats: 49 rec. 934 yards, 3td
Speedster who can beat you on a straight go route off the line. Will need to polish his game now that Brad Kaaya is gone and a new quarterback will be throwing him the ball.
12. Cody Thompson, Toledo, Sr
2016 Stats: 64 rec. 1,269 yards, 11td
Along with Jon'Vea Johnson, Thompson returns to continue one of the most dangerous passing attacks in the country.
13. Antonio Callaway, Florida, Jr
2016 Stats: 54 rec. 721 yards, 3td
Tremendous talent has all of the tools to dominate, but his off-field issues keep providing distractions to the team.
14. Shay Fields, Colorado, Sr
2016 Stats: 56 rec. 883 yards, 9td
Buffs will lean heavily on the offense, and Fields will lead a deep group that should help Steven Motnez's transition.
15. Michael Gallup, Colorado State, Sr
2016 Stats: 76 rec. 1,272 yards, 14td
Along with QB Nick Stevens, Gallup returns to an offense that could have the Rams thinking championship in the Mountain West.
16. Linell Bonner, Houston, Sr
2016 Stats: 98 rec. 1,118 yards, 3td
Has underrated athleticism, and the offense featured many shorter throws last season with Greg Ward at QB. With Kyle Allen, Bonner should catch the ball farther downfield.
17. Demetris Robertson, Cal, So
2016 Stats: 50 rec. 767 yards, 7td
What will happen now that Davis Webb is gone? The sophomore surprised the Pac-12 as a freshman, and becomes the main target with the graduation of Chad Hansen.
18. Allenzae Staggers, Southern Mississippi, Sr
2016 Stats: 63 rec. 1,165 yards, 7td
Consistency will be a must with a new quarterback. Had two games of 230+ yards, but never eclipsed 100 yards in any other game last season.
19. Keke Coutee, Texas Tech, Jr
2016 Stats: 55 rec. 890 yards, 7td
Expected to be the #2 receiver in 2017, but could become #1 target with the transfer of Jonathan Giles.
20. Deon Cain, Clemson, Jr
2016 Stats: 38 rec. 724 yards, 9td
Fans are hoping he's the next great receiver following in the footsteps of Mike Williams, Sammy Watkins and DeAndre Hopkins.
Top 5 Tight Ends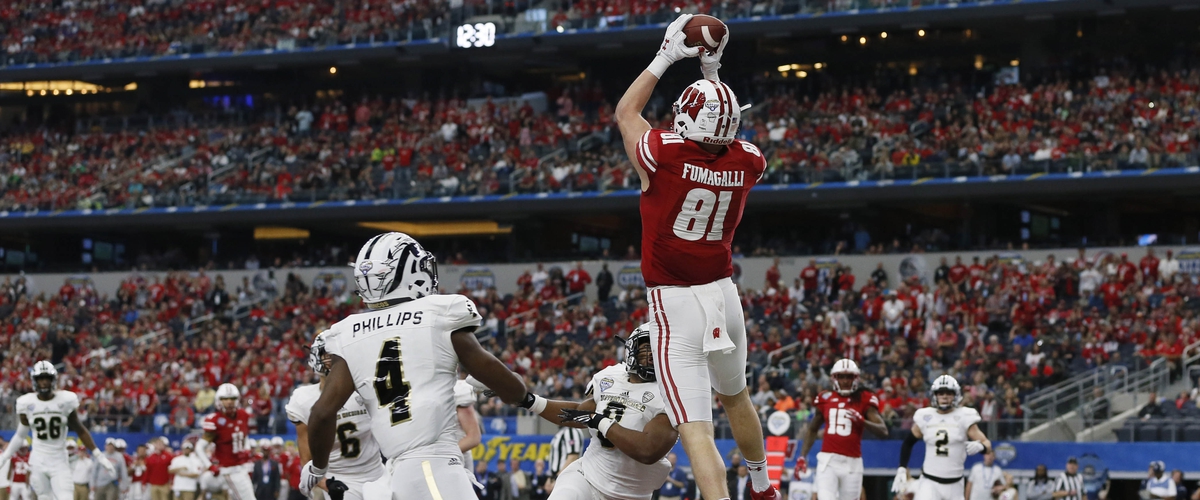 Troy Fumagalli, Wisconsin, Sr
2016 Stats: 47 rec. 580 yards, 2td
The next great tight end to come out of Wisconsin, Fumagalli is a big target that can do it all.
Isaac Nauta, Georgia, So
2016 Stats: 29 rec. 361 yards, 3td
Former five star recruit made some nice catches, and should be more involved now that fellow sophomore QB Jacob Eason has a year of experience under his belt too.
Mark Andrews, Oklahoma, Jr
2016 Stats: 31 rec. 489 yards, 7td
While the Sooners don't technically play a tight end, Andrews is their guy. He was a reliable target, and will see more passes now that Dede Westbrook is gone.
Mike Gesicki, Penn State, Sr
2016 Stats: 48 rec. 679 yards, 5td
Extremely athletic and reliable senior who adds to Penn State's dangerous offense.
Adam Breneman, Umass, Sr
2016 Stats: 70 rec. 808 yards, 8td
Just about the only highlight on a Minutemen team that has a lot of holes.