Top 25 Quarterbacks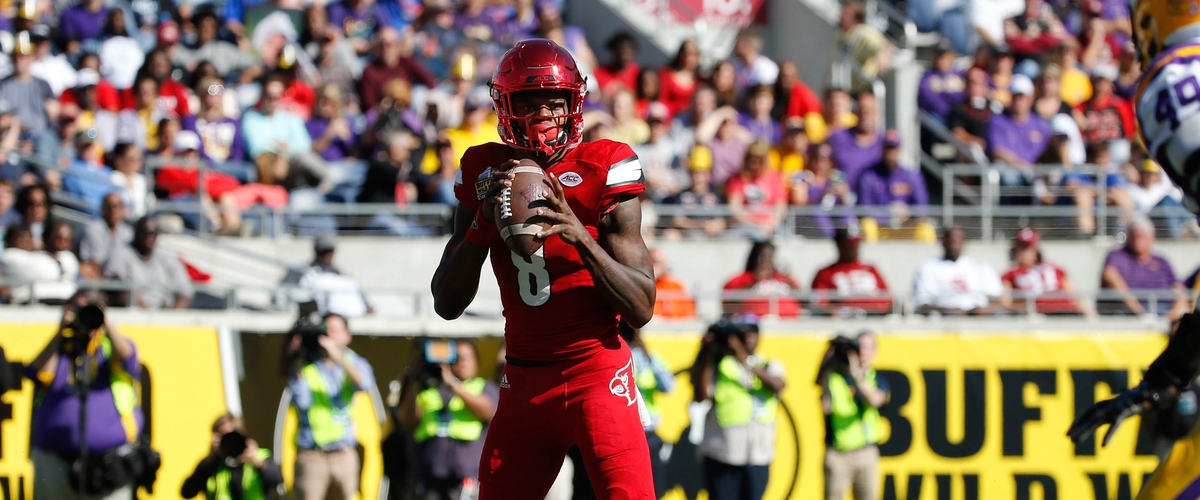 There are just under 12 weeks (81 days) between now and the first game of college football. Since the sports world in winding down with the Finals of both the NHL and NBA, it's essentially time to get ready for football season. Today, we start a weekly series of the best returning players in college football. First up are the quarterbacks, and the list is loaded with talent.
College football has not yet begun, but that hasn't stopped people from talking about a repeat. Lamar Jackson returns for his junior year, and is looking to become just the second back to back Heisman Trophy winner in college football history. Jackson is the most talented returning quarterback by far, but that doesn't mean he's a lock to win the award. After the season he had last year, it will be difficult for him to top his numbers, and a talented group of quarterbacks are right behind him should he falter. Take a look at the Top 25 returning quarterbacks in college football for the 2017 season.
1. Lamar Jackson, Louisville, Jr.
2016 Stats: 230-409 (56.2%), 3,543 yards, 30td-9int; 260 rush. 1,571 yards, 21td
Returning Heisman Trophy winner looking become second repeat winner. Makes plays that no other player in the country can make with both arm and legs.
2. Baker Mayfield, Oklahoma, Sr.
2016 Stats: 254-358 (71.0%), 3,965 yards, 40td-8int; 78 rush. 177 yards, 6td
Is this finally the year that Mayfield wins the Heisman? Week 2 against Ohio State will tell us a lot.
3. Trace McSorely, Penn State, Jr.
2016 Stats: 224-387 (57.9%), 3,614 yards, 29td-8int; 146 rush. 365 yards, 7td
Make no mistake, Saquon Barkley isn't the only weapon in the offense.
4. Quinton Flowers, USF, Sr.
2016 Stats: 207-331 (62.5%), 2,812 yards, 24td-7int; 198 rush. 1,530 yards, 18td
Charlie Strong inherits a quarterback that led the Bulls to finish fourth in scoring (43.8 ppg), and was one of two quarterbacks to rush for 1,500+ yards (see #1 on the list for the other).
5. Mason Rudolph, Oklahoma State, Sr.
2016 Stats: 284-448 (63.4%), 4,091 yards, 28td-4int; 83 rush. 61 yards, 6td
Returns top target in a season that he produced 4,091 yards and 28 touchdowns while only throwing four interceptions.
6. Luke Falk, Washington State, Sr.
2016 Stats: 443-633 (70.0%), 4,468 yards, 38td-11int.
Senior averaged nearly 49 pass attempts per game last season and also competed 70% of those passes.
7. Sam Darnold, USC, So.
2016 Stats: 246-366 (67.2%), 3,086 yards, 31td-9int; 62 rush. 250 yards, 2td
The 2017 version of /. Get your seat before it's too late, because the bandwagon is filling up fast.
8. Jake Browning, Washington, Jr.
2016 Stats: 243-391 (62.1%), 3,430 yards, 43td-9int; 65 rush. 45 yards, 4td
Led Huskies to first conference title since 2000, and threw 43 touchdown passes in route to the College Football Playoff.
9. Logan Woodside, Toledo, Sr.
2016 Stats: 289-418 (69.1%), 4,129 yards, 45td-9int
Never threw less than two touchdowns a game (six games in which he threw at least four), and completed 69.1% of his pass attempts.
10. Deondre Francois, Florida State, So.
2016 Stats: 235-400 (58.8%), 3,350 yards, 20td-7int; 108 rush. 198 yards, 5td
Toughest quarterback in college football, and should stay healthy and improve stats with a year under his belt.
11. Jarrett Stidham, Auburn, Jr.
2015 Stats (Baylor): 75-109 (68.8%), 1,265 yards, 12td-2int; 36 rush. 70 yards, 2td
Baylor transfer should excel under Gus Malzahn as his dual threat abilities are a great fit.
12. JT Barrett, Ohio State, Sr.
2016 Stats: 233-379 (61.5%), 2,555 yards, 24td-7int; 205 rush. 845 yards, 9td
Not where many expected him to be on this list entering his fourth year in Urban Meyer's offense, but he's still a dual threat that makes the Buckeyes dangerous.
13. Josh Rosen, UCLA, Jr.
2016 Stats (6 games): 137-231 (59.3%), 1,915 yards, 10td-5int
Health of his shoulder will be the question until fall camp opens, but he has the talent to tear apart Pac 12 defenses and become a Heisman candidate.
14. Jalen Hurts, Alabama, So.
2016 Stats: 240-382 (62.8%), 2,780 yards, 23td-9int; 191 rush. 954 yards, 13td
If you're a freshman and you remain the starter after an entire year under Nick Saban, only good things can come from that.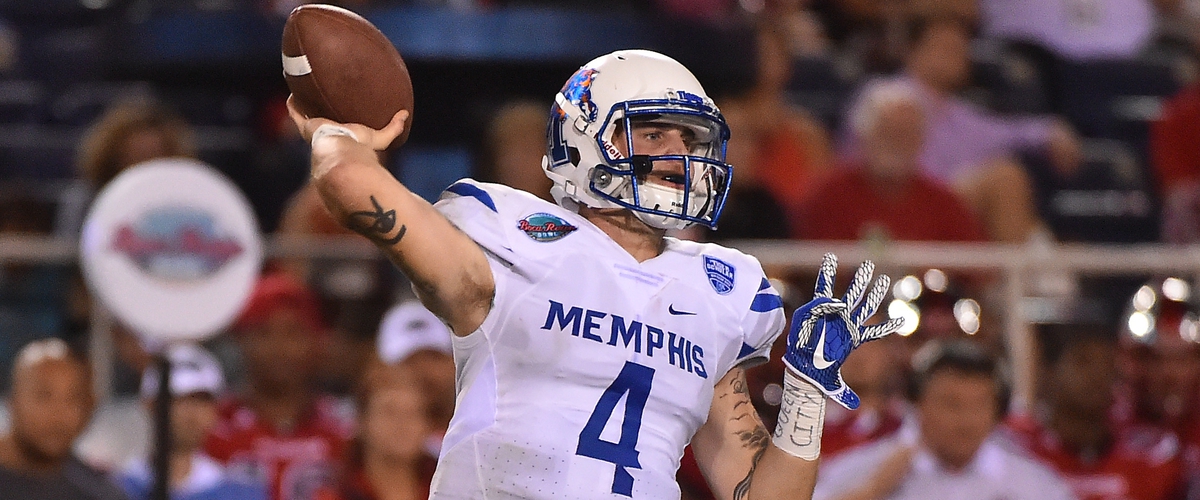 15. Riley Ferguson, Memphis, Sr.
2016 Stats: 280-443 (63.2%), 3,698 yards, 32td-10int
JUCO transfer threw for 3,698 yards and 32 touchdowns, and is one of nine returning starters on offense.
16. Brett Rypien, Boise State, Jr.
2016 Stats: 244-394 (61.9%), 3,646 yards, 24td-8int
Third year as a starter means Rypien will now be one of the leaders, and should play a big role in the offensive success.
17. Mike White, Western Kentucky, Sr.
2016 Stats: 280-416 (67.3%), 4,363 yards, 37td-7int
Top back and two receivers are gone, but White can still sling the ball to anyone (11 players with at least eight receptions last year) and do so accurately (complete 67.3% of his passes).
18. Eric Dungey, Syracuse, Jr.
2016 Stats: 230-355 (64.8%), 2,679 yards, 15td-7int; 125 rush. 293 yards, 6td
Injuries shortened each of his first two campaigns, but if healthy, the Orange offense and he can thrive in Dino Babers offense.
19. Nick Fitzgerald, Mississippi State, Jr.
2016 Stats: 196-361 (54.3%), 2,423 yards, 21td-10int; 195 rush. 1,375 yards, 16td
Labeled as more of a runner (1,375 yards and 16 touchdowns), but showed he can beat defenses through the air as well (21 touchdown passes).
20. Will Grier, West Vriginia, Jr.
2015 Stats (Florida-6 games): 106-161 (65.8%), 1,204 yards, 10td-3int; 36 rush. 116 yards, 2td
Florida transfer was the big reason the Gators were successful to begin the 2015 season, and the Mountaineers shouldn't have to worry much post-Skyler Howard.
21. Brent Stockstill, Middle Tennessee, Jr.
2016 Stats: 262-414 (63.3%), 3,233 yards, 31td-7int; 45 rush. 240 yards 0td
Southpaw is the son of the head coach, and can put points on the board. Threw 31 touchdowns in just 10 games of action.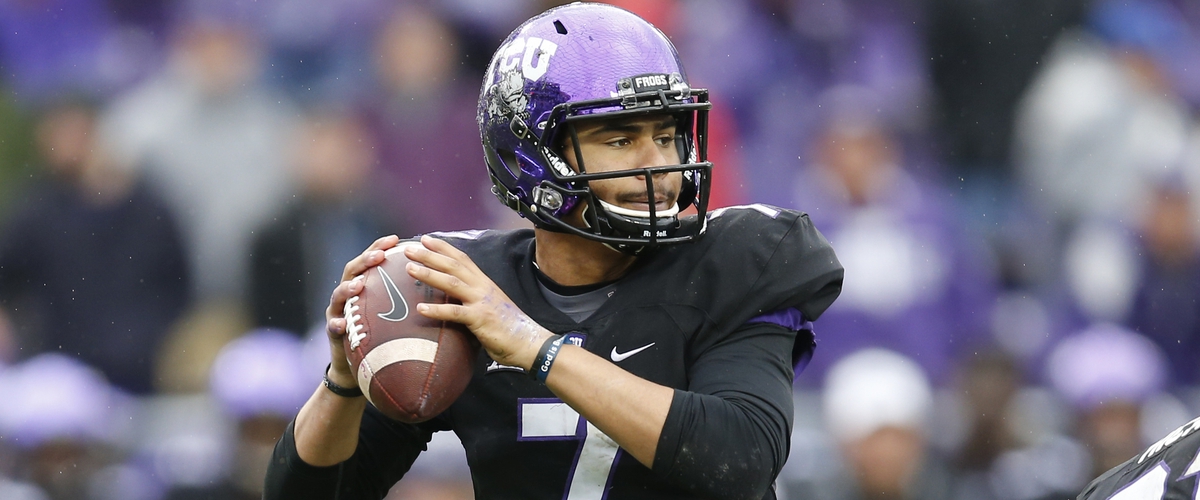 22. Kenny Hill, TCU, Sr.
2016 Stats: 269-440 (61.1%), 3,208 yards, 17td-13int; 125 rush. 609 yards, 10td
Showed glimpses of his 511 yard performance against South Carolina in 2014, and could emerge from the Mayfield/Rudolph shadow in the Big 12.
23. Josh Allen Wyoming Jr.
2016 Stats: 209-373 (56.0%), 3,203 yards, 28td-15int; 143 rush. 512 yards, 7td
Experts are labeling him as a first round pick in next year's NFL Draft, and he has the tools to make them right. Has the size (6-5, 220 pounds) and athleticism to intrigue scouts.
24. Shane Buechele, Texas, So.
2016 Stats: 236-391 (60.4%), 2,958 yards, 21td-11int; 97 rush. 151 yards, 2td
(Greg Ward Jr.), then you should be excited for what he can do with this kid.
25. Jacob Eason, Georgia, So.
2016 Stats: 204-370 (55.1%), 2,430 yards, 16td-8int
A year of experience and tons of talent around him should mean good things heading into his second season as a starter.