TallaSTALEga?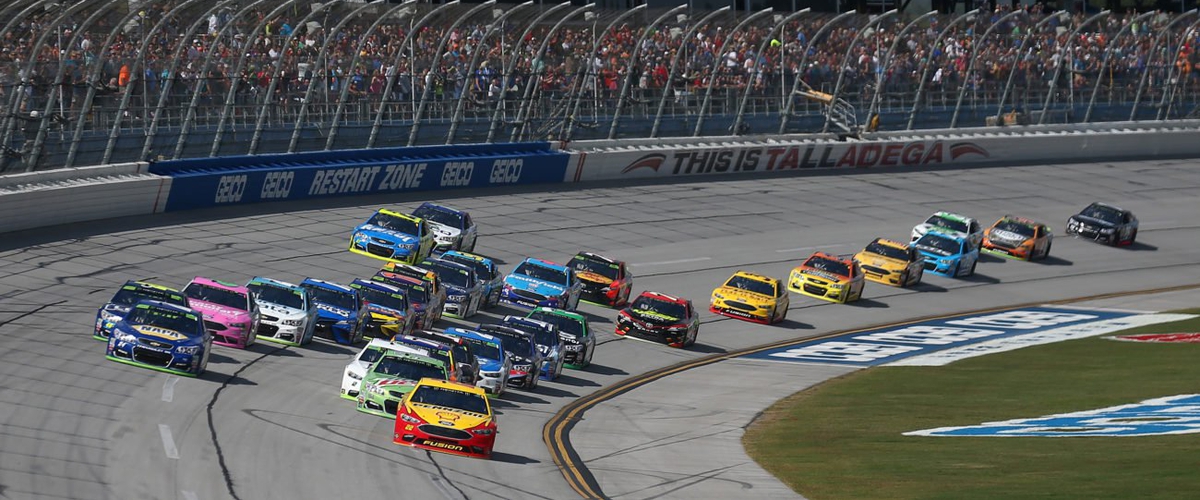 This weekend's GEICO 500 from Talladega Superspeedway had much anticipation. Fans remembering the amazing finish from this year's Daytona 500, hoped for pack racing, bold moves, and an exciting finish. Unfortunately, many fans will walk into Monday slightly downhearted. Instead of the craziness we have all come to know as Talladega, fans watched as drivers went on a Sunday drive in the closing laps in central Alabama.
Listed below, are a handful of comments from fans & drivers that explain the particularly unique finish we witnessed at the 2.66-mile superspeedway. After skimming them, I'll give my take on the race & discuss what I believe happened on Sunday.
Fan Takes:
Of course, not all were bad...
My Take:
Sunday's race was a balancing act in terms of overall fulfillment. On the side of disappointment, drivers waited & waited and... as you could predict, waited. The final restart with 17 laps to go seemed like the perfect window for two and three wide racing, until cars once again filed in behind one another.
As laps ticked away, fans continued to wait for someone, anyone, to make the move that never came. The biggest hype-killer came on the final two laps, as literally no one challenged eventual race winner Joey Logano for the lead. Logano who led with ease the final 15 laps of the race, had the race won with a lap to go. No pushes, no bumps, no runs, came in the final miles.
The biggest thorn in the side of fans came from the idea that drivers just didn't care enough to win. While, I'm not here to say drivers weren't trying, it seemed like everyone was okay with where they were running. Driver Chase Elliott who came home 3rd, shared the same sentiment with fans post-race:
"I got to the end and those guys around me were working together so much. I thought for sure one of them wanted to win a little worse than what they did. They were being very patient with one another and I was surprised by that. If it was me, I feel like I would have wanted to try or do something. Those guys weren't having it. I was trying to move forward and make a lane and push and they were not interested in advancing." -Chase Elliott
Overall, Sunday's race became just another "take what you can get" event. Obviously, you're limited to what your car can do, but to see drivers simply 'ride' around happy to finish second, makes you question why we even race in the first place. Apparently teams care more about top-10's than trying to win a race.
The Flip-Side:
We can't seriously get overly upset over this race. Don't get me wrong, I too wanted a closer finish & more moves made at the end of the 500-miler, but we can't expect every event to end this way. Let's smile at the fact that not every car is on a wrecker, or that some crazy inconsistent call stripped away a solid finish from someone. It's clear that the race could have been better, but you also can't put sole blame on the drivers. I can't speak on what happened, but here's my theory:
NASCAR's restrictor-plate change made a difference come Sunday. Teams couldn't suck up to one another as they could earlier in the weekend. In addition, the no ride height rules made cars very unstable, which means drivers can't make the moves they want to. The result? More riding around, and limits to what drivers could do in the closing laps. With the two factors (restrictor plate & no ride height) combined, drivers were in a scary box Sunday. The cars didn't handle & the draft was resistant. Not much a driver can do when the package doesn't allow him the chance to make a move.
Well there you have it folks! Make sure you share your thoughts on this weekend's race from Talladega! Follow along on Twitter at @nascar_opinion! Thanks for reading, and all the support!
Quotes/Tweets by: @AdamRHeasley, @tannerpanorama, @nascarfan170, @DavidAET, and @SmoothOper88tor.
(Pics Not Mine: racingnews.com)