NFL Top 10 500-Yard Passing Games: No. 9 Eli Manning (510 yards vs. Bucs, 9-16-2012)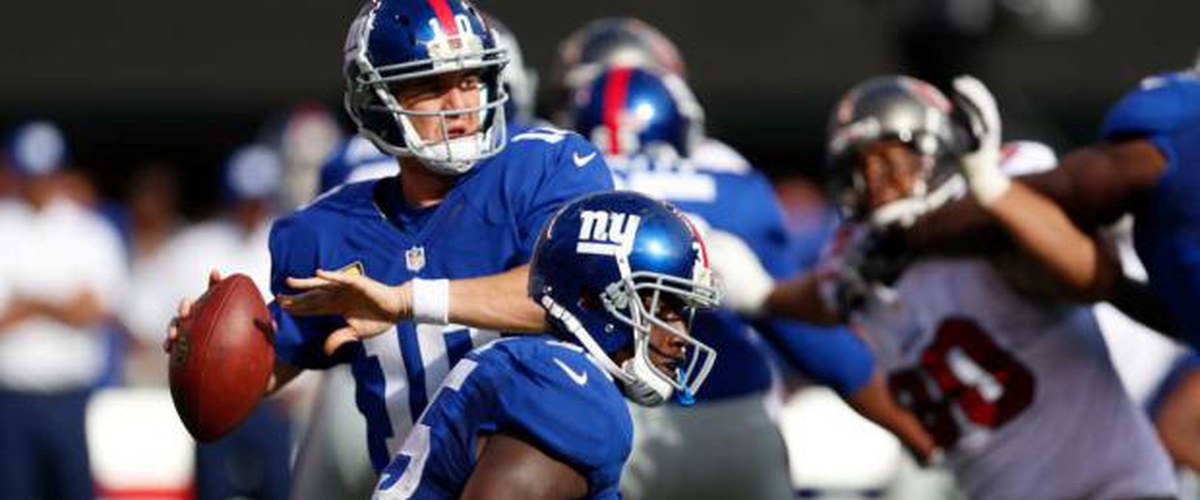 This game was part of a two-game homestand for the defending Super Bowl champion New York Giants, who lost on opening night to their visiting division rival Dallas Cowboys 24-17 in front of a national T.V. audience.
Meanwhile, the Buccaneers came into MetLife Stadium after defeating their division rival Carolina Panthers 16-10 in Week 1 and looked to knock off the defending champs under new head coach Greg Schiano.
This game personified the phrase "Tale of Two Halves" as the first half was nightmarish for Eli Manning, throwing three interceptions which Buccaneers cashed in for three touchdowns, including a 60-yard pick-six by Eric Wright as Giants were driving into field goal range late in 2nd quarter.
But as Eli Manning has done throughout his career, he was able to bounce back after his miserable first half and came out guns blazin' in the second half.
After Buccaneers kicked a field goal early in the third quarter to give Tampa Bay a 27-13 lead, the Giants scored on their final five possessions, including two touchdown passes from Eli Manning, an 80-yarder to Victor Cruz, and a 39-yarder to Martellus Bennett to give New York a 34-27 lead with 3:59 left in the game.
Tampa would quickly storm back to tie the game at 34 with a five-play, 80-yard drive that resulted in a 41-yard touchdown pass from Josh Freeman to Mike Williams in just 1 minute, 51 seconds.
With 1:58 left in regulation, Giants would immediately respond with a quick scoring drive of their own, a four-play, 80-yard drive that included passes of 24 yards to Ramses Barden, and a 50-yard bomb to Hakeem Nicks. Two plays later, running back Andre Brown would score the game-deciding points with a two-yard touchdown run with 34 seconds remaining.
The Buccaneers made one last attempt to try to send the game into overtime, but Josh Freeman's heave over the middle to tight end Dallas Clark was picked off by linebacker Michael Boley at the 24-yard line to seal a 41-34 win for Giants.
"Eli hung in. He made a couple of bad plays, but he didn't get discouraged," Giants head coach Tom Coughlin said. "We just kept talking about the character of this team and we finally made some plays and came back."
In the fourth quarter alone, Eli threw for 243 yards, just 10 yards shy of breaking the NFL record for most passing yards in a single quarter, which is shared by Boomer Esiason and Tom Brady with 252.
Eli finished with 295 passing yards in the second half, three yards shy of Phil Simms team-record for most pass yards in the second half.
"Nobody wants to start 0-2, so it was a big win, especially after the first half playing poorly," said Manning, whose previous single-game best was 420 yards passing against Seattle in a loss last season. "After not playing well, it's kind of getting back to that level of playing good football. Really good. No punts, no turnovers. Some big-time plays and stepping up when we needed it, that was fun to have."
Victor Cruz and Hakeem Nicks would both set career highs in receiving yards. Cruz finished with 179 yards on 11 receptions (also a single-game high), and Nicks finished with 199 yards on 10 receptions. The Giants joined the 1951 Rams as the only teams in NFL history with a 500-yard passer and two 150-yard receivers in the same game.
Giants scored 25 points in the fourth quarter, the most points they ever scored in the fourth quarter at home.
And by the way, Eli's older brother Peyton, who would finish his career with the most passing yards (71,940) and touchdowns (539) in league history, never threw for 500-yards in a single game.
Eli finished with 510 yards on 31/51 passing for three touchdowns and three interceptions. His 510 yards is the second most in a single game by a Giants QB, falling just four yards short of breaking Phil Simms single-game mark of 513.
Eli completed 6 of his final 7 passes for 221 yards and two touchdowns. In the span of 6 minutes and 59 seconds, Manning had a perfect passer rating of 158.3. His 243 yards in the fourth quarter were more than Aaron Rodgers (Packers), Matt Schaub (Texans), Matthew Stafford (Lions) and Christian Ponder (Vikings) threw in their entire week two contests that season.
On that bright and humid afternoon at The Met, Manning continued where he left off in his storied postseason run the season prior, putting the team on his back when the chips were down and cashed in bigger than any Atlantic City Casino Jackpot.
He proved what he always said he was, that he was an elite NFL QB, on the level of Tom Brady and Aaron Rodgers.
Afterall, you cannot spell elite without Eli. Just ask Hakeem Nicks.
"This team always says we're going to come back. It's just a confidence level you've got to have," Nicks said. "Eli is an elite quarterback, so there's a confidence that he can get it done."