His Airness vs. King James: Who's the GOAT?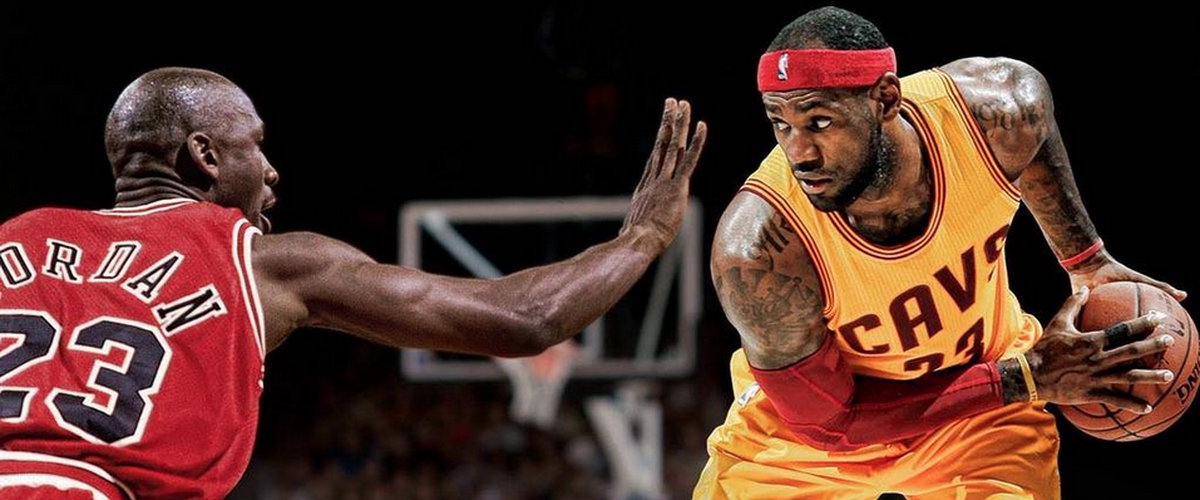 Photo: Nate Dusek
This is the most common and most intriguing question in all of basketball: who is the G.O.A.T.? Before LeBron James' time and even up until the 2010's, the common answer was Michael Jordan. In actuality, the common answer still is Michael Jordan. However, more and more people by the day are beginning to answer that question not with His Airness, but with The King. LeBron James continues to play all-time great basketball at the age of 32 (almost 33) and now has three rings on his hand. Many argue that those rings mean nothing until James is able to match MJ's six, which is interesting (to say the least). There are plenty of routes to take when trying to figure out who the greatest NBA player of all-time is, with each route presenting a different viewpoint and bias. I've done my best to objectively report what I found and what I concluded from extensive research from various sources (embedded links for you to click on are underlined throughout the piece). Let's get to the bottom of this: who is the GOAT?
What does it mean to be great?
Before we get into individual stats, let's talk about what it means to be great. I could provide a boring dictionary definition and elaborate on that but I'm going to keep it short and sweet: being great in basketball means you're one of the best at what you do. With that said, being the greatest at basketball indicates that you are the best at what you do. Michael Jordan was the greatest player of his era and LeBron James is the greatest player of his era. With that said, greatest means the best, not the most accomplished. Proponents of the "6 is greater than three" argument: this is directed towards you. I'm going to get the cliché rebuttal to the argument out of the way: Bill Russell won 11 championships, but no one considers him the greatest player of all-time. Okay, we're over that one, thankfully. I'm going to bring up a guy many often forget about: Kareem Abdul-Jabbar. Kareem had a historic career in which he averaged . For his era, that was nothing short of absolutely dominant. Kareem also won seven championships, six of them with one team. Oh yeah, he also holds the top spot on the NBA all-time scoring list. Are there some people who consider him the GOAT? Sure. Does he match up to LeBron or MJ in that argument? Not at all, only to a very small percentage of the public. Rings are one part of the equation and absolutely do not indicate who is the greatest player of all-time. Accomplishments are nice, but not required. Let's get into some basic stats to compare MJ and LeBron.
Individual Stats Comparison
I've broken down most career per-game averages and using basketball reference's databases, I've put and side-to-side and compared them. This will give everyone a good idea of what each player was (or is, in LeBron's case) able to accomplish on a nightly basis. The player in bold has the edge an the statistics are compared in parenthesis.
Minutes Played: LeBron (38.9 > 38.3)
Field Goal Percentage: LeBron (.502 > .497)*
Three-Point Field Goal Percentage: LeBron (.343 > .327)*
Two-Point Field Goal Percentage: LeBron (.543 > .510)*
True Shooting Percentage (combines all shooting statistics to provide a more clear look at how good of a shooter a player is, sportingcharts.com): LeBron (.536 > .509)
Free Throw Percentage: Jordan (.835 > .740)
Rebounds: LeBron (7.3 > 6.2)
Assists: LeBron (7.0 > 5.3)
Steals: Jordan (2.3 > 1.6)
Blocks: Even (.8 = .8)
An asterisk indicates that LeBron's averages/percentages have been increasing in recent years and continue to increase this season. The gap between numbers could be even greater in a few years. It's something to consider.
Looking at individual statistics, you can see that LeBron James has the edge over Michael Jordan in field goal percentage, three point percentage, two point percentage, true shooting percentage, rebounds and assists. Jordan has the edge in free throw percentage and steals. Both MJ and LeBron have a per-game average of .8 blocks. Now, let's get into some more advanced statistics.
Advanced Statistics
According to , Box Plus-Minus "evaluates basketball players' quality and contribution to the team." It takes into account a players' individual performance and how his team does in relation to it. It is a big indicator of how a player plays compared to league average. LeBron James has the two highest BPM seasons ever (2009 and 2010), followed by Michael Jordan's 1989 campaign. LeBron's career BPM of 9.16 is greater than Michael Jordan's 8.09. To put that into perspective, has a career BPM .92 less than MJ, whose BPM is 1.17 less than LeBron. Who's the player below Bird? Russell Westbrook, whose BPM is .73 less than Larry Legend. By this measurement, LeBron provides more quality play and contributes more to his team than Michael Jordan did.
Not wanting to only use one advanced statistic to compare these two all-time greats, I also used , also known as VORP. Another basketballreference.com measurement, VORP calculates "overall contribution to a team compared to a replacement-level player." Playing time is accounted for in this statistic. LeBron James has played in 1080 regular season games compared to Jordan's 1072, and his VORP is , compared to MJ's 104.43. Karl Malone is right behind Jordan at 103.52. James is nearly 14 points ahead of Jordan, who is 15 points ahead of Tim Duncan. Again, these advanced stats are meant to put things into perspective for you. Basic individual statistics are a lot easier to understand and don't involve comparing other players. Nonetheless, this is something to keep in mind and is a valid comparison between Jordan and LeBron. We've touched plenty on offense, what about defense?
Who is a better defender?
Looking at awards, this one is easy to answer. Michael Jordan is a nine-time All-NBA Defensive 1st Team player compared to LeBron's six. MJ has also won Defensive Player of the Year honors once. LeBron has never been named DPOY. On the surface, it looks like MJ is a better defender, right? Not so fast.
All-NBA teams and DPOY awards are relative to the era the players are in and the competition they are playing against. One thing that doesn't lie is numbers, but they certainly can tell different stories depending on where they come from and what they're comparing. Defensive rating, also known as defensive efficiency, is used to measure a player's individual capability and proficiency in terms of preventing the opposition from scoring. , you can find Michael Jordan listed 138th all-time with a score of 102.83. You can find LeBron James three spots lower with a score of 102.85. This list indicates that when you isolate both players and rate their defensive capabilities, Jordan is just a hair above LeBron but nonetheless, he's ranked higher. Out of pure curiosity, I compared the two in the . Michael Jordan is the 94th-best defender by defensive rating with a score of 103.72. LeBron James is 45th, good for 49 spots higher than His Airness. LeBron's score is 101.70. By defensive rating/efficiency standards, these two are nearly equal defenders in the regular season, with James being a significantly better defender in the postseason.
As always, one metric isn't enough to make a conclusion. , much like regular BPM, evaluates a player's contribution to the team on the defensive end. This stat is not as simple to use as offensive BPM or defensive rating as it is solely numbers-based. LeBron James ranks 88th all-time in regular season DBPM with a score of 1.86. Michael Jordan ranks 173rd all-time at 1.12. What about the ? James is ranked 26th all-time, scoring 3.47. MJ is ranked 134th at 1.83. If you only believe in the first metric, here's the conclusion you can come to: Michael Jordan and LeBron are nearly identical in the regular season on the defensive end, but James separates himself in the playoffs. If you believe in the second metric, here's the conclusion you can form: James is a significantly better defender both in the regular season and the playoffs. Given that Michael Jordan is regarded as one of the best defenders of his time and considering DBPM only accounts for individual stats, I'd put more value in defensive rating. Either way, LeBron James scores as an equal or better defender in the regular season and a much better defender in the playoffs than MJ.
At this point, you're probably getting tired of metrics and also getting tired of comparing MJ and LeBron directly, so let's take a break. We'll get back to them in a minute. Let's go over another common argument between these two legends: who had better teammates?
Supporting Casts
This one is not nearly as close as I expected it to be. Both LeBron James and Michael Jordan have had their fair share of help along the way, but it appears Jordan had a lot more help than LeBron did. Before we compare the players themselves, let's bring up what happened after each player left his respective team. When LeBron left the Cavaliers for the Heat in the 2010 offseason, the team went from . When he left Miami to return to Cleveland in the 2014 offseason, the team went from . James obviously had a better supporting cast in Miami but regardless, a 42-win decrease and a 17-win decrease are both very significant. When Michael Jordan retired temporarily following the 1993 season, the team went from . That's not a very large decrease at all. After Jordan retired for the second time, the team went from a 62-win bunch to a 13-win team in a lockout-shortened year. The team played at the pace of 21 wins. Sound familiar? The only difference between the Cavs after LeBron and Bulls after MJ is after Jordan left, so did Scottie Pippen, Luc Longley, Steve Kerr and Dennis Rodman. Now, back to the players themselves.
LeBron James has benefitted from Dwyane Wade, Kyrie Irving, Chris Bosh and Kevin Love as the four main "sidekicks" throughout his career. Wade and Irving are the two most praised of the four. During his time with LeBron James, Wade was named All-NBA 2nd team once and 3rd team twice. In their final year together, Wade wasn't named to an All-NBA team. was named to the All-NBA 3rd team in 2014-15. Kevin Love and Chris Bosh were never named to an All-NBA team during their years with LeBron James. One more player LeBron James did benefit from having on his team was Ray Allen. Allen played in Miami during his age , averaging 11 and 10 points per game, respectively. is 40th all-time in three-point percentage, but we'll go back to that later.
Michael Jordan had a pretty darn good supporting cast. Horace Grant is the worst player out of the aforementioned LeBron James crew, but it's worth noting he was awarded All-NBA 2nd Defensive Team twice. Dennis Rodman was not much better than Grant but did have a monster year in 1995 in which he was awarded All-NBA first team and received MVP votes, so he's another player worth noting. Michael Jordan also benefitted from having (yes, all-time) on his team. BJ Armstrong is the 10th best three point shooter in NBA history and was on Jordan's squad for six years. Steve Kerr is the most accurate three point shooter in NBA history and was on Jordan's team for five years. The player who really brings this comparison over the top is Scottie Pippen. Pippen is one of the more underrated players in NBA history. Scottie Pippen was awarded All-NBA 1st team three times (one year when Jordan wasn't active and one when he returned with 17 games left in the season), All-NBA 2nd team twice, All-NBA 3rd team twice, All-NBA Defensive 1st team a whopping seven times and, finally, All-NBA Defensive 2nd team once. Scottie Pippen was huge for Michael Jordan and the Bulls and was a better sidekick than Dwyane Wade or Kyrie Irving were for LeBron James. Okay, back to comparing LeBron and Michael Jordan individually.
Clutch Performance
Michael Jordan is regarded as one of, if not the most clutch players in NBA history. LeBron is regarded as a choke artist who needed Dwyane Wade/Kyrie Irving to step up in big moments. Many will point to LeBron's 2011 meltdown at the hands of the Mavericks as an indication of how clutch he is, but let's not forget about for the series by Jeff Hornacek and Bryon Russell of the Jazz, including 11/27, 9/22 and 9/26 efforts in those same series. How about when Gary Payton, facing elimination, held Jordan to 6/19 and 5/19 in consecutive games in the playoffs? Jordan's teams still won, so we smooth over those performances. Had LeBron's team won in 2011, would we do the same thing? It's something to think about. Also, keep in mind LeBron averages the in NBA history. That's a pretty big deal by itself. What about crunch time?
Shannon Sharpe pointed out an on Undisputed last season. In the final 24 seconds of the game, Michael Jordan went 9/18 from the field. LeBron James shot 8/19. Jordan gets the edge in that regard. In the final five seconds of the game, Jordan shot 5/11. LeBron? 6/12. This is another set of numbers I was blown away by. I knew LeBron was not a choke artist but I had no clue he was this close to MJ in terms of being clutch in elimination games and clutch situations. It was certainly a wake up call. Back to comparing teams, meet me on the next line.
Path to the Finals
that was a lot closer than I expected. LeBron's path through the "soft" Eastern Conference featured teams with an average 63.3 win percentage. Michael Jordan's opponents had an average 64.4 win percentage. This stat doesn't do Michael Jordan a ton of justice. Just looking at these numbers, one would assume that LeBron's Bulls/Pacers/Knicks opponents were nearly equally as difficult to face as Jordan's Knicks/Pistons/Pacers, which isn't entirely true. It's safe to assume Jordan had a more difficult road to the finals, however, it's not an excuse for losing in the first round three times. What about opponents in the finals?
Finals Opponents
Here we go. FiveThirtyEight has developed an which rates teams in the regular season and playoffs, updating after each game. MJ's has faced some tough opponents ('91 Lakers, '98 Jazz), but I found those opponents (among others faced) are nothing compared to LeBron James' Finals opponents. The 2007 Spurs LeBron faced are rated higher than the '92 Blazers, '93 Suns and '96 Supersonics Michael Jordan faced. LeBron's 2007 team he dragged to the Finals is also the worst since then to reach that point. The Golden State Warriors teams LeBron has battled against all rate higher than the '98 Jazz (the most difficult team Jordan faced), meaning James has faced three of the best teams ever. Michael Jordan's average opponent lands 35th on the list of Finals teams. LeBron's average opponent is 19th. This information indicates that Michael Jordan's average opponent matches up fairly with LeBron's easiest opponent. Contrary to popular belief, LeBron has a valid excuse for being 3-5 in the finals: he's faced significantly more difficult competition than Jordan. We recently hit the 2500 word mark, so let's wrap this debate up.
Conclusion
This debate is pretty clear. After conducting plenty of research and keeping a level head while doing so, I've concluded that the greatest basketball player of all time is none other than... LeBron James. If you want a player that gets steals, scores a couple more points per game, shoots better from the free throw line and has a better supporting cast, pick MJ. If you want a player that shoots better inside and outside the arc, is a better passer, rebounder, defender and has just as good of a chance of getting you out of a hole, pick LeBron. Being the greatest doesn't mean you have the most awards. Being the greatest means you're the best at what you to. LeBron James is a better basketball player than Michael Jordan was and the scary thing is, LeBron is still finding ways to become a better player. Both of these guys are legends and will be on the NBA Mount Rushmore, but LeBron should be regarded as the one who was the best at what he did. Both monuments have been carved out, but LeBron's still has even more time to add details to his already more impressive one.
--------------------------------------------------------------------------------
This is your reminder to put your Best Foot(e) Forward in everything you do today! Always do the right thing and be the best possible version of yourself every day.
As always, if you'd like to get in touch with me or follow my social media accounts, you can find them here:
Facebook: https://www..com/TheBestFooteForward
Twitter: https://.com/TheBestFooteFWD
Instagram: https://www..com/thebestfooteforward
Email: [email protected]