Smith vs. Mahomes II: What Should KC do in 2018?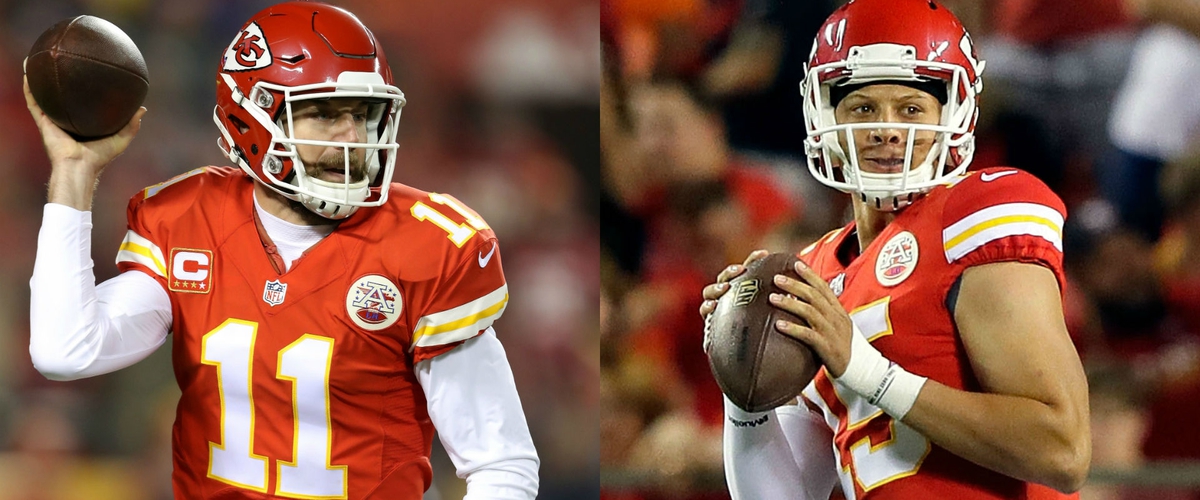 This:
Or This?
Kansas City is faced with a unique problem, yet one of the best possible problems a team can have. The Chiefs shocked the world when they traded up 17 picks from their #27 draft slot to select gunslinger Patrick Mahomes II with the 10th pick of the 2017 NFL Draft. There had been a lot of talk following the 2016 season among Chiefs fans and the NFL world alike surrounding Alex Smith and his job security in Kansas City. This pick spelled everything out on the wall for Smith: this season would be his last in Kansas City. Smith was coming off a season in which some fans were frustrated with his limited or conservative style of play, another season that ended with yet another loss in the divisional round of the playoffs. This draft pick was a signal that the front office had grown tired of this play from Alex Smith as well, perhaps looking to the future for a Super Bowl-caliber quarterback. Head coach Andy Reid quickly dismissed rumors that Mahomes would take Smith's starting spot this season, but what about 2018? Before the season, this was an easy answer: cut/trade Smith after the 2017 season and save $17 million. What about now?
In case you missed the play above, here's the same one from another angle:
This is a bit of what Patrick Mahomes II flashed in the preseason: potential. There was a lot of it, and I mean a lot:
Mahomes completed 63% of his passes in the preseason, throwing for 390 yards and 4 touchdowns. This is a small sample size against backup opponents and is likely the only action Mahomes will see this season (barring injury to Alex Smith). Don't completely buy yet the stats and amazing plays. Mahomes flashed tremendous potential and played well this preseason, but still has a lot of work to do in the mechanics department, and there were at least 4-5 passes this preseason he threw that were very close to being intercepted. Sitting behind Alex Smith this season is the right thing for the team and for Mahomes. Speaking of Alex Smith, let's see how he's looked this season:
As you can tell, Smith doesn't look like the same old "game manager" he's been labeled as throughout his career. Through three games, Smith is on pace for over 4100 yards and 37 touchdowns through the air over the entire season. This, when taking into account Smith ranks first in the NFL in completion percentage, fourth in yards/attempt and first in quarterback rating, makes Smith look like a world beater. Is this play sustainable over the course of a 16-game season (and the playoffs)? Who knows. In 4 playoff games with the Chiefs, Smith is averaging 247 yards and nearly 2 touchdowns per game, but his quarterback rating of 91.4 in the playoffs is much lower than his astronomical 132.7 rating in 3 games this season. Will the Chiefs get playoff Smith or playoff Smith and a little bit of 2017 Smith? Is that enough to put them over the top? We've established that Kansas City is better off playing Smith over Mahomes this season. Is Mahomes more likely than Smith to get this team into the conference championship or Super Bowl next year?
The answer is a very tricky one. Let's start with a list of quarterbacks who've played in the Super Bowl in their second season in the NFL (Mahomes will be in his second year next season):
1: Kurt Warner. Warner dominated in his first season as a starter with the St. Louis Rams, throwing for more than 4000 yards and totaling 41 passing touchdowns. Warner and the Rams defeated the Tennessee Titans in the Super Bowl.
2: Dan Marino. Marino threw for over 5000 yards and won 14 games in his second season in the NFL, a feat that is extremely hard for any quarterback to accompllish. Marino was in his second season as the starter with the Dolphins when the team made the Super Bowl, losing to the 49ers.
3: Tom Brady. Brady won a Super Bowl with the Patriots in his first season as the starter. Brady won 11 games that year and threw for 18 touchdowns.
4: Ben Roethlisberger. Big Ben started 12 games in his second season as the starter in Pittsburgh, throwing for 17 touchdowns and eventually winning the Super Bowl.
5: Colin Kaepernick. Kaepernick stepped in late in the regular season for injured quarterback Alex Smith (ironic, right?) and ran away with the job. Kaepernick went 5-2 in his first half-season as the starter and led the team all the way to the Super Bowl. The 49ers lost to the Ravens with Kaepernick at the helm.
6: Russell Wilson. Wilson defeated the Denver Broncos in the Super Bowl after winning 13 regular season games during his second season as the starter for the Seattle Seahawks.
Let's cut that list to players who won the big game in their first year as a starter (second total in the league):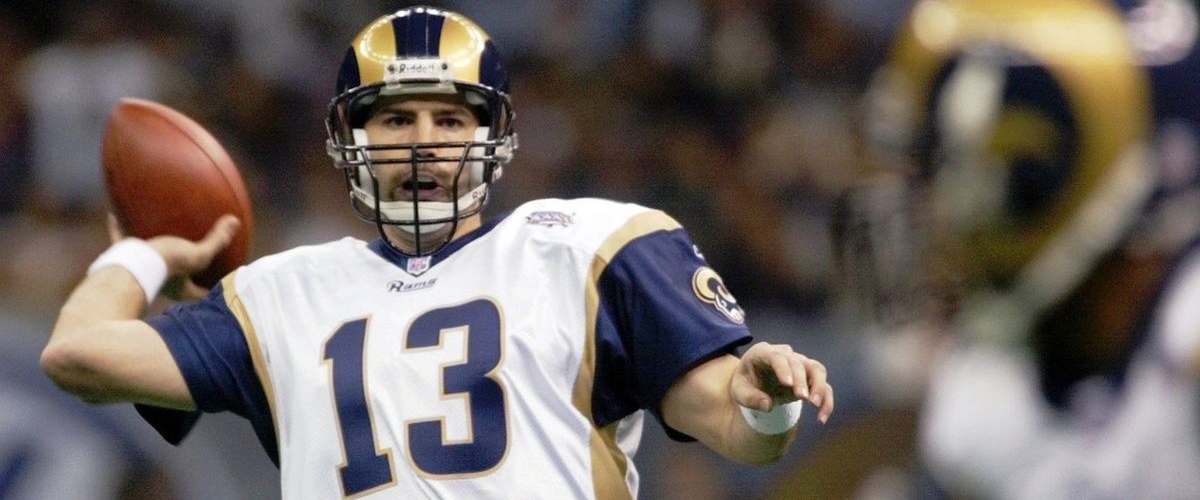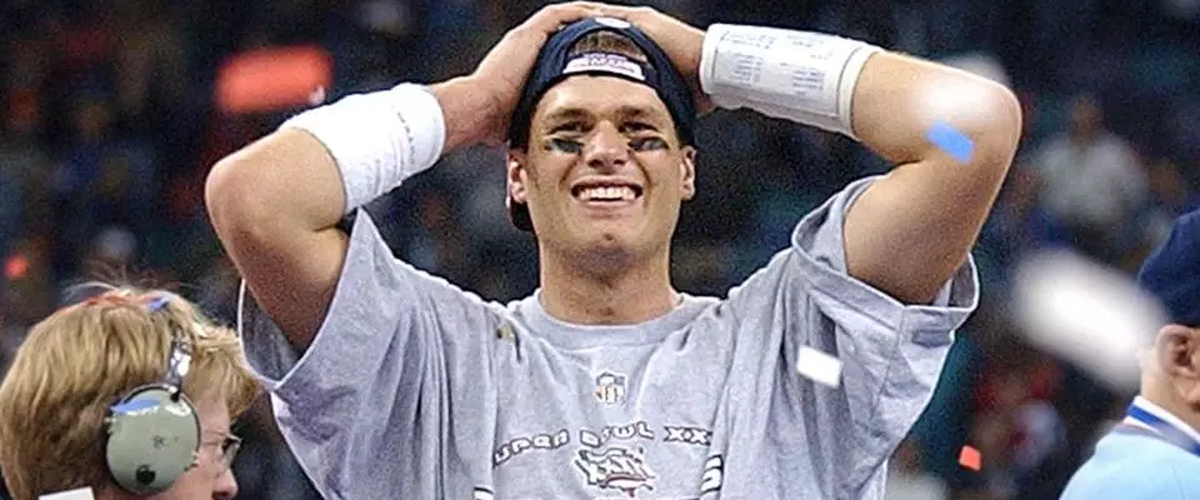 Kurt Warner and Tom Brady. Two of the greatest quarterbacks of all time. Am I saying Patrick Mahomes has no chance at being one of the greatest quarterbacks of all time? Not in the slightest. The odds are stacked against him for sure, however. Mahomes is coming from an air raid system in college that doesn't have a history of transitioning well to the NFL and he also has a lot of mechanical issues within his game. He is a very bright quarterback and has got raving reviews throughout training camp and the preseason. He definitely is exciting to watch and, to me, is must-see TV. The question arises again: is sitting behind Alex Smith going to help him or hurt him?
It all depends on the quarterback. Phillip Rivers backed up Drew Brees for two seasons before becoming the starter in his third. He felt as if he "hit a wall" in development a little over halfway through his second season of being a backup. Carson Palmer sat behind veteran Jon Kitna for one season in Cincinnati and although he really wanted to play, Palmer admits the team made the right choice in playing Kitna that year. Palmer said he learned a lot from Kitna and felt a lot more prepared when he became the starter that following season. Aaron Rodgers sat behind one of the all-time great quarterbacks in Brett Favre for three seasons before becoming the starter in Green Bay. Rodgers didn't win a Super Bowl until 2010, his 5th season in the league. Rodgers admitted that learning from a veteran as great as Favre provided him the opportunity to become a true professional and student of the game. He wanted to play early on in his career as well, but he understands that he learned a lot and may not be the signal caller he is today without the help of Favre. Is Alex Smith even close to the quarterback Brett Favre was? Of course not. However, multiple star quarterbacks claim that sitting behind an established veteran helped them progress and turn into successful quarterbacks themselves.
If Kansas City gets trounced in the divisional round of the playoffs again this season, expect Alex Smith to be traded or cut this offseason. If Smith continues to play extremely well and gets the team to the AFC Championship or Super Bowl, expect the Chiefs to think long and hard about keeping him on board for one more season. The outcome of this dilemma will depend on what version of Alex Smith we end up with at the end of the season. Kansas City truly does have a good problem on their hands: a veteran enjoying the best season of his career and a hungry rookie who is eager to play and has already shown flashes of brilliance. Keep an eye on this story as the season progresses.
Thank you so much for reading my article! This is your daily reminder to put your Best Foot(e) Forward in everything you do today, and every day! Try your hardest and be as positive as possible: people will do the same! The world can always use more happiness and positivity.
If you'd like to get in touch with me or follow my social media accounts, you can find them here:
Facebook: https://www..com/TheBestFooteForward
Twitter: https://.com/TheBestFooteFWD
Instagram: https://www..com/thebestfooteforward
Email: [email protected]