Week 10 NFL Power Rankings - Who's Putting Their Best Foote Forward?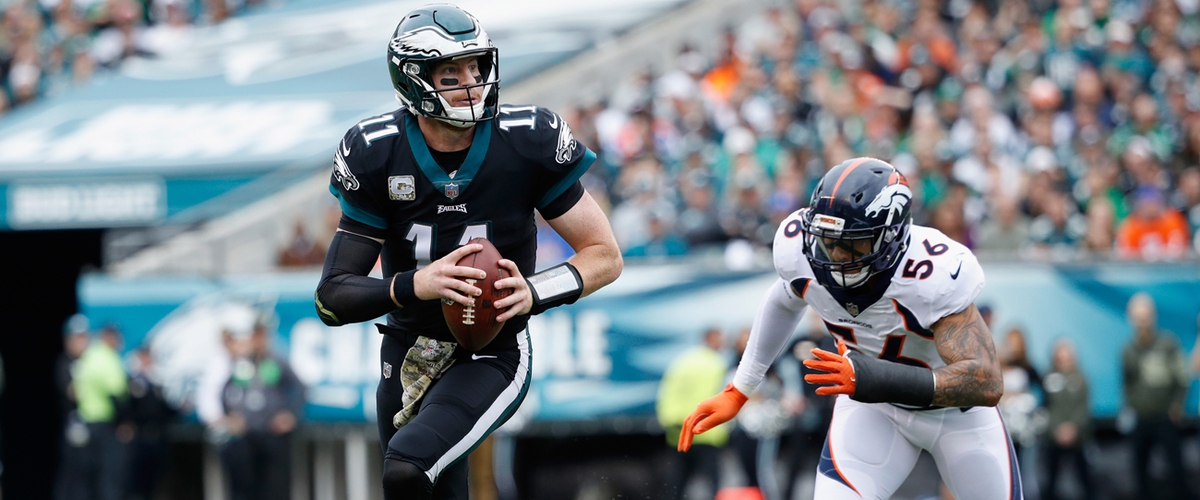 Welcome to the Week 10 NFL Power Rankings! Judging by the picture above, I think you can tell what squad takes the top spot in the rankings this week (again). What a performance by Carson Wentz and his Eagles on Sunday against one of the best defenses in the NFL. The crazy thing is that the Eagles weren't the only team to score 51 points on Sunday! The Rams did the same thing against a horrific Giants team. There weren't too many other surprises last week, but there are surely some teams that rose and fell quite a few spots in the rankings. Let's find out where your favorite team stands heading into the 10th week of NFL action!
Last week's byes: Chicago Bears (3-5), Cleveland Browns (0-8), Los Angeles Chargers (3-5), Minnesota Vikings (6-2), New England Patriots (6-2), Pittsburgh Steelers (6-2)
This week's byes: Baltimore Ravens (4-5), Kansas City Chiefs (6-3), Oakland Raiders (4-5), Philadelphia Eagles (8-1)
32: Cleveland Browns (LW: 32) 0
Good News: The Browns didn't lose a game last week!
Bad News: They didn't play a game... and a matchup with the Lions Sunday is looming. Next.
31: San Francisco 49ers (LW: 31) 0
San Fransisco should have moved up a spot after acquiring Jimmy Garoppolo. I know. Given that he hasn't played yet and isn't guaranteed to do so this season, I'm not moving the 'Niners up just yet. They could jump the team above them with a win Sunday, though.
30: New York Giants (LW: 29) -1
The Giants have hit rock bottom. After giving up 51 points to the Rams, I'm convinced this team may not win a game for the rest of the year. It's getting that bad. Is it time to move on from Eli Manning? What about Ben McAdoo? These questions should be answered by the end of the year. Until then, New York should hang around the last few spots in the rankings.
29: Tampa Bay Buccaneers (LW: 28) -1
Jameis Winston did not eat a W on Sunday. His plate is now filled with an unhealthy serving of being shut down for the next few weeks due to a nagging shoulder injury. Tampa is throwing in the towel. What was supposed to be the year this group took a step forward has turned into Winston's worst start to a season in his career. .500 ball for the rest of the season could catapult this bunch to... 6-10.
28: Indianapolis Colts (LW: 30) +2
The Andrew Luck saga continues as rumors have surfaced this week that many people within the Colts organization are worried the star QB may not be able to play another down in the NFL. I remember what happened the last time the Colts' brass worried about a QB not being able to play again. On another note, Jacoby Brissett is quietly improving. He doesn't look like a franchise quarterback, but he's more than serviceable for the foreseeable future. Indy made a great move when they picked this guy up.
27: Denver Broncos (LW: 23) -4
I know Philly is rolling, but come on. You allowed 51 points when you refer to yourself as the best defense in the league? This unit has given up on the rest of the team. Brock Osweiler wasn't much of an improvement over Trevor Siemian (2 INT, 50% completion rate) but at least moved Denver down the field a few times throughout the game. Things could get ugly again this weekend when Tom Brady and the Patriots come to town.
26: Green Bay Packers (LW: 20) -6 *BIG FALLER*
Aaron Rodgers is the Green Bay Packers. This is evident. When the once-in-a-lifetime QB first got injured, there was hope that the team would stay afloat for 6-8 weeks and he could return in time to lead his boys to the playoffs. That's not happening. Green Bay will finish as high as Brett Hundley takes it.
25: Miami Dolphins (LW: 27) +2
Miami moves up two spots after a loss. This is likely the only instance of the team doing so this year. Jay Cutler gets my week 9 game ball. 81% of his passes were completed for 311 yards and three touchdowns... in a loss. If the rest of the team steps up and Cutler plays anything like he did last week, Miami will be back squarely in the playoff picture. I guess they don't need Jay Ajayi, after all?
24: Baltimore Ravens (LW: 22) -2
Baltimore lost to Tennessee in a game that went as expected. The Ravens are a 4-5 team that plays like a 4-5 team. Heading into the bye week, maybe Joe Flacco can forget how to throw interceptions and remember how to throw touchdowns. That's the only hope the Ravens have of making the playoffs.
23: Arizona Cardinals (LW: 25) +2
Drew Stanton is a winner! Against the 49ers. The story should be a lot different when the Seahawks come to Glendale this Thursday. Enjoy being .500 while you can, Cardinals fans.
22: Cincinnati Bengals (LW: 21) -1
Cincinnati is bad. Many predicted that this bunch would have a bounce back season, but it's just not in the cards. The defense isn't good enough, the running game isn't good enough and frankly... Andy Dalton isn't good enough.
21: Chicago Bears (LW: 24) +3
The Bears didn't play a game last week, but rise three spots due to the bad teams on this list proving how bad they truly are. A matchup with the Green Bay Packers Sunday could get the Bears to the lower teens in the rankings for the first time this season. That'll be their ceiling, though.
20: New York Jets (LW: 26) +6 *BIG RISER*
The Jets are such an intriguing team to watch. Nothing on paper points to this team being 4-5. Coming into the season, many predicted 0-4 wins in total for the Jets this year. Nonetheless, New York's pesky defense and okay offense makes it a tough out in any contest. The Jets won't win many more, but they'll hang around in a lot of contests.
19: Houston Texans (LW: 9) -10 *BIG FALLER*
DeShaun Watson was having perhaps the best rookie season in the history of the NFL. He's that good. With injuries to star players Whitney Mercilus and JJ Watt on the defensive side and the star rookie QB tearing his ACL, Houston's goose is cooked. It's so unfortunate. This team has so much potential. Here's to Watson coming back even better next season!
18: Los Angeles Chargers (LW: 19) +1
LA rises a spot after not playing last week. The Bolts' season might be hanging in the balance this Sunday against the Jaguars. 3-6 is too deep a hole to climb out of to make the playoffs. 4-5 would look a lot better.
17: Oakland Raiders (LW: 18) +1
Oakland won in an unexpected shootout with Jay Cutler and the 'Fins on Sunday night. Heading into the bye, Oakland has to be thanking its lucky stars for only having a 4-5 record at this point in time. With all the injuries and terrible defense that has been played, I would expect this bunch to be 2-7. It'll take one hell of a run to get into the playoffs, but Oakland is definitely in the picture.
16: Atlanta Falcons (LW: 12) -4
It's time to hit the panic button in ATL. The Falcons have lost 4 of their last 5 games. The one win was a 5-point victory against... the Jets. Matt Ryan has regressed significantly this season and the defense is no longer the unit people expected it to be coming into the season. With two wins separating Atlanta from both New Orleans and Carolina in the playoff picture, it's time to wake up.
15: Tennessee Titans (LW: 16) +1
Tennessee is headed in the right direction. Here are some of the teams they place the rest of the season:
Bengals
Colts
Texans
49ers
Cardinals
That could very well be 4 or 5 wins. That would give this team 9 or 10 on the season. If the Titans can steal one of PIT, LA (Rams) or Jacksonville, that could be 10 or 11. Things are looking up for Tennessee.
14: Buffalo Bills (LW: 10) -4
The Bills ran into a pesky Jets team at the wrong time. Don't hit the panic button. However, I think many people set the bar a bit too high for Buffalo after the past few weeks. With the Saints, Chargers, Chiefs and Patriots on the schedule for the next month, we'll get a good idea of how good this squad really is.
13: Washington Redskins (LW: 17) +4
BIG win on Sunday over the Seahawks. Not only did it propel the 'Skins back to .500, but it likely gave Kirk Cousins some much-needed confidence. He now knows he can beat a great team. Washington will need this momentum with back-to-back matchups against the Vikings and Saints coming up.
12: Detroit Lions (LW: 13) +1
Matthew Stafford is an elite QB. 14 touchdowns to just 4 interceptions on the season. His decrease in turnovers has been the biggest improvement in his game. Stafford is making the leap to the top shelf of NFL signal callers and as long as he continues to play well, Detroit will be a scary team not only in the NFC North, but the NFC as a whole.
11: Carolina Panthers (LW: 11) 0
Without checking the numbers, many would think Carolina is 4-5 or 5-4 after 9 games. Surprisingly, the team is 6-3 and only a half-game out of first place in the NFC South. If the Panthers can make a statement on Monday night against the Dolphins, I'll be believing in this bunch again.
10: Jacksonville Jaguars (LW: 14) +4
Jacksonville might be legit. I did not think I'd be writing or saying those words for a few years. This defense is one of the best in the NFL and Blake Bortles has been steadily improving. As long as Leonard Fournette stays out of trouble, Jacksonville will be right in the thick of things.
9: Kansas City Chiefs (LW: 5) -4
Kansas City needs to find a new defensive identity during its bye week. After dropping three of its last four, the last undefeated team in the NFL suddenly finds itself out of the top 5 in these rankings and desperate for a spark. Is Tamba Hali that spark? Dee Ford? A Healthy offensive line? All of these things should be there when the Chiefs play the Giants in New York on November 19.
8: Dallas Cowboys (LW: 15) +7
How 'bout them Cowboys!? Dallas dominated Kansas City in the second half of Sunday's game. If the defense plays at a high level for the remainder of the season, Dallas could rejoin the conversation as a NFC powerhouse. Dak Prescott is playing his best football right now, we'll have to wait and see what the outcome of Ezekiel Elliot's court hearing is on Thursday.
7: Minnesota Vikings (LW: 8) +1
Minnesota needed a bye week. Teddy Bridgewater is going to be activated this week and Sam Bradford could be heading to the IR. If the Vikings can get Bridgewater 4-5 games to get reacclimatized to the game in time for a playoff run, look out for this team come January.
6: Los Angeles Rams (LW: 7) +1
The Rams' offense is downright unfair at times. Just ask the New York Giants, who gave up 51 points to Jared Goff and Todd Gurley on Sunday. A showdown with the Texans this weekend shouldn't be much of a challenge for this young squad, expect a 7-2 record come next week and at least the same spot in the Week 11 Power Rankings.
5: New Orleans Saints (LW: 6) +1
New Orleans has rattled off 6 wins in a row after starting 0-2. The last two teams to do so won the Super Bowl. Am I indicating that the Saints are Super Bowl contenders? No. Am I indicating that they're a good team with the potential to win 12 games and the division? Yes.
4: Seattle Seahawks (LW: 3) -1
Seattle is like a cake. You know what the finished product is going to look like, but there are a few points along the way where you question if it really will end well. Trust me, Seattle is one of the best teams in the NFL and will be just fine.
3: Pittsburgh Steelers (LW: 4) +1
Pittsburgh moves up a spot due to the Seattle loss. Ben Roethlisberger is back to his old self, Le'Veon Bell is still a monster and the emergence of JuJu Smith-Schuster makes this offense one of the best units in the NFL once again. On an even brighter note, it looks like the defense is coming into its own. The Steelers will be a very tough out in the postseason.
2: New England Patriots (LW: 2) 0
New England stands pat after the bye week. We're all holding our breath every time a team throws the deep ball on this defense and every time Tom Brady is hit. Other than that, this is still one of the best teams in the NFL. Nothing new to say here.
1: Philadelphia Eagles (LW: 1) 0
Philadelphia is the best team in the NFL. We knew that before Sunday. Philadelphia may have the best offense in the NFL. We knew that before Sunday. Until proven otherwise, the Eagles are no fluke and Carson Wentz is the real deal and the next young star at QB. This has been a fun run to watch. 7 wins in a row is a very tough feat in the NFL, but Philly has made it look like a walk in the park.
That's it for the Week 10 edition of TBFF's NFL Power Rankings! Let me know if you would like to talk/debate sports - I'm always excited to do so! Let's gear up for another exciting week of football, NFL fans.
--------------------------------------------------------------------------------
This is your reminder to put your Best Foot(e) Forward in everything you do today! Do the right thing and be the best possible version of yourself.
As always, if you'd like to get in touch with me or follow my social media accounts, you can find them here:
Facebook: https://www..com/TheBestFooteForward
Twitter: https://.com/TheBestFooteFWD
Instagram: https://www..com/thebestfooteforward
Email: [email protected]
If anyone is looking for fantastic bye-week analysis about who's favored to win coming off a bye or when facing someone coming off a bye: I encourage you to check out http://cheatsheetwarroom.com/fantasy-football/nfl/bye-weeks.aspx. This is my friend Brad's website. He has some amazing bye-week infographics with tons of helpful information on them. With 4 teams on bye this week, this is a great resource for all bye information. Perfect for picks. Feel free to check it out. You can Brad at [email protected] Let him know what you think!