The Breakdown: Baker Mayfield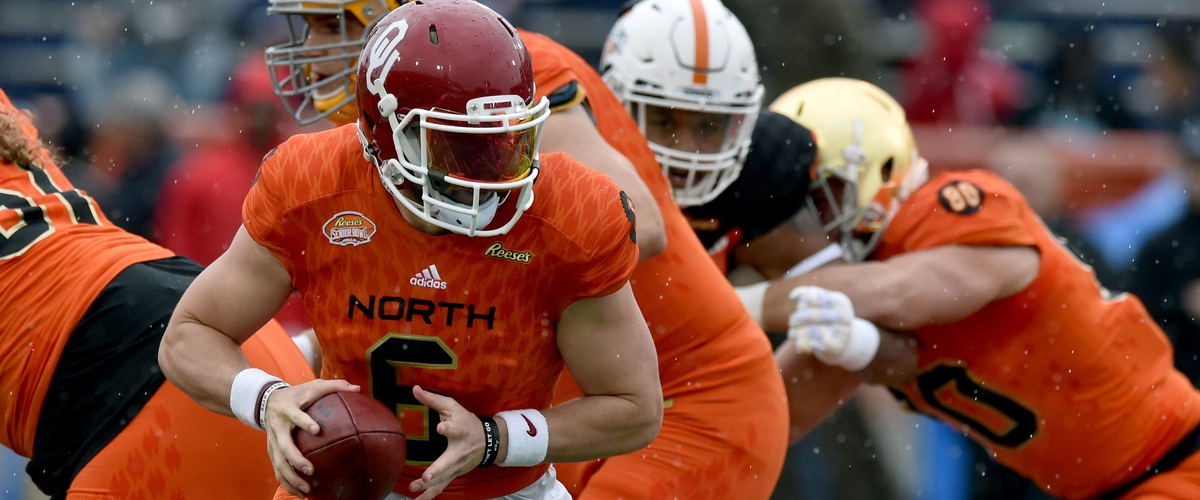 Baker Mayfield, from stirring up controversy to putting together comeback wins and spectacular runs to NFL Draft prospect. This kid has probably been the most looked at and analyzed prospect in the entire draft, on and off the field. But, thought by some to be the best quarterback in the draft while other believe he is nothing but hype. Through the breakdown we will decide whether 2017 heisman trophy winner Baker Mayfield is truly a top prospect.
Now to start things off, just to say what everyone is already thinking, Mayfield is not exactly the typical NFL ready quarterback. Although, he does share some similarities to now NFL star Russell Wilson who shares the mobility and size Mayfield has. As a smaller quarterback being around 6 foot 1 inch tall he has developed some interesting throwing mechanics.
Mayfield can throw the ball out of just about any arm angle accurately and most of the time his unorthodox mechanics are the ones that shine. He is typically very accurate in the pocket and very accurate compared to most when out of the pocket. However, his instincts inside the pocket are raw and any pressure typically means scramble which is better than forcing passes into coverage.
He also does not tend to force many passes in or outside of the pocket and will throw the ball away if needed which is a skill most quarterbacks lack. Not everything can be positive, because he does not seem to understand plays beyond the snap of the ball. While being able to understand pre snap coverages very well, he seems to get ahead of himself and scramble out to quickly a lot of the time.
Now his leadership is second to none and the only player in this draft that can compete with him here is Josh Rosen. Mayfield has time and time again brought his team up from deficits or a series of bad plays or drives to win and play to the best of their abilities. This is a key instinct that scout, coaches and General Managers love to see but he does tend to lead his team down into deficits as well. He leads well from behind but can lay off the gas and cruise through parts of the game letting the other team come back.
So; with accuracy, mechanics that work for him, solid pocket presence and leadership what else could you ask for? Well, nothing and that is the problem with Mayfield. The kid is a great player and may very well end up being a starter for a while at the NFL level. But, he will only get as good as he is right now. His potential is now and personally I do not see him making any leaps or even mild improvements to become a star in the league.
In the end Mayfield probably ends up as a mid to high first round draft pick, and improves very minimally if at all. The absolute best spot for Mayfield is number 17th overall to the Los Angeles Chargers. This way he gets a couple seasons behind a Philip Rivers, whom he could learn a great deal from. While he would not necessarily start immediately he would most certainly be the replacement for Rivers and the team is young and very talented.
Mayfield is a great prospect and a terrific football player, but his ceiling is just a little low to call him a future NFL star. He has potential right now to make an impact on a team, but a couple years on the bench learning and maturing may open up some doors.