49ers Next Zero to Hero?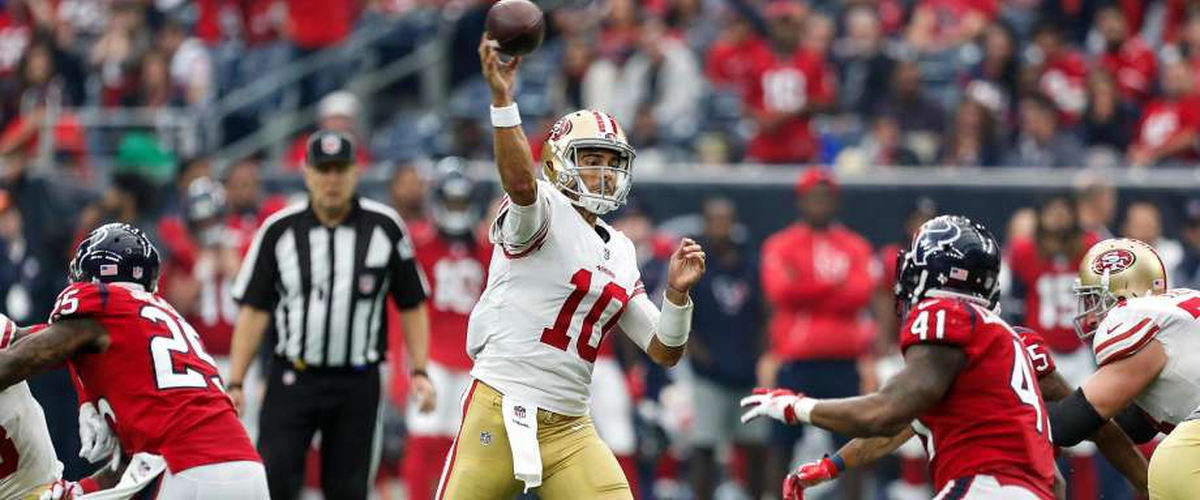 This season has been highlighted by teams that went from their division basements, to kings of the division. Examples can be seen in Los Angeles, Philadelphia, and Jacksonville; as the Eagles, Rams, and Jaguars have blown away the competition on their way to division crowns. One other team has completely surpassed expectations though, and that is the San Francisco 49ers as they have streaked to four straight wins.
It all started with the surprising trade for Jimmy Garoppolo at the deadline. Even while he sat, there was a new electricity in the air as the team had a player to talk about. Then he came on to the field and proved that he can be the new franchise quarterback. In four games, he has thrown for 1268 yards and 5 touchdowns with 3 interceptions.
While those numbers may not blow people away, it's what can not be seen on paper that is the reason that the 49ers have been revitalized by the presence of Garoppolo. The players around him have started to get better and play above their talent level. Marquise Goodwin has looked like a solid number one receiver and the duo of Carlos Hyde and Matt Breida has found room to run. This was an offense that was abysmal until Jimmy G rose into town and now is a team that is getting hotter by the day.
They also have several young, talented building blocks on the defensive side of the ball. Reuben Foster has looked like a solid leader in the middle of the defense with 67 tackles; and they have a stable of young pass rushers in Arik Armstead, Aaron Lynch, DeForest Buckner, and Soloman Thomas who have combined for 8.5 sacks on the season. They also have young, promising talent in the secondary with the likes of Ahkello Witherspoon and Jaquiski Tartt who have combined for 3 interceptions so far.
This offseason they will need to franchise tag and re-sign Jimmy G and then build a better line for him by adding guys like Connor Williams from Texas. This will only make that offense better. They should also add some veteran help in the secondary and draft a talented receiver. This team has a ton of young talent, and the right leadership to utilize it. Now they just need to add a few more pieces to the put them over the top and bring them back to the glory days.