Should Cardinals Make a Trade at QB?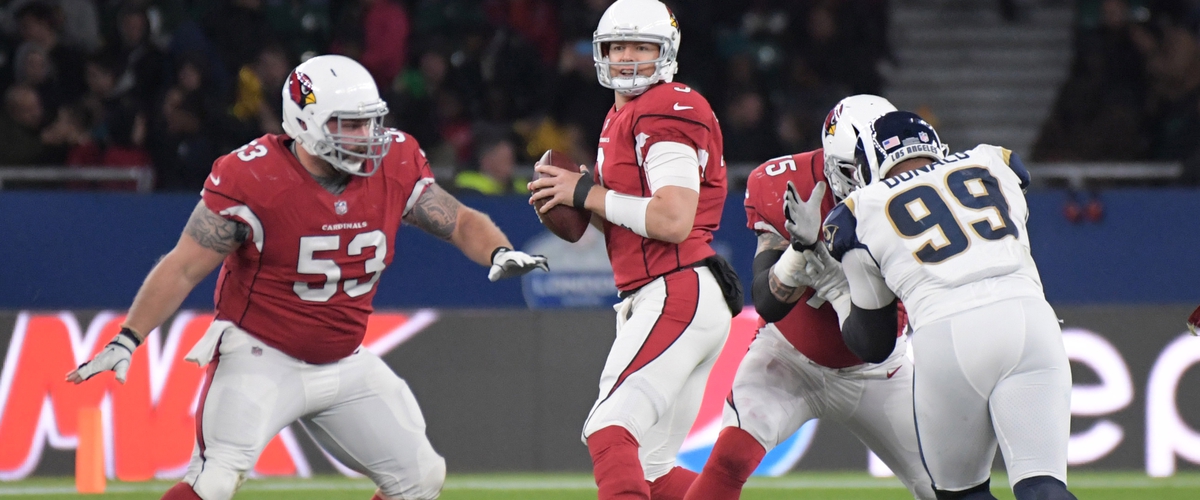 The Arizona Cardinals are in all too familiar waters as they are trying to figure out what to do without starting quarterback Carson Palmer for 8 weeks. On Monday, the Cardinals announced that Palmer had broken his arm on Sunday and would miss 8 weeks. They have named Drew Stanton the starter for now, but he is not good enough to carry them to the playoffs let alone win a playoff game. Now the Cardinals have to decide whether to throw in the towel or find another quarterback to help carry them.
We can rule out them signing Colin Kaepernick as he has most likely effectively ended his career with his lawsuit against the NFL owners. No owner is going to sign a player that is suing them. So now we have to examine the other options that the Cardinals have before the trade deadline. The most likely scenario is that they stick with who they have as they did in their run to the playoffs a few years ago. But we can still look at the other options that they can trade for.
Jimmy Garoppolo, New England Patriots
This is a very far fetched option as the cardinals would have to give up a lot of picks for a chance to make this work. They would most likely have to trade first and third rounders this year with a second or third rounder next year. But it would be worth it to get a young starter that has proven that he has what it takes to win in the NFL. He is ready to start now and would give the Cardinals a future at the position if they can sign him to an extension. This would mean the end of the 38 year old Palmer's time in Arizona, but that time is just about over anyway.
AJ McCarron, Cincinnati Bengals
McCarron has proved in the past the he can win and be effective in the NFL. He had done so well that some thought the Andy Dalton would be benched in favor of him. Now, with Dalton's turn around, the Bengals can look to get something good in return for him. He would be a good game manager that would protect the ball and give the Cardinals plenty of chance to win any game. He is also young and would have the same type of future as Jimmy-G. They could give up a second rounder this year and a third next year to make it worth it for the Bengals.
Tom Savage, Houston Texans
Savage struggled early in the season before being benched in favor of Deshaun Watson. But he has all of the tools to succeed and was never really given a chance as the starter. His strong arm fits the vertical system that Bruce Arians likes to run. He has shown that he is unhappy with the Texans organization after the way they handled his benching. He is still pretty young and has plenty of upside for Arians to exploit. This could be a move that would make him look like a genius. The Cardinals could get him for fairly cheap by giving them a third and a mid level player like Andre Ellington. This would be the most plausible of all of the options with his cheap price tag.