Wentz for MVP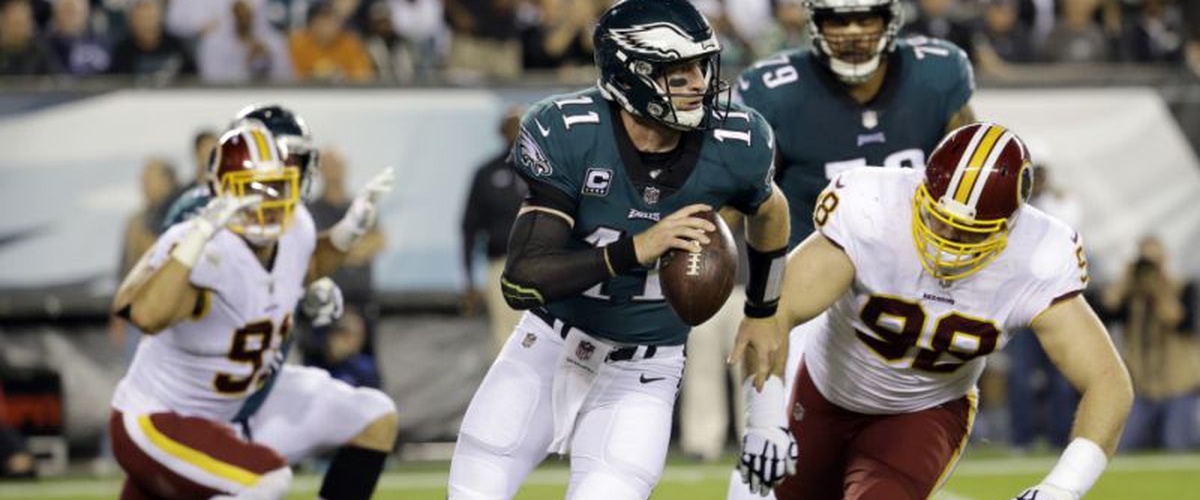 The Eagles have surprised the NFL by bursting out of the gate to an NFL best 6-1 to start the season. No one really saw the Eagles being this good this season. Many expected second year quarterback Carson Wentz to experience some growing pains in his Sophomore season. That has not been the case this season, however.
Wentz has surpassed all expectations as he has looked like the best quarterback in the NFL for most of the season. He has made up for bad offensive line play to make impossible escapes and awkward throws. Wentz has become the most interesting player in the NFL to watch as he bends and contorts his body to escape would be tacklers to avoid sacks and keep plays alive.
The only question surrounding Wentz now is, can he win the MVP this season? Wentz has completely passed the eye test for the season with his Houdini acts throughout the first half of the season. He also is 4th in the NFL in passing yards this season. The only quarterbacks that are ahead of him on that list are Tom Brady, Alex Smith, and Carson Palmer. None of those players have had the jaw dropping plays that Wentz has had a plethora of this season.
Wentz leads the NFL in passing touchdowns as well this season. Wentz has passed for 17 touchdowns through 7 games. That puts him on pace for 38 touchdowns this year. That would be huge for a second year quarterback that is trying to lead his team to the playoffs. He is beating Brady, Smith, and Deshaun Watson by two. He has led his team to big, primetime wins against the Redskins and Panthers. That has also propelled him onto the national stage.
This season has been an enormous coming out party for Wentz as he continues to create magic in the city of brotherly love. His true test comes as he faces the rest of the season without his star left tackle. But if he continues to elude sacks and amaze fans with his elusiveness, then the MVP is almost undeniably in his hands. He just has to stay ahead of the likes of Brady, Kareem Hunt, and Smith. He has done it through 7 weeks. Now he just needs to stay consistent.