2017 Indianapolis Colts Mock Draft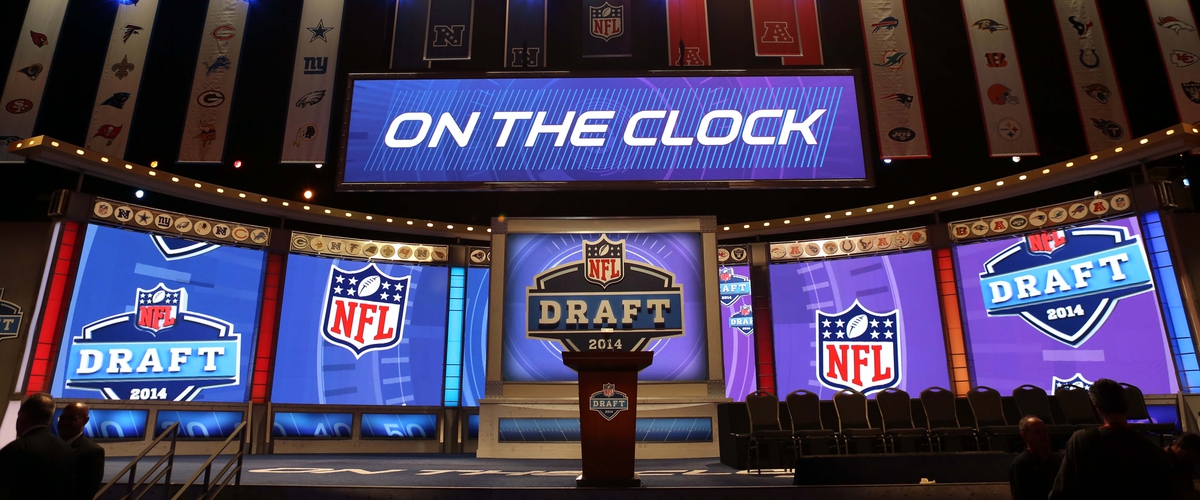 We made it. It's draft week. Nervous? I am. But, I feel 10x more confident with Chris Ballard at the helm and not that last guy that was GM, whatever his name was. He's irrelevant. So far, I've focused on finding the pieces to fill in the gaping holes that loom on this roster along with some running backs that Colts fans could see on the field for years to come, but, it's time to put it all together. Last year, I did about seven different Colts mock drafts, including a final one on the day of the draft, because I had no idea what the last GM was going to do. I feared that he was going to give up on Denzelle Good at RT at draft Taylor Decker, Decker went two picks earlier to Detroit. I feared that he was going to take a corner like William Jackson III (who I did like but not as a 1st round pick) from Houston, Jackson went to Cincinnati six picks later to Cincinnati but missed all of last season with a pectoral injury. My final concern, wide receiver. Four wide outs were taken in the 1st round last year, we all know how the last GM was enamored with Phillip Dorsett coming out of Miami and took him in the 1st round of 2015 instead of guys like Landon Collins, Malcolm Brown, and Damarious Randall; so, while the wide receiver jokes in the 1st round were old, I did have some concern there because the old GM was just that bad. But, Ballard has proven his dedication to rebuilding this defense in free agency, so I expect the draft to be no different
Round 1, Pick 15
EDGE Takk McKinley (6'2, 2590 lbs.) UCLA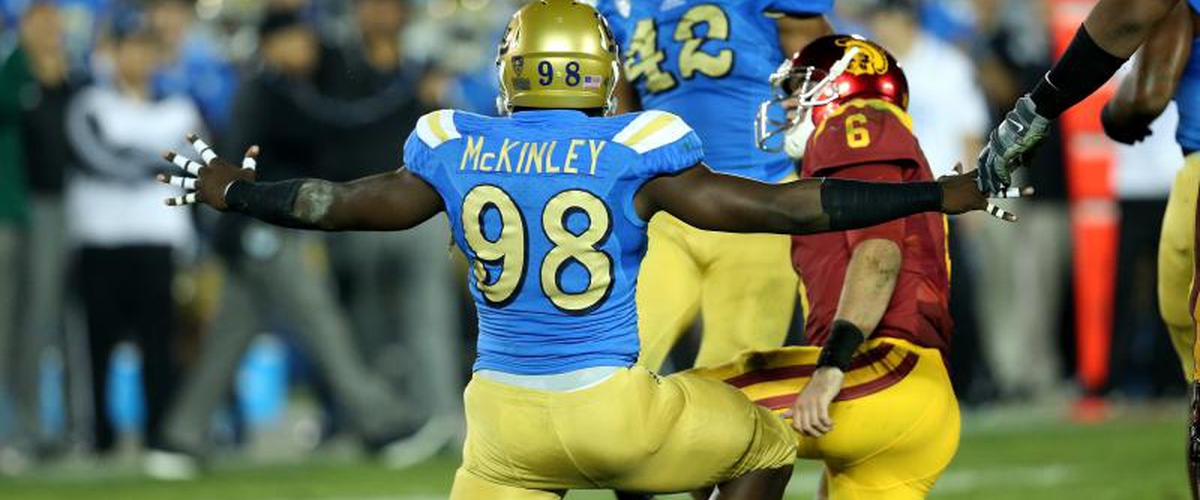 Some might think this is too high for McKinley because of his shoulder injury. But, if all checks out after his surgery and he returns to form. McKinley had an outstanding season at UCLA and showed tons of upside, giving teams in middle of round 1 a lot to think about if they have a need at DE or OLB. McKinley gives the Colts the young, premier pass rusher they need. Previous picks I have had here include Haason Reddick and Tim Williams. With Williams' character issues, he may hear his name called on day 2. With Reddick's, outstanding combine, I have him going to New Orleans at 11. Next option, McKinley. Once McKinley adds some more upper body strength to go with his speed and athleticism, he'll be a force for opposing offensive lines to deal with.
Round 2, Pick 46
CB Teez Tabor (6'0, 200 lbs.) Florida
1st round talent available in the middle of the 2nd round? Chris Ballard should be salivating at the possibility of this. Tabor fell all the way to the 2nd because of bad testing. But, I'm a firm believer in the results on the field outweighing the results of testing. Tabor was hurt when he ran a 4.7 40 on his pro day, watch his tape and he's not a 4.7 40 kind of guy. Despite falling to middle of the 2nd round, I still have him as one of my top corners in this loaded CB class. His speed isn't great, but it can be worked on. Tabor is a project, but taking him could pay off for a team like the Colts. Tabor is from Washington D.C. and pairing him with another D.C. native in Vontae Davis could give the Colts a solid CB situation going into next season.
Round 3, Pick 80
EDGE Dawuane Smoot (6'3, 264 lbs.) Illinois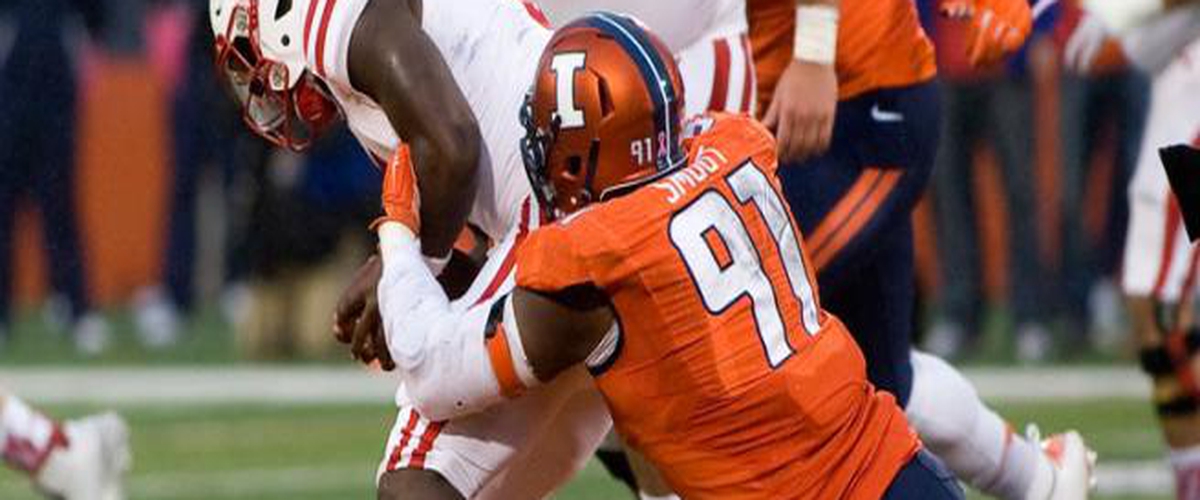 EDGE is the Colts biggest need. They addressed it in free agency but whether any of those guys are the long-term answer at EDGE is unknown. The Colts went all-in on offensive linemen last year, taking Ryan Kelly in the 1st and Le'Raven Clark in the 3rd. So, taking two guys at the same position in the first three rounds is not out of the realm of possibility. Enter Dawuane Smoot from Illinois. At 6'3" and 264 lbs., Smoot has the size of an NFL pass rusher. He doesn't give up on plays, chasing the ball wherever it goes around the field, with excellent closing speed as well. With the size and speed already there, Smoot needs to improve on using his hands to get separation from OT's and can get his way into the backfield that way. Other EDGE guys that could get looked at here would be Ryan Anderson from Alabama, Vince Biegel from Wisconsin, and Trey Hendrickson from Florida Atlantic.
Round 4, Pick 121
ILB Duke Riley (6'0 232 lbs.) LSU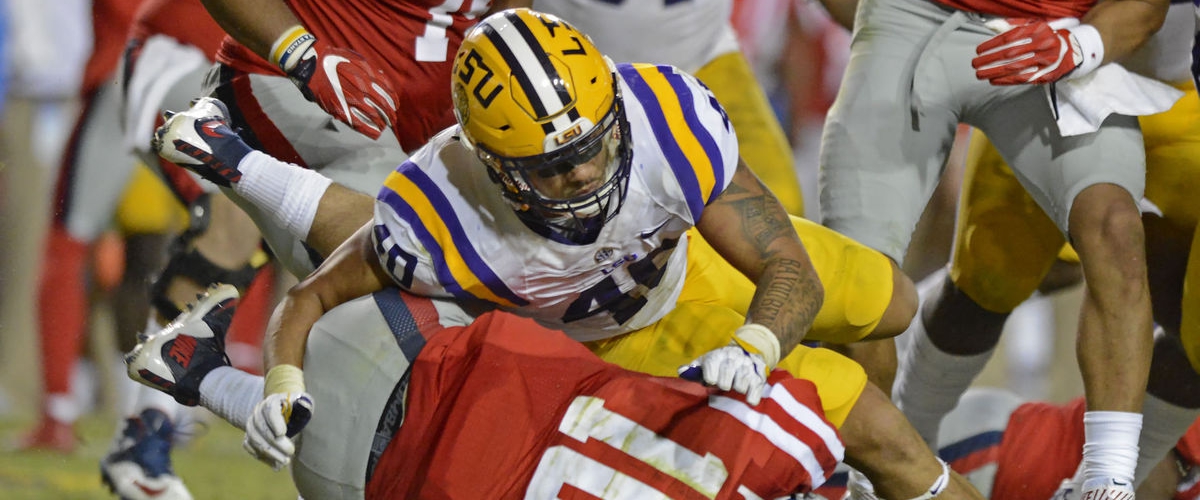 Some people might not like that the Colts waited this long to address the ILB need, possibly passing up on Rueben Foster from Alabama, Zach Cunningham from Vanderbilt, and Raekwon McMillan from Ohio State. Fact of the matter is, the Colts used a 4th round pick on Antonio Morrison last year, and they really liked what they saw from Edwin Jackson last year. Using a pick at this point in the draft might just be for depth, or for a guy like Riley to go into camp and compete against guys like Jackson to earn some playing time. While Riley is considered undersized for an ILB in the NFL, he showed some promising traits of an NFL linebacker. Riley had a 40 time of 4.58 at the Combine last month, the kind of speed some would like for in a linebacker who plays downhill like Riley. Riley finds the ball and goes and makes a play on it. The Colts need a LB who can help in pass coverage, Riley isn't that kind of guy, but could be a solid bridge guy until the Colts find that guy or move Clayton Geathers to LB. Riley could then find a new role on the team if he proves his worth early on.
Round 4, Pick 137
TE Bucky Hodges (6'6 257 lbs.) Virginia Tech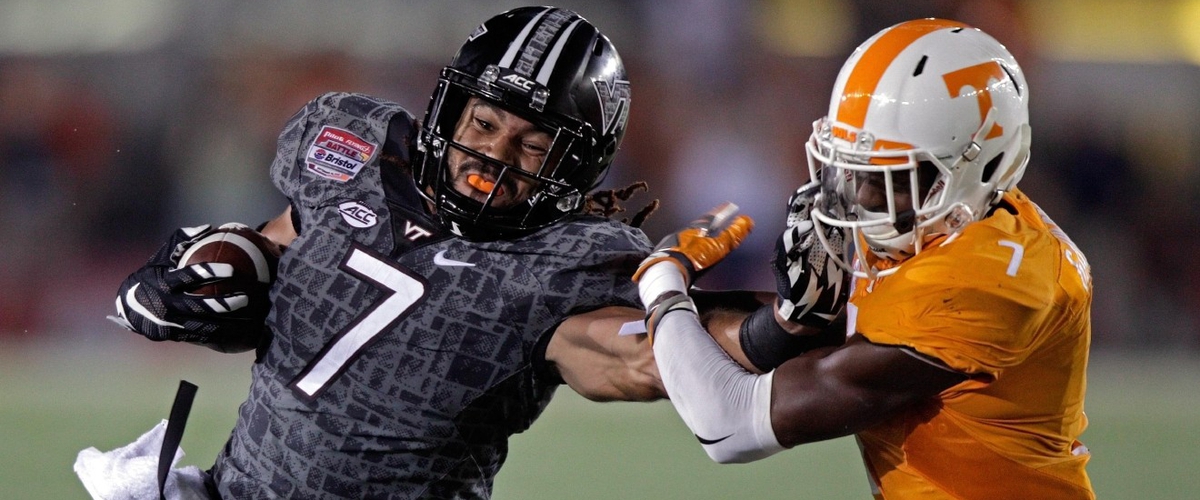 The first offensive pick for the Colts isn't a running back? Yes. And I'm not going to lie, I considered going WR here. But ultimately decided to find the Colts a red zone target. The verdict, the 6'6" Hodges. The Colts traded Dwayne Allen to New England, making Jack Doyle the #1 TE. Erik Swoope showed a little bit of what he could do towards the end of last season after being a four-year project. The Colts then signed another former basketball player in Mo Alie-Cox and former Seahawks TE Brandon Williams. Alie-Cox could take years like Swoope did and who knows if Williams will make the team and if he does just how much he will contribute. So why not bring in a 3-year starter? Hodges caught 20 touchdowns during his time at VT, making himself a solid prospect for a team looking for a red zone target. Hodges runs a 4.57 40 which is scary good for a guy of his stature, combine that with his strength and 39" vertical, and you have a guy with the ability to contribute right away. Once Hodges learns more about route running and can catch the ball in traffic more consistently, he could see himself as a TE1 in the league in a few years.
Round 4, Pick 144
RB James Conner (6'1, 233 lbs.) Pittsburgh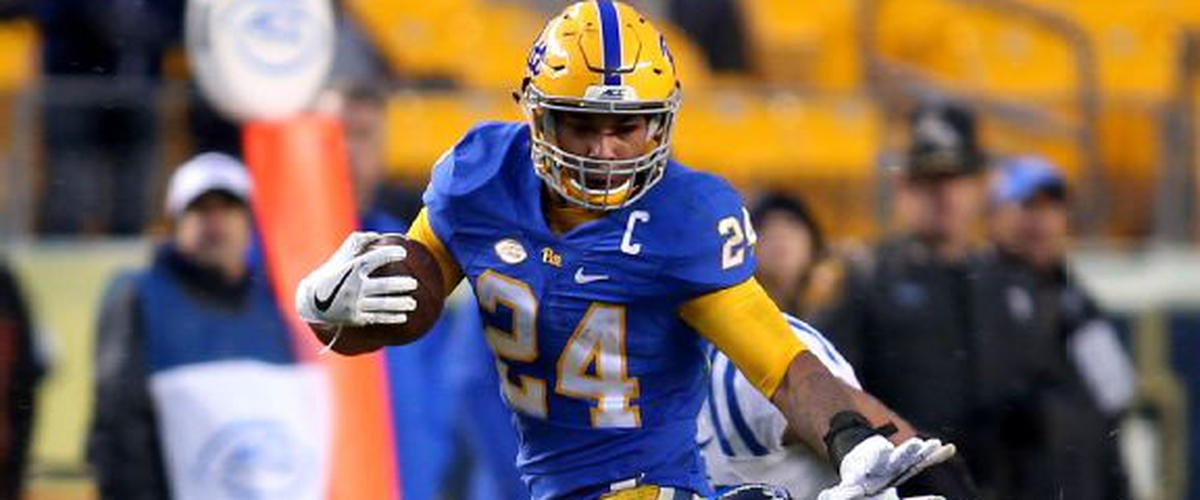 Everyone knows the story of James Conner, if you haven't yet, go ahead and do yourself a favor and read his recent article on The Player's Tribune. 20 years ago, Conner is a 1st round pick at his size and strength. But, this isn't the 1990's where running backs aren't relied on for the size and strength. Conner does not have the top line speed that some would like to see in an NFL RB, but did say his speed has never been faster, showing that he does have the ability to get faster and is dedicated to getting better. Conner's strength gives him the ability to lower his shoulder, use a stiff-arm, and do whatever it takes to score. Conner is also willing to stay back and block for his QB (which we all know Luck needs) and is also a threat in the passing game despite his speed limitations. Other than his speed, the health concerns are there. Conner is cancer-free and hasn't felt pain from his torn MCL in 2015 in years. Conner would probably not be brought in to compete for the RB2 job due to the re-signing of Robert Turbin, but, could possibly take Josh Ferguson's spot for RB3. Give Conner a year to continue to get faster and we could see him producing in another year before possibly taking over the starting RB job for years to come. It's hard not to root for a guy who overcame cancer, he is one of my favorite prospects in this draft and would love to see him taking hand-offs from Andrew Luck.
Round 5, Pick 158
SS Delano Hill (6'1, 216 lbs.) Michigan
Bigger safeties always find themselves being drafted by the Colts. Clayton Geathers and TJ Green are both 6'2", Hill fits the profile. Hill played with Jabrill Peppers and Jourdan Lewis who shared a lot of the spotlight that the Michigan defensive backs usually got, Hill easily got overlooked. Hill has excellent timing which could go very well if the Colts were to take Teez Tabor in the 2nd. Tabor fears the deep ball and Hill's range and timing could help Tabor if they both find their way to Indy. Hill would unlikely play right away due to Darius Butler moving to safety, if Butler moving to safety does not work out then we could see Hill in a year or so. But, Hill could be a valuable pick this late in the draft if the Colts were to end up moving Clayton Geathers to LB. With Geathers' pass defense skills, add that to the possibility of a Vontae Davis-Teez Tabor duo at CB and then a TJ Green-Delano Hill combo at safety, and all of the sudden the Colts could have a rebuilt pass defense.
I don't claim to be good at this. I make these choices based off players that could both produce sooner rather than later, as well as those who have a high ceiling. Like I said, I feel 10x better with Chris Ballard calling the shots now and not Ryan Grigson. Buckle up, it's almost show time.