Indianapolis Colts 2017 Draft Review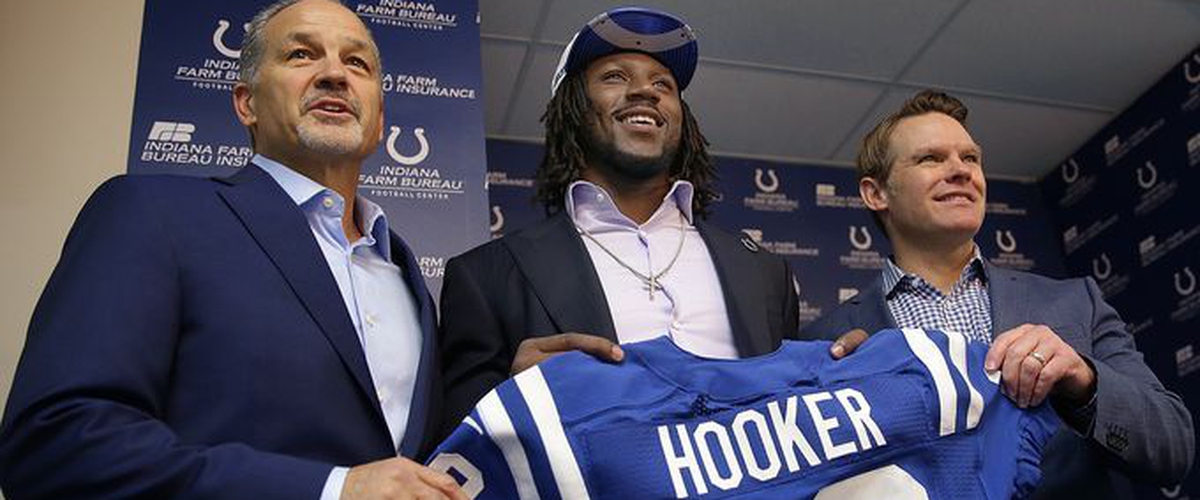 The high of a great NFL draft hasn't wore off, but it has worn off enough for me to review it and talk about it. Wow. Take a bow, Chris Ballard. Marvelous. I don't think I could have dreamt up a better scenario than what Ballard did with his picks. After the free agency overhaul, trades, cuts, and now the draft; Ballard has earned the respect of his peers putting the team that he wants together. And with the recent front office and scouting department firings, his staff will start to take shape here in the coming weeks. But for now, let's look at Ballard's first draft class.
Round 1, Pick 15 – Malik Hooker, S, Ohio State
Did you see Hooker falling to the Colts at 15? I didn't either. But did you see Jonathan Allen falling to Washington at 17? I didn't either. When the Colts passed on Allen and Rueben Foster, I wasn't thrilled. But after reports about concerns about both Allen and Foster's shoulders, I got over it and celebrated the Hooker pick. Hooker is ball hawking safety that has drawn comparisons to Ed Reed is that sense. Hooker needs to improve on his tackling and continue to get bigger and grow into his body and he could become one of the best safeties in the game.
Round 2, Pick 46 – Quincy Wilson, CB, Florida
I correctly picked a Florida cornerback here, just the wrong Florida cornerback. A lot of scouts and personnel favored Wilson over Tabor because of his ball skills, so it was easy to see early in the draft what Ballard wanted to with this defense. Get some ball hawks who can force turnovers and get the ball back to the offense. His coverage skills are spotty, when he doesn't get the upper hand in a battle at the line he tends to use his hands which could get him in trouble with holding and illegal calls. With his combination of strength and speed, he could find himself playing safety. But, with the Colts' need for a CB opposite of Vontae Davis, he could find himself starting right away like Hooker.
Round 3, Pick 80 – Tarell Basham, EDGE, Ohio
If you would have told me last week that the Colts would wait until the 3rd round to address the pass rusher need, I would not have been happy. But, with how the 1st and 2nd round picks went, I wasn't too upset. If the Colts would have waited until after this then I may be disappointed. Basham has the size of an NFL pass rusher at 6'4" and 270 lbs., and shows he can be an explosive pass rusher to get in the backfield and cause problems. Basham recorded 11.5 sacks last year which is impressive even if he does play in the MAC. Basham is a force on the edge given his ability to get in the backfield with his size, once his speed improves (4.7 40) he should be an effective pass rusher for many years. His size allows him to bully his way into the backfield, Basham is a guy who could have benefitted learning from a guy like Robert Mathis for a year to learn some other moves to get his way in the backfield. Give Basham a couple years to learn some more and work on some things and he could give the Colts a much-needed boost on the edge.
Round 4, Pick 137 – Zach Banner, OT, USC
If you haven't seen a picture of this guy, go do that. Almost 6'9" and 360 lbs., Banner is the gargantuan sized human that may be needed to stop guys like Jadeveon Clowney and J.J. Watt. In an interview, Banner said "once I get my hands on the guy across from me, it's almost over." I like hearing that. What I don't like? He had a 5.5 40 time at the combine. If he doesn't get his hands on a guy like Clowney coming off the outside or just a guy with speed, he's giving up a sack or a QB hit. Banner might have to lose some weight to acquire some speed and better footwork so he doesn't find himself without a job. I didn't mind taking an offensive lineman to add some depth to the line which is why I was ok with taking a guy like Banner in the 4th compared to taking someone in the 2nd. Colts are going to give Joe Haeg and Le'Raven Clark a chance before they look to add a premier offensive lineman.
Round 4, Pick 143 – Marlon Mack, RB, USF
I almost cried when the Colts picked Mack, that's how much I loved this pick. I had Mack ranked as my 6th best running back coming into the draft ahead of guys like Alvin Kamara and Samaje Perine who were taken considerably ahead of Mack. Mack has the versatility to weave and make defenders miss when he gets in the 2nd and 3rd levels. He has 4.5 speed which gives him that big play ability, 6 of his 15 touchdowns last year went from 43 or longer, giving the Colts a big play threat out of the backfield they haven't had in a long time. The bad part of Mack's speed is when he doesn't use it, in . He doesn't speed up to try to get through the defender, rather he slows down. That's not going to work for him in the NFL if he wants to get a chance to be a home run threat out of the backfield like he can be.
Round 4, Pick 144 – Grover Stewart, DT, Albany State
When this pick was announced, I tweeted "Straight outta Sesame Street." Then I watched this guy and there is a lot to like. Like Basham, Stewart already has an NFL ready body. Stewart has a lot of upper body strength which allows him to push his way into the backfield along with his lower body strength. With his strength and decent front line speed, Stewart has the ability to be a solid rusher as one of the front 3 in the Colts 3-4 or play in the middle in a couple years if Johnathan Hankins moves on after his contract is up. Stewart can be slow coming off the ball and tends to not play well when playing behind so once he gets a few technique things down, he could be a potential starter, could be used in some sub packages this year with Henry Anderson, Hassan Ridgeway, and Kendall Langford.
Round 5, Pick 158 – Nate Hairston, CB, Temple
A big, physical corner with good speed considering his size (4.5 40). Hairston is physical when the ball is throw up in his direction which is a need with guys like Deandre Hopkins, Allen Robinson, and now Corey Davis in the division. Hairston won't play right away with guys like Vontae Davis, Darius Butler, and 2nd-pick Quincy Wilson now in front of him. Hairston has the foot quickness and moves his hips so he won't get beat over the top with his quickness and size. Hairston only had one season as a starter at Temple so he still has a lot to learn. His zone skills are already developed, but once he gets his mon coverage skills developed, he could be a nickel corner until there is need for another outside CB.
Round 5, Pick 161 – Anthony Walker Jr., ILB, Northwestern
Chris Ballard's final pick was a good one. If Walker can get down about 10-15 lbs., he is an excellent prospect to be a long-term linebacker next to Antonio Morrison and Edwin Jackson. Morrison is a see ball, get ball guy who goes to the line of scrimmage to make tackles and helps get the dirty work done. He's also not afraid to spy in case the running back or wide receiver is running a screen route or a hitch route. Being as big and fast as he is, if the running back or wide receiver is shifty and has the ability to make someone miss, Walker tends to get burnt and miss the tackle. Walker struggles to shed blocks, but once he gets his weight down and gets more versatility and footwork to get around a guy, he can be a solid linebacker for years in Indianapolis.
Overall, for Chris Ballard's first draft, I would give him a B+. He got 2 ball hawks in his defensive secondary early that can come in and play right away. He may have gotten his running back of the future in Mack. Ballard needed to address the needs on defense this draft, and that's what he did. Only a couple months until training camp. Cheers.