Indianapolis Colts Draft Preview: EDGE Rushers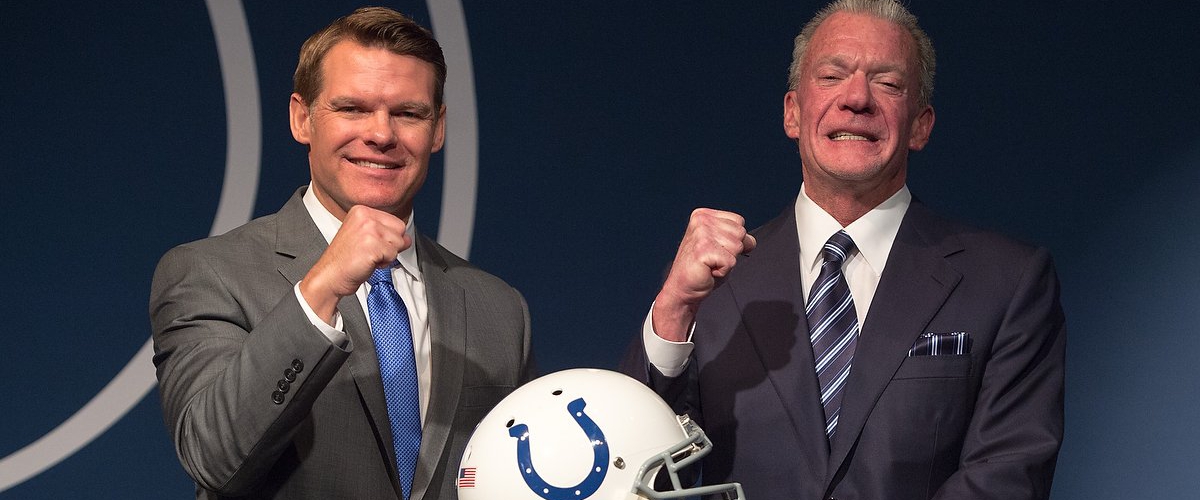 Saying the Colts offseason was weird would not do it justice. Let's recap briefly. When the Colts season ended on New Year's Day, people were frantically refreshing social media and glued to ESPN and NFL Network all night to see if Chuck Pagano and GM Ryan Grigson were fired yet. I would know, I was one of them. The first domino was it being announced that Chuck Pagano would be back for his 6th season in Indianapolis, Jim Irsay remained mum on the status of GM, Ryan Grigson, though. January 21st- Grigson fired. The Colts joined the San Francisco 49ers as the only NFL teams with GM vacancies; two teams on the opposite side of the spectrum with one of them going 2-14 last season and picking 2nd in the draft, the other going 8-8 and picking 15th in the draft. About a week later, Chris Ballard was hired from the Kansas City Chiefs to be the next GM of the Indianapolis Colts. Kansas City was never a team that were never huge players in free agency, but built their team in the draft. Ballard believed in that theory and said the Colts were not going to be big players in free agency either. Then things really started to get weird. Pat McAfee retired at age 29 to join Barstool Sports. After that, cuts were starting to happen, free agency took off, and even a trade happened. Ballard saw all the money wrapped up in aging veterans who couldn't stay on the field like D'Qwell Jackson, Patrick Robinson, and Art Jones and released them. Then signed under-the-radar younger guys like Barkevious Mingo, Jabaal Sheard, Paul Simon, Margus Hunt, among others. After all was said-and-done, the Colts set a franchise record in signing 10 free agents from other teams, not bad for a team that was said to not be a big player in free agency. And who can forget the shocking trade of Dwayne Allen to the Patriots?
Up next, the NFL Draft.
It's obvious to see what the Colts need to fix going into next season. Defense. But with so many glaring holes on that defense, where do they start? Edge rusher? Cornerback? Nose tackle? Inside linebacker? Safety? Those are just the holes on defense. Frank Gore is only signed through next year, so a running back is necessary. The once "loaded" receiving corp of Hilton, Johnson, Moncrief, Dorsett, Duron Carter, and Griff Whalen- is now down to Hilton, Moncrief, Dorsett, and newcomer Kamar Aiken. Could the Colts look to add a late round receiver to use as a red zone threat? And while the offensive line of Castonzo, Mewhort, Kelly, Haeg, and Clark showed some promise last year, there will still be talk of adding another interior lineman. If it were up to me, all but one of the Colts' picks would be spent on the defensive side of the ball with the one pick being a running back. But, it's not up to me as I sit here a college student writing a blog and not the GM of the Indianapolis Colts.
So, let's get started with the most glaring need, edge rusher.
Robert Mathis, Trent Cole, and Erik Walden are all gone. All of them were over the age of 30 so finding their eventual replacements was going to happen whether they were all still on the roster or not. The number of edge rushers that are expected to go in the first round is a good sign, it shows that there are multiple potential elite pass rushers in this class. Myles Garrett is not falling to the Colts at 15, I can't even imagine a scenario where he falls to the 49ers at 2. After Garrett, guys like Takk McKinley from UCLA, Hasson Reddick from Temple, Derek Barnett from Tennessee, Taco Charlton from Michigan, and Tim Williams from Alabama all come to mind.
So, let's get started.
Takk McKinley (6'2" 250 lbs.) UCLA
McKinley's motor is always running, he does not give up on the play. His speed was never in question, posting a 4.59 40 at the combine proved the athleticism he possesses. He's a raw athlete that has a lot of the desirable tools of an NFL pass rusher. I would like to see him put on some more muscle to go with his long, lanky arms. He has a solid swim move, but adding some upper body strength would go a long way in pushing blockers back to get himself in the opposing backfield.
Hasson Reddick (6'1" 230 lbs.) Temple
Reddick could not have dreamt up a better combine. Reddick saw his stock go from late 1st, early 2nd all the way up to mid 1st round possibly. Reddick's explosiveness comes into play in space with speed (4.52 40) and as a tackler. Like McKinley, Reddick is all over the field, never giving up on plays. Reddick does not have ideal size for an NFL linebacker, but his explosiveness on the outside helps him go on the outside and use his speed or flexibility to get past the blocker. Adding more strength will also help Reddick become more of a force at the line.
Derek Barnett (6'3" 265 lbs.) Tennessee
Has the build of an NFL pass rusher with the stats of someone who should be a lock for a top 10 pick, but tape is underwhelming at times. He does possess shifty moves to get into the backfield along with the strength to make his presence felt. Barnett possesses the strength and some moves that McKinley and Reddick don't, but he does not even come close to the speed those guys possess. Barnett is average in a lot of areas, but does make the necessary plays. Question could come down to if teams want to take a project in guys like McKinley or Reddick, or take the production of Barnett.
Taco Charlton (6'6" 273 lbs.) Michigan
With his size and athleticism, Charlton will not make it out of the first round. A man of that size with his first step and flexibility is simply amazing to watch at times. At times is the key phrase in the last sentence. Production and effort is not always there unfortunately. If a coach could get Charlton to always play at his best, they could have one of the best pass rushers in the league in a couple years. He has a solid foundation with his size and athleticism, just time to get him to be a consistent factor on the field.
Tim Williams (6'3" 252 lbs.) Alabama
Maybe one of the most athletic prospects in the draft, just gets overshadowed by his run in with police after he and his buddy Brandon Chicken got in some trouble in a Publix parking lot and the admitted multiple failed drug tests at Alabama *Que Stephen A. Smith saying, "stay off the weed" * All of these problems have caused Williams to slip from potential top 10 pick, to potentially falling to the 2nd round. Williams can go around the edge or go inside and use his strength and speed to get in the backfield there. Williams is an elite edge prospect, but with his off the field issues and issues to stay on the field for 3 plays at a time, it will take a team like the Colts to try and clean him up and get the best prospect they can out of an athletic freak.