Mock Draft 1.0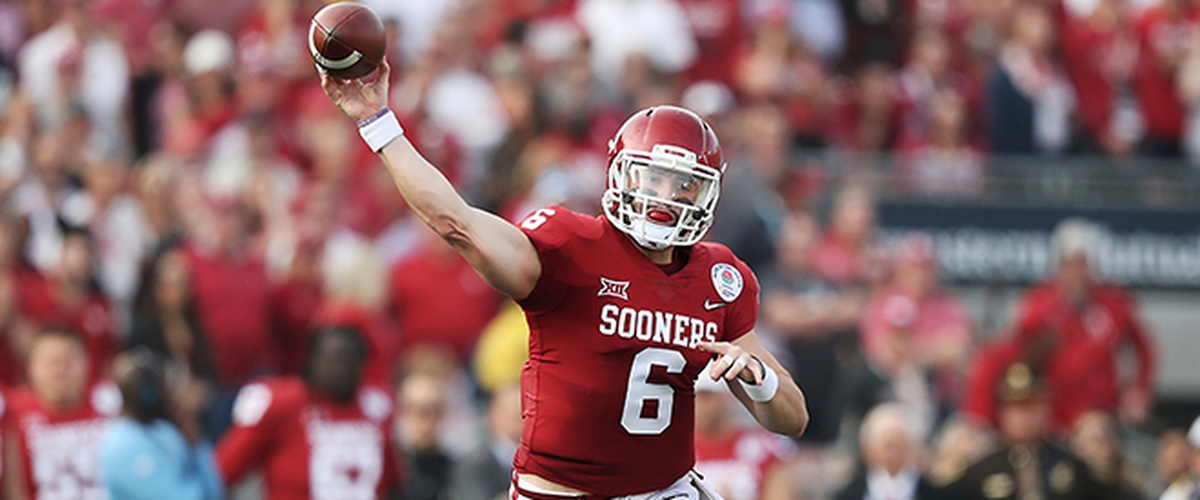 The 2018 NFL draft is just a couple weeks away and that means mock draft season is in full swing. This year's class is very different from most as we have 3 to 5 quarterbacks who can help lead a franchise, a rich backfield, and can't miss prospects on defense. With free agency coming to a screeching halt, and most teams having major holes filled, its time to take a closer look where these top prospects will land.
1. Cleveland Browns: QB Sam Darnold, USC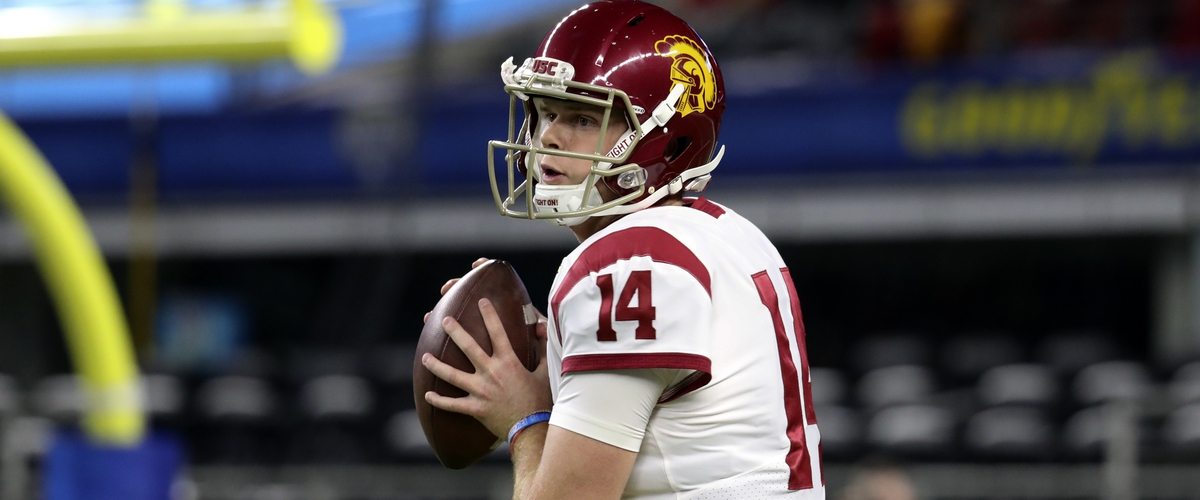 Finally Cleveland, the Browns get it right. Sam Darnold is a football junkie. He lives, breaths, and eats football. Darnold has a bit of an elongated throwing motion that will need to be tweaked, however he does have a quick release. Darnold struggled with turnovers his senior year as he threw 13 interceptions compared to just 26 touchdowns, that will need to improve at the next level. Darnold is perfect for Cleveland as he doesn't have to start right away, can handle the pressure of being the leader of the team, and can focus on improving his throwing motion while sitting behind Tyrod Taylor.
2. New York Giants: OG Quentin Nelson, ND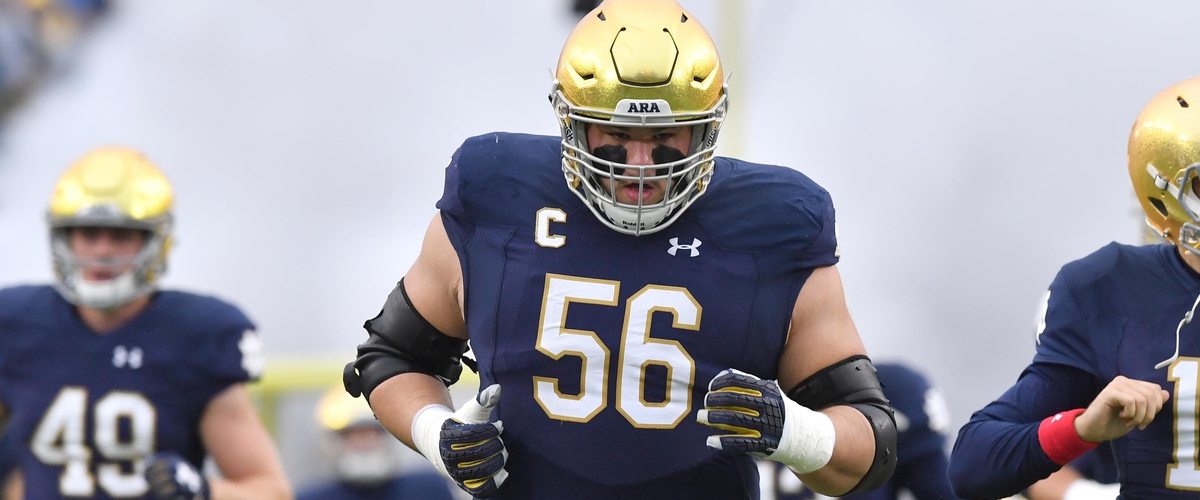 I fully expect this pick to be traded to either the Bills or Cardinals, who are both in need of a quarterback, but for the sake of this mock I won't do trades. The Giants have made it clear they are sticking with Eli Manning, and in doing so they will need to protect him. Adding Nate Solder was a big get for the Giants, however their interior line is very mediocre. With the addition of Nelson, a can't miss player, and adding Jonathan Stewart in the backfield, the Giants will take pressure off of Manning in more ways than one. Manning will now have the protection to get the ball to his playmakers and Nelson will open up the running game. Nelson is the safest pick in the draft.
3. New York Jets: QB Josh Rosen, UCLA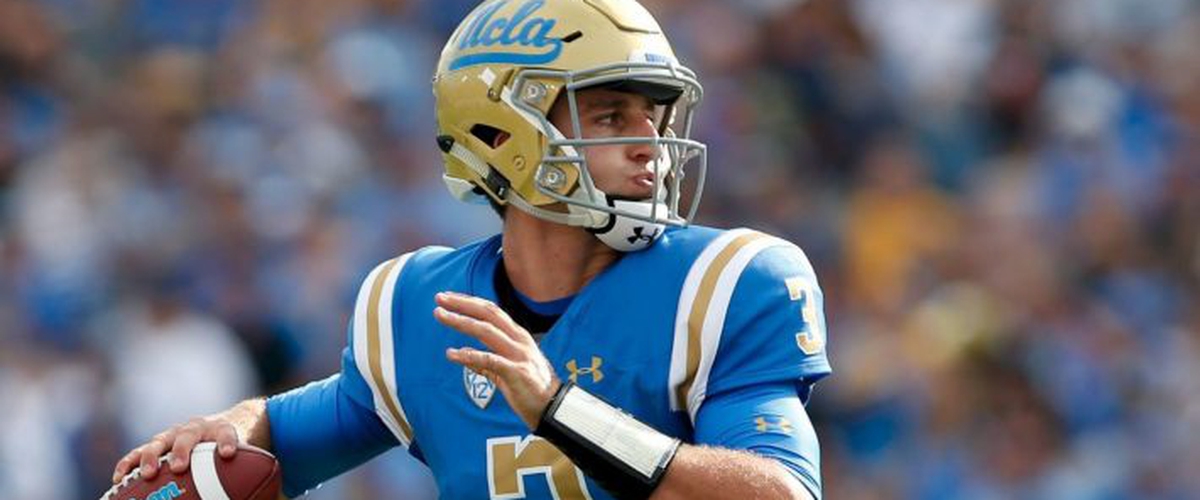 Rosen is my top ranked quarterback in this class, and the Jets will not be disappointed. Rosen's mechanics are beautiful to see and are Peyton Manning esc. Rosen's durability is a concern, however UCLA did not give him much of an offensive line to begin with, or offense for that matter. Rosen has a big personality and is a bit "out there", but that will be perfect for the big apple. With the addition of Terrelle Pryor through free agency and Jermaine Kearse on the outside, Rosen will have a couple of nice targets to get the ball to. Jets fans rejoice, this is no Mark Sanchez.
4. Cleveland Browns: DE Bradley Chubb, NC State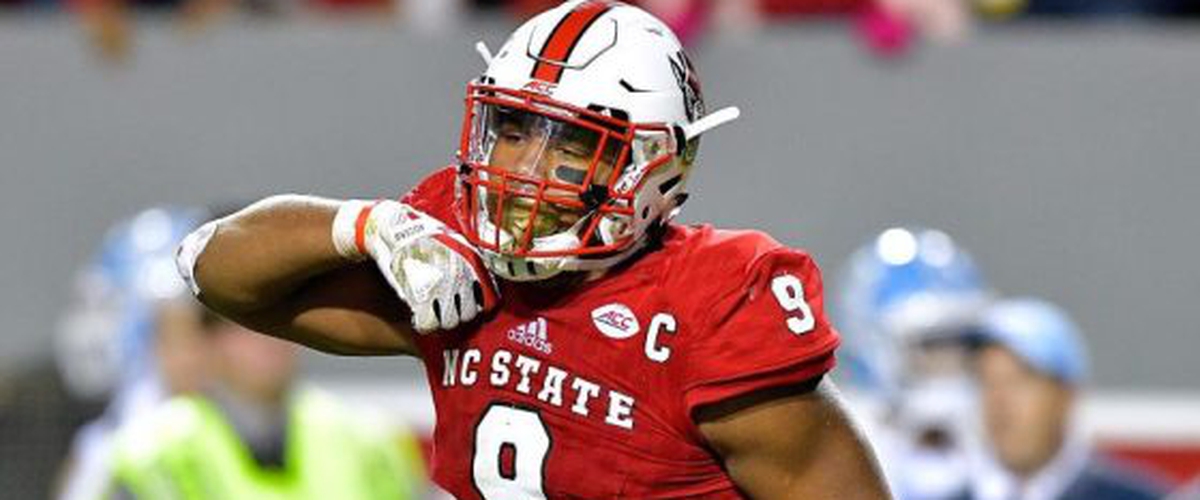 Defense wins championships. The Browns could easily go Penn State running back Saquon Barkley, but I ultimately think the Browns new regime are going to build from the football out. Last year the Browns selected stud defensive end Myles Garrett, who had a great rookie season. Pairing Chubb and Garrett would instantly be one of the top pass rushes in the league. Chubb is another can't miss prospect who broke Mario Williams' sack record with 25 for his career, 20 of those coming in his last 2 seasons.
5. Denver Broncos: QB Josh Allen, Wyoming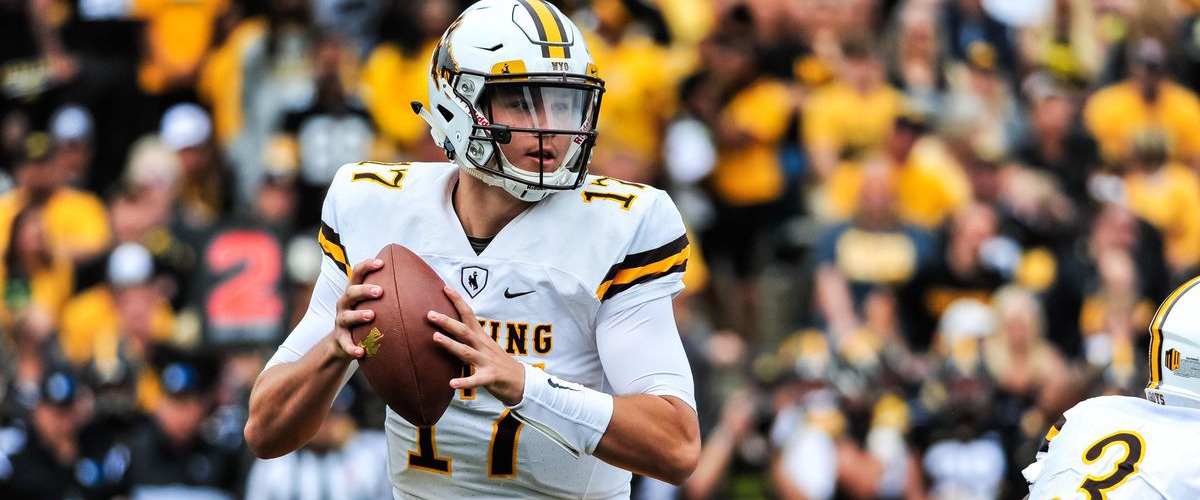 With Chubb off the board, I think this is an easy selection for GM John Elway. Elway wants his guy, as the Paxton Lynch experiment is all but over. Allen easily has the biggest arm in the draft, and looks the part at 6'5 233lbs to lead an NFL franchise. Allen has an absolute cannon as their is footage of him launching the ball 60 yards on his knees. I am not a big fan of Allen as I have him as the 4th ranked QB in the draft, however I can see why draft nicks have fallen in love with him. I do think he is a good fit in Denver, and having Case Keenum as the starter for Allen's rookie season could do wonders for him.
6. Indianapolis Colts: RB Saquon Barkley, Penn State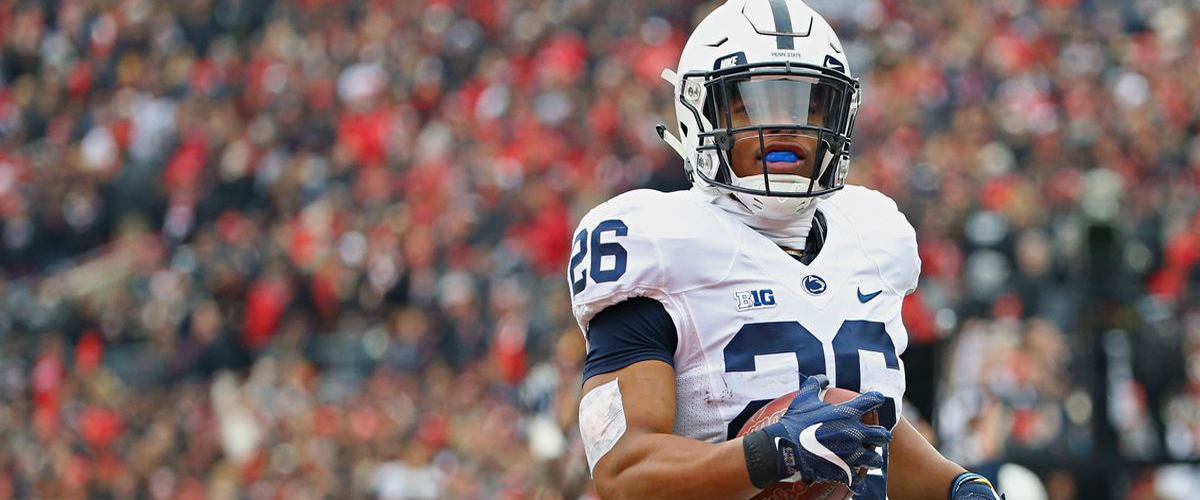 My number one prospect in the draft falls in the hands of the Colts. After "losing" Frank Gore in free agency, Barkley has the perfect opportunity to shine in Indianapolis. With Andrew Luck coming back, a quarterback's best friend is a strong running game. Barkley is electric and the most dynamic running back we have had in the draft since Adrian Peterson. Barkley is a high character player and should fit right in with squeaky clean Luck. The Colts offense just got a whole lot better.
7. Tampa Bay Buccaneers: S Minkah Fitzpatrick, Alabama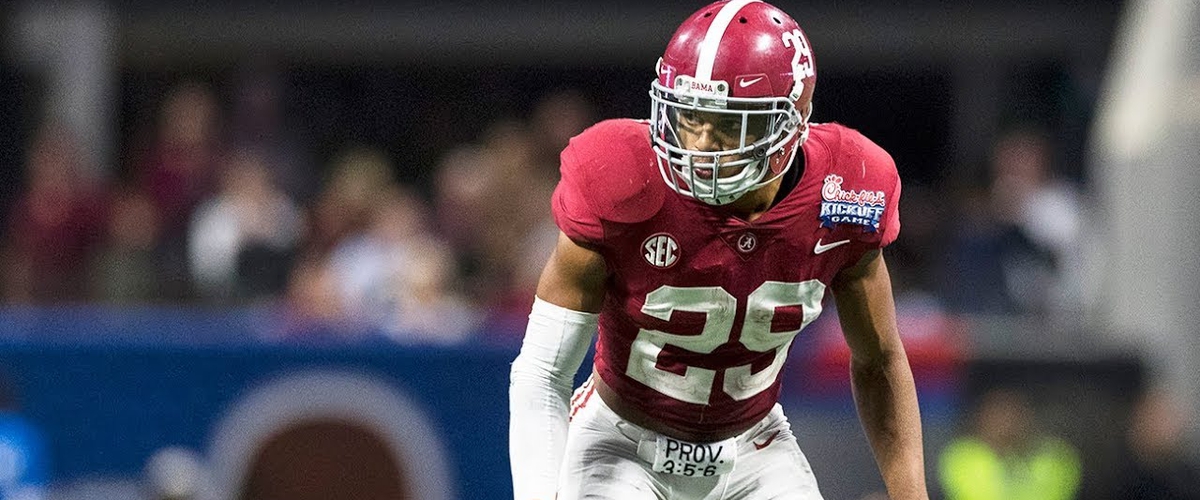 Top ranked safety and stud defender, Minkah Fitzpatrick, will help a much depleted Buccaneer secondary instantly. With Brent Grimes not getting any younger, and Vernon Hargreaves III not producing as his 1st round selection would suggest, Fitzpatrick is perfect for Tampa. He is one of the cleanest prospects in terms of playmaking ability and mechanics. Fitzpatrick started day 1 at Alabama and would majorly improve a secondary which ranked dead last in 2017.
8. Chicago Bears: CB Denzel Ward, Ohio State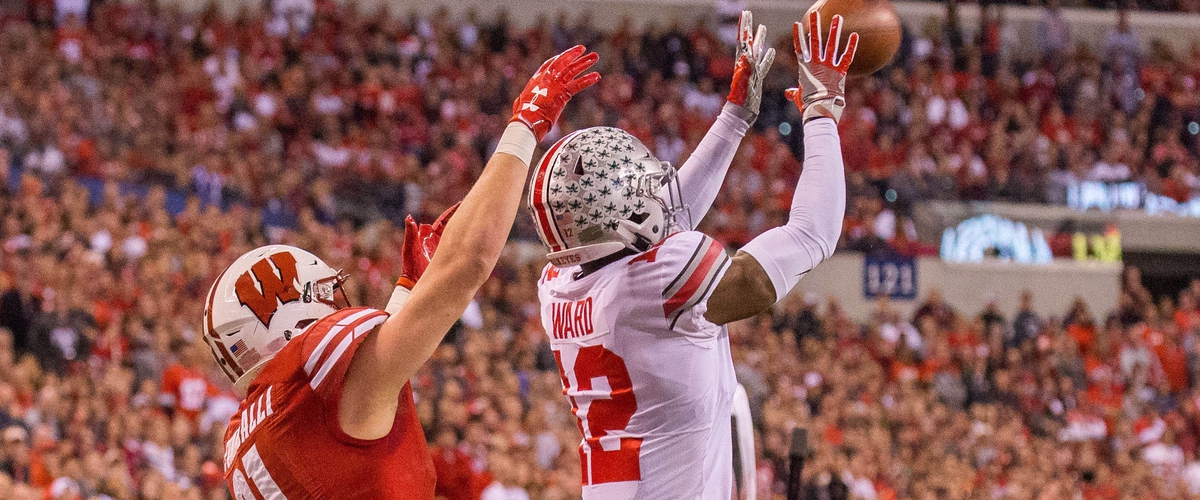 Talent is what the Bears need on defense and Ward is that guy. He is the top ranked CB and has the potential to be a lockdown corner in the NFL day one. Ward is fast, not afraid to tackle, and would go along great with Bears CB Kyle Fuller. The Bears secondary is young but hungry and Chicago needs to have talented CB's when you play in a division with Aaron Rodgers, Matthew Stafford, and now Kirk Cousins.
9. San Francisco 49ers: LB Tremaine Edmunds, Virginia Tech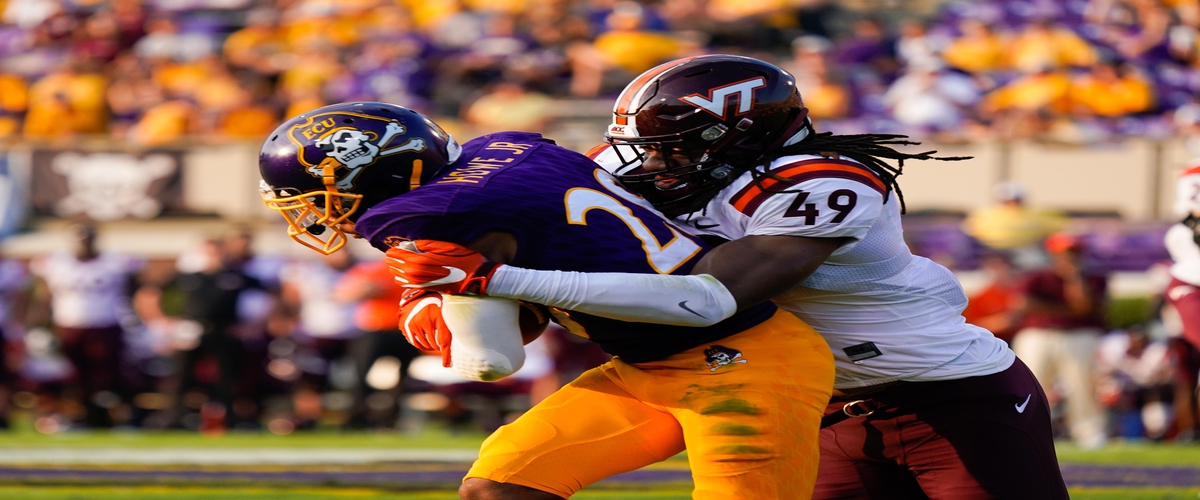 Speed kills, and Tremaine Edmunds is like a missile coming in hot against opposing offensive players. He is rangy, can cover well with his speed, and gets to the passer in a hurry. With Rueben Foster's future uncertain and his unreliability, Edmunds gives a bit of stability to San Fransisco's defense. The 9ers already have a fierce defensive line and with recently acquired all pro corner Richard Sherman helping the secondary, Edmunds will sure up all 3 levels of the defense. Plus, if Foster does come back and stays out of trouble, this could be Patrick Willis and Navarro Bowman all over again.
10. Oakland Raiders: S Derwin James, Florida State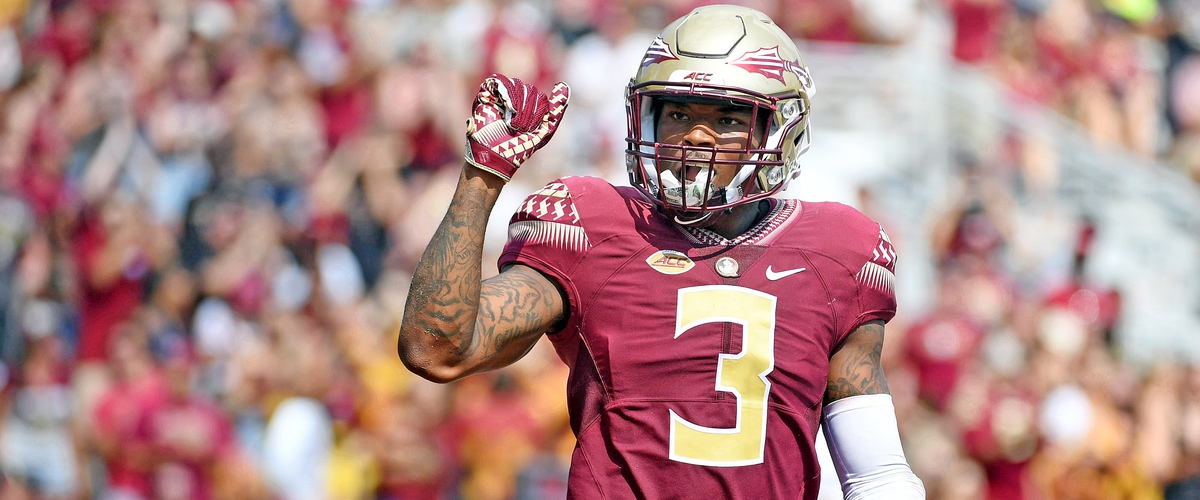 The Raiders could go in multiple directions here as they need help badly on defense. Washington's DT Vita Vea or Georgia's LB Roquan Smith could be strong considerations here, but with Reggie Nelson currently starting opposite of Karl Joseph, The Raiders need to continue to add youth to the secondary. I think the Raiders ultimately re-sign Navorro Bowman giving them the flexibility to choose a player in the secondary. James would be a great pairing with Joseph and can learn a lot from Nelson.
11. Miami Dolphins: LB Roquan Smith, Georgia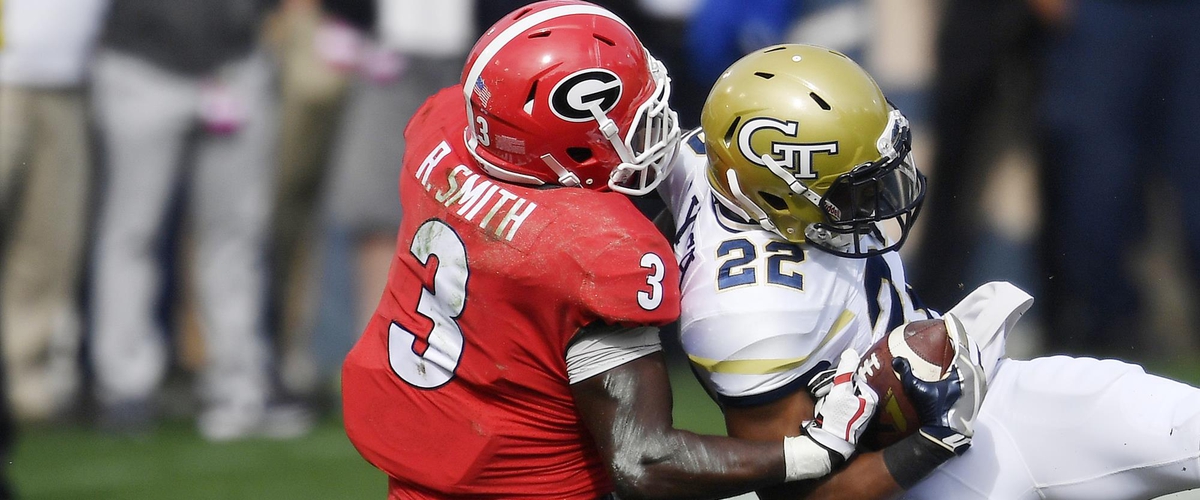 If you are wondering what type of player Roquan Smith is, look no further than when Georgia played Alabama, you will consistently see Smith making plays around the football. Smith is my top ranked LB in the class and has the potential to be a an all pro his first year. Smith has great range and he is a thumper at the middle linebacker spot. He can lead a defense and Miami pairing him with veteran Kiko Alonso and Raekwon McMillan, would be wise.
12. Buffalo Bills: QB Baker Mayfield, Oklahoma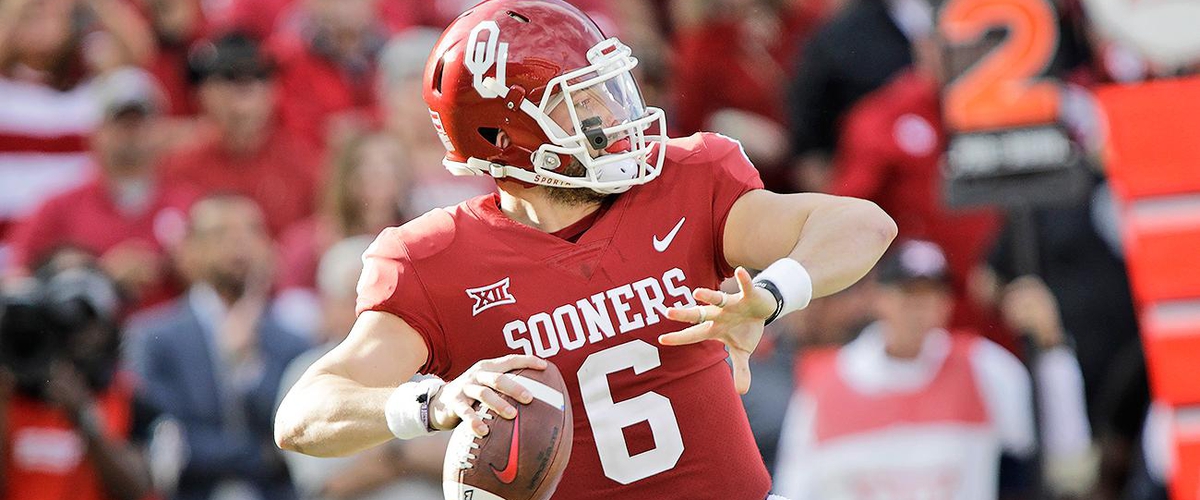 There is no way Baker Mayfield lasts until pick number 12, however, I do think the Bills have a great opportunity to move up to pick number 2 as they have more than enough ammo to do so. Mayfield is polarizing, exciting, and makes plays that are mesmerizing. Baker needs to mature, but he is accurate and plays a bit of backyard football which teammates seem to gravitate to. His size is a bit of an issue but I think with a good offensive line and great running game, with Shady McCoy, Mayfield will learn how to overcome it.
13. Washington Redskins: DT Vita Vea, Washington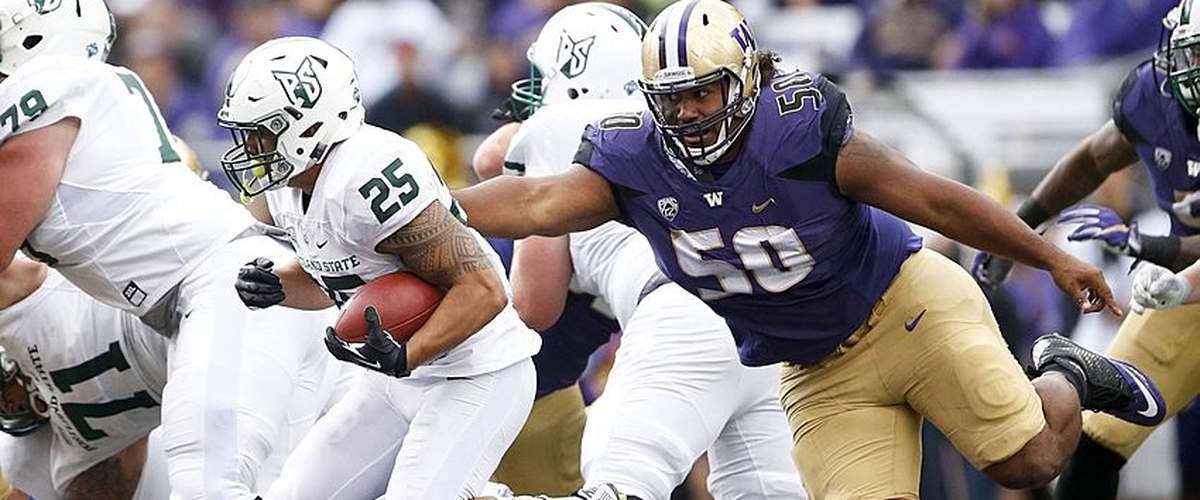 To be frank, Vita Vea is a massive man. He is powerful, strong, and very quick for his size. At 6'5, 340lbs, Vea can eat up blockers both in the running game and passing attack. Washington could go pass rusher as their's are unreliable to stay on the field, but the team ranked dead last in rush defense, averaging a whopping 134 rushing yards a game. Vea will surly help change that.
14. Green Bay Packers: WR Calvin Ridley, Alabama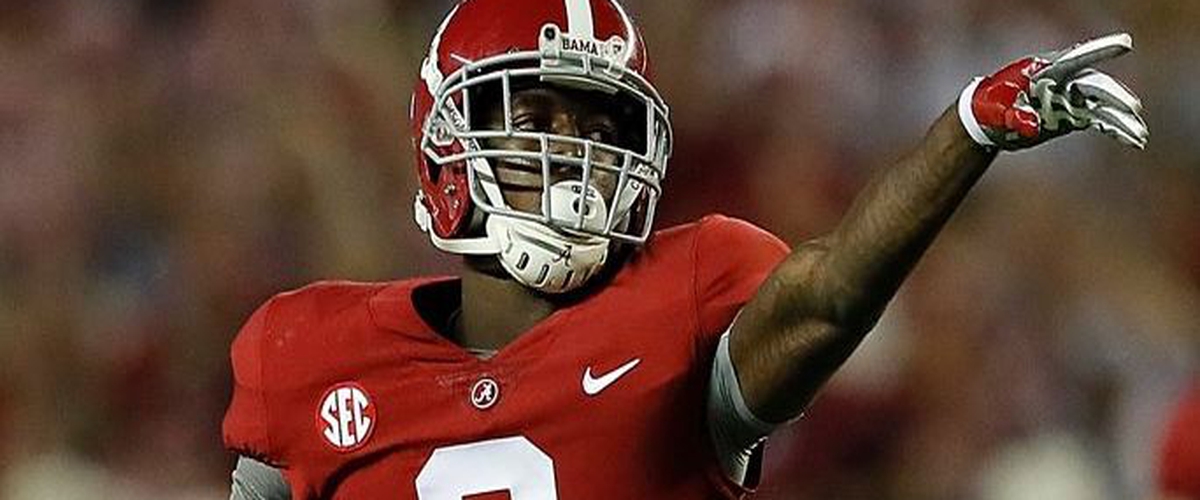 Gone are the days of Aaron Rodgers throwing to Jordy Nelson. He wasn't happy about the departure and the Packers must keep their QB happy. Davante Adams had a breakout season last year and proved to be a true number 1 receiver. Ridley is the best pure route runner in this draft and pairing Ridley with Adams, while having Cobb in the slot, will give Green Bay a stellar starting trio at receiver for #12. The Packers could go CB here, but the talent level at CB is a lot stronger than receiver this year.
15. Arizona Cardinals: OT Mike McGlinchey, ND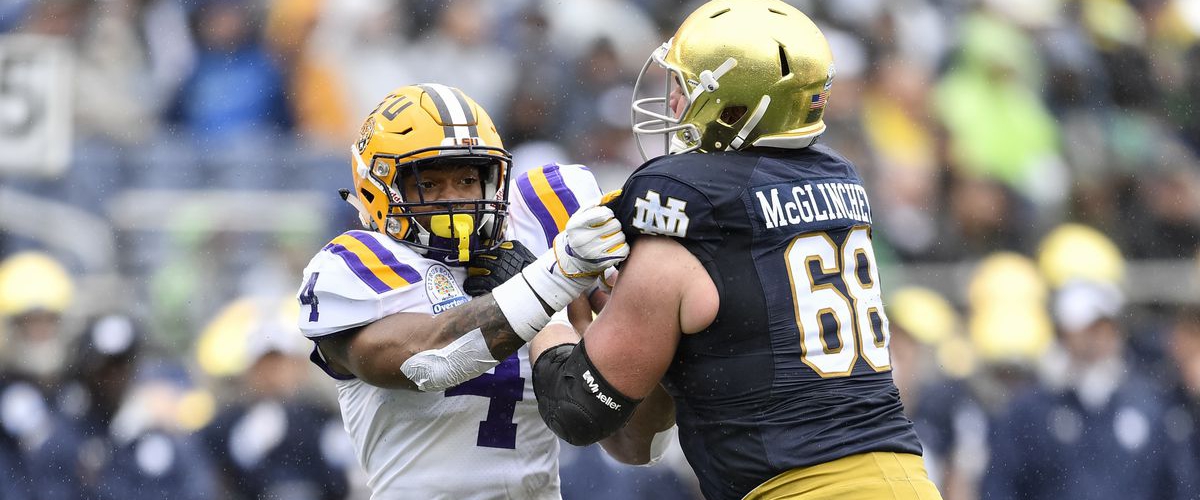 The Cardinals need a quarterback of the future, but with not having as much draft capital as Buffalo, I think they stay put at pick #15. We all know about Sam Bradford and his injury woes, so what better way to protect him than adding the best offensive tackle in the draft? Mike McGlinchey is 6'8, 315lbs, strong, and has quick feet to keep defenders off of his QB. Ultimately this pick is to protect Bradford but also the QB of the future, whomever that is going to be.
16. Baltimore Ravens: DE Marcus Davenport, UTSA
The Ravens would have liked Calvin Ridley to fall to them, but with him being off the board, the Ravens need to find Suggs' replacement. GM Ozzie Newsome loves to take the best player available, with Davenport, he'll be picking someone who's draft stock has never been higher. After tearing it up at the Senior Bowl, Davenport has quickly turned heads over his pass rushing ability. With Suggs reaching the age of 35, its time to think about life without the future hall of famer.
17. Los Angeles Chargers: CB Josh Jackson, Iowa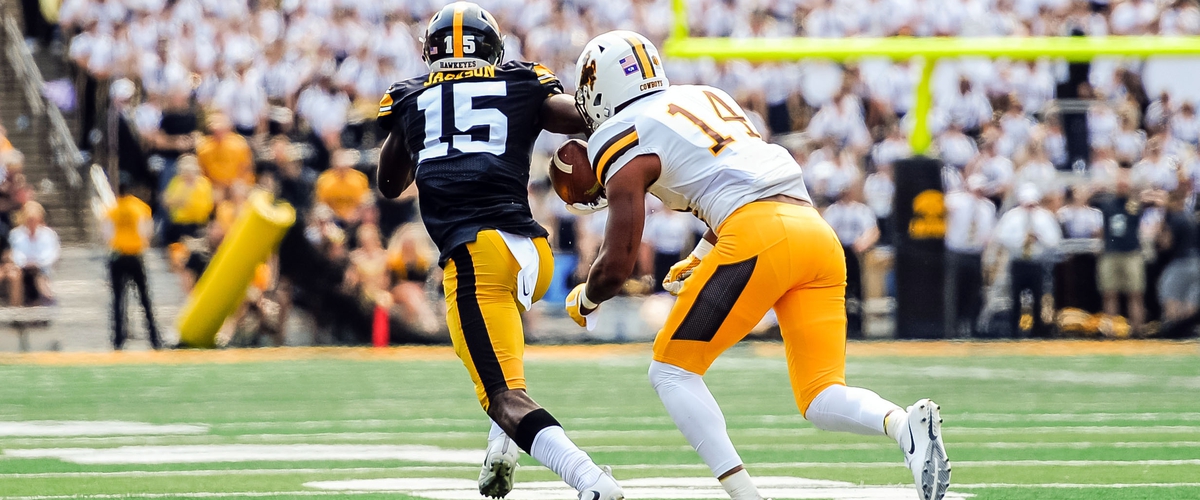 Josh Jackson is one of my absolute favorite prospects this year. He is technically sound, tough, and has the makings to become a shut down corner. From a pure playmaking standpoint, I rank Jackson over Denzel Ward. The Chargers can add pieces on defense as Philip Rivers has control over the offense and newly signed center, Mike Pouncey, really gives the Chargers a legitimate offensive line. Jackson and All Pro Casey Hayward will be able to lock down the divisional receiver pairings of Demaryius Thomas with Emmanuel Sanders, Amari Cooper with Jordy Nelson, and Sammy Watkins with Tyreek Hill.
18. Seattle Seahawks: CB Mike Hughes, UCF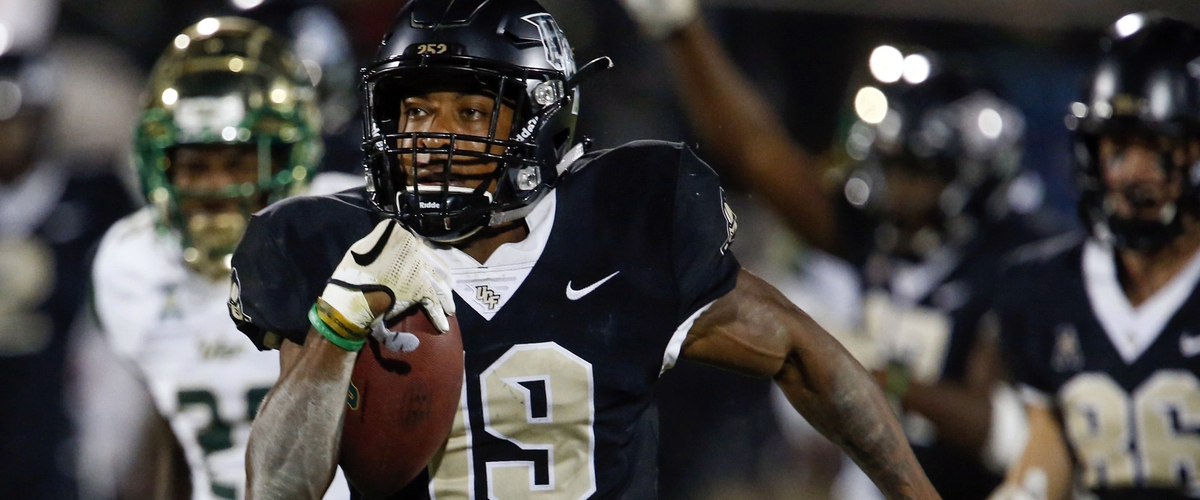 Out is Richard Sherman, in comes Mike Hughes out of Central Florida. Hughes is a speedy corner, who may be a bit undersized for Seattle's liking, at 5'10 198lbs, however Hughes does a great job at pressing at the line of scrimmage and has the speed to recover on any given route. Hughes makes the sting of losing Sherman a little better, but he does have big shoes to fill in Seattle.
19. Dallas Cowboys: WR Christian Kirk, Texas A&M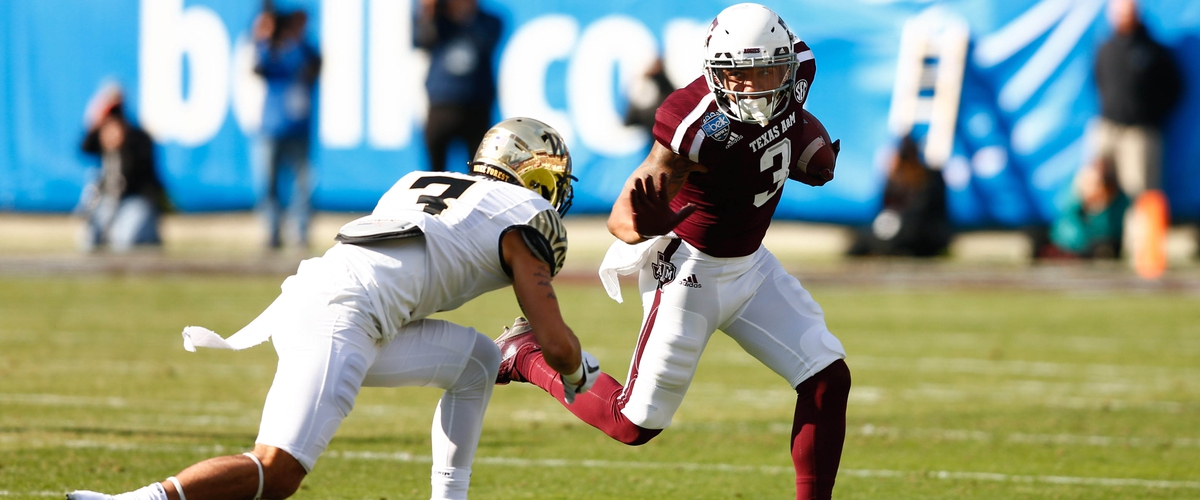 I'm a firm believer that high character players produce on the field. You do not have to worry about a guy like Kirk to come in and be great because he simply wants it. Kirk might not run as crisp routes as Ridley, but I love his game and ability to make plays. He has a knack for finding the end zone as he improved every year in college with 7, 9, and 10 his last year. Drafting Kirk will give Dallas the flexibility to move disgruntled veteran Dez Bryant, who's current cap number sits at 12M. Dallas needs to get younger at receiver and now can focus on defense the rest of the draft.
20. Detroit Lions: DT Da'Ron Payne, Alabama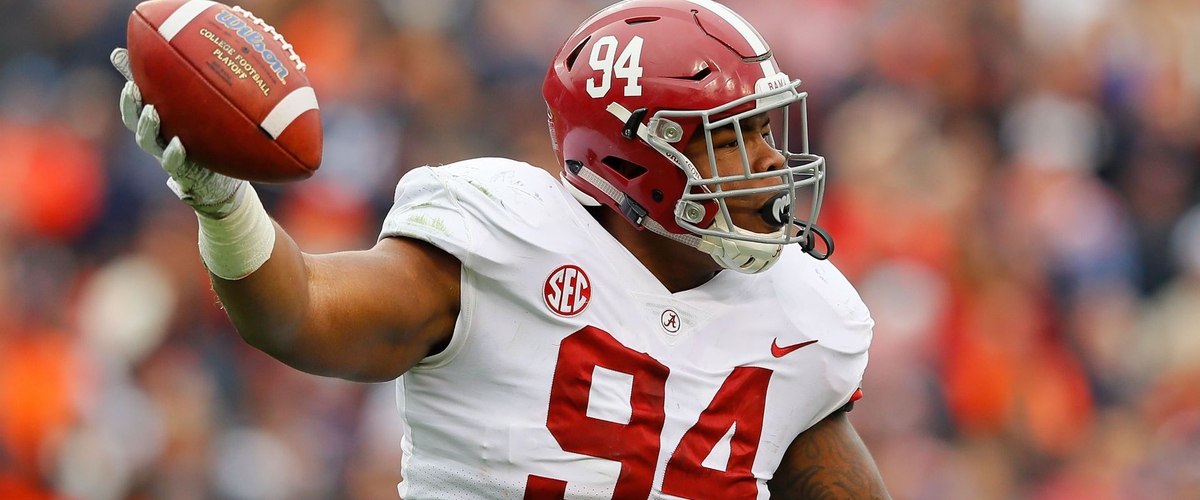 There is a new sheriff in Detroit and HC Matt Patricia surely will want to address the defense. Payne has great pass rushing skills and is the top interior defensive lineman when putting pressure on the QB. The Lions made some upgrades in the secondary this offseason and with Payne bringing pressure up the middle, there will be nowhere for QB's to step up in the pocket, giving DE Ziggy Ansah the potential for a massive increase in producing sacks.
21. Cincinnati Bengals: OT Connor Williams, Texas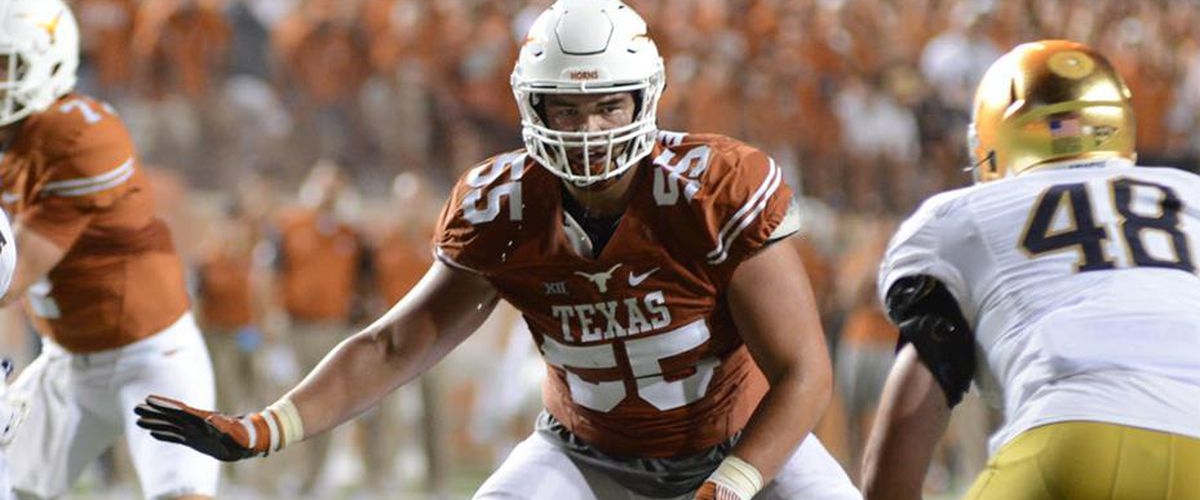 The Bengals need a ton of help, if I'm them, I'm looking to trade down as they have holes on both sides of the ball. They did trade for Bills OT Cordy Glenn who can protect QB Andy Dalton's blind side or kick out to right tackle and place Connor Williams on the left. Each of them have flexibility to play both sides of the line but I look at Williams to be an insurance piece to Glenn more than anything. Cordy only played 7 games last season and 11 the year prior. I also see Alabama's LB, Rashaan Evans, being in play here as LB Vontaze Brufict can't stay out of trouble.
22. Buffalo Bills: OT James Daniels, Iowa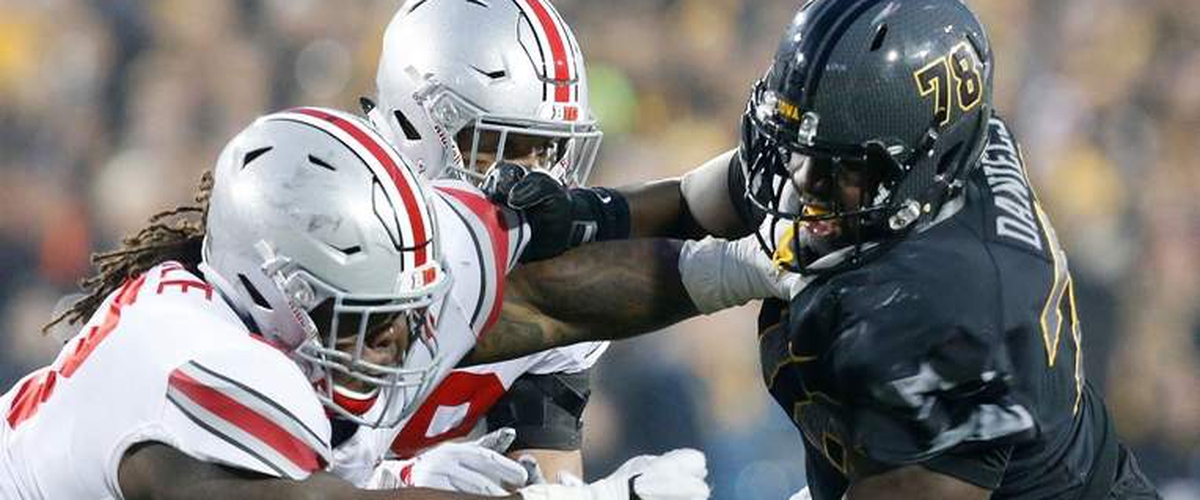 As mentioned above, the Buffalo Bills traded away Cordy Glenn to Cincinnati. Daniels is what you call a plug and play here for the Bills. He will take over the right side of the offensive line either at guard or tackle. With a new quarterback in Baker Mayfield, they must protect him to start his career out right. LeSean McCoy will also love this selection as Daniels excels in run blocking.
23. New England Patriots: DE Harold Landry, Florida State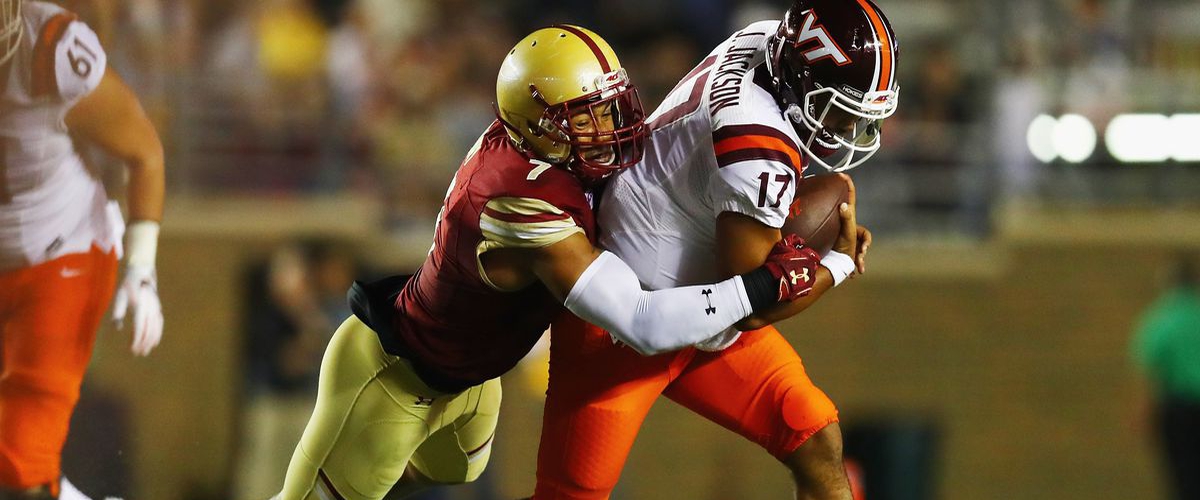 The last time the Patriots had 2 first round selections they ended up taking DE Chandler Jones and LB Donta Hightower, not bad. Only one of those players still remains with the team and the Patriots have been trying to replace Chandler Jones since. Landry is a lengthy pass rusher who has the potential to be the best pass rusher in this years draft. He will provide much needed help off the edge for New England, and pairing him with newly signed DE Adrian Clayborn, the Pats now have flexibility for pick #31.
24. Carolina Panthers: OG Isaiah Wynn, Georgia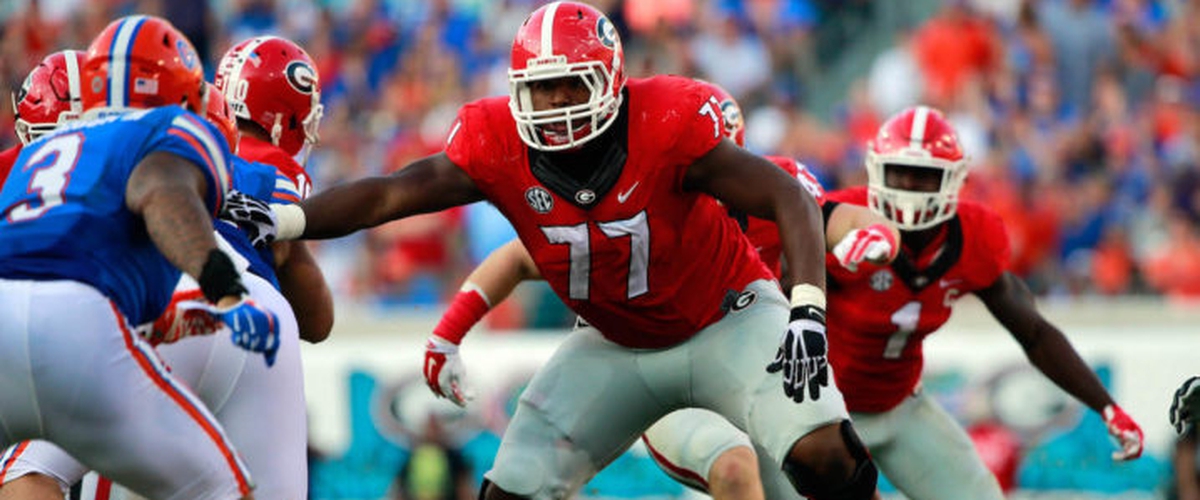 The Panthers need help bad along the offensive line. Not only does Christian McCaffrey need lanes opened up but Cam Newton has been hit more than any QB since 2012. Part of this is for Cam's play style but a lot of it is because he has never had an elite offensive line to protect him. With the addition of the massively gifted Wynn, Carolina should have the best o-line they've had in Cam's entire career.
25. Tennessee Titans: LB Rashaan Evans, Alabama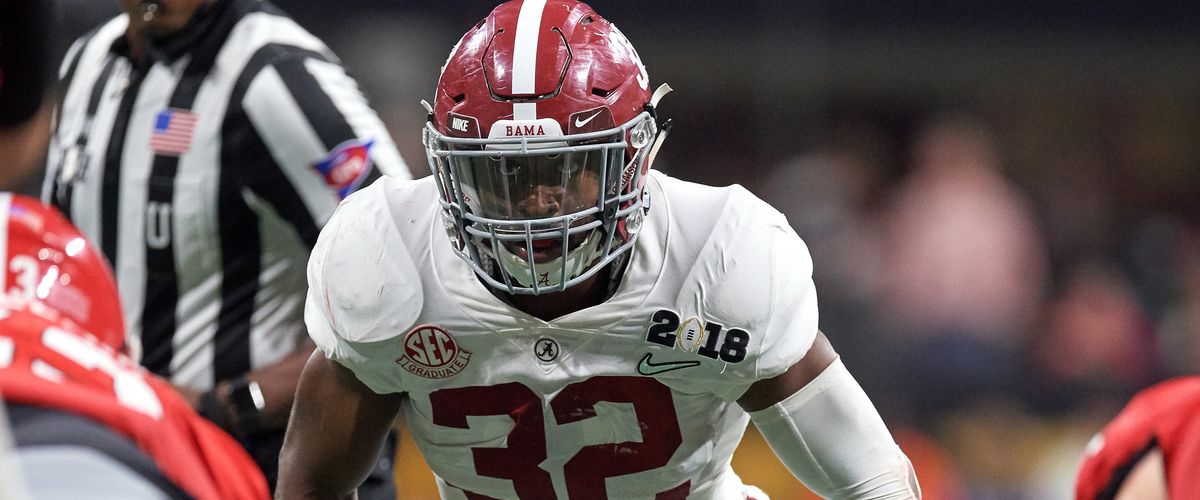 The Tennessee Titans have been building something special the last few years and this is the year I think they become a legitimate AFC championship contender. The Titans added many pieces this offseason, including CB Malcolm Butler, but one key loss was LB Avery Williamson. Williamson has amassed 196 tackles over the last two seasons to go along with 5 sacks, his loss will be felt but Evans is the perfect replacement. Evans is my number 2 ranked LB, over Edmunds and behind Smith. His instincts are undeniable and is exactly the type of player needed to lead a defense.
26. Atlanta Falcons: C/OG Billy Price, Ohio State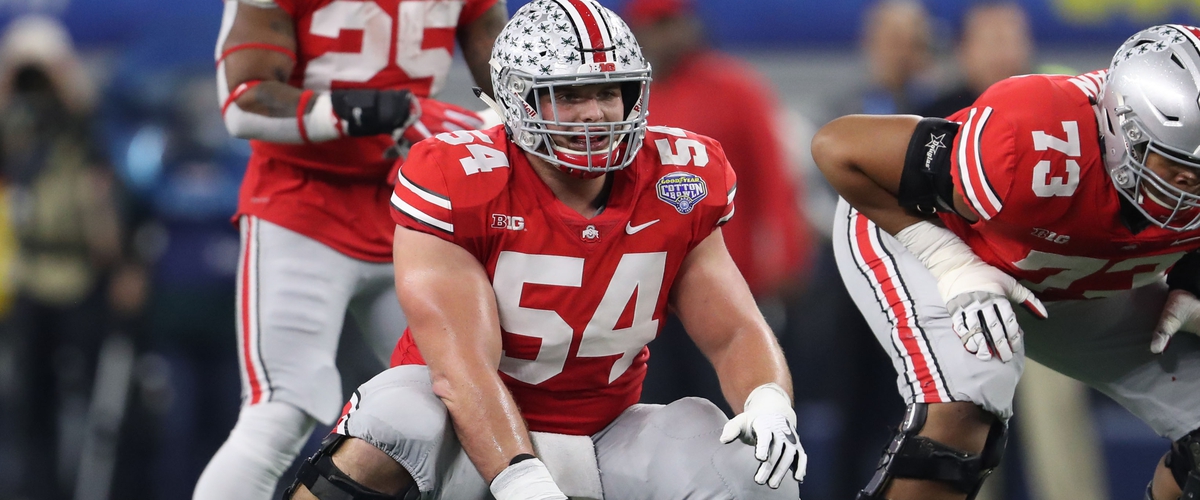 If not for a minor pec injury at the combine, Billy Price had the potential to be the first interior offensive lineman selected in the draft. Price is a menace and a phenomenal blocker both in the run and versus the pass rush. Atlanta could go in a few directions such as CB Jaire Alexander or DE Sam Hubbard to replace Jalen Collins and Adrian Clayborn, respectively. I do think Atlanta prioritizes protecting Matt Ryan and getting younger on the o-line as OG Andy Levitrie is 31, and C Alex Mack is now 32.
27. New Orleans Saints: DE Sam Hubbard, Ohio State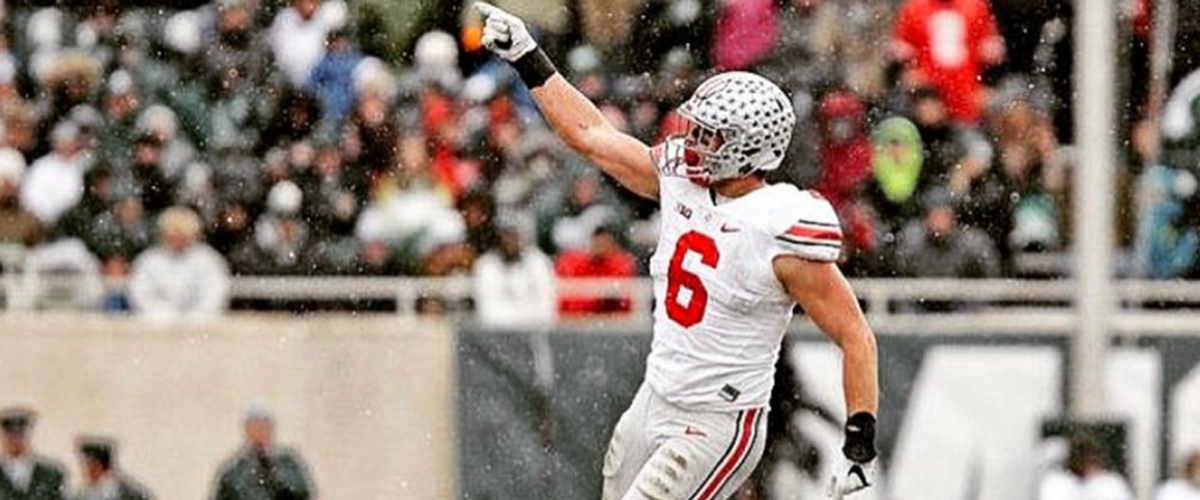 The Saints have the luxury of drafting almost any position they'd like in the first round. They have a solid defense after a great draft class last year, and the offense is still clicking on all cylinders. Adding a pass rushing piece to go along with DE Cameron Jordan is the Saints best bet to get back to the Super Bowl, possibly for Drew Brees' last hoorah. Sam Hubbard isn't the best pass rusher in this class by any means but his effort is undeniable and I feel comfortable comparing him to a poor man's Joey Bosa.
28. Pittsburgh Steelers: LB Leighton Vander Esch, Boise State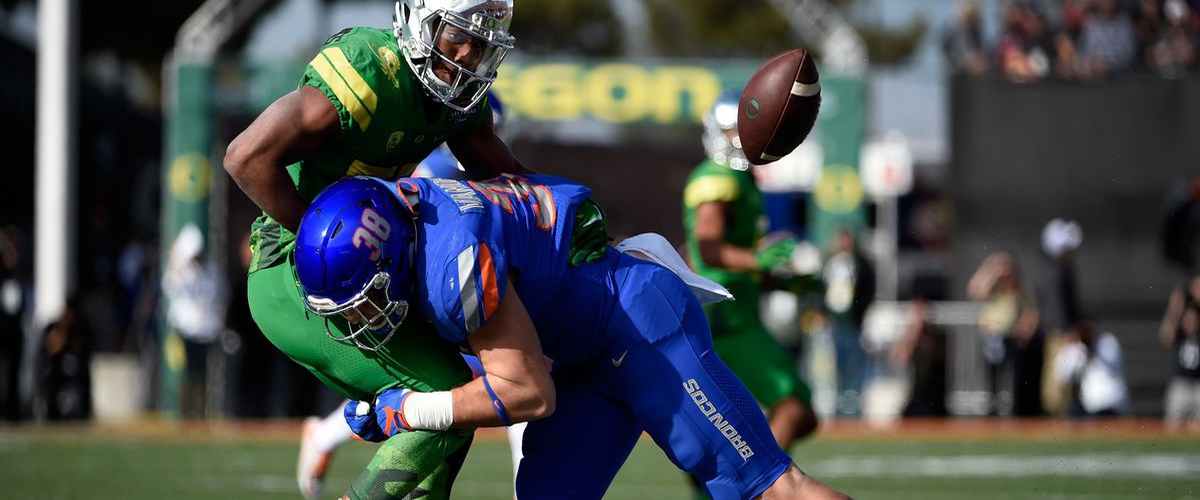 Injuries are a devastating part of the game of football. Ryan Shazier's injury is going to keep him out at least one more season which now gives the Steelers a glaring need at middle linebacker. Vander Esch is a high motor player that will fit perfectly in Pittsburgh. He plays well in coverage and is tremendous against the run. Leighton will give more than just stability to the super bowl contender who now can continue to focus on defense as the offensive needs are almost nonexistent.
29. Jacksonville Jaguars: CB Jaire Alexander, Louisville
The Jaguars have virtually no holes on their roster. One piece they did lose in the offseason though was slot corner Aaron Colvin, who signed with the Houston Texans. Alexander is a 5'10 196lb corner who would be perfect to play in the slot. He has the speed to make up for any lost ground and is a physical corner which fits the mantra in Jacksonville. The Jaguars are a wild card in the draft and could even be eyeing a QB late in the first round as an insurance to Bortles, but defense is their identity and Alexander will fit right in.
30. Minnesota Vikings: DT Maurice Hurst, Michigan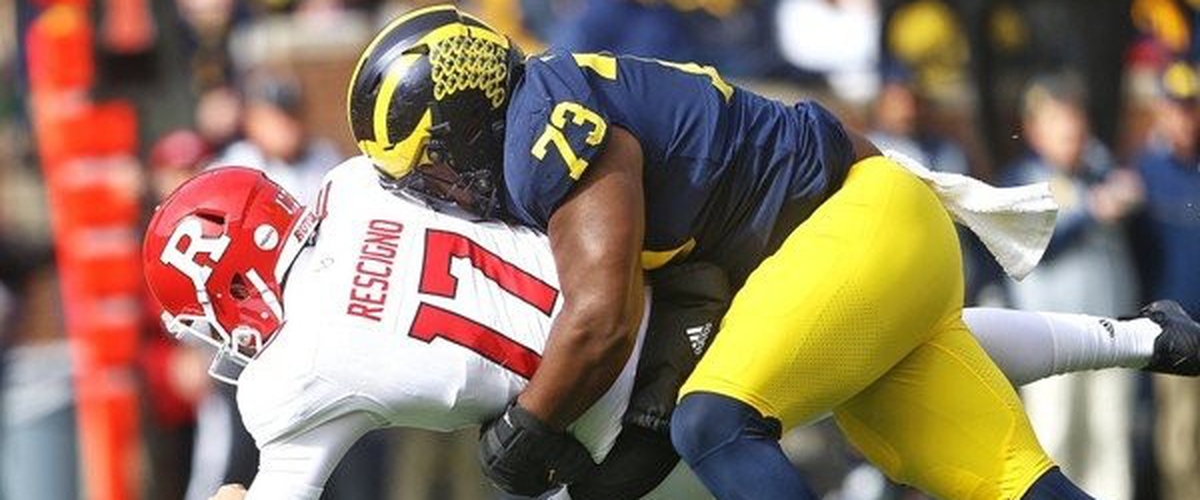 Much like Payne, Maurice Hurst is known for his disruptiveness in the passing game. He can get to the quarterback in a hurry and would add to an already elite defense in Minnesota. A heart condition that was flagged at the combine was concerning, but Hurst has been since cleared to play. Having Hurst rushing up the middle and Everson Griffen coming off the edge, opposing quarterbacks will not sleep well before playing the Vikings.
31. New England Patriots: TE Dallas Goedert, South Dakota State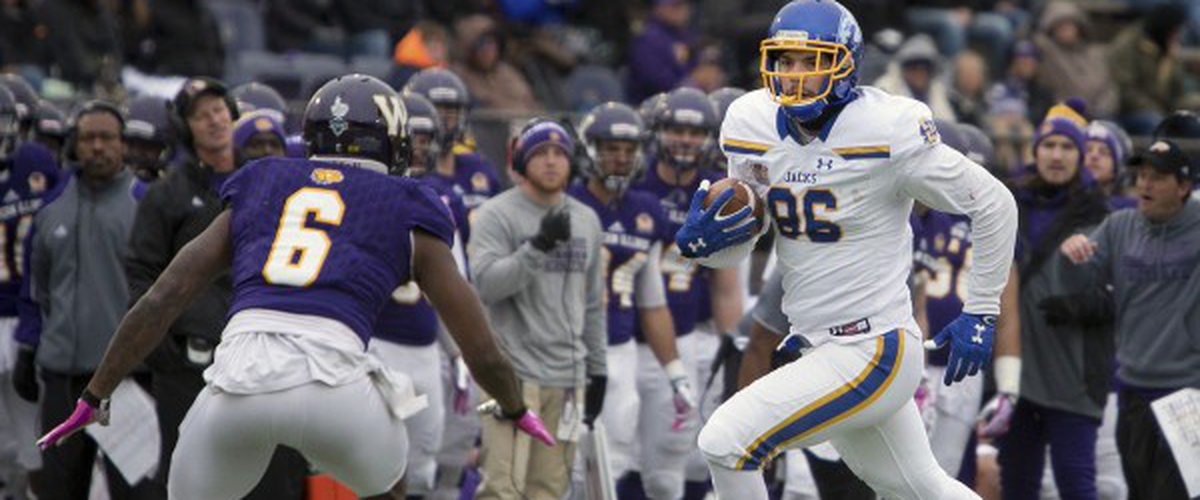 Offensive tackle has to be in play here but I think they attack that position in the second round. Pairing Goedert with Gronkowski would be better than the Hernandez Gronk pairing. Make no mistake, the reports circling Gronk retiring are very real and could happen as quickly as next off-season. Even still The Patriots have to think about replacing him as signs point to this is his last year in New England. Goedert is a great receiving tight end and will learn from the best in the game.
32. Philedelphia Eagles: RB Derrius Guice, LSU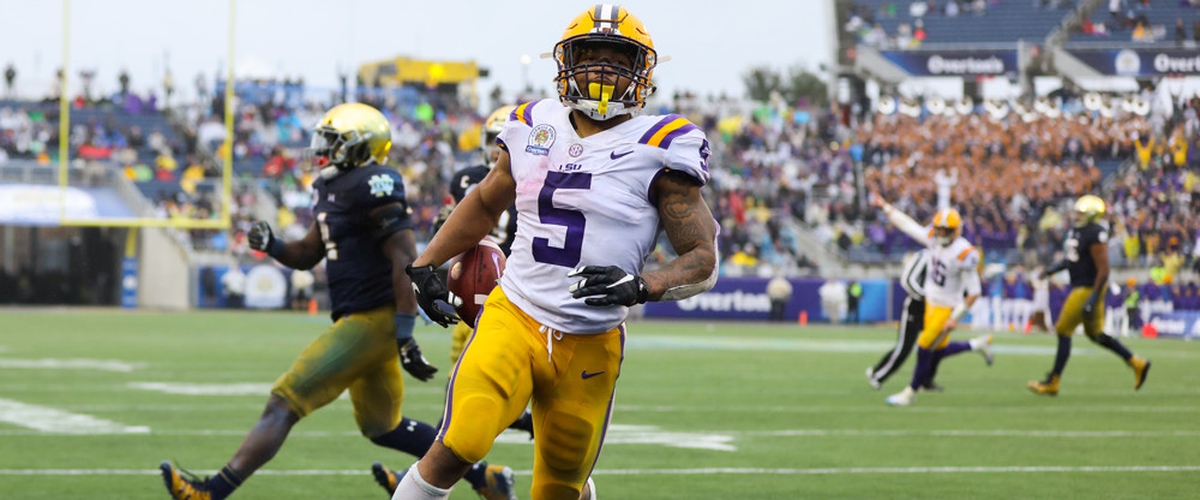 Lastly, the rich get richer. Much like the Jaguars, the Eagles have no holes on this roster and can pick the best player available. Guice is so talented and could easily go higher than this. I could argue there is not that much of a gap between Guice and Saquon Barkley, he's that good. Losing LeGarrette Blount, to the Lions, now gives Philly a chance to have the best running back combination in the game. Oh yeah, with one of the best offensive lines, quarterbacks, and defense in the game too. Sheesh.