2018 NFL Mock Draft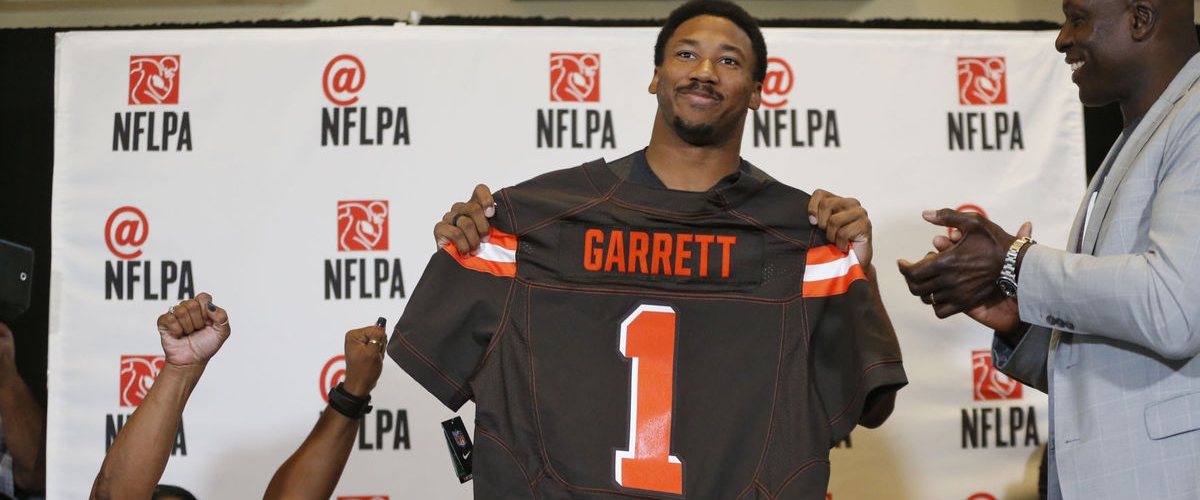 If anything, I'm writing this so that you can mock me a year from now. Mocks this early are never even close to right. Hell, I had Myles Garrett going 5th overall to the Falcons (!) in my first crack at 2017. Though I did call Leonard Fournette going 4th, Adoree Jackson to the Titans, and 12 picks that turned out to be 1st rounders, it was laughable. Still, it's fun to take a look ahead at a loaded 2018 draft. The pick order was generated via a random simulation of the season.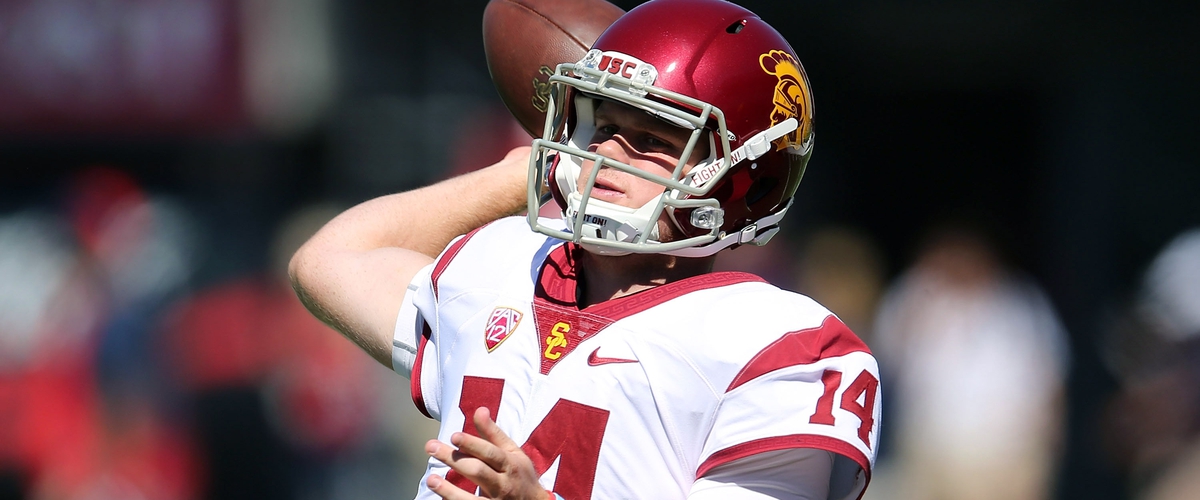 #1: New York Jets: Sam Darnold, QB, USC
If the Jets are picking first, it means the Josh McCown-Christian Hackenberg "plan" has failed miserably. After saving USC's season from disaster, Darnold showcased the pinpoint accuracy, explosive arm, and leadership capabilities to be a future franchise quarterback. Darnold is remarkably advanced in his reading of the game for a quarterback of his age. With another year of seasoning under his belt, Darnold has a chance to be the best QB prospect since Andrew Luck.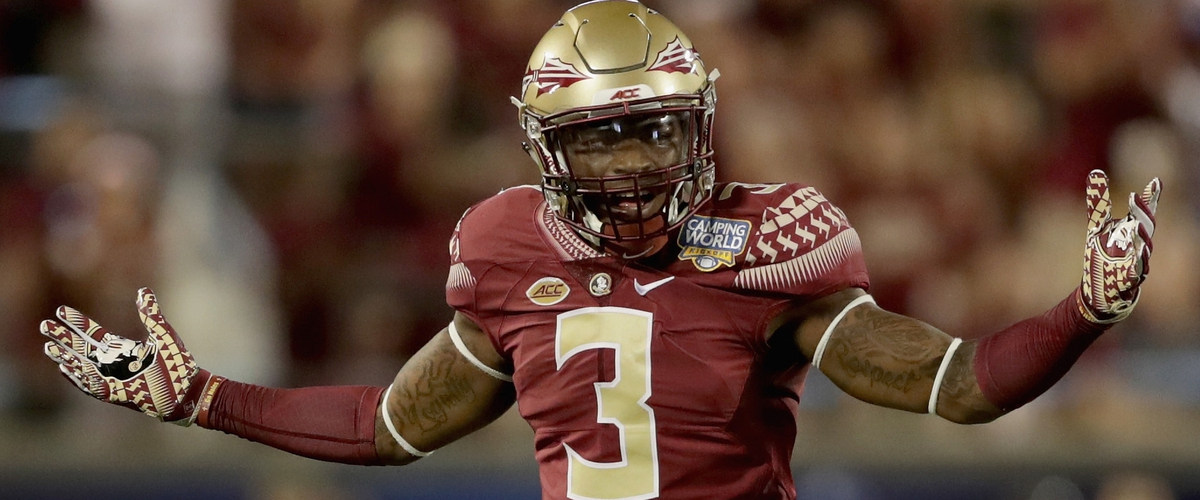 #2: Chicago Bears: Derwin James, S, Florida State
The Bears decided to grab their potential franchise quarterback in Mitchell Trubisky. In doing that, they neglected to patch up their poor secondary. A huge safety at 6'3" ands 215 pounds, James plays a physical style that is complimented nicely by some elite ball skills. Chicago should exhaust every opportunity to improve their back end, starting with James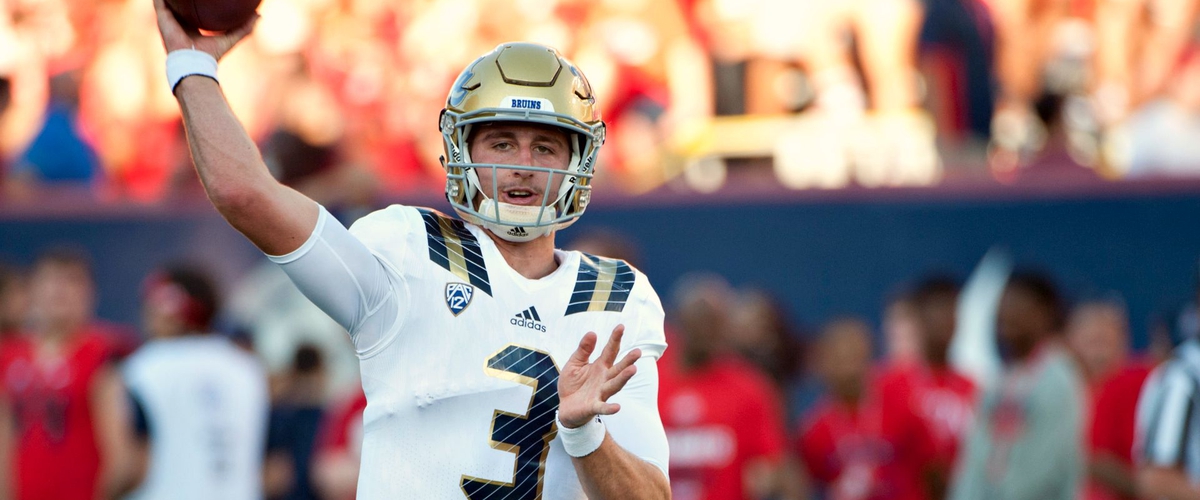 #3: San Francisco 49ers: Josh Rosen, QB, UCLA
The California kid stays home, and lands in a perfect situation. Kyle Shanahan's offense is perfect for the accurate arm of Rosen. Playing at UCLA, Rosen has shown he can make the jump to the NFL immediately thanks to his arm and pocket presence. If he answers questions about his maturity, Rosen and San Francisco look like a perfect pairing.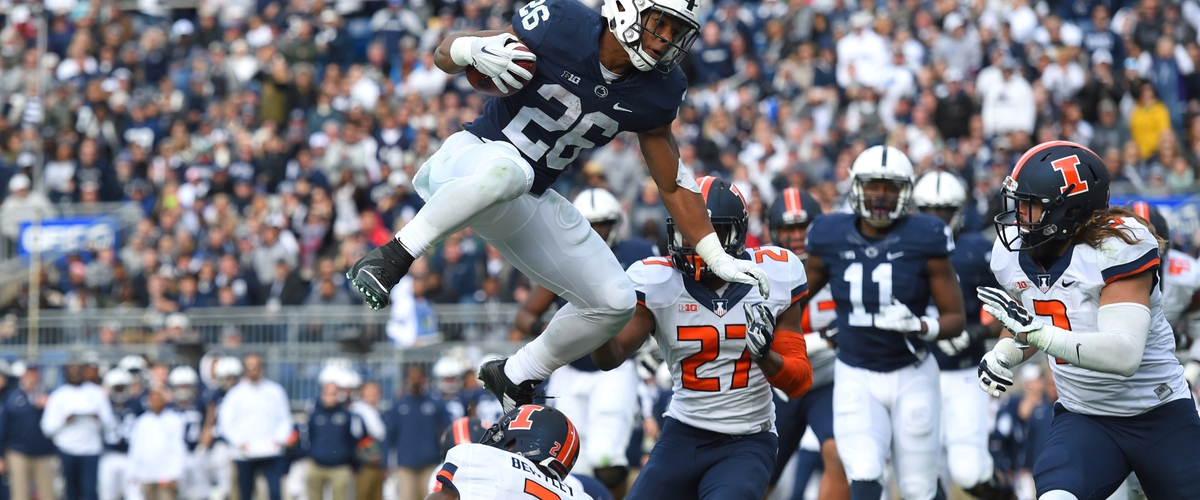 #4: Cleveland Browns: Saquon Barkley, RB, Penn State
For the 3rd year in a row, a fantastic running back prospect goes 4th. I believe in Hue Jackson and his ability to improve Cleveland. WIth DeShone Kizer their likely quarterback in 2018, they should give him a powerful weapon in Barkley. Big, sporting 4.3 speed, and elusive, Barkley is a complete running back prospect. WIth Isaiah Crowell a free agent after this year, him and Duke Johnson in the backfield will be a sight to see for the Browns.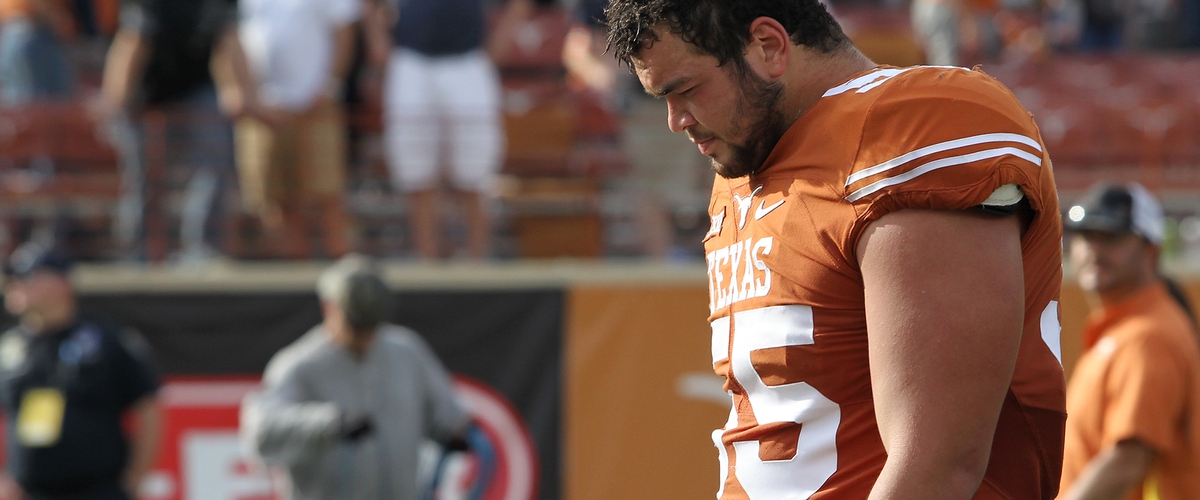 #5: Los Angeles Rams: Connor Williams, OT, Texas
I expect Jared Goff and Sean McVay to be work well together in Year 2 of Goff. They made one of the best signings of the offseason by signing Andrew Whitworth to be the left tackle. However, Greg Robinson remains a major liability and will be gone at years end. Williams is a polished pass protector and a absolute monster run blocker. He looks like a natural fit at left or right tackle. Him and Whitworth would be an amazing tandem.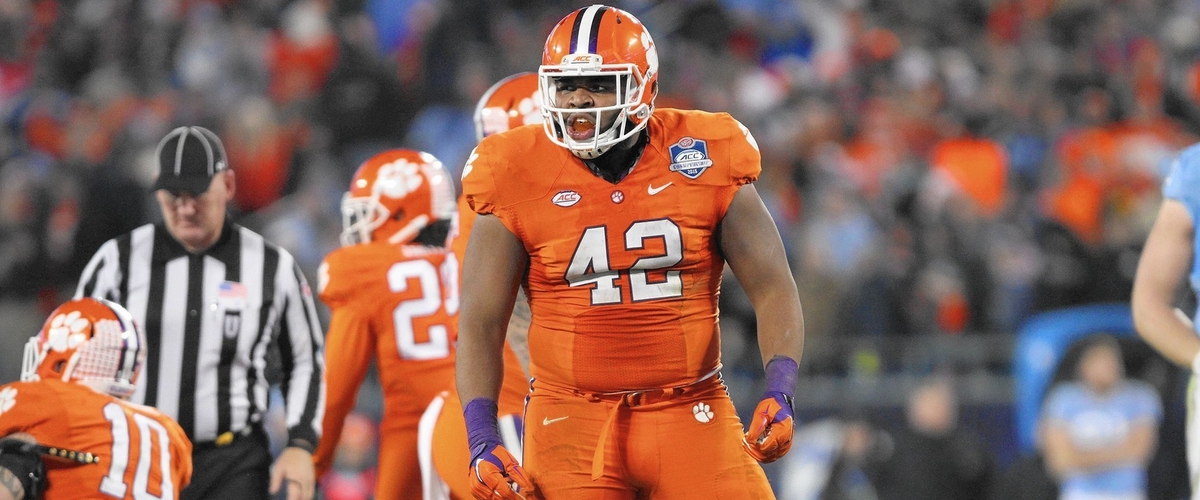 #6: Los Angeles Chargers: Christian Wilkins, DT, Clemson
Unfortunately for the Chargers, they play in the best division in football, which lands them here. The interior of their defensive line is not nearly the caliber of their pass rush. Adding a defensive tackle like Wilkins would help instantly. The best run defender in this class with an above average pass rush technique, Wilkins should stop many of the great running backs in the AFC West.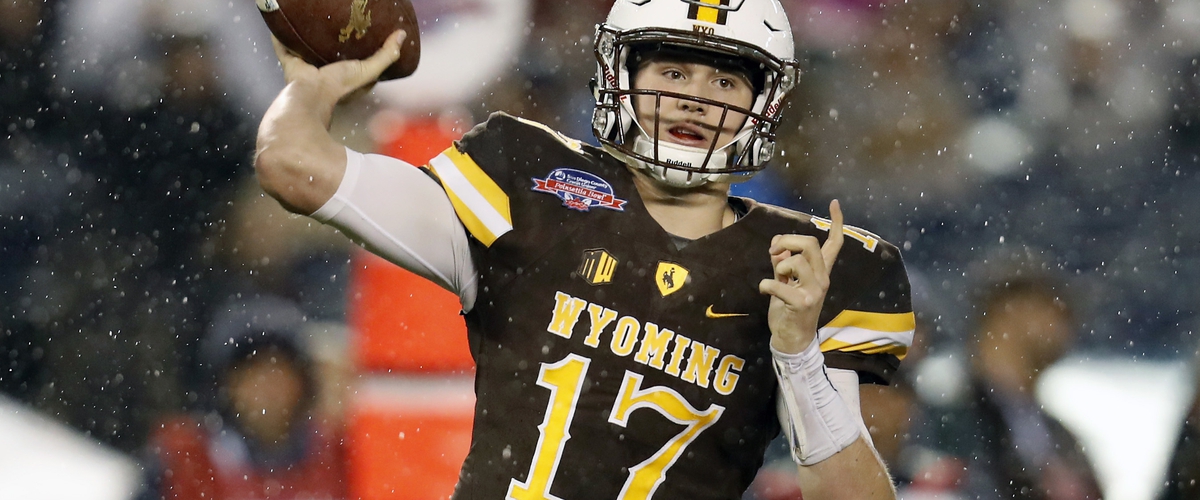 #7: Jacksonville Jaguars: Josh Allen, QB, Wyoming
The Jaguars have to end the Blake Bortles experiment soon. Another quarterback is needed desperately. Allen, a late addition to the top of draft boards, has the size, big arm, and mobility teams desire. He needs to work on his touch and cut down on picks, but there is a lot to like with Allen. His physical tools alone warrant a Round 1 selection.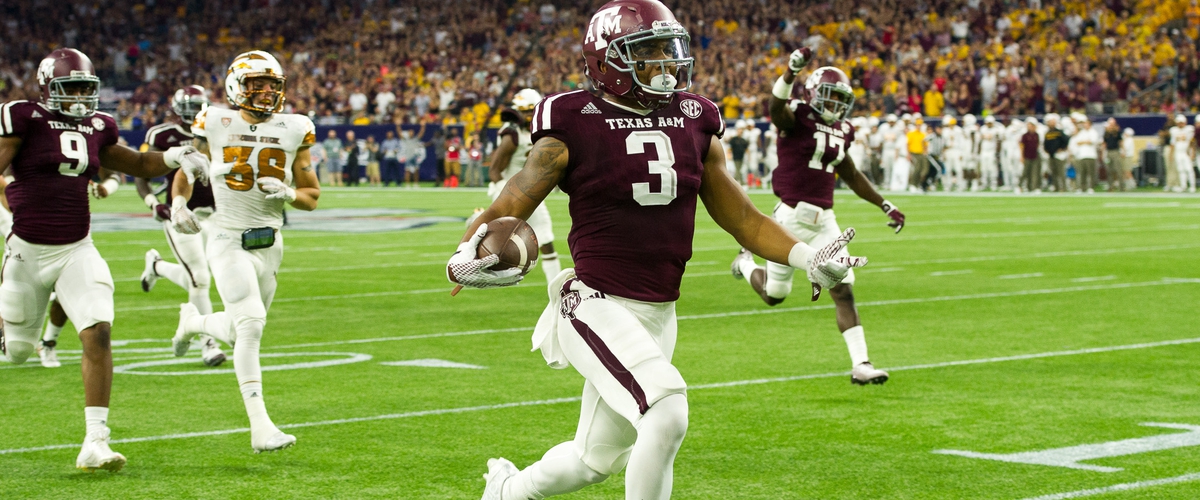 #8: Baltimore Ravens: Christian Kirk, WR, Texas A&M
A super speedy receiver with sure hands, Kirk is a perfect combination of a deep threat and a #1 possession receiver. Starring at Texas A&M despite inconsistent quarterback play, Kirk looks poised to wreak havoc in the NFL. Having added no one new to help out declining Joe Flacco, the Ravens would be wise to add a receiver here.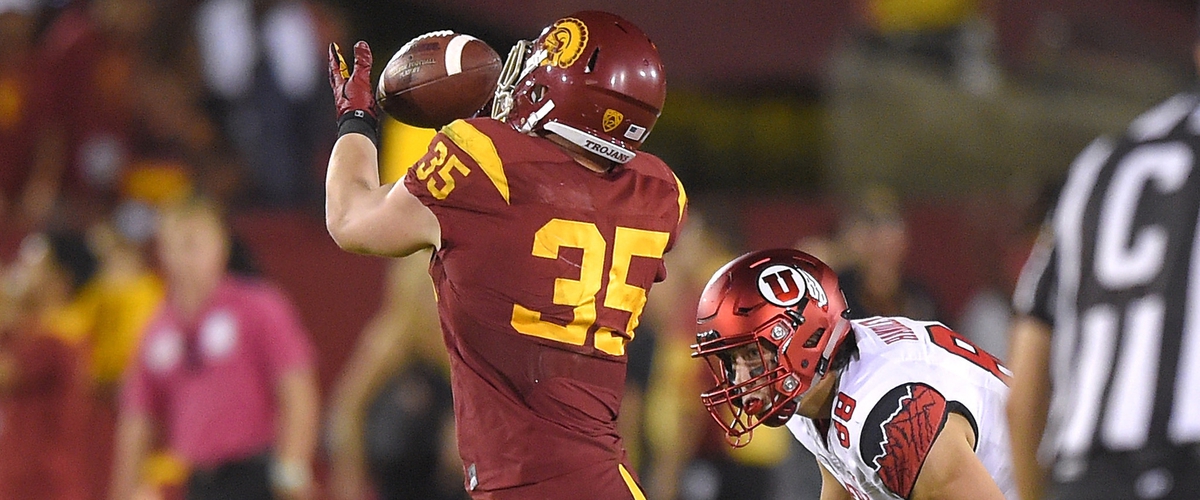 #9: Washington Redskins: Cameron Smith, ILB, USC
Inside linebacker is not as deep as it was in past years. Smith leads the crop. A prototypical rugged inside linebacker, Smith can drop back into coverage better than anyone else in this draft. With 87 tackles in 12 games, Smith is a magnet to the ball in run support. If they can resign Zach Brown to pair with him, that could lead the Washington defense for a long time.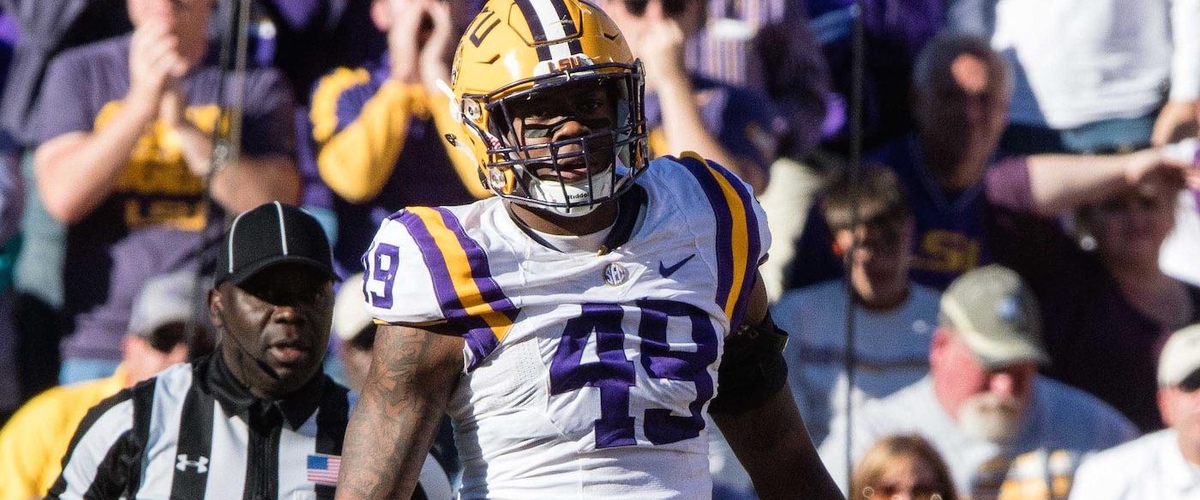 #10: Buffalo Bills: Arden Key, OLB, LSU
Key has contemplated taking some time off, but now looks like he's rearing to go for LSU. Buffalo is certainly grateful for that. Ridiculously fast for a pass rusher, Key can bend the edge with speed and a surprising amount of power for someone his size. The Bills' pass rush is stuck in neutral, as they're waiting on Shaq Lawson and Adolphus Washington to pop. Key looks like a sure thing in the right scheme.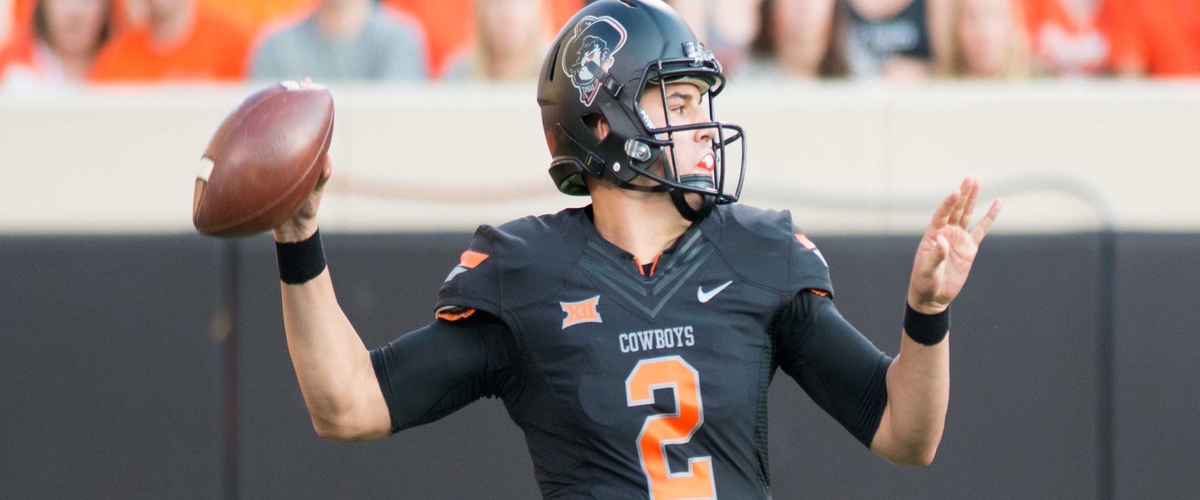 #11: Arizona Cardinals: Mason Rudolph, QB, Oklahoma State
Bruce Arians is loyal to Carson Palmer to a fault. Though his demise has been overstated, the quarterback of the future is needed. With ideal size (6'5", 230 pounds) and a cannon of a right arm, Rudolph is a natural fit in Arizona's downfield passing offense. He may need to sit a year, but Rudolph looks like he could be the Cardinals' quarterback for years to come.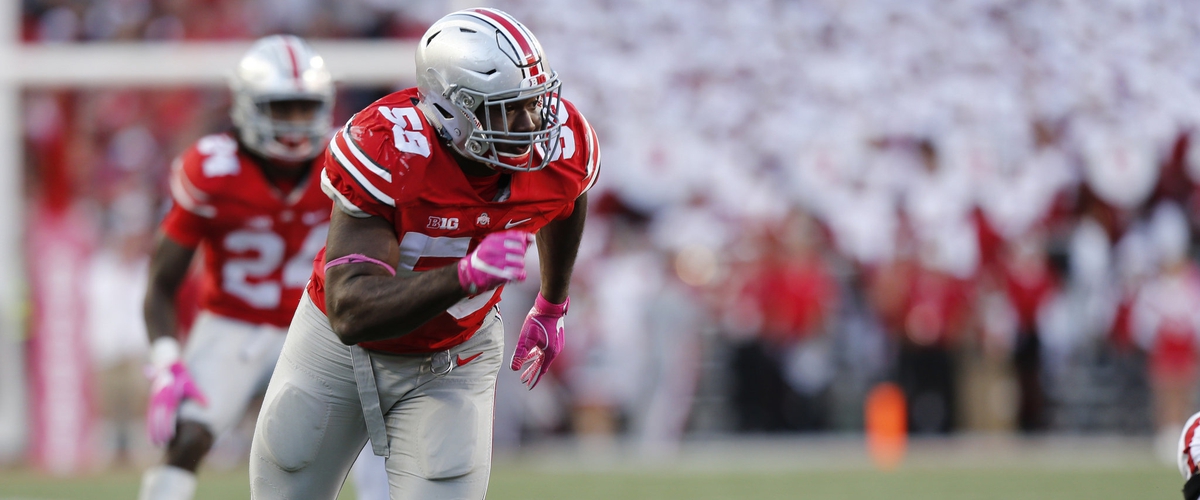 #12: Minnesota Vikings: Tyquan Lewis, DE/OLB, Ohio State
The Vikings' pass rush is borderline elite. Lewis could push them over the age. Strong, versatile, and explosive off the snap, Lewis would fit right in with the rest of Mike Zimmer's defense. Lewis improved year by year, becoming a more complete edge player. With one more year, Minnesota may end up grabbing a future star.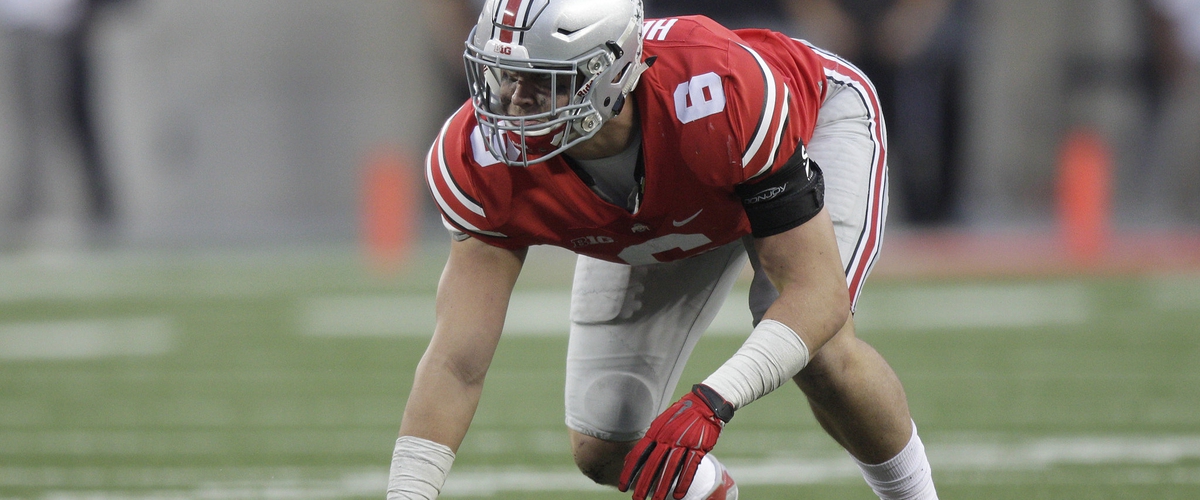 #13: Tampa Bay Buccaneers: Sam Hubbard, DE, Ohio State
Tampa Bay did a fantastic job of improving the offense, but their defense needs some adjustments if they want to get over the proverbial hump. Hubbard is a very refined, complete end that can stuff the run and get to the quarterback, as evidenced by his 7 sacks. Noah Spence can play, and Gerald McCoy is a star. Adding Hubbard would be a no-brainer for the Buccaneers.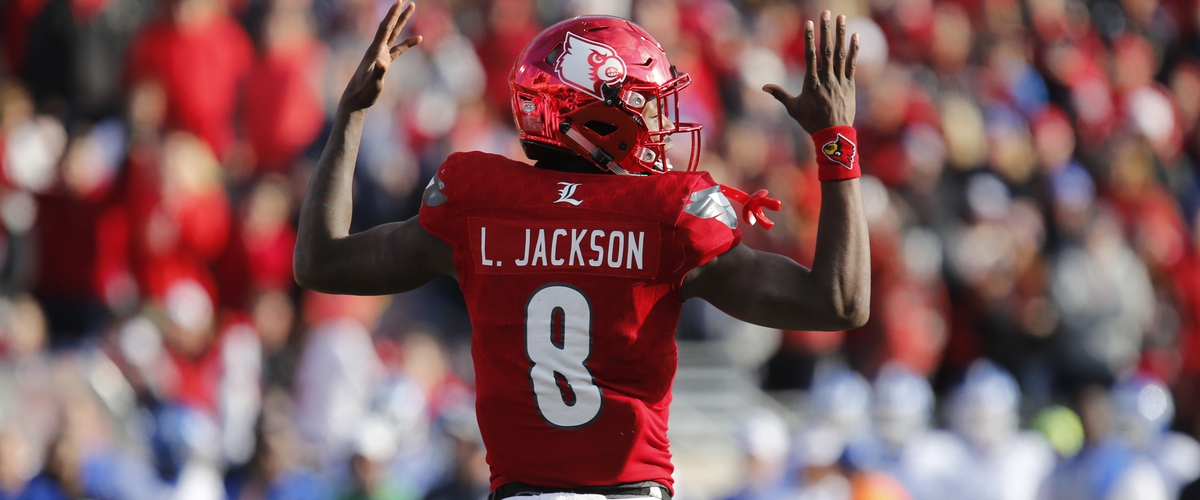 #14: New Orleans Saints: Lamar Jackson, QB, Louisville
Drew Brees will enter his age-38 season in 2017, and Garrett Grayson doesn't inspire any confidence. NFL teams will need to see Jackson add some weight to his skinny frame and improve his accuracy, but the talent, speed, and playmaking ability are undeniable. Sean Payton, an offensive genius, will get the most out of Jackson, who enters a nice situation in New Orleans, as he can learn from a legend for a year or two before taking the reigns.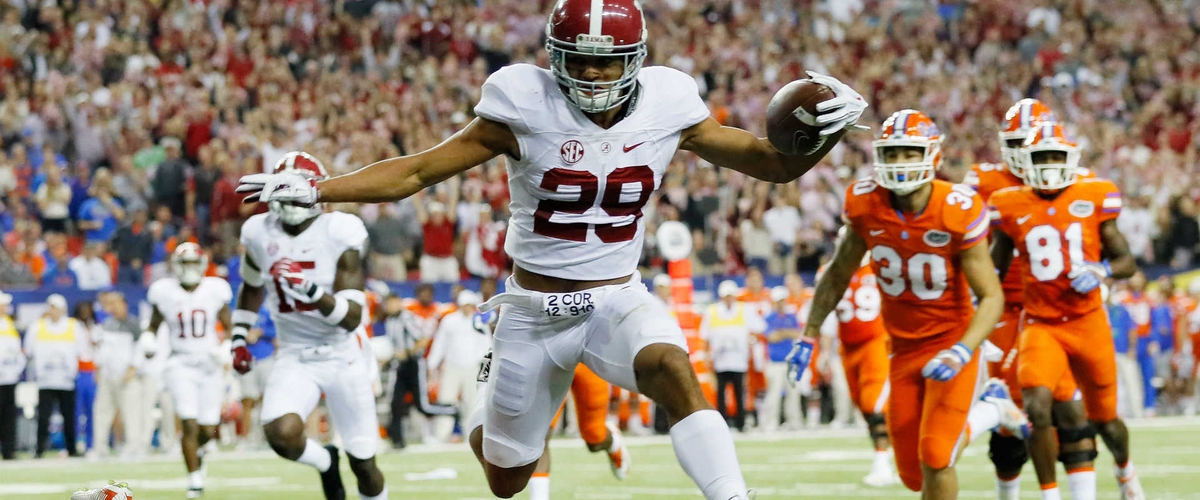 #15: Miami Dolphins: Minkah Fitzpatrick, CB, Alabama
With the 2017 defensive back class being arguably one of the deepest ever, the fact that the 1st CB is going at 15 is a bit odd. Fitzpatrick has the talent to go much higher, however. Incredibly versatile with a penchant for forcing turnovers thanks to great tackling and ball skills, Fitzpatrick would fit well in the Miami secondary. Fitzpatrick and Xavien Howard would be the 1-2 punch of the future for the Dolphins' secondary.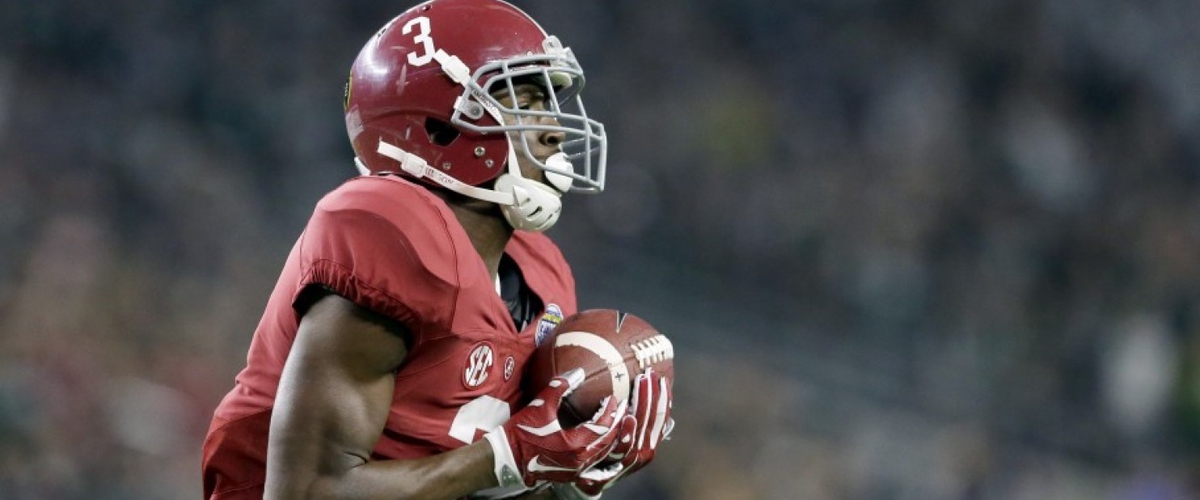 #16: Philadelphia Eagles: Calvin Ridley, WR, Alabama
Jordan Matthews will likely get a long term deal, and Alshon Jeffery may resign. The slot receiver position is woefully inadequate. Ridley is electric after the catch, runs clean routes, and never drops the ball. For an Eagles' offense that loves short routes like slants, a slot receiver like Ridley would be a perfect addition.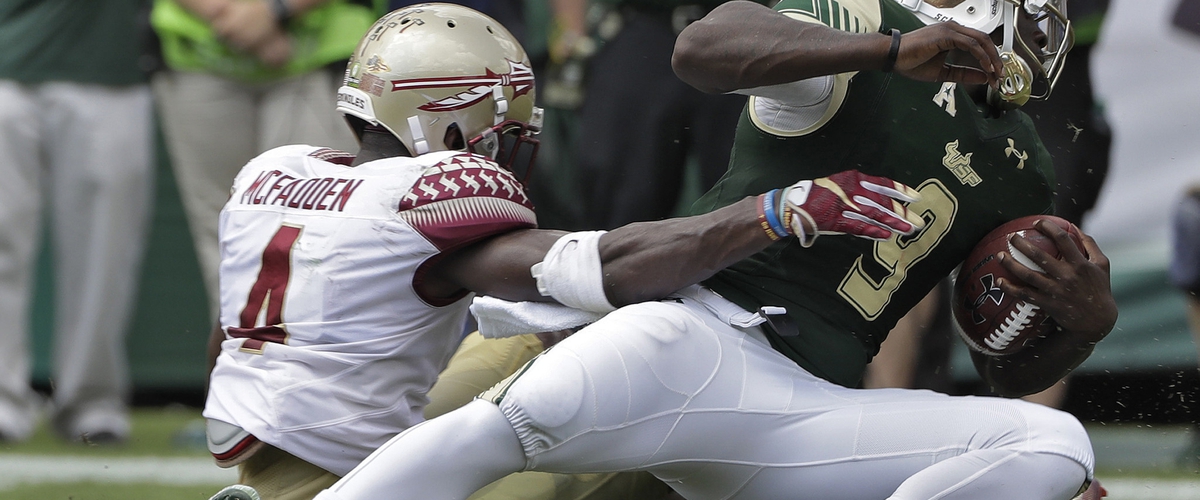 #17: Cleveland Browns: Tavarus McFadden, CB, Florida State
Having pilfered this pick from the Texans, Cleveland should use this to end their ongoing search find a CB2 opposite Joe Haden. McFadden is another member of the assembly line of athletic, rangy Seminole defensive backs. While lacking the ball skills of teammate Derwin James, McFadden has enough athleticism to justify a 1st round selection.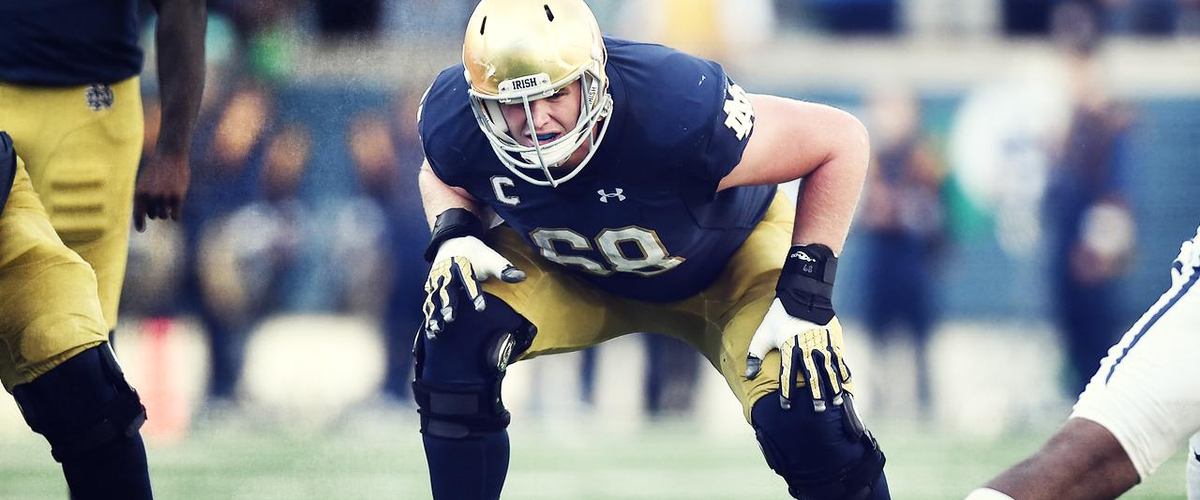 #18: Denver Broncos: Mike McGlinchy, OT, Notre Dame
I liked the selection of Garrett Bolles, but that doesn't hide the fact that the Broncos need some more offensive line help. Ty Sambrillo, who has flopped so far, will likely be the right tacke. Adding McGlinchy will allow Bolles to shit to a more natural right tackle position. Powerful, mean, and a nimble pass protector, McGlinchy and Bolles would make the painful scenes of Sambrillo and Donald Stephenson a distant memory.
#19: Detroit Lions: Derrius Guice, RB, LSU
The health concers circling Ameer Abdullah have not been silenced. Pair that with the fact that Theo Riddick isn't an every down back and you have a recipe for potential disaster in Detroit's backfield. After playing second fiddle to Leonard Fournette, Guice showed off his vast potential last year. Averaging 75. yards a carry, being a great receiver out of the backfield, and being elusive in the open field all bode well for Guice in the NFL.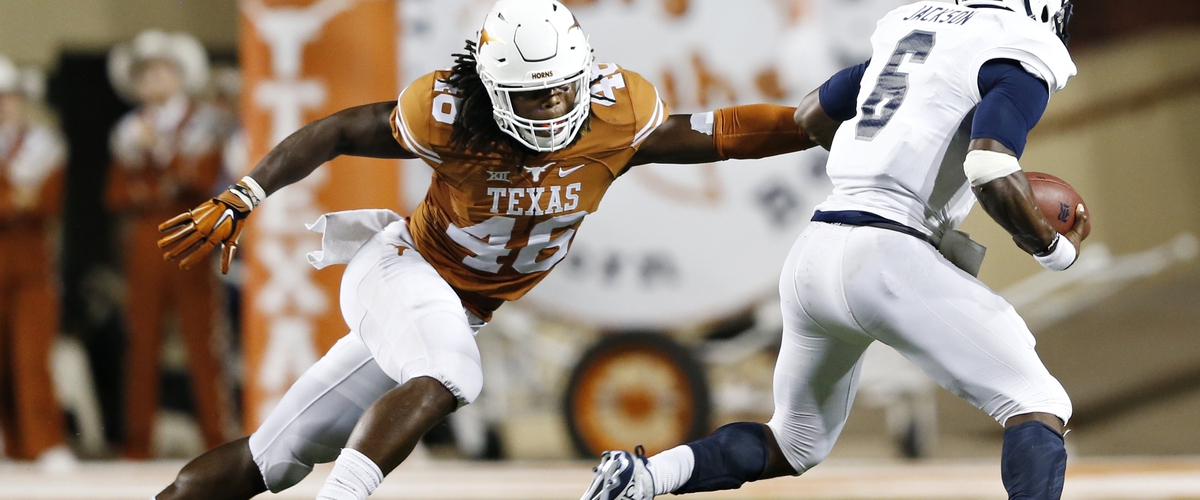 #20: Cincinnati Bengals: Malik Jefferson, ILB, Texas
I really thought the Bengals would draft an inside linebacker in 2017. Their current corps includes question marks in Kevin Minter and mental wild card Vontaze Burfict. Jefferson represents an upgrade. An intriguing combination of size and speed with a ton of upside, Jefferson would start in both a 4-3 scheme and a 3-4 scheme. He makes too much sense for Cincinnati.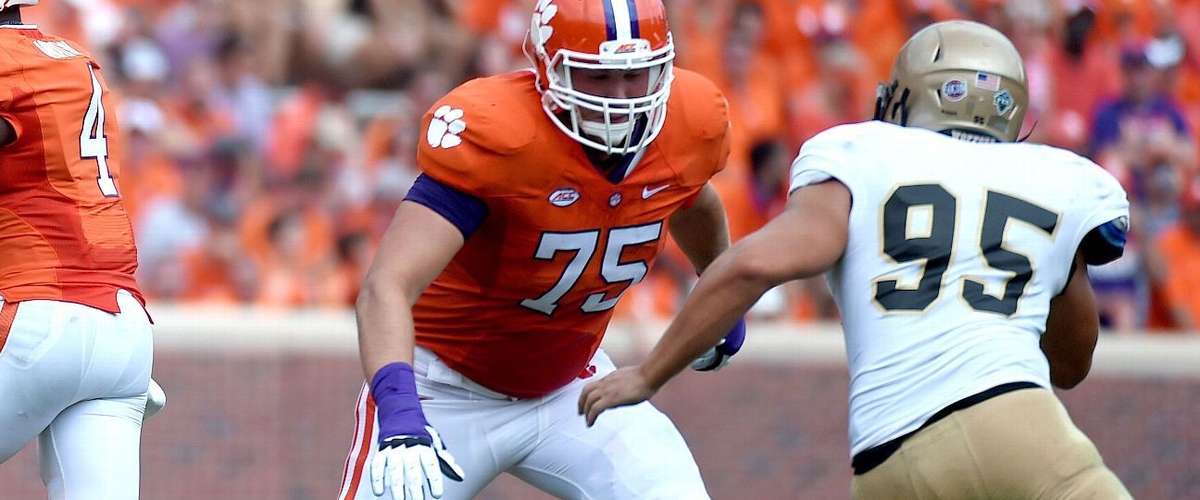 #21: New York Giants: Mitch Hyatt, OT, Clemson
Watching Ereck Flowers play tackle is a harrowing experience. It needs an upgrade in the worst way. Hyatt impressed in his first season as the blindside protector. Though he needs to add strength, an athletic pass blocker like Hyatt would be an intriguing option for a Giants team that throws the ball all over the field.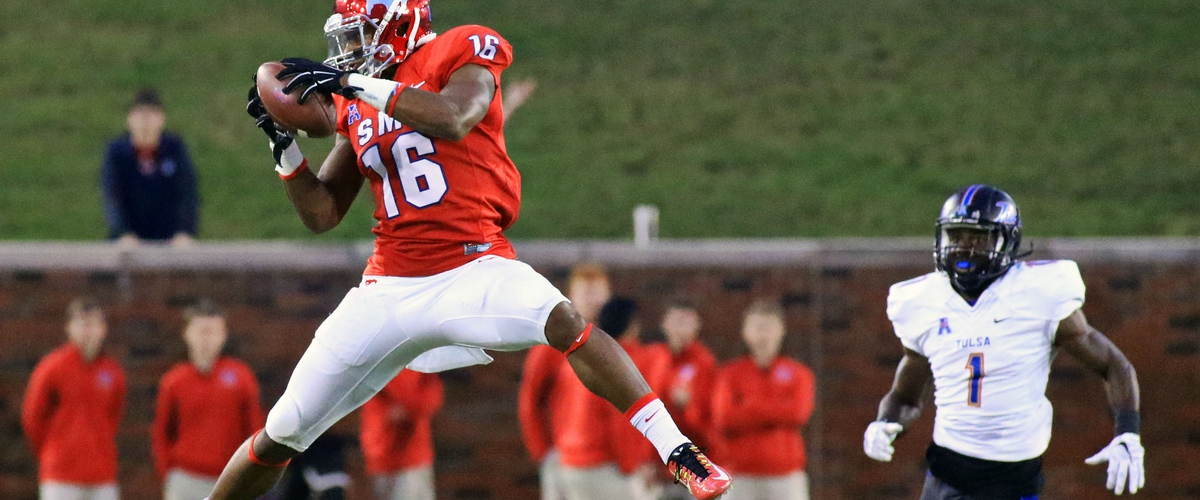 #22: Buffalo Bills: Courtland Sutton, WR, SMU
The Bills will likely add a receiver following their decision to decline Sammy Watkins' option. Even with the addition of Zay Jones, who I really like, they need a tall target for Tyrod Taylor. Big, quick, and fast, Sutton checks all the athleticism boxes. He would have likely been a 1st or 2nd round pick has he declared in 2017. Buffalo's trade with the Chiefs nets them a great value with Sutton.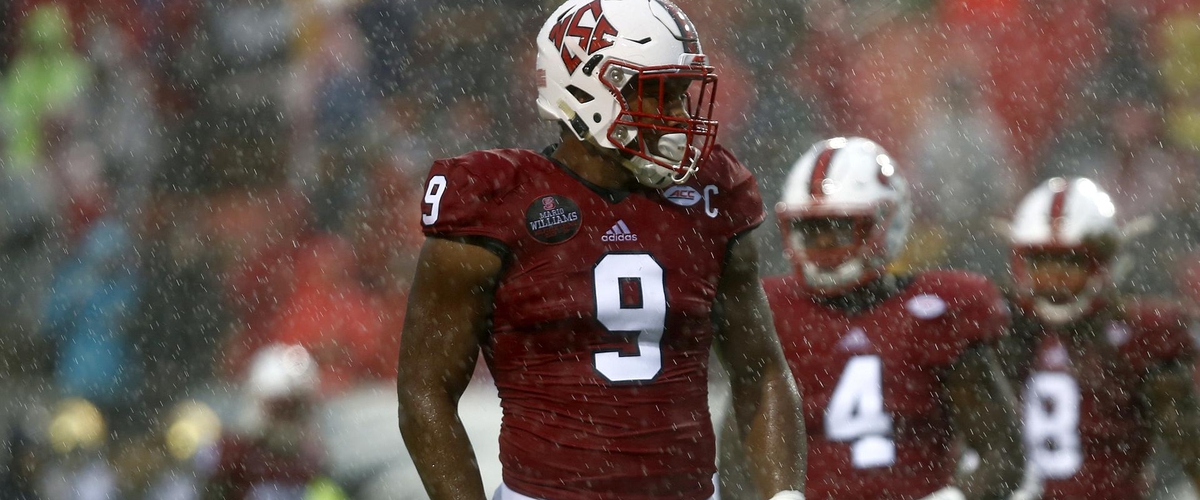 #23: Pittsburgh Steelers: Bradley Chubb, DE, North Carolina State
James Harrsion, freak of nature that he is, is pushing 40. The Steelers need youth and depth. Chubb is an instinctive lineman that is more than just a situational pass rusher. 22.5 tackles for loss and 10 sacks show how multi-dimensional he is. Stephon Tuitt will hit free agency soon. While Chubb doesn't have his strength, he's a much better pass rusher, something Pittsburgh needs desperately.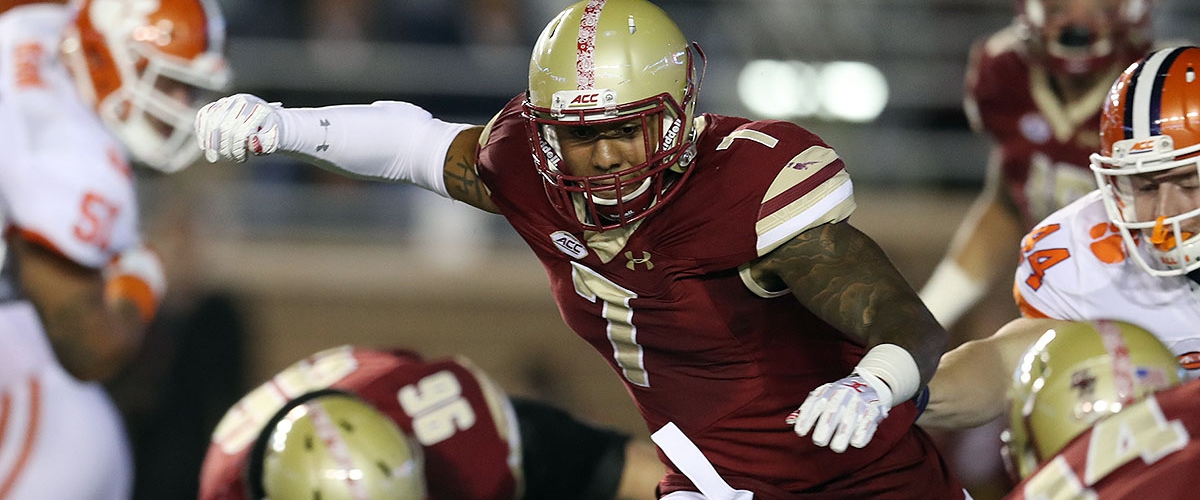 #24: Carolina Panthers: Harold Landry, OLB, Boston College
You don't lead college football in sacks without a bit of talent. Landry has the power and physicality of a defensive end with a pass rushing linebacker mentality. Daeshon Hall is a safe pick, but has a relatively low ceiling. With Julius Peppers and Charles Johnson on their way out in Carolina, Landry would be next in line to carry the dominant edge rusher torch.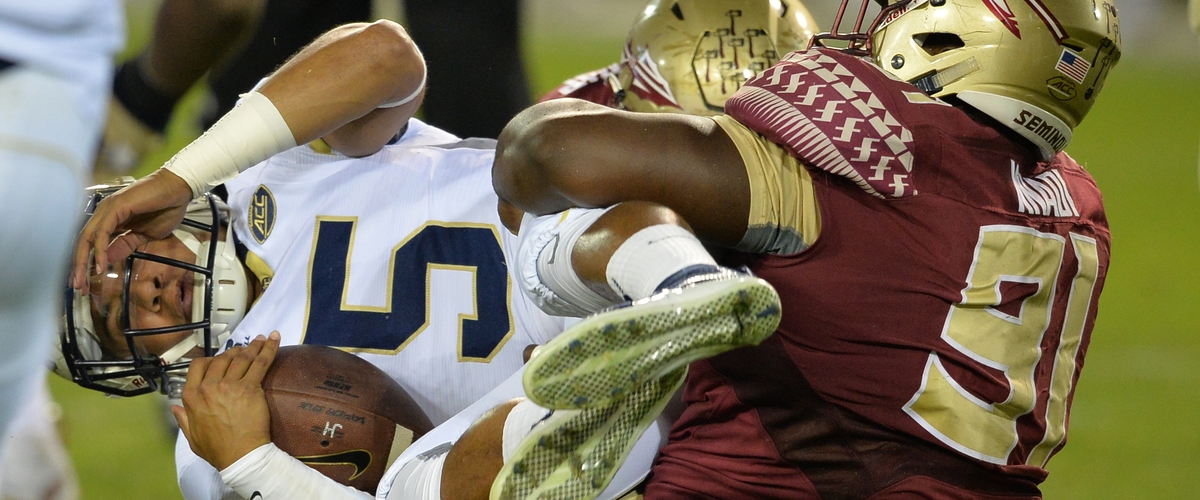 #25: Dallas Cowboys: Derrick Nnadi, DT, Florida State
Adding Taco Charlton, Chidobe Awuzie, and Jourdan Lewis sets a strong foundation for the Dallas defense. Throw in Jaylon Smith, and the Cowboys definately have something brewing. The next piece of the puzzle is a run-stuffing defensive tackle. Nnadi also recorded 5.5 sacks last year. He needs to develop in his senior year, but the results if he does look very promising.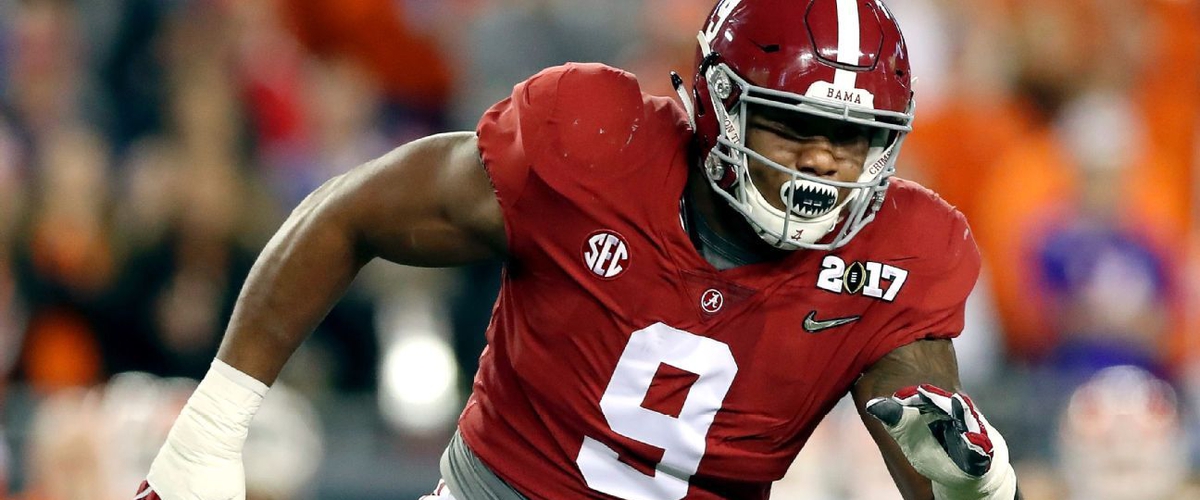 #26: Tennessee Titans: Da'Shawn Hand, DT, Alabama
DaQuon Jones' low ceiling has placed a cap on what could be a very talented Titans defensive line. Austin Johnson, Kevin Dodd, and Jurrell Casey all can play. Adding Hand would make this defensive line a handful (no pun intended).Explosive off the snap, tough, and with a high motor, Hand could shoot to the top of many boards based off potential. He'd be a welcome addition in Tennessee.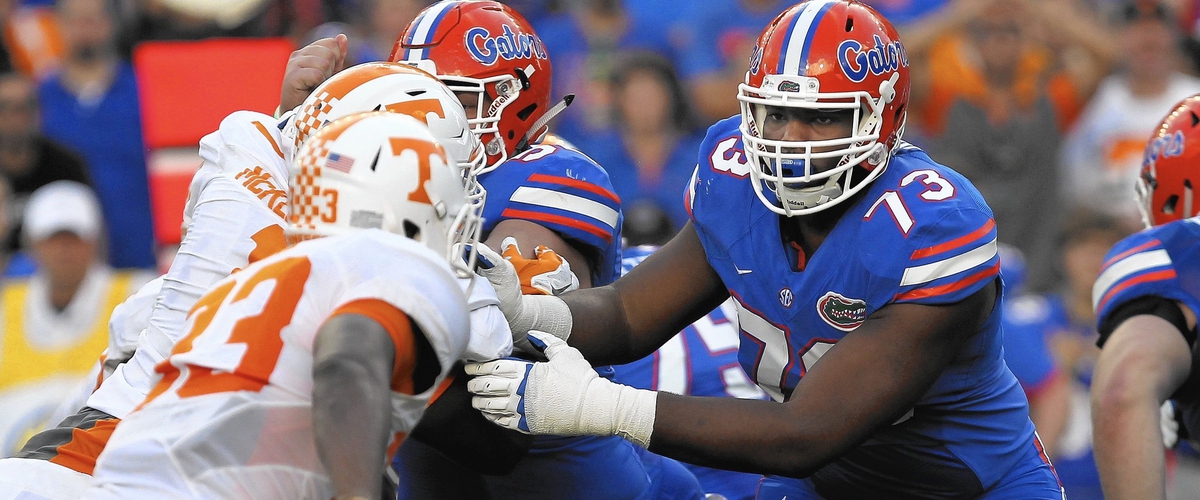 #27: Indianapolis Colts: Martez Ivey, OG, Florida
I'm pretty sure the most ironic name in the NFL belongs to Indianapolis' Denzelle Good. Replacing him will give Andrew Luck his first unified, effective offensive line. Ivey is a tackle now, but his thickness, run blocking excellence, and shorter arms make him a better guard prospect. Ivey is very much boom or bust, but the boom is a perennial Pro Bowl talent. The Colts need to take that risk.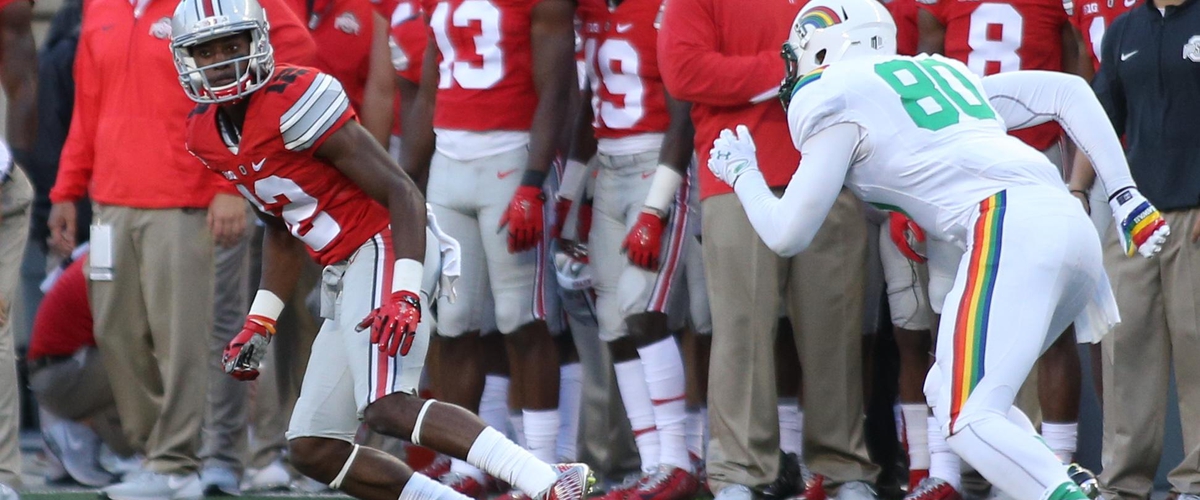 #28: Atlanta Falcons: Denzel Ward, CB, Ohio State
The Buckeyes have been making a habit out of turning one year starters into 1st round picks. Ward looks to be next in line. Athletic, agile, and sporting good ball skills, Ward would fit in well with Atlanta's defense. The Falcons will need to give him time, but the potential reward opposite Desmond Trufant makes Ward a nice pick at #28.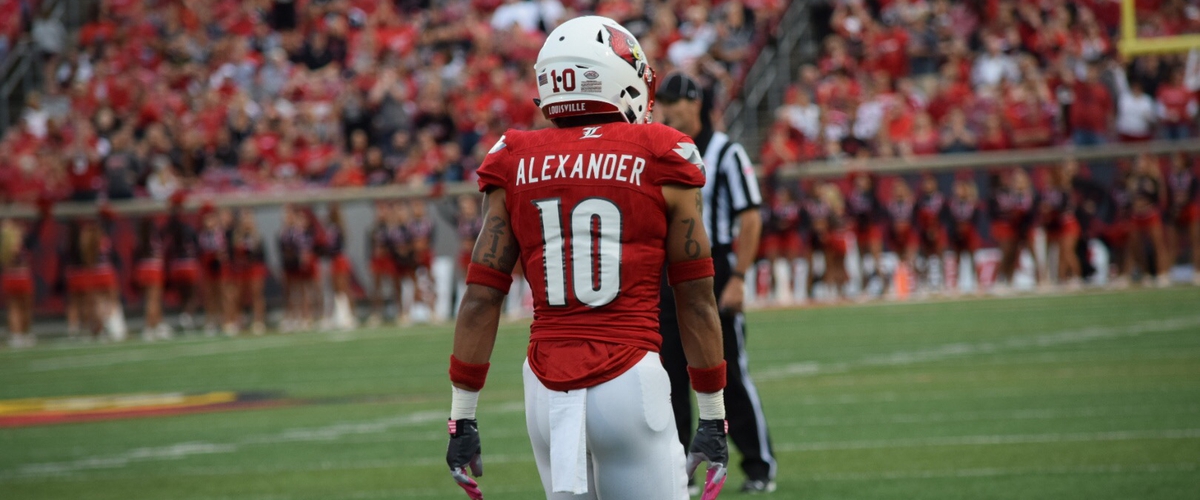 #29: New England Patriots: Jaire Alexander, CB, Louisville
Logan Ryan, though not a star, was a solid contributor. Malcolm Butler not only almost became a Saint, but a report surfaced expressing his desire to play there. Alexander is a similar player with the physicality and awareness to slide right into a Bill Belichick defense and star. He also represents good value at this point.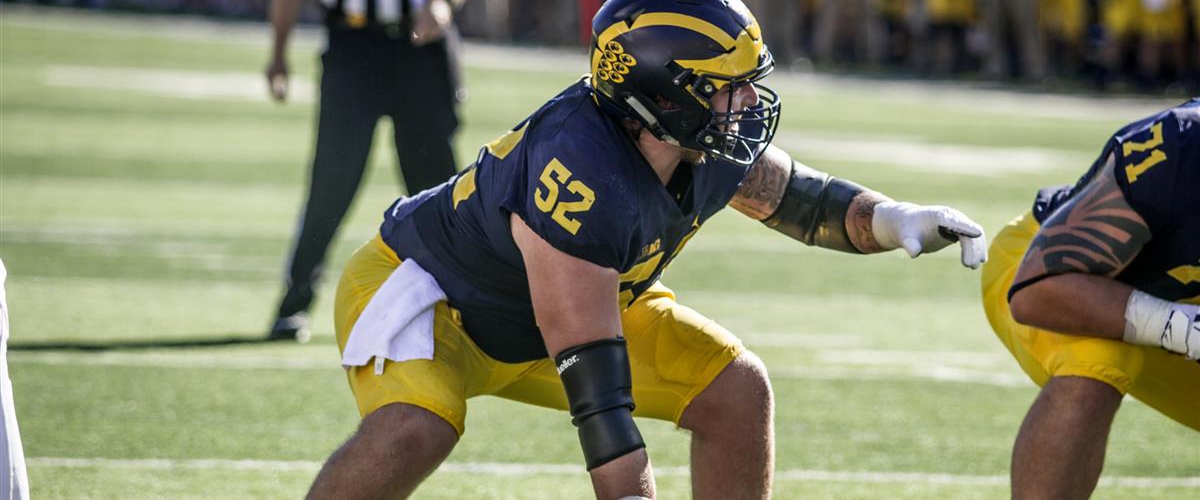 #30: Green Bay Packers: Mason Cole, C, Michigan
Green Bay did a good job of retooling and adding pieces on defense and around Aaron Rodgers. Their offensive line may underperform now that TJ Lang is in Detroit. Cole is the best center in this class, a leader with versatility and smarts. He;s just the guy to step in and help remedy an offensive line that may not live up to their usual excellent standards.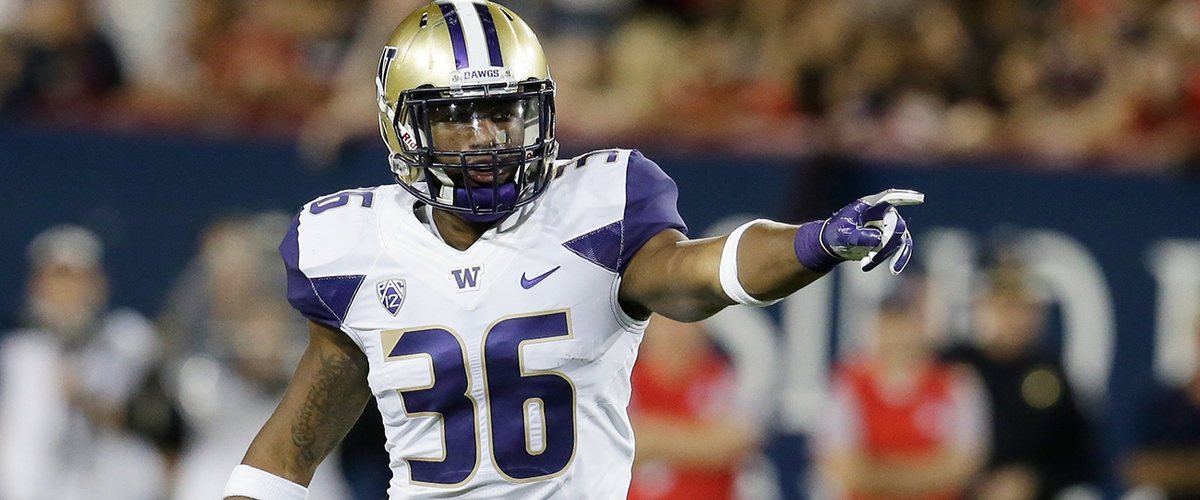 #31: Oakland Raiders: Azeem Victor, ILB, Washington
The Raiders didn't adress their issues at middle linebacker until the fifth round in 2017. Their 1st pick this year should shore up that deficiency. Victor plays like his hair is on fire, is a vice grip when it comes to tackling, and has above average speed. While Ben Heeney plays hard, Oakland shouldn't pass up a talent like Victor falling to into their laps.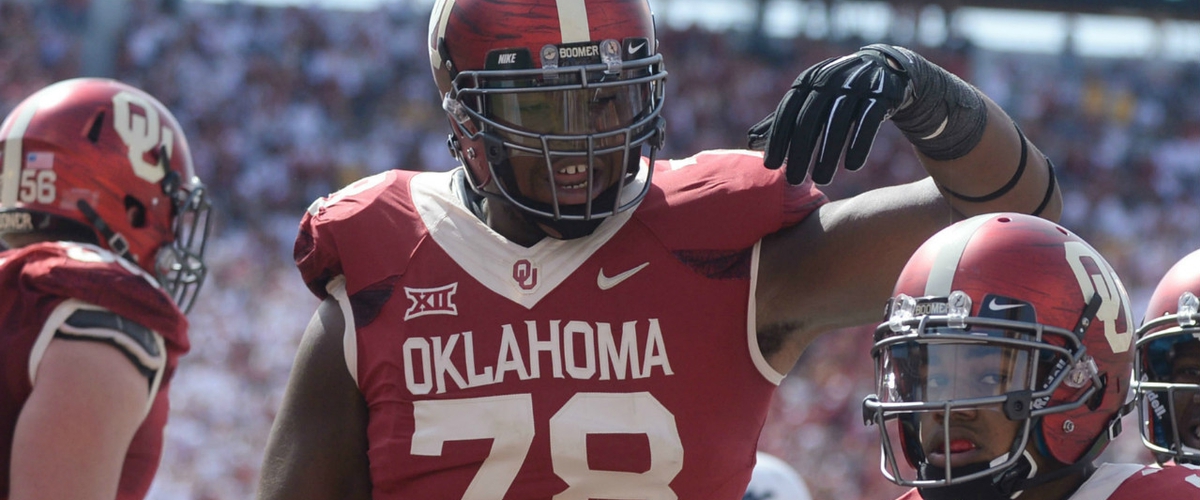 #32: Seattle Seahawks: Orlando Brown, OT, Oklahoma
A gigantic human towering over others at 6'8" and 360 pounds, Brown's physical tools are off the charts. The son of an ex-NFL lineman, the late Orlando Brown Sr., Brown Jr. sure learned a thing or two from Dad. Immovable in the pass game and aggressive in the run game, Brown can do it all. Seattle still needs tackles, as Luke Joeckel is on a one year deal and Oday Aboushi is Oday Aboushi. Brown would bring some stability to that line.
Follow me on Twitter @TheRealLuc3 and don't forget to subscribe!