2018 NFL Mock Draft 1-32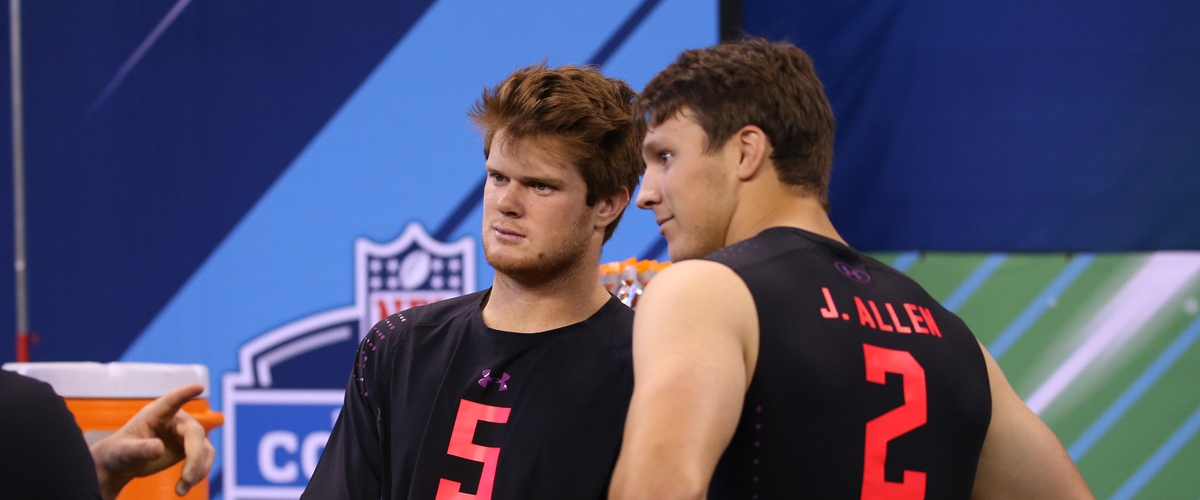 The NFL Draft is right around the corner. Now that free agency has settled, I thought it would be a good time to make my first ever mock draft. I'm not really a big college football guy, so I don't normally do this. But all the talk surrounding this draft has gotten me interested.
There are so many questions leading up to the draft. How early will all the top QB's go, and in what order? Where will Saquon Barkley land? Who will make the big moves that will make or break their future? Everyone seems to have a different answer to all of these.
Today I'll give my answers to all those question and more with my 1st round draft projections. Starting with Cleveland at #1.



#1 Cleveland Browns: Sam Darnold, QB
I believe Sam Darnold is easily the best QB prospect in this draft. My only real issue is a high turnover rate, but I think that can be cleaned up. Cleveland did trade for Tyrod Taylor, but I don't think he is any more than a bridge or a backup. Cleveland could take Saquon Barkley, but I think the Browns, after giving up chances on Carson Wentz and Dashaun Watson, will finally decide to draft a top ranked QB.



#2 New York Giants: Saquon Barkley, RB
Some may see the Giants picking a QB. I wouldn't be a bit surprised if they did, but I think they have their eye on Barkley. He could really change this team, and he could help to get a few more good years out of Eli. I think they will take Barkley as long as they don't trade the pick away.



#3 New York Jets: Josh Rosen, QB
The Jets sent a few picks over to Indianapolis to move into the #3 spot. This could only mean that they are taking a QB. I believe they would be smart to choose Rosen. I believe Rosen could end up being the best passer to come from this draft if injuries don't plague him. I might be giving the Jets a little too much credit, as they don't typically make the smartest moves for QB's, but I think that'll change this time.



#4 Buffalo Bills (Mock Trade): Josh Allen, QB
The Bills were clearly unhappy with Tyrod Taylor last season, and they proved that even further when they traded him to Cleveland. I expect them to make another trade with Cleveland right here. This time it could include trading both of their 1st rounders to move up to #4. The Bills may have wanted to trade to #2 or to #3 before the Jets did, but I think they will still get the guy they wanted. I think Allen would have been their first choice with his cannon for an arm. Allen has some issues, but with the right coaches, he could be a star.





#5 Denver Broncos: Bradley Chubb, DE
Many thought Denver would go after a QB in this draft, and some probably still do. However, with three of them off the board already, I see them putting the focus on the defense. Bradley Chubb might be the best defensive player in this draft. He would go great opposite Von Miller.




#6 Indianapolis Colts: Minkah Fitzpatrick, DB
I expect the Colts to go heavy on the defense throughout this draft. Andrew Luck can carry the offense, as long as he is healthy, but this defense is almost nonexistent. Adding an incredibly talented, versatile DB could really give this team a boost.

#7 Tampa Bay Buccaneers: Quinton Nelson, OG
Some may say that this is too early to take a Guard, but I disagree. Some may also say the Bucs will go with a DB, but I disagree with that as well. The Bucs really need O-Line help, and Nelson is a safe pick to give them a boost. Some experts have said that Nelson is the least likely to be a bust from this draft class, and I do agree with that.



#8 Chicago Bears: Tremaine Edmunds, LB
The Bears could go with Ridley to further strengthen their WR corps, but I don't think they can pass up Edmunds. Edmunds is a freak of nature with athletic ability unmatched by any other LB in the draft, and he's only 19-years-old (will be 20 shortly after the draft). His football IQ is a little low, but I think Vic Fangio can turn him into a true Monster of the Midway.




#9 Arizona Cardinals (Mock Trade): Baker Mayfield, QB
I'd be shocked if the Cards don't trade up in the 1st round. If they lose a bidding war for a top 5 pick, they will trade up here to take the spoils. In my opinion, Mayfield isn't worth the trade. He has drawn Manziel comparisons. Although I don't think he'll be as bad as Manziel, I don't think he'll be too much better. He could prove me wrong, but I think this would be a mistake



#10 Oakland Raiders: Roquan Smith, LB
The Raiders could use some help at LB, and Roquan Smith seems like a perfect fit. He could be Gruden's next Derrick Brooks.



#11 Green Bay Packers (Mock Trade): Denzel Ward, CB
Green Bay is in desperate need of secondary help. A guy like Ward could really make a difference. If he is still around after 10 picks, they should make a move to snag him.



#12: Cleveland Browns (Mock Trade): Derwin James, S
Cleveland also needs secondary help, at both Corner and Safety. They would love Minkah Fitzpatrick, but with him gone, they'll take the best DB still available, Derwin James. James doesn't have the same versatility as Fitzpatrick, but he is a really solid Safety.



#13 Washington Redskins: Vita Vea, DT
Washington needs to bolster their D-Line, especially considering the division they are in. They need to have something to counter the O-Line of Dallas and Philadelphia if they want to compete. Washington was also dead last in rushing yards allowed. Vea is a 347lb monster that could scare any O-Line, and he is sure to help plug up running lanes. This a a great pick if he's still here at #13



#14 Miami Dolphins (Mock Trade): Mike McGlinchey, OT
Though they may want a replacement for Suh, I think the Dolphins need a better O-Line to protect Tannehill. Tannehill might not be a great QB, but he's all they got. They can't afford another injury next year. So I expect them to take the first OT off the board in an attempt limit hits on their QB.



#15: San Francisco 49ers (Mock Trade): Marcus Davenport, DE
The 49ers need a pass rush. I think Chubb or Edmunds would be their first choice. So with both of them gone at #9, they will take some extra picks, knowing that they should still get a stud at #15. Davenport will do them just fine.



#16 Baltimore Ravens: Calvin Ridley, WR
The Ravens desperately need receivers. Crabtree will help a bit, but they shouldn't stop there. If they have an opportunity to take the best receiver in the draft this late, they need to jump on it.



#17 Los Angeles Chargers: Da'Ron Payne, DT
The Chargers could go a few different ways here. Personally, I think run defense should be their biggest concern. The Chargers gave up 4.9 yards per carry last season, the worst average in the league. Payne is sure to bring that average down.



#18 Seattle Seahawks: Isaiah Wynn, OG
The Seahawks desperately need O-Line help. They have already worked on improving OT, but the interior is missing something. I believe Wynn is the best interior guy that's not named Quinton Nelson.




#19 Dallas Cowboys: Leighton Vander Esch, LB
Outside of Sean Lee, the Cowboys are pretty weak at LB. Vander Esch could be a really nice MLB to compliment Lee. I think the Cowboys would like to go with a WR here, but I don't think anyone is worth it this high after Ridley is gone. Vander Esch could be a great addition to this defense, and they shouldn't pass him up.



#20 Detroit Lions: Derrius Guice, RB
It's been a long, long time since Detroit had a solid running game. They need to find someone who can change that. They already added Legarrette Blount, and picking another powerful runner in Guice could do wonders for this team. Detroit could work on the defensive side of the ball, but Matt Patricia alone should help a lot. The backfield is a much bigger concern.



#21 Cincinnati Bengals: Will Hernandez, OG
The Bengals run game was awful last season. Hernandez is a 348lb beast who could really help widen running lanes. He's pretty solid in pass protection also which should also be improved. The main concern is his height and arm length, but that wouldn't scare me away from him.



#22 Cleveland Browns (Mock Trade): Orlando Brown, OT
Orlando Brown is a 6'8", 360lb giant. However, he has his share of problems. His athletic ability is below average, and some have seriously questioned his work ethic. He also appears "too big" at times, which causes a leverage problem. I think Cleveland might draft him as Joe Thomas' replacement, if they do make a trade with buffalo. I think this would be a mistake, but hey, it is the Browns after all.



#23 New England Patriots: Josh Jackson, CB
It is still unclear why Malcolm Butler was benched in Super Bowl LII, but it is clear that this secondary couldn't function without him. With Butler going to Tennessee, New England should look for his successor. If Jackson is still on the board, this seems like a great choice.




#24 Carolina Panthers: Courtland Sutton, WR
Cam Newton needs some receivers. Kelvin Benjamin was one of the only good receivers he's had, and they traded him away. Sutton has a big frame, he's good in traffic, and he's got some good hands. I think he is exactly what Cam needs



#25 Tennessee Titans: Harold Landry, DE
If the Titans want to a chance to contend in their division, they need to be capable of stopping Andrew Luck and Deshaun Watson. The best way to do that is to build a strong pass rush. Landry might be a little undersized, but I do think he can be an impact player in Tennessee.



#26 Atlanta Falcons: Tavon Bryan, DT
The Falcons should be looking for a replacement for Dontari Poe. Carolina and New Orleans will run all over them without good big men up front. Tavon Bryan doesn't have the same size as Poe, but I think he can still fill his shoes.



#27 New Orleans Saints: Mike Gesicki, TE
Drew Brees needs another Jimmy Graham. Gesicki is a little smaller, but I think he is a similar player to Graham. This seems like a great fit to me.



#28 Pittsburgh Steelers: Rashaan Evans, LB
The Steelers just don't seem the same without great LB's. They do have a great one in Ryan Shazier, but we all there are questions about his return. Hopefully he recovers quickly, and Evans will go great alongside him. If he doesn't, Pittsburgh will need Evans even more.




#29 Jacksonville Jaguars: Connor Williams, OT
Resigning Bortles was a misstep if you ask me. If they really want to move forward with him at the helm, they need to give him as much help as possible. They could take a receiver, but I think Williams will be more help than any receiver still on the board.



#30 Minnesota Vikings: Kolten Miller, OT
The Vikings should be looking to protect their new $84 million investment, Kirk Cousins. A lot of OT's are already gone, but they can still get a good one with 6'9" Kolten Miller who had a great Combine.



#31 New England Patriots: Mason Rudolph, QB
Brady is still going strong, but he can't play forever. With Garoppolo and Brissett gone, they need to find a replacement soon. If they don't take a QB in the 1st, they probably will later in the draft. Rudolph is a project, but bringing him in while Brady is still there could really speed up and improve his development. He would never be Brady, but he could be a fine replacement.

#32 Philadelphia Eagles: Ronald Jones II, RB
Being the reigning World Champs, the Eagles don't have a ton of room for improvement. They didn't lose much to free agency either. Legarrette Blount is one of the few notable departure. So finding a replacement to split carries with Ajayi seems like the right move to me