Chicago Cubs: August Summary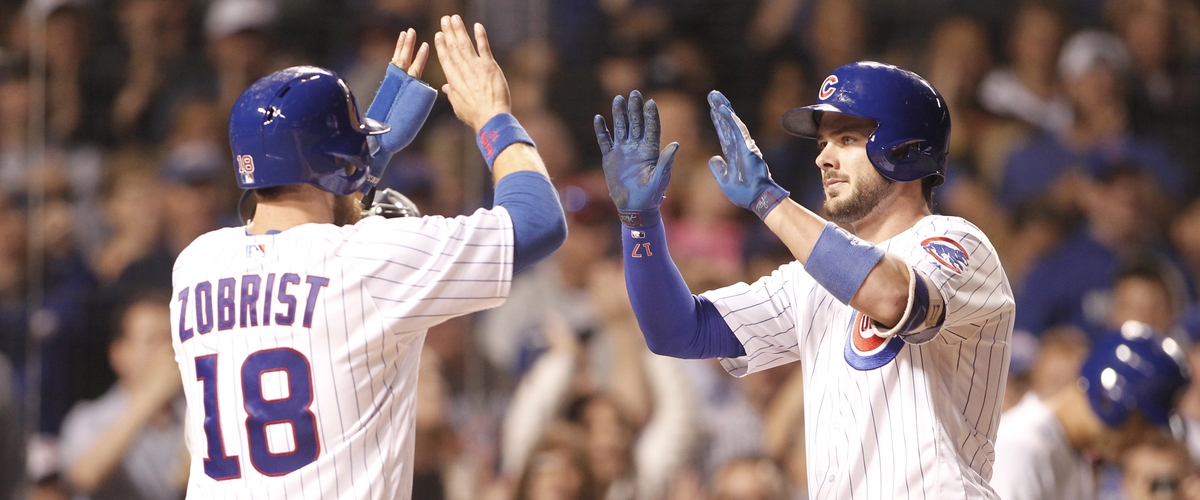 The Cubs season so far has been a roller coaster. Inconsistency has struck the team in nearly every aspect of the game. Nothing has really been consistently bad throughout the year, but sometimes the inconsistency is even worse because it makes it hard to address the problem.
In August, the Cubs did fine some consistency, although not all the good kind. The offense has been booming. The Cubs were top 5 in virtually every offensive stat this month, including topping the charts for runs scored. Included in those runs scored were 4 games in which the Cubs scored 15+ runs. "Bryzzo" has been leading the charge. Rizzo and Bryant combined for 74 hits, 30 walks, and 44 RBIs. You always like to see performances like this from your superstars. If they both keep this going, expect the offense to remain dominant. Baez has also been on a surge, putting up some nice offensive numbers, as well as being a human highlight reel on defense. I'll have more on that defense later. Overall there hasn't been much to disappoint in the lineup. A few guys have had a little trouble, specifically Jay, Schwarber, and Happ, but that will happen from time to time
The real problem has been pitching. This has been a recurring theme throughout the year. In July it seemed as though it had been fixed, but as it turned out, a lot more work needs to be put in. Unlike before, the relief pitching is where most of their struggles have been found. The starters haven't been all that great either, but Arrieta and Hendricks have been strong, as well as Montgomery filling in for Lester. However, the same can't be said about Quintana and Lackey who have seen better days. But in the bullpen everyone is off. 5 different guys had an ERA over 6.00* last month. Aside from Duensing and Davis, everyone in the pen is getting crushed. Even guys like Edwards and Strop who started out high have now fallen off a cliff. This absolutely needs to be fixed very soon. Come playoff time, assuming they make it there, you can't be this weak late in the game.
Three key injuries also hit the team this month. The hardest of these was Willson Contreras. Contreras was the teams hottest hitter before he came down with a hamstring injury. In 9 games this month he racked up 11 hits, 13 RBIs, 5 home runs, and he led the team in OPS. The Cubs also miss his defense behind the plate. Even though Avila is no slouch himself, he doesn't bring the same presence that Contreras does. Jon Lester also suffered an injury, although that one may not have hurt so much. Lester is a great pitcher, but he was having a tough time recently, and this injury may give him much needed rest. Luckily we also got plenty of support from Mike Montgomery in Lester's absence.
The other injury was Addison Russell who seemed to be heating up right before his right foot injury. Recently, news broke out that he had a setback, and it is unclear when he will return. This could be trouble for Cubs. Not only is Russell normally a good bat in the lineup, but also his defense at Short is spectacular. If and when they play in October, they're going to want their Shortstop. Now Javy Baez has certainly filled in well for Russell, but I still prefer Baez at 2nd and Russell at Short. Russell is much more consistent, while Baez's fundamentals seem a little off. That scares me when he plays Shortstop. You want a guy who always makes the routine play smoothly playing that position, which Russell does better. I think Baez is better suited for 2nd because he can afford some little bobbles here and there and still make the out, while still making the highlight reel plays he is known for. Regardless of which one plays Shortstop, they should both be in there when Russell is back. They are a great together, and they shouldn't be split up.
In the end, the great offense was still able to carry the team fairly well despite the poor pitching and injuries. The club ended the month with 4 straight wins, bringing them to 17-12 in August. This makes them 73-60 and 3.5 up in the division. Now, this isn't bad, but it sure could be better. At the end of the 2016 season, we had less losses than we do now, and our pitching was lights out. Even though we are still in playoff position, I think most fans were expecting more. They were expecting the Cubs to do what they did last year and what the Dodgers have done this year, dominate. The fact is, they don't need to dominate in the regular season. They just need to make it to October. Once we're there, everyone is 0-0. What matters is they do enough to make it there, and then play their best baseball when it really counts. Can they do it? Yes. They did it last year didn't they? Will they do it? Well, only time will tell.