The Factory of Sadness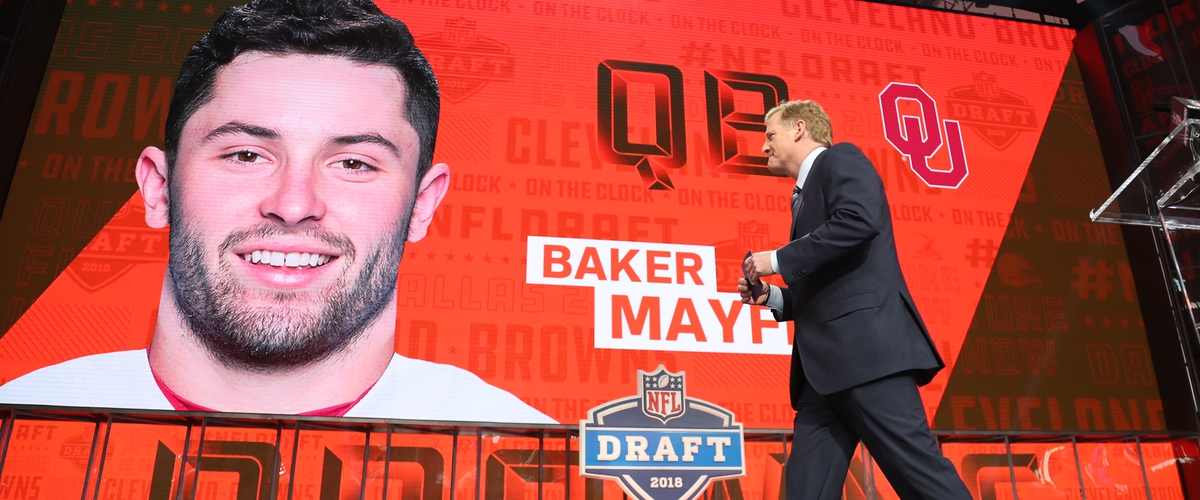 No team in American sports pumps out disappointment quite like the Cleveland Browns. Since 1999 when they returned to Cleveland, the Browns have posted a winning percentage of .289. In 19 seasons, they have two winning seasons, zero division titles, zero playoff wins, and, most recently, the 2nd 0-16 season in NFL history. This lack of success is largely driven by incredibly poor drafting. Their good picks include Joe Thomas... Their infamous bust list includes Brady Quinn, Colt McCoy, Brandon Weeden, Johnny Manziel, and Deshone Kizer. And that's just the QB's. If you ask me, they kept the tradition in 2018.
There were four players that I thought Cleveland could use to start a turnaround. These players were Sam Darnold, Saquon Barkley, Bradley Chubb, and Quentin Nelson. With picks #1 and #4, they could've secured two of those four. Instead, they drafted Baker Mayfield and Denzel Ward. I'm sure there are people who support both of those picks, but I absolutely don't.
Sam Darnold was the only QB that I really liked in this draft. The only knock I had on him was a bit of a turnover problem, but it was one that I believe could be fixed. Baker Mayfield was 4th on my list of QB's. He is undersized, a hot head, and is best fit for a college offense, not NFL. Now, there are plenty of Mayfield supporters, including many Browns fans. And I'm not saying he is a automatic bust, but there are a lot of concerns. I think he will need a lot of help to perform at the NFL level, and he won't get that in Cleveland. I'm not necessarily saying he will be out of the league in a few years, but I'd be shocked if he's the one to turn this team around.
The next pick, Denzel Ward, wasn't a terrible choice, but it wasn't the best option. I know the Browns have a bad secondary, but Bradley Chubb and Quentin Nelson were still on the board. Chubb would have paired beautifully with last year's #1 pick, Myles Garrett, to give them a ferocious pass rush. Quentin Nelson would have been a perfect fit to protect the QB they just drafted three picks prior. But instead, they pick Ward. Ward was probably the best CB in the draft, but he will not make the impact that the other two could have. If they really wanted secondary help, I think they should have traded down. They may have still gotten Ward, and if they didn't, they could have gotten a fine substitute in a fairly deep DB class. They could have used the extra picks to address their many other needs.
I shouldn't even care about any of this. I'm a Bears fan. It's as if the Browns are so bad that the frustration has somehow spread to other fanbases. It's not even funny anymore. Alright, it's kinda funny, but it's also pretty sad. I feel sorry for the Browns fans that suffer through the same things over and over. I know some of you fans out there are supporting these picks, but I get the feeling that you won't for long.
Now we'll just have to wait. We'll see how they complete their 2018 draft, and we will see how all of them perform in several months. Maybe I'll be wrong about them. Maybe Mayfield and Ward will be key pieces to a bright future. Or maybe I'm right, and they are just more workers in the factory of sadness.
.
.
.
.
.
.
Here's the video that inspired the title for this post. Definitely worth the watch. Credit to Mike Polk