Oh the Places Eli (Might) Go...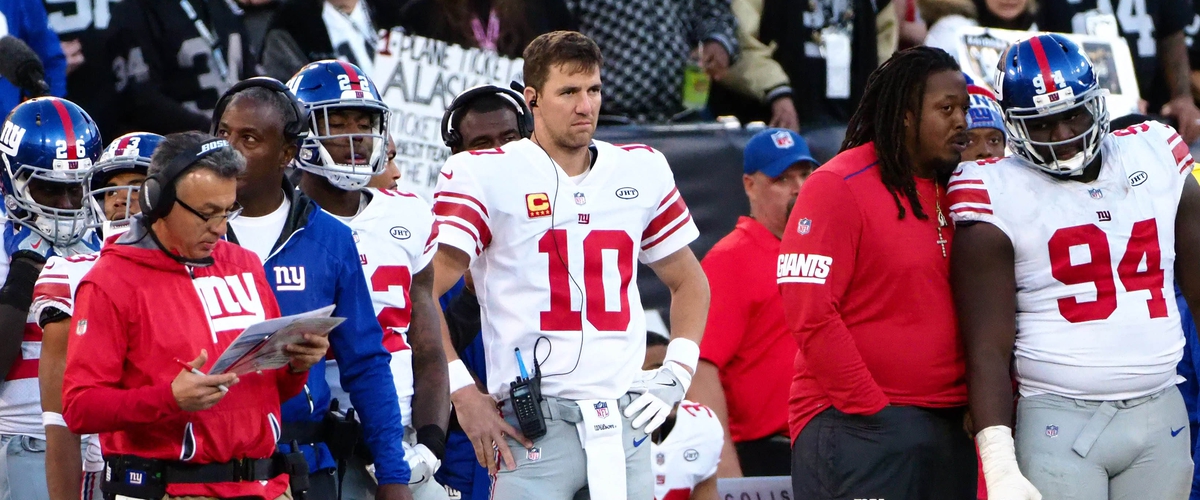 So the big story in the NFL right now is about Eli Manning and the Giants. Well, mostly the Giants cleaning house with four games left in a lost season. I must admit, it was weird not seeing Eli play for Big Blue this past weekend. But anyway, one of the biggest questions is where Eli Manning will play football next year. He has stated he still wants to play, this we know, it's just a matter of where. As a disclaimer, I don't know anything about his contract and the effects of cutting him now versus later, or trading, waivers, cap space, etc. What I do know is football, and biased speculation. So with that in mind, I'm going to throw out some ideas for Eli next year. In no particular order:
New York Giants: Yes, there is still a chance Eli stays in New York and finishes his career as a Giant. After all, they just fired to two men responsible for benching him (GM Jerry Reese and HC Ben McAdoo). But at the same time, would he really want to stay? Eli would have to play Super Bowl level of QB play next year to be safe, because after being benched once what would stop the new Coach/GM combo from doing it again?
New York Jets: The Jets are doing well this year with Josh McCown, and you can imagine they would only be better with Eli. This would be similar to the Arizona team that made it to the NFC Championship a few years ago, bringing in an aging QB to make one last push at a Super Bowl. The Jets have an up and coming defense, a high draft pick probably, some good receivers in Robby Anderson and Jermaine Kearse, a good o-line, a good coach in Todd Bowles, and Matt Forte. They're just missing that X-factor to push them over the edge. Is it Eli? No, but whose to say they won't find him in the draft next year? Also, who wouldn't want to see Eli versus Brady two times in the same season?
Jacksonville Jaguars: This one is so obvious I don't feel like I need to explain. They are a team built to win now with a dominant run game and tough defense. Also Tom Coughlin is there. Could Eli move to Florida, play in the division his brother used to dominate, and win a ring (or two) to end his career? Maybe. The AFC is historically easier to make the postseason than the NFC, after all.
Denver Broncos: I'm against this for a couple of reasons. First, the Broncos have no run game or offensive line (or coaching for that matter). How is that any better than Eli's situation in New York? It's not. I hope Elway/Broncos fans/the media don't get enamored with another Manning to Denver story, because it won't end like Peyton's fairy tale. It would be a horror story.
Cleveland Browns: Some people have floated out the idea of the Browns landing Eli, and while it make sense that they would want a stopgap QB while they looked for the future, I don't know if Eli would want to do it. The Browns are awful, but with Joe Thomas, Duke Johnson/Isaiah Crowell, and Hue Jackson it might not be such a bad situation for a few years. They wouldn't be a Super Bowl team by any stretch of the imagination, but they wouldn't be 1-15 or 0-16.
Washington Redskins: The Redskins may piss off Cousins enough he leaves this offseason, which I wouldn't be surprised if he does. If that happens, I wouldn't be surprised if they bring in Eli a la Donovan McNabb. The Skins have some decent skill players, and a decent defense, but I don't think they would dramatically better with Eli under center.
Buffalo Bills: The Bills have made it clear that they don't like Tyrod Taylor, and there is a good chance he won't play for Buffalo as soon as they find someone to replace him. This is another one of those "wouldn't be cool if the Eli played Brady twice a year" situations. It's tough to imagine Eli would score more TDs with his legs than Tyrod, but he would definitely throw more TDs. Of course, he probably would have more INTs as well.
Arizona Cardinals: I think it's safe to say the Carson Palmer days in Arizona are either dead or on life support. Arizona seems to be the old player's retirement home, which makes sense since it is so warm there. Eli throwing to Larry Fitzgerald, with Adrian Peterson running the ball? That's a 2010 fantasy football all-star team right there. Too bad it would be 2018. Still, it might not be a bad fit for Eli.
Pittsburgh Steelers: Hear me out. Roethlisberger keeps talking about retirement, he did last season, during the offseason, and even during this season (week 5?) as well. Let's say Big Ben take a real bad hit in the AFC playoffs, like Dan Marino/Joe Montana/lots of guys, and the Steelers get blown out by the Whoevers 50-10. That might be enough to push him to retirement. Out goes Ben, in goes Eli. Honest question, would this team be better with Eli? They would still be a contender, that's for sure.