Turkey Guy's Totally Biased Power Rankings: Week 11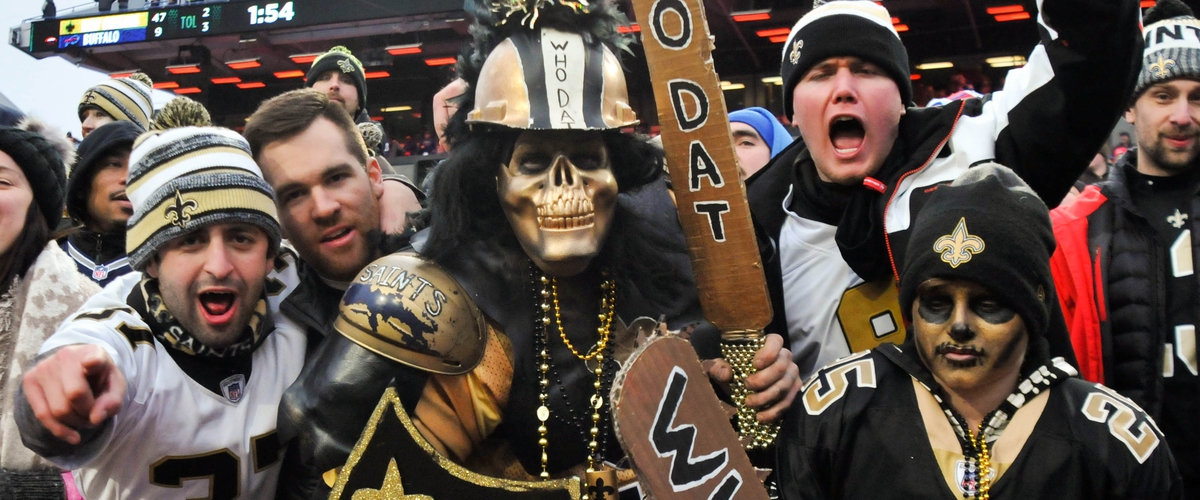 Things are starting to round into form in Week 11, but there are still some teams here and there that are question marks. Like, who are the real Buffalo Bills? Two weeks ago everyone was screaming about the Bills making the playoffs, and now Western NY has gone quiet. The same can be said of the Cowboys, Jets, etc. Anyway, you're not here to read about that, you want rankings! So here we go!
1. Philadelphia Eagles (8-1): Do I need to explain? They still have the best record and have looked damn good getting there.
2. New Orleans Saints (7-2): Remember when this franchise's biggest knock was they sucked outdoors and couldn't play defense? Look, I know the 2017 Bills aren't the 1990 Bills, but 47-10 on the road is too impressive to ignore.
3. New England Patriots (7-2): "But Turkey Guy, the Pats beat the Saints this year!" Yeah, I know, and I don't care. The Patriots rampaging through a terrible AFC for the 17th year in a row doesn't warrant them to be higher than the Saints.
4. LA Rams (7-2): The Rams did what good teams should do when they play bad teams: blast them out of the water. Still, I'm not going to move them higher unless one of the four above lose or they start beating teams with winning records (and QBs).
5. Minnesota Vikings (7-2): The Vikes are 7-2 despite losing their starting QB and RB for the season. Name another team that could do that (and still put up 38 points!)
6. Jacksonville Jaguars (6-3): Smothering defense and strong run game, that's what keeps the Jags chugging along. It's a formula the Broncos used with Peyton Manning, and the early 2000s Bucs and Ravens used to win their Super Bowls.
7. Pittsburgh Steelers (7-2): "But Turkey Guy, the Steelers beat the Vikes and have a better record than the Jags!" Yeah, I know, and both are still better teams than Pittsburgh. You can't be a contender and damn near lose to the Colts.
8. Kansas City Chiefs (6-3): They were off this past week, which was great timing, because they needed something to stop the bleeding.
9. Carolina Panthers (7-3): I was at the Dolphins-Panthers game, and it was obvious Carolina was the far better team. I'm still not sold on them, but if Cam can limit the overthrows (and people stay healthy) they will be a tough out come January.
10. Seattle Seahawks (6-3): They would be higher, but this whole team is injured. Or at least, the most important players on their defense are.
11. Tennessee Titans (6-3): They're boring as hell to watch, but they get the job done. And that's all that really matters.
12. Detroit Lions (5-4): "But Turkey Guy, the Falcons beat the Lions on" a stupid rule. Look, just being biased here, I like the Lions more. Also, the margin between the two teams is 1 freaking yard, alright?
13. Atlanta Falcons (5-4): I don't need to say anything about Adrian Clayborn's 219 sacks against the Cowboys, but if the Falcons can continue playing like they did against Dallas, they may still be a threat come playoff time.
14. Washington Redskins (4-5): "But Turkey Guy..." Right, see when the Skins lost to the Boys, the latter still had Zeke and Martin. Now they don't, and you see how awful the Cowboys looked against the Falcons while Washington almost pulled off the upset against the Vikes.
15. Dallas Cowboys (5-4): This team looked like garbage against the Falcons, and as a Dolphins fan, I can spot garbage a 100 yards away. They desperately need their O-line to be whole again.
16. Oakland Raiders (4-5): They didn't play this past week, and a result, they didn't lose like everyone else around them.
17. Baltimore Ravens (4-5): "See: Oakland Raiders"
18. Los Angeles Chargers (3-6): Yeah, they only have 3 wins, but they also have played a brutal schedule and damn near won each game against the best teams in the league. (Jacksonville by 3, New England by 8, and Philly by 2). It must be horrible to be a Chargers fan, if they still exist.
19. Green Bay Packers (5-4): The Pack beat the Bears, which is a sign they haven't given up on the season even though the best QB in the world is on IR.
20. Buffalo Bills (5-4): My God how two weeks can change everything. I was on the Bills Bandwagon and then they lost to the Jets on TNF and looked like a high school team against the Saints. Oh, and now they are changing their QB change. Your #6 seed in the AFC everyone.
21. Chicago Bears (3-6): I guess the Bears go here. I like what they're doing, just give them a couple years.
22. Arizona Cardinals (4-5): They are only this high on virtue of having Bruce Arians and some really good players. But yeah, Arizona window has been shut for awhile now, and the injury plagued Seahawks reminded them of that.
23. Indianapolis Colts (3-7): Sure, they suck. But they almost beat the Steelers and play harder than some teams who had winning records a few weeks ago. Brissett is fun to watch, I wonder if he will run Luck out of town?
24. Cincinnati Bengals (3-6): The Bengals are bad, sure, but at least they are losing to good teams (and sometimes by 1 possession). That's more than a lot of these terrible teams can say.
25. New York Jets (4-6): A bye week for the Jets, who are still somehow in playoff contention in the super craptastic AFC. Losing to the Bucs hurt, especially since Fitzpatrick now plays for them. But you know what? That's actually kind of fitting for him.
26. Miami Dolphins (4-5): Down 10-7 on the road against the Panthers, with 40ish seconds left on the clock before halftime, in their own territory, Miami goes uber aggressive and throws a pass. And since it's Miami, the pass gets intercepted, and the Panthers go up 17-7 before half and never look back. Is it time we start asking whether or not Adam Gase should be the coach (or at least calling plays?)
27. Tampa Bay Bucs (3-6): Yeah they beat the Jets, who they're still a disaster. Hey, remember when Florida was supposed to have 3 potential playoff teams this year? Yup.
28. Denver Broncos (3-6): So here's the thing. Last year when everyone talked about Vance Joseph being a hot name for head coach I scoffed. Why? Because he was in charge of Miami's defense, which was ranked 31st or 32nd in the league. Why the hell would you hire a guy in charge of the worst defense in the league? But the Broncos did, and now they are paying the price. They're painful to watch in all three stages now, which is a shame, because there is enough talent on this team to make the playoffs.
29. San Francisco 49ers (1-8): Yay! I'm not surprised, because the Giants are pitiful, but yay!
30. Houston Texans (3-6): It's amazing to think this team made the playoffs last year without DeShaun Watson (because, ya know, he was still in college), and now they're complete garbage. As much as people hated on Osweiler, at least he somehow won enough games to make the playoffs.
31. Cleveland Browns (0-9): Why are they #31? Because I believe they would beat the Giants if they played tomorrow. At least the Browns try to win (I think).
32. New York Giants (1-8): The Giants are god awful. It isn't all their fault because who could survive losing WRs 1-4, but they deserve to be last.