Ryan Spooner Deal Makes Sense For Both Sides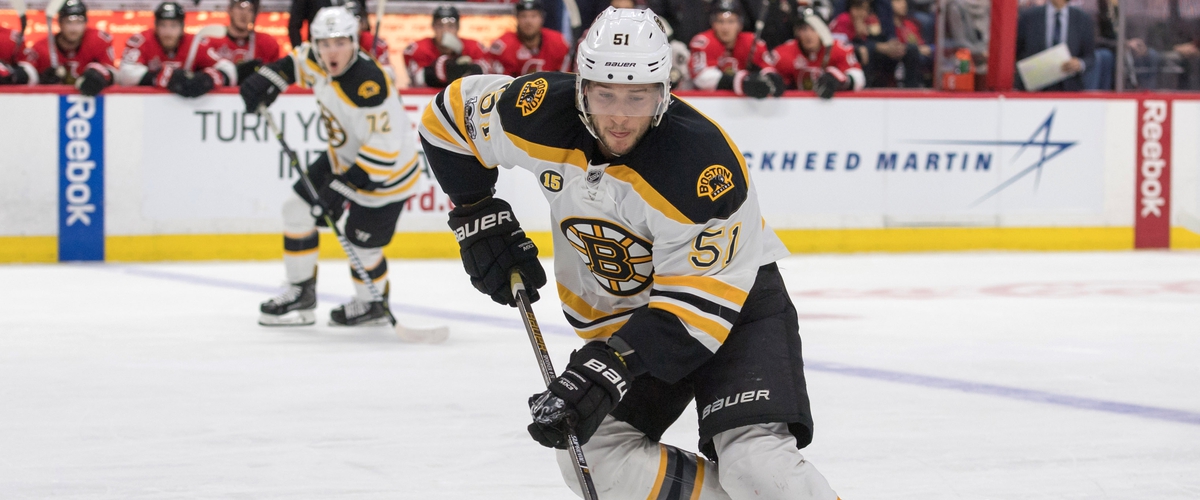 Earlier today, the Bruins inked 25-year-old center Ryan Spooner to a 1-year $2.825 million dollar contract.
With the deal, both the team and the player, avoid an arbitration case where they were $1.8 million dollars apart. The Bruins were reportedly offer $2 million dollars on a 1-year deal while Spooner was asking for $3.8 million.
Immediately after that report came out the $3.8 million dollar jumped off the page. It just seemed like Spooner had gotten some bad advice from his agent and really shot for the moon with that number. Ryan Spooner is no where close to a $4 million dollar player, that much is clear to anyone to who watches the Bruins regularly. He's soft on the puck, not that great a shooter, and a defensive liability who's lost the trust of two head coaches in his tenure here.
But in a an arbitration case, where much of the arguments are made with statistical analysis, his asking price isn't so far fetched.
On paper, he's a young center who averages half-a-point per game, and had a higher points per 60 minutes played than Patrice Bergeron last season, finishing 4th on the team in that regard.
That argument alone could've easily convinced an arbitrator to side with the player leaving the Bruins on the hook to pony up $3.8 million or walk away from the player outright leaving him an unrestricted free agent and losing him for nothing.
The deal they came too today however avoids that mess in a deal where Spooner actually gave more to Bruins in relation to their reported offers.
It gives the Bruins the opportunity now to move Spooner as the club seems to be fazing him out of the 3rd line center role he best fits and replacing him with 2015 second round pick Jakob Forsbacka Karlsson.
Spooner should be an easy to move player as many teams would see the same things a neutral arbitrator would see, a young center who puts up decent production and may be better with a change of scenery. The contract itself should be easy to move as well because, if anything, it's a slight over payment on a 1-year deal
For Spooner, he gets a guaranteed contract next year at pretty much the same price he probaly would've gotten on the open market had the Bruins ditched after losing in arbitration because no team in their right mind would give him $3.8 million and he'd most likely be hard pressed to find a contract with any substantial term on it.
I won't like this move however if the plan is to keep Ryan Spooner, which I don't believe it is. It wasn't that long ago that Spooner was a player we hoped the Bruins would insert in to their lineup over aging veterans who were clogging the system. But now, Ryan Spooner has become apart of that clog. For the first time in years the Bruins seem to have a slew of prospects worth getting excited about and a few who seem to be destined for the role Ryan Spooner holds. Trent Federic, Ryan Donato, and the aforementioned Jakob Forsbacka Karlsson all seem to be in the hunt for the 3rd line center spot and Spooner taking it up isn't going to be beneficial towards their development.
But the plan seems to be to move Ryan Spooner before the season and with that Don Sweeney gets a passing grade on this one, for now.