When Father Time Catches Up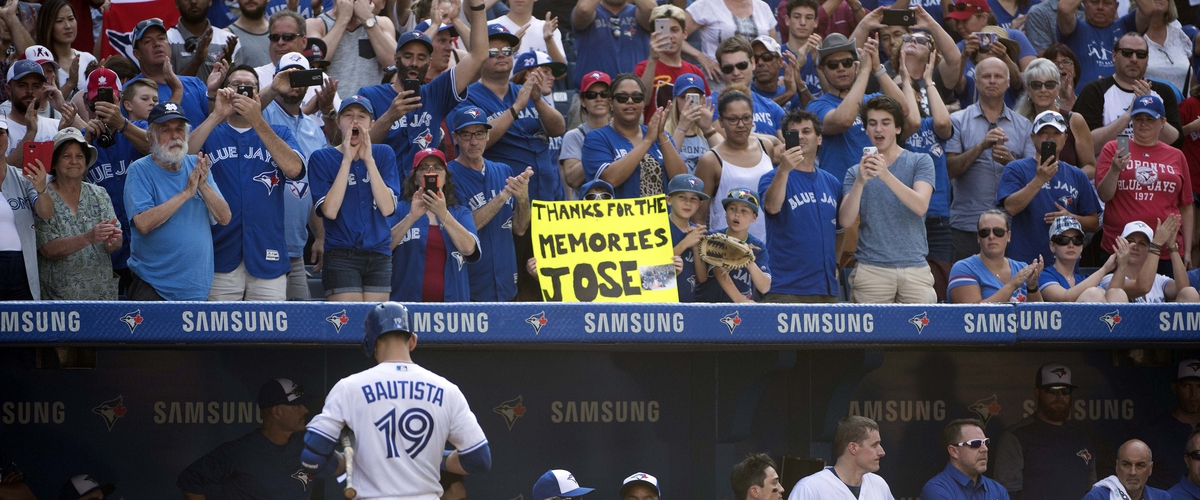 In sports; rarely do we get to see one of our teams top players finish his career on a high note or even on our team. That's what happens; free agency and age. Those things happen a lot. Look at the guys in recent memory that went out on top or with still being a good every day player. Off the top of my head I can think of one: David Ortiz. His last year he was really good, one of the top hitters in the game. But who else can you think of? I'm thinking about Derek Jeter but after looking at his stats. Not so much. His numbers were brutal compared to his career line. BA was 55 points lower than his career line, OBP was almost 75 points lower and his slugging was 130 points lower. And yet they kept sending him out day after day after day because he was a Yankee legend and he earned the right. Had he of been on any other team finishing up his career he would have been on the bench.
Same can be said for Jose Bautista. His numbers fell off the same cliff. That's the worst part about sports. When it goes...it goes quickly. It's usually not a long drawn out process. And this year Father Time caught up.
Now everyone knows how much I disliked Bautista; but it never was because he was a bad player; it was because of his attitude. I hated it; but man; could he hit a ball and did he ever have a cannon for an arm. On the days he was on you felt you were getting a deal with the ticket you purchased. When he was off; he was still worth the price of admission. From the end of 2009-2015 he was one of the most feared power hitters in the game and an outfielder who teams had to respect his arm and he was able to stop teams and players from taking the extra base. It was incredible to watch on tv; and even more amazing watching in person.
I can't count the times where i was at a game during that time frame and either say him hit a homerun or a rocket somewhere or throw out a runner at 2nd or at home plate. It was almost a guarantee that it would happen. That makes for some fun times at the ballpark even when the team is bad.
I didn't like watching him this year. You could see some of the skills fading the last couple of years and I was hoping he wouldnt be resigned by the Jays. Mainly because I didn't think he'd be of any value and I knew if he did fall off; it would painful to see such a proud player run out every day but not being able to do what he's good at. I kind of wish that he got signed elsewhere; not because I really wanted him to leave but because I didn't want to see what happened this year. I wanted it to be away from the cameras of the Toronto and didn't want to see him struggling at the plate every night.
As the season was drawing to a close; the sports radio hosts talked about making it to the last series and sending him off appropriately. The worst kept secret in sports was that the Jays wouldn't be renewing his contract in the offseason. Not for that price. What was great about this weekend was that the fans showed their respect for our guy; the one who helped get us back to the post season for the first time in twenty years and who put Blue Jay baseball back on the map.
The final game was fantastic; Gibbons sent him out onto the field by himself to start the game so the fans could let him hear how much they appreciated his work over the last 9 years. A standing ovation for a solid minute before the other players took the field. When the game started; Jose looked like vintage Jose. He had 2 hits an rbi and a run scored...and almost a second one if it wasn't for a perfect tag by the Yankees catcher.
My favourite part of this game was the Blue Jays skipper giving the fans one last chance for a good send off for Jose. With two out in the top of the ninth and the Jays way up the coach pulled him for another player. It allowed the fans the chance to show him their respects during his last home game. The cameras caught it all: the signs in the stands, the noise, the hugs with fellow players and the curtain call to come back out for one last time after he had made it down the steps in the dugout.
I might not have always given Jose his due...but now that I've had time to reflect and look back on it....he definitely makes it into my top 5 if not higher for my all time Blue Jays. So thanks for the memories Jose...good luck with whatever comes next!