4 Blind Mice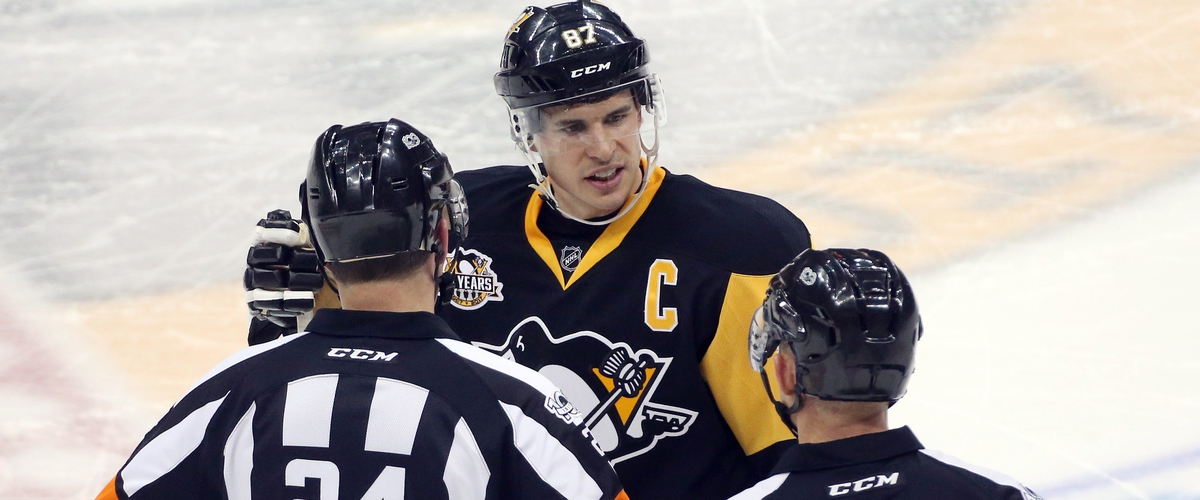 The Ottawa Senators won game six of the Eastern Conference Finals by a score of 2-1 over the Pittsburgh Penguins, forcing a game seven.
What makes playoff hockey so different is that everything changes. The intensity levels, the desperation, and apparently, the rules. From game one of round one to the last game of the Stanley Cup Finals, you can clearly see that the refs call the game differently. At times it can be better to just let them play, but there are heaping hand fulls of missed calls and weak penalties.
As a neutral fan, you hate to see the stripes dictate the game. As a winning fan, you might even have a feeling of guilt. But as a losing fan, it is the worst feeling as a spectator.
Whether you sit silently in disbelief, or yell in outrage at your TV, we all handle it differently. Bad refereeing is one of the worst things in our beloved sport. One of the biggest factors in this awful officiating is the inconsistency. The NHL, with a concussion lawsuit on its hands, is giving teams the green light to hit from the shoulders up, but God forbid a player gets tripped or hooked, that's where the line is drawn.
You know you're a bad referee when NBC Sports hockey analysts Mike Milbury and Keith Jones are talking about all the missed calls. The two usually don't give the Penguins any praise, but after game six, they had a whole segment on how the officiating just wasn't there. There were times when play-by-play announcer Doc Emrick of NBC was calling out missed penalties.
If that game was called like any other regular season game, the Penguins would be resting to play Nashville in a week. Now don't get me wrong, there were missed calls on Pittsburgh as well. Matt Cullen crosschecked Erik Karlsson into the half wall, a missed boarding. There were plenty of times when a Pens forward would get tackled and pinned to the ice. Sidney Crosby was held, then tackled to the ice by Kyle Turris, and when Crosby got back up, he was crosschecked by Mark Methot while in front of the net. There could have been at least three penalties during this possession, while right in front of the official. Instead, there were none.
There were no goals during these possessions. There might have been on an ensuing powerplay, but that's a big if. Trevor Daley's "goal" was disallowed because the conclusion was made that he pushed Senators goalie Craig Anderson into his own net. There are a number of different angles and opinions on this. What I saw, was a loose puck, Craig Anderson falling down, and Erik Karlsson keeping Daley in the crease, pushing him in to Anderson. The referees, after making their decision, wouldn't even offer Pittsburgh head coach Mike Sullivan an explanation.
Pittsburgh scored shortly after, thanks to Evgeni Malkin, but then the stripes called a penalty on defenseman Ron Hainsey. Ottawa forward J.G. Pageau dumped the puck and was brushed into the boards by the Pittsburgh defenseman. The Senators tied the game after a another penalty during the current penalty being served.
Playoff games should not be decided by bad judgement from PROFESSIONAL referees making ROOKIE mistakes. As a failing league puts its best teams on its biggest stage, it should not be decided by a disallowed goal, or a powerplay goal due to inconsistent, poor, disappointing officiating.
This great sport is failing due to its own doing.
They don't protect their stars.
They don't discipline head shots.
The refereeing is outrageous.
This league only cares about ratings.
This league only cares about profits.
In hockey, it takes three things to win: skill, coaching, and a couple winks from the hockey gods.
However, you can lose if just one of these things happen: you get outplayed, or you lose to the refs.