Games To Watch: Week 11
UPSET) #20 IOWA (6-3 OVERALL; 3-3 BIG TEN) AT #8 WISCONSIN (9-0 OVERALL; 6-0 BIG TEN) - 12:30PM PT/ 3:30PM ET [ABC]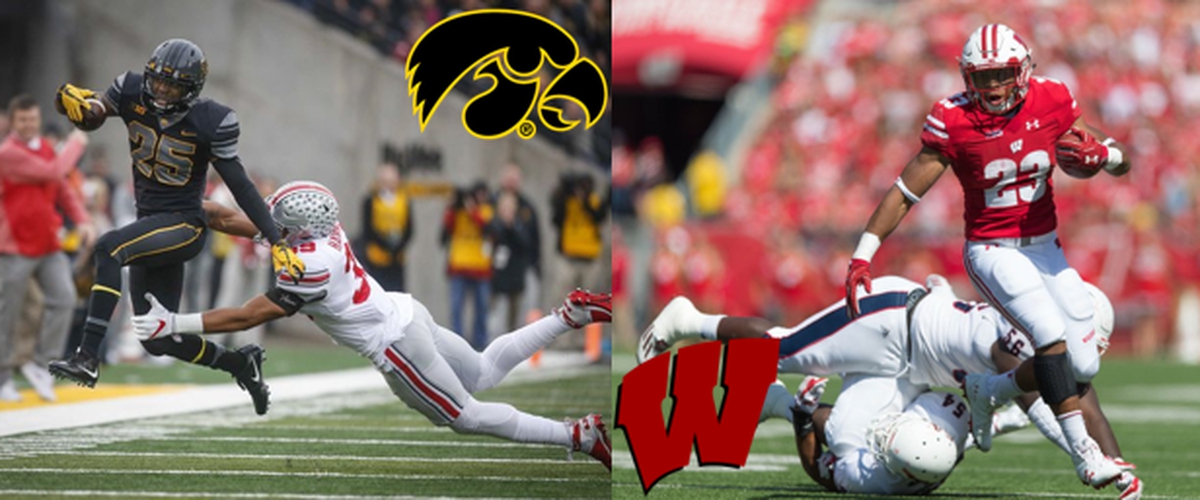 With everyone pinning Wisconsin as the dominant Big Ten West team, Iowa voices their opinion after their huge upset win over Ohio State. There weren't many options on the schedule for upsets, so I'm going for another Iowa upset alert because this is Wisconsin's first test against a competitive team. Also, the Hawkeyes are confident playing in Madison as they won 13 of the last 17 matchups there dating back to 1977. In 18 matches when Iowa was ranked dating back to 1955, the Badgers won only 4 of them and only two when they were both ranked. The last time a ranked Iowa team defeated Wisconsin was in 2009. Even though the Badgers won 3 of the last 4 games, Iowa wasn't ranked. Right now, they allowed only nine 20+ point games since 2015, but Iowa's showing signs on their scoring defense since 2015 too. The Badgers will have a chance of moving a week closer to the Top 4, but the Hawkeyes will once again make November an unforgettable month for the Big Ten if they cause another upset at Madison.
5) #2 ALABAMA (9-0 OVERALL; 6-0 SEC) AT #16 MISSISSIPPI STATE (7-2 OVERALL; 3-2 SEC) – 4PM PT/ 7PM ET [ESPN]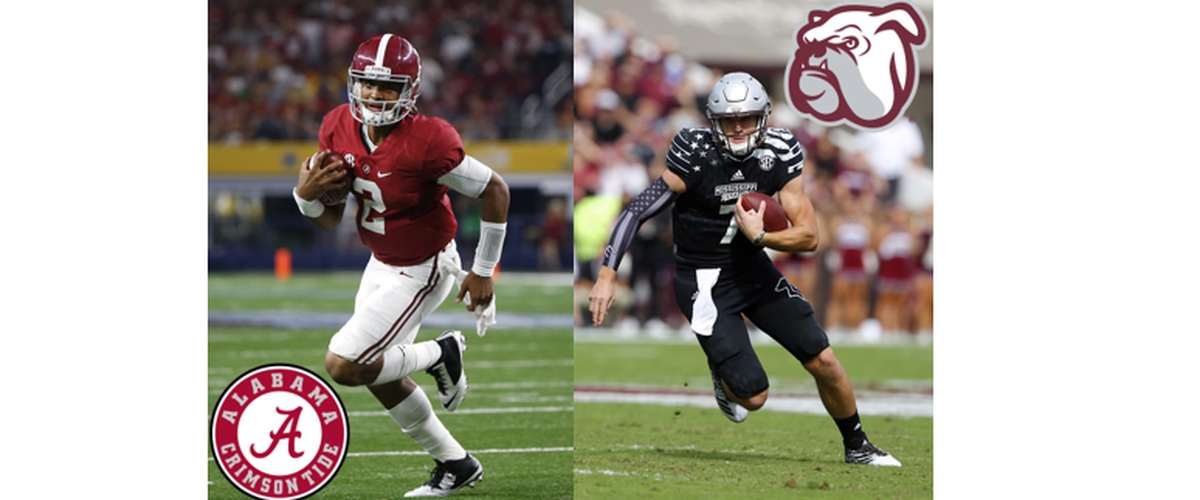 This is the first of the Top 4 SEC matchups on my list. This may be intriguing to watch, MAYBE. The only three games that Alabama played that were remotely tolerant for me were against Florida State, Texas A&M, and LSU. They're barely considered at #5 because this is their first test in Starkville. The only dent in the armor on their squad is the linebacker position. As good as the defense is, this is the important position when it comes to surveying the backfield and relaying the information to the front and back end. They're dealing with Mississippi State's quarterback Nick Fitzgerald who has the ability to work the linebackers out of their groove. Remember that Alabama's defense has a history of struggling against mobile quarterbacks. Without linebacker Shaun Dion Hamilton, this may hurt Alabama's defense. As for Mississippi State, they haven't defeat Alabama in nine tries but has a glimmer of hope this weekend. Their offensive line has allowed 5 sacks all season while their defense forced 14 fumbles. While quarterback Jalen Hurts and Fitzgerald are closely related in the yards department, Fitzgerald must not turn the ball over through the air (10 interceptions). Both defenses are close in scoring, rushing, passing, and total in the SEC. My only question is, can someone else on the Bulldogs' offense score points besides Nick Fitzgerald?
4) #12 MICHIGAN STATE (7-2 OVERALL; 5-1 BIG TEN) AT #13 OHIO STATE (7-2 OVERALL; 5-1 BIG TEN) - 9AM PT/ 12PM ET [FOX]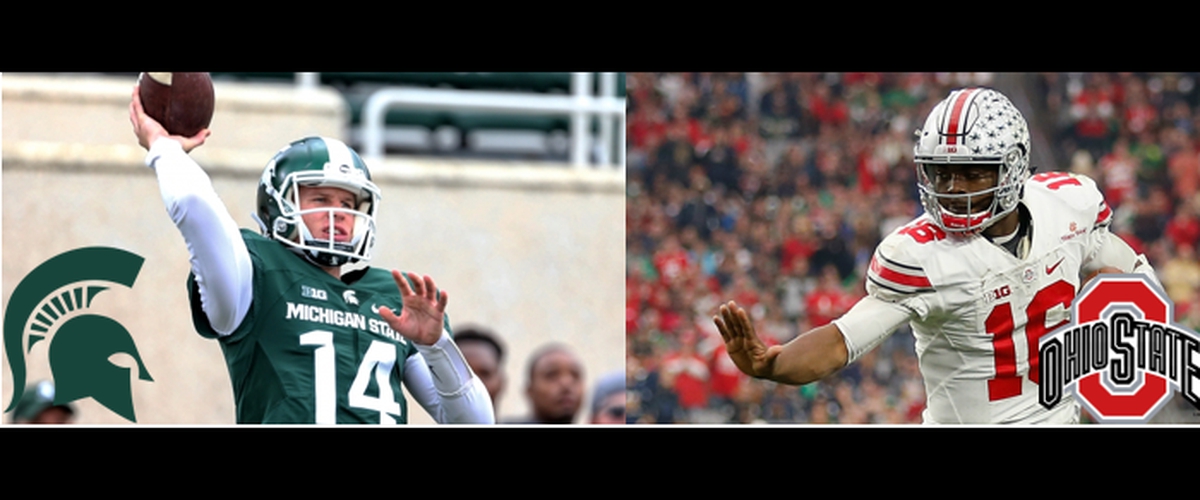 Penn State finishes their four team East run at 1-2. Michigan State is currently 2-0 (over Michigan and Penn State) and Ohio State is 1-0 with Michigan State this weekend and Michigan in two weeks. If Michigan State wins, they control the East outright. If Ohio State wins, they play Michigan for the East. Since the East division was created in 2011, both teams have won a matchup every other year, including the conference championship game. Before that, the Spartans lost 7 straight games dating back to 2000. Ohio State must bounce back from their worst loss of the season, but the Spartans plan to end Ohio State's hopes of a New Year's Six Bowl bid. They upset Penn State last week and feels confident enough to challenge Ohio State for the top spot in the Big Ten East. Now what do we know about Michigan State besides coach Dantonio and the defense? Quarterback Brian Lewerke keeps his turnovers down to 5 interceptions, they have several running backs to work with, and they have playmaking receiver Felton Davis III. However, their two losses came from allowing 38.5 points. If they keep the points under 30, they have a chance to win. If Ohio State does not bounce back and J.T. Barrett doesn't play like he did against Penn State in the second half, they can say goodbye to the Big East division title for the 3rd straight season.
3) #6 TCU (8-1 OVERALL; 5-1 BIG 12) AT #5 OKLAHOMA (8-1 OVERALL; 5-1 BIG 12) - 5PM PT/ 8PM ET [FOX]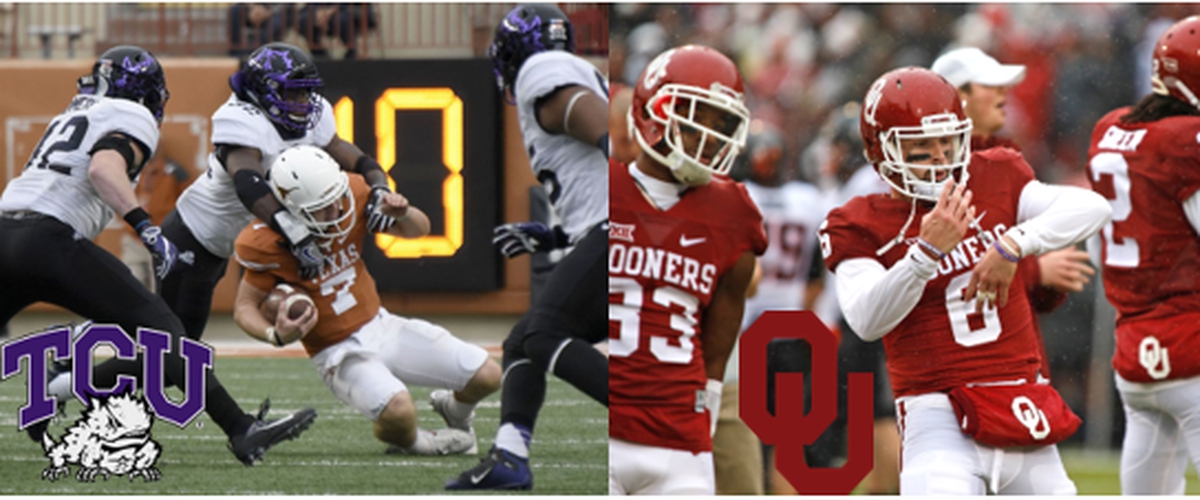 In between the ladder and the grinder are two teams vying for a playoff opportunity. 11 of the 16 matchups have been decided by a touchdown or less. TCU's best defense in the Big 12 will clash with Oklahoma's best offense in the Big 12. I will add that TCU has the best rushing defense in the nation while Oklahoma has the best passing offense in the nation. TCU managed to escape Oklahoma State and West Virginia's air attack, but Oklahoma's offense is on a different level. In vice versa, Oklahoma is facing a defense that's allowed 13.9 points per game, allowed 27 points in 3 games, and gave up 4 rushing touchdowns this season. Quarterback Kenny Hill must make a statement if TCU wants control of the Big 12. In the past two seasons quarterback Baker Mayfield has slowly improved against the Horned Frogs defense, including hanging 52 points on them last year. But Joe Mixon and Samaje Perine not being on the roster anymore adds more pressure to Mayfield. This is the 2nd last stand for both teams in the Big 12 and the winner will be one step closer to a conference title berth and alive in the playoff race.
2) #1 GEORGIA (9-0 OVERALL; 6-0 SEC) AT #10 AUBURN (7-2 OVERALL; 5-1 SEC) - 12:30PM PT/ 3:30PM ET [CBS]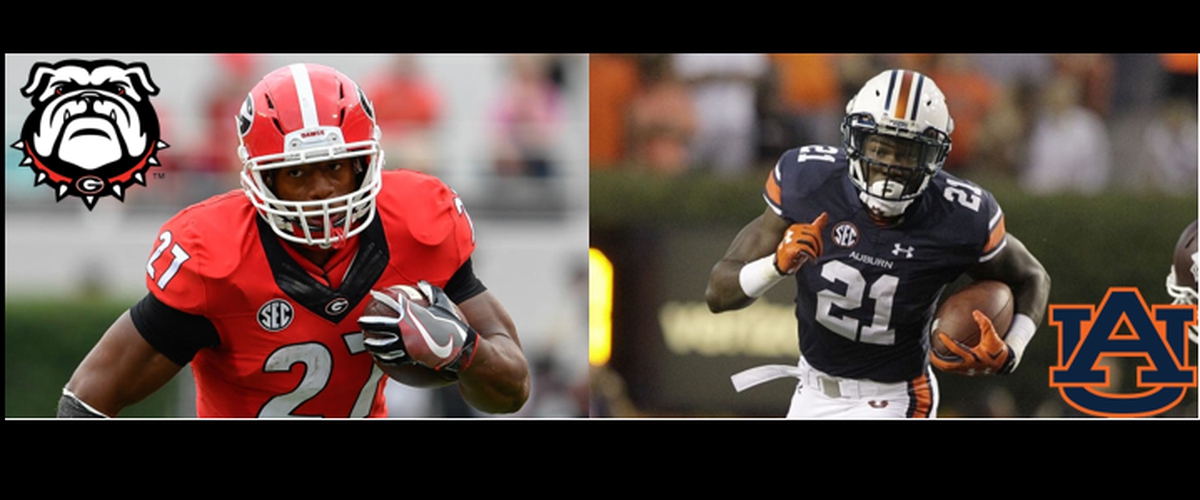 This is the second of the Top 4 SEC matchups on my list. After the immaculate catch touchdown that faltered Georgia, they went on a 3-game winning streak against Auburn, but the last two were by no more than a touchdown. This matchup features plenty of defense and hard-nosed, physical football, but the only question is the quarterback position. Jarrett Stidham and Jake Fromm play careful consistent football, but Stidham has more experience throwing the ball downfield. They're getting close to the conference championship and while Auburn will face Alabama in two weeks, Georgia will most likely face Alabama unless they and Alabama lose to Auburn. Auburn has allowed 20+ points in 4 straight games after not allowing 20 points in the first 5 games while Georgia allowed 20+ points just once. Auburn has the last two tough SEC games against the Top 2 in the College Football Playoff poll. Their win will begin a chaotic shift in the Top 10. Georgia has a tougher road after this game for the last two weeks (Kentucky and at Georgia Tech). Holding on to the #1 spot for someone that's not Alabama or Clemson adds more pressure for the Bulldogs this weekend.
1) #3 NOTRE DAME (8-1 OVERALL) AT #7 MIAMI (FL) (8-0 OVERALL) - 5PM PT/ 8PM ET [ABC]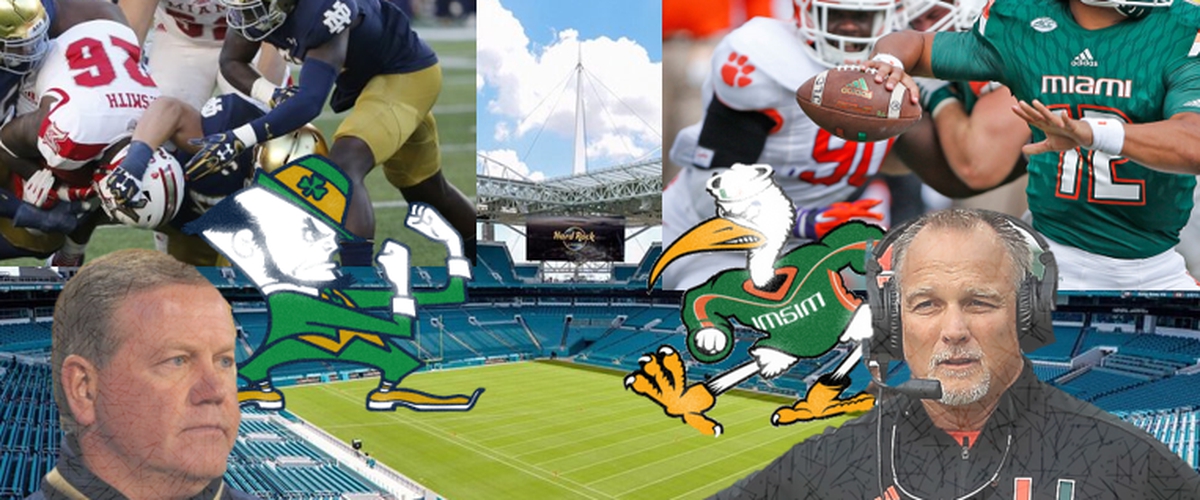 Notre Dame hasn't won in Miami since 1977 (currently 0-5 there). However, they own 4 of the last 5 matchups and they are one of the hottest teams in college football. The Irish defeated one-ranked team and now can count a Michigan State win as a quality win. Quarterback Brandon Wimbush and running back Josh Adams are the catalysts of Notre Dame's offense, but don't forget about the defense. They're 17th nationally in scoring defense and allowed 4 rushing touchdowns this season. The guy to be on the lookout for on defense is Te'von Coney. Miami (FL) had some ups and downs on offense, but they still put up 20+ points per game. How? Defense. Why? They keep the Canes in games no matter how bad the situation. They have three sophomore linebackers, a strong defensive line, and a confident coverage to get the job done. They're difficult to score on (allowed over 20 points three times) and allowed 4 rushing and 8 passing touchdowns this season. I think this will be a low-scoring game, but the Irish has a slight advantage because of their third down completion percentage and scoring average around 41 points per game. If the game stays close, Miami has leverage in field goal percentage. This is likely an elimination game, and both teams will play their best football to be sure the winner continues their playoff run.
OTHER GAMES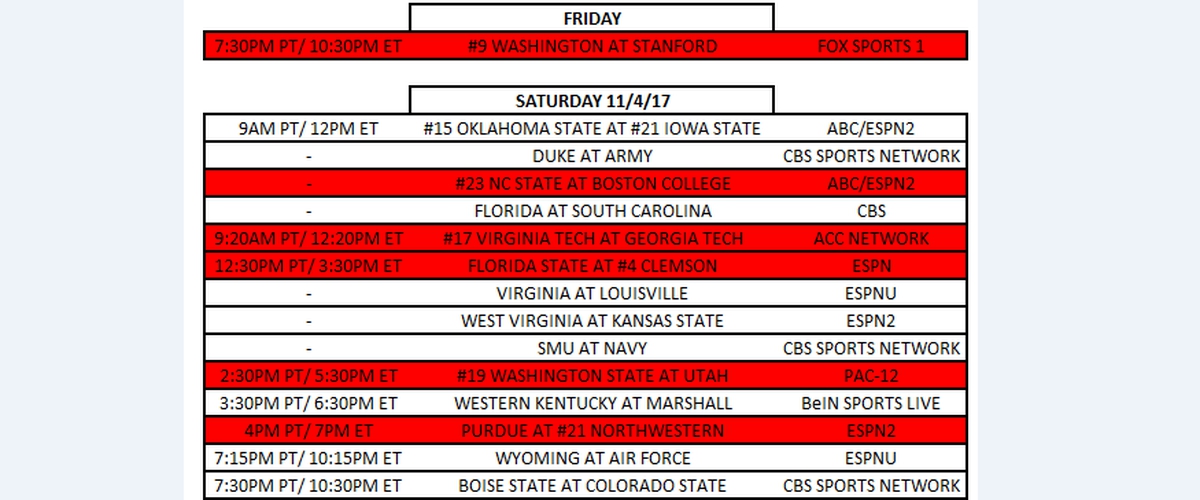 Red indicates potential upset games