Games To Watch: Week 9
UPSET) #15 WASHINGTON STATE (7-1 OVERALL; 4-1 PAC-12) AT ARIZONA (5-2 OVERALL; 3-1 PAC-12)- 6:30PM PT/ 9:30PM ET [PAC-12]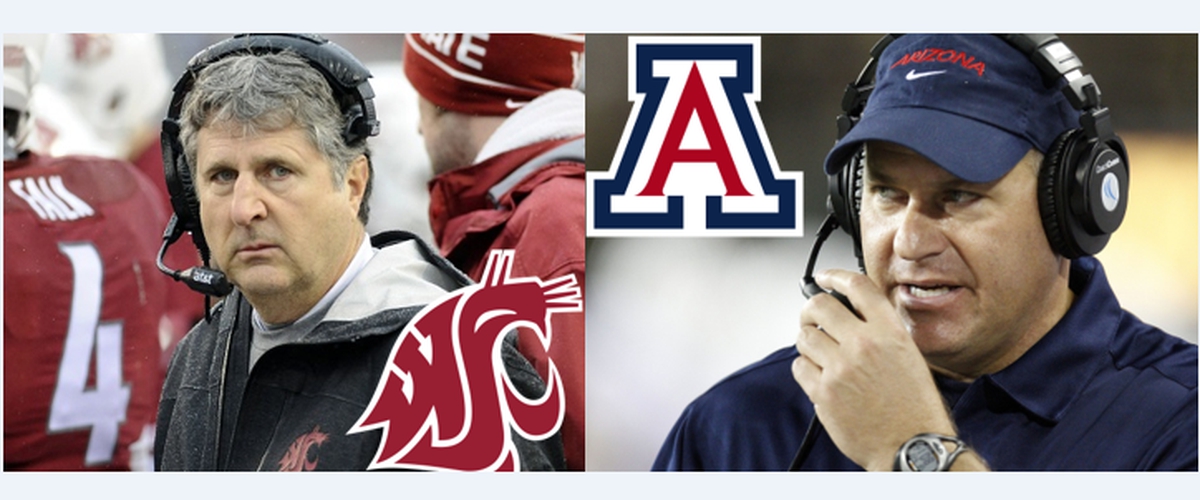 Washington State is 4-0 against unranked Arizona. Wazzu currently holds a 3-1 record over Arizona since 2013. As Washington State tries to forget about the California loss, they must redeem themselves against Arizona, which they have been one of the surprises in the Pac-12. This game will be the battle between Washington's passing offense and Arizona's passing defense, but Washington State has been sketchy at times when trying to score points, or score more points. That gives Arizona a chance since their defense is tied 9th in the nation in interceptions (10) and their passing defense allowed 8 touchdowns through seven games. Arizona already has two home losses and hasn't defeat a ranked since 2015, but the win would be their first win against a ranked Washington State team in program history. If they can get the jump the Cougars like California did, this is the end of Washington State's run for a playoff and likely a conference title bid.
5) #4 TCU (7-0 OVERALL; 4-0 BIG 12) at #25 IOWA STATE (5-2 OVERALL; 3-1 BIG 12)- 12:30PM PT/ 3:30PM ET [ABC/ESPN2]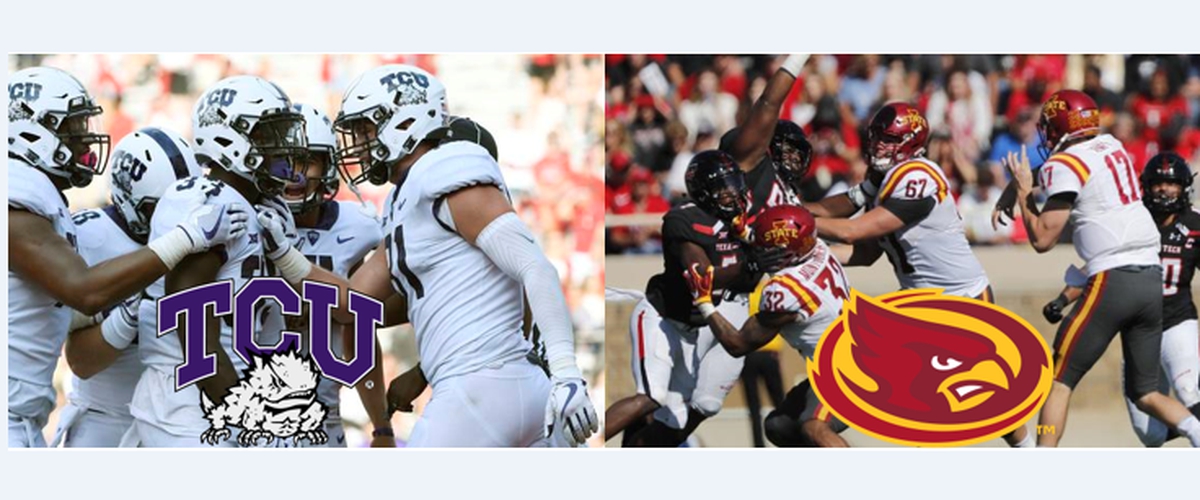 The last time Iowa State defeated two ranked teams in one season was in 2011 (#20 Texas Tech and #2 Oklahoma State). Also, the last time Iowa State defeated two top 10 teams was in 1976 (#7 Missouri and #9 Nebraska in the Big 8). Iowa State nabbed their first win in this series against TCU in 2012 when Horned Frogs joined the conference. The question that I want to know is who's quarterback Kyle Kempt? After starting over Jacob Park for whatever medical or personal reason, he lit things up against my Sooners and won in Norman in his first ever start. Since then, he's rolling at 3-0 with the Cyclones. However, TCU will be his biggest obstacle because they are the stingiest defense in the Big 12. Like Iowa State, they allowed 61 total points in the conference. TCU is in prime position to control their own destiny but they must not overlook the uprising Cyclones. They managed to slow down Oklahoma State's offense just enough to get a big win, but playing in Ames, Iowa will be a much tougher task to overcome. Iowa State could run the tables in the Big 12 if they upset TCU at home.
4) #14 NORTH CAROLINA STATE (6-1 OVERALL) at #9 NOTRE DAME (6-1 OVERALL)- 12:30PM PT/ 3:30PM ET [NBC]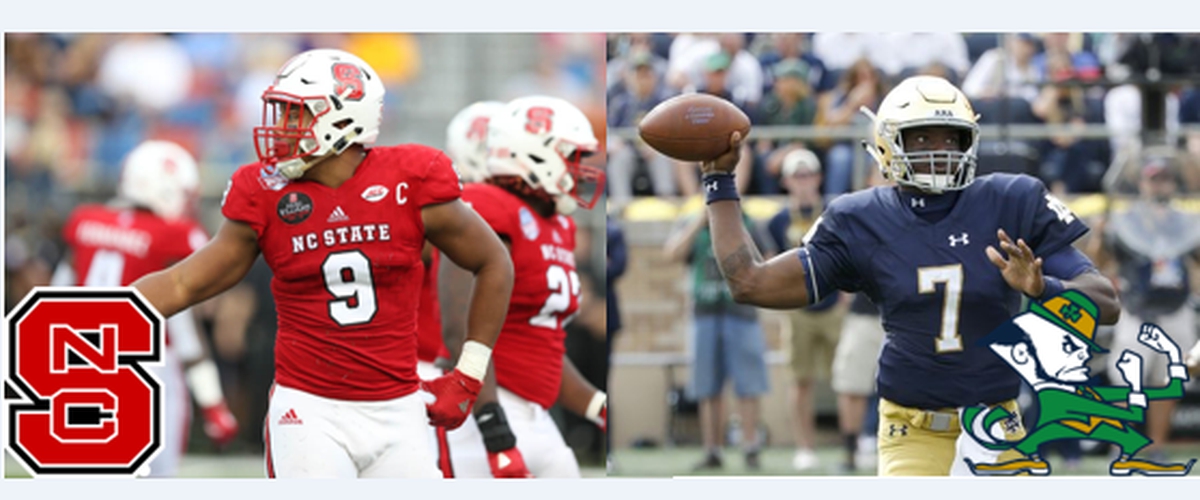 Notre Dame has yet to defeat NC State in this series (0-2). The last time NC State was ranked at #14 was in 2003. Most will say that the Wolfpack are the surprise in the ACC, but here's what I know. They ended their season at #4 in the Atlantic standings two straight seasons behind Florida State, Clemson and Louisville. They had chances to defeat these three teams more than once, but came up short. Now not only do they have most of their players back from last year that are well-rounded and experienced, but what also makes them formidable for a conference championship run is their front four defense led by pass rusher Nick Chubb. Quarterback Ryan Finley has slowly earned the trust of his offensive players, but can he maintain it while dealing with Notre Dame's defense. After the Irish's loss to Georgia, everybody wrote them off before mid-season. But sneaking back into the Top 25, upsetting USC, and seeing Michigan State in the Top 25 after defeating them weeks ago has put them back into the conversation while disrupting other opponents along the way. Notre Dame and NC State both have something to prove and they are potential playoff stealers, but there's only one winner that can do it. North Carolina State's win sets them up for a showdown that will decide who goes to the conference championship, while Notre Dame's win sets them up for a big sling shot towards the playoffs next month.
3) TEXAS TECH (4-3 OVERALL; 1-3 BIG 12) AT #10 OKLAHOMA (6-1 OVERALL; 3-1 BIG 12)- 5PM PT/ 8PM ET [ABC/ESPN2]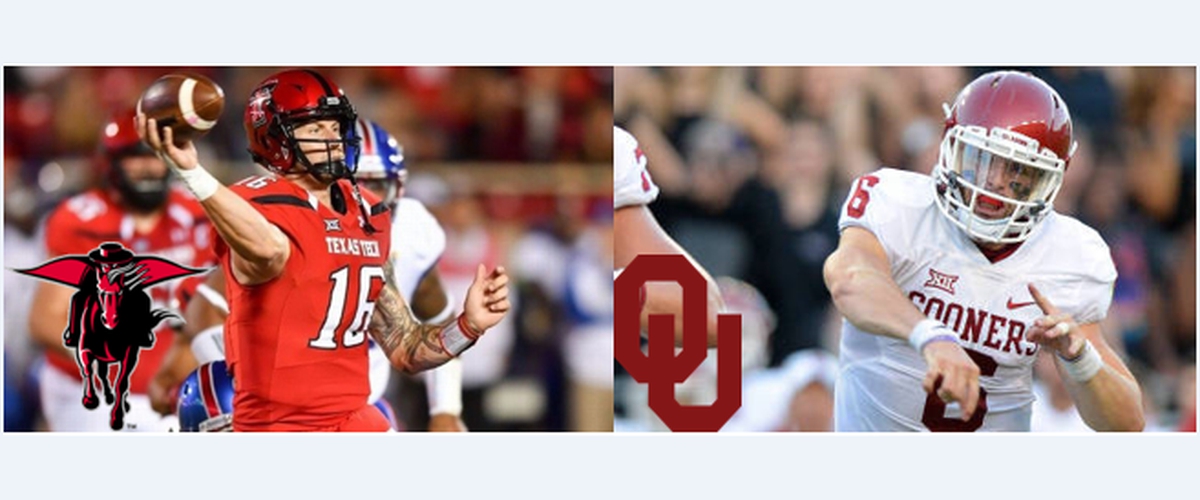 This is one of the games that you all should tune in to next to Georgia Tech vs. Clemson. If you like high-scoring and high-flying offense with two quarterbacks that are entertaining to watch, then definitely watch this game. Everyone knows who Baker Mayfield is, but does anyone (besides Texas Tech, Oklahoma, and the Big 12) remember that he originally played for Texas Tech before transferring? Also, if no one knows who Texas Tech quarterback Nik Shimonek is, get to know this senior while you can. He's like Patrick Mahomes but doesn't have the same arm strength as him, but he's a decision maker 70.9 completion percent. Like every other Texas Tech quarterback in the past, expect him to sling the ball every which way possible. What's surprising about the Red Raiders is that they have…DEFENSE. That's right, they have a defense. They still give up points and is expected to this Saturday, but they have managed to get 9 interceptions. Oklahoma's defense has been anything but reliable since Big 12 play and it's not good when they're about to face Texas Tech's high-flying offense. Baker Mayfield will be The Guy to carry this team and he hopes the rest of the squad will back him up. The last time Texas Tech defeated Oklahoma at Norman was in 2011. Texas Tech coach Kliff Kingsbury has lost to Oklahoma four times since he became the coach there. If Oklahoma doesn't shape up against Texas Tech, this will be a very long November for the Sooners.
2) #3 GEORGIA (7-0 OVERALL; 4-0 SEC) VS. FLORIDA (3-3 OVERALL; 3-2 SEC)- AT EVERBANK FIELD IN JACKSONVILLE, FL 12:30PM PT/ 3:30PM ET [CBS]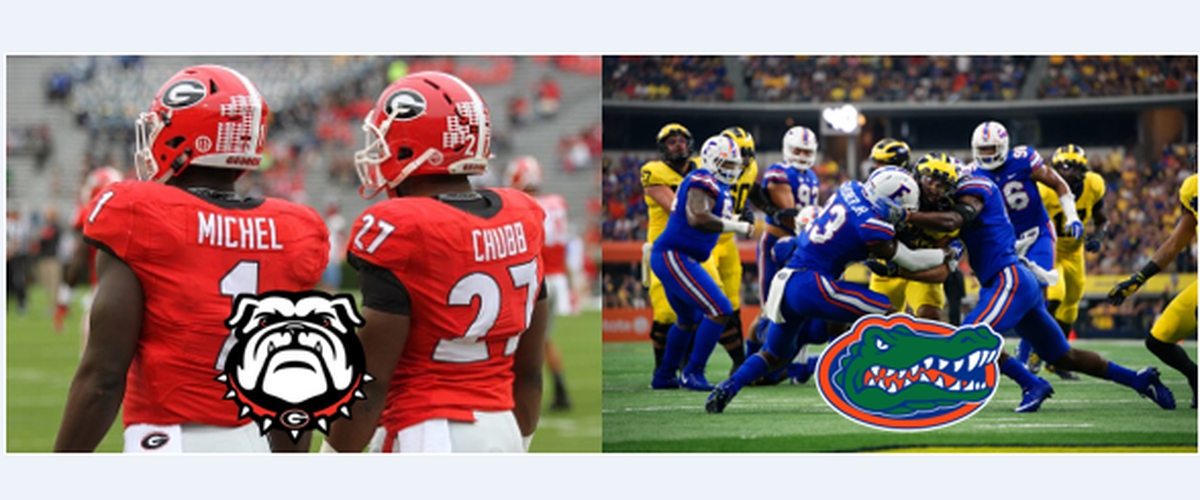 Georgia may be ranked at #3, but they lost 3 straight meetings against Florida. Florida's last win against a ranked Georgia team was in 2014. Jim McElwain is also 2-0 against Georgia. Georgia is favored in this game, but how sure are they about Georgia because I'm still not sold on quarterback Jake Fromm. He has yet to play in a bigger situation against a strong defense, and Florida is one of them. As for Florida, I feel bad for what happened when the fans sent out death threats and racist remarks. For some Florida fans, here's something to understand. You should've expected the quarterback controversies because there's still no proven quarterback to replace Tim Tebow…for 7 straight seasons! Georgia must prove that they're ready for Alabama (or someone else if that's remotely possible). The Gators can't be comfortable either because they're about to lose their third conference game this year and they haven't lost more than 2 SEC regular season games for two years. If Georgia doesn't defeat Florida, this will look bad on them moving forward. Not defeating Florida while they're dealing with a quarterback problem and injuries shows that the Bulldogs are not ready to be playoff contenders.
1) #2 PENN STATE (7-0 OVERALL; 4-0 BIG TEN) AT #6 OHIO STATE (6-1 OVERALL; 4-0 BIG TEN)- 12:30PM PT/ 3:30PM ET [FOX]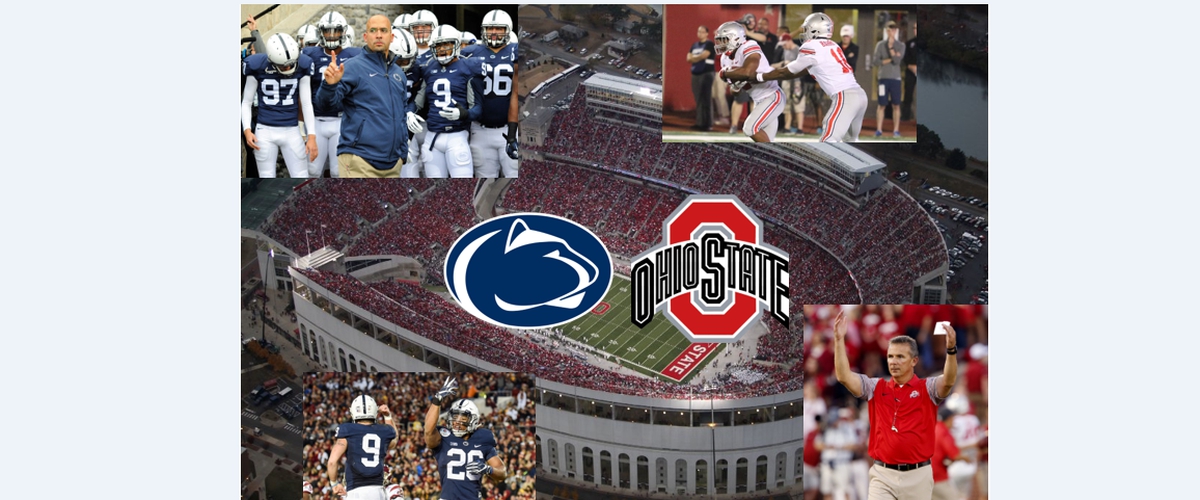 Last season was a doozy defensively. When things weren't going Penn State's way in the first half, they played big down the stretch in the 4th quarter including a blocked field goal return touchdown that clinched it. This is the first ranked matchup between these two since 2009 and the first top 10 matchup with Penn State being ranked higher than Ohio State in the Top 10 since 2008. Ohio State quietly makes their way back at #6 and trying to sneak their way back in the Top 4. Penn State is currently at #2 and trying to hold their place for the remainder of the season. These rivals score 40+ points per game and allow around 15 points or less per game as well, so this shows how evenly match they are. It could start off slow before both teams feel each other out and score some points in the latter stages of the game. The key to this game is who will keep the turnovers down and who can get more big plays against the other. This is The Big 10 matchup that could decide the fate of both teams going into November.
OTHER GAMES TO WATCH